Can self-driving cars fix some of Washington's most notoriously congested roads?
That's the question the Virginia Tech Transportation Institute wants to answer by opening more than 70 highway miles in Northern Virginia to driverless vehicle testing. In partnership with the Virginia Department of Transportation and Nokia, which is providing mapping software, the Virginia Automated Corridors project will allow autonomous vehicles to traverse portions of I-66, 495, 95, and state routes 29 and 50.
Myra Blanco, who's spearheading the project as the Center for Automated Vehicle Systems director at the Transportation Institute, says the roads were selected because they were representative of the kind many Americans drive everyday— traffic included.
"Some of the vehicles promise that they're going to be able to help alleviate traffic," she says. "So there's no better way to test it than this, it being the most congested corridor in the United States exposing the vehicle to that type of environment."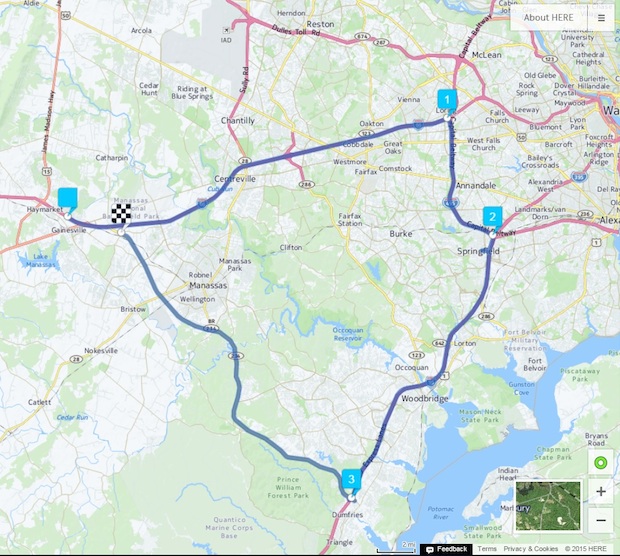 There have been a host of proposed solutions to I-66's traffic in the last few months, including charging solo drivers during rush hours and widening a portion of the road between Fairfax Drive and the Beltway.
"You probably don't get worse congestion than you get on highways like I-66," says Fairfax County Board of Supervisors chairman Sharon Bulova. Two years ago, she hosted a transportation forum where self-driving cars were presented as a traffic solution in her county, and she's ready to finally see them in action.
"Traffic management is a major challenge in Northern Virginia, and so often our congestion is caused by driver error," she says. "I think self-driving cars could resolve many of the issues that cause traffic congestion in Northern Virginia."
Blanco says that it will be a gradual escalation of automation, first with small steps like automatic lane centering, then slowly moving up toward full machine independence. Each new element will first be certified for safety at a Transportation Institute test track before hitting the open road.
Virginia isn't the first place to offer up its roads for autonomous experimentation. In April 2014, the DC Department of Motor Vehicles introduced guidelines to allow driverless cars on the District's roads, and since then Google's autonomous Lexus SUV has been spotted around town. California, Nevada, Michigan, and Florida have similar legislation.
Any driverless car in Virginia will still need a person behind the wheel. "If something should go wrong or present a potential problem during the course of the vehicle test, that 'passenger/driver' has the ability to override the system and drive the vehicle," according to Corinne N. Geller, public relations director of the Virginia State Police. All current traffic laws will apply as well.
In May, Google released accident figures from six years of driverless car testing. In that time, the cars were involved in 11 collisions over 1.7 million miles of autonomous and manual driving. "Not once was the self-driving car the cause of the accident," Chris Urmson, director of Google's self-driving car program, wrote in the blog post.