Father's Day is this Sunday, June 21. Yes, it's a Hallmark holiday, but most dads won't protest being treated to a great meal. We've picked some of our father-friendly favorites for every taste and budget.
Barbecue: Black Hog BBQ
118 S. Market St., Frederick; 221 Shorebird St., Frederick; 3323 Worthington Blvd., Ijamsville
Some of the best barbecue in Washington comes from these destination-worthy joints. Order dad a combo plate of multi-regional 'cue, best loaded with St. Louis-style ribs and Arkansas brisket.
Also good: Pretty much anything from DCity Smokehouse; KBQ Real Barbeque in Lanham, MD for tasty pork ribs.
Crab feast: The Point Crab House & Grill
700 Mill Creek, Arnold, MD
This waterside restaurant in Ferry Point Marina near Annapolis has everything a crustacean-loving parent would want: crab soups, cakes, dips, and delicious, freshly-steamed blues from the Bay. Get there early—the place gets busy, and steamed crabs go fast.
Also good: Wild Country Seafood in Annapolis/Eastport for takeout crabs (limited seating); Arlington's Quarterdeck for crabs closer to DC.
Vegetarian: Kapnos and Kapnos Taverna
2201 14th St., NW; 4000 Wilson Blvd., Arlington
Spit-roasted meats are the main event at Mike Isabella's Kapnos, and the new Virginia spinoff focuses on seafood, but no matter—vegetarians do exceptionally well at either restaurant. Start with smoked feta dip and freshly-baked breads before moving on to a garden's-worth of mezze.
Also good: Upscale Indian dinner/brunch at Rasika; more Mediterranean small plates at Zaytinya.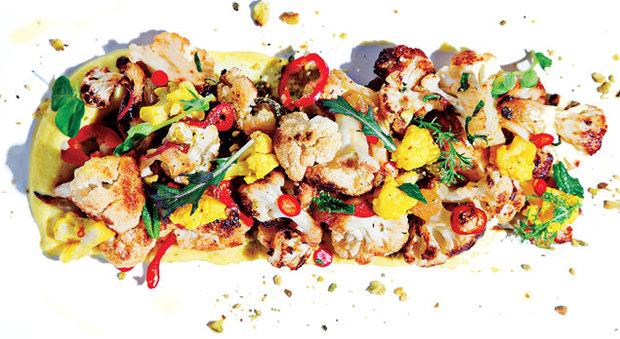 New/hip: Maketto
1351 H St., NE
Fathers can feel like one of the cool kids at chef Erik Bruner-Yang's new H Street concept, which mixes a Durkl men's fashion boutique, coffee shop, bar, and indoor/outdoor restaurant. That's not to say the place is all style and no substance—get the ma la-spiced fried chicken, and you'll know what we're talking about. Note the lunch menu is tiny, but stuffed Cambodian sandwiches and buns are all you'll need.
Also good: Peruvian-Chinese fare from José Andrés at China Chilcano; seasonal Italian in CityCenterDC at Centrolina.
Classic: Corduroy
1122 Ninth St., NW
Shaw may be the neighborhood for hip new restaurants, but chef Tom Power's refined New American fits the bill for fathers who like reservations, tablecloths, and ambient jazz. The menu is reliably delicious—and that tuna with sushi rice isn't going anywhere—but thankfully for the many regulars, never boring.
Also good: Old-world elegance at L'Auberge Chez Francois; dinner or Champagne brunch at the Bombay Club.
Adventurous: Thip Khao
3462 14th St., NW
If dad considers sweetbreads tame and pops jalapeños like they're berries, he'll love the exotic odd-bits and heat level at this Laotian spot. Order from the "Let's Go to the Jungle!" menu, which includes dishes like grilled chicken hearts, pork intestine soup, and mouth-searing papaya-crab salad. A perk for families: tamer eaters can eat equally well.
Also good: Fish in bean-curd sauce at Hunan Taste in Fairfax; Ravi Kabob's lamb brain masala.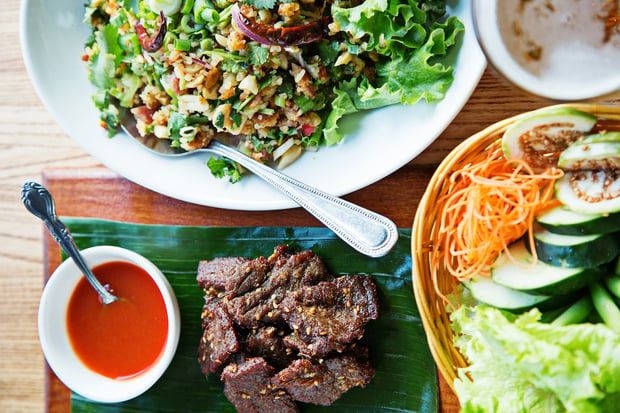 Steak (splurge): Del Campo
777 I St., NW
We can't think of a better place to satisfy carnivorous cravings in Washington right now. Chef/owner Victor Albisu's South American restaurant isn't your ordinary filet-and-potatoes place, but dad can still order traditional cuts of delicious meats—dry-aged ribeye, a tomahawk for two—sauced with chimichurri or smoked citrus hollandaise. The eatery also serves a terrific all-you-can-eat brunch ($45 per person).
Also good: Card-carrying Japanese Wagyu beef at BLT Steak; live piano music and steak au poivre at the Prime Rib.
Steak (steal): Medium Rare
3500 Connecticut Ave., NW; 515 Eighth St., SE
If Dad is a man of simple meaty tastes, the set menu at these sister steak-frites joints is perfect: fresh bread, salad, steak, fries, and house-special sauce for $19.75 per person.
Also good: Ray's the Steaks; Korean barbecue short ribs or ribeye at Kogiya.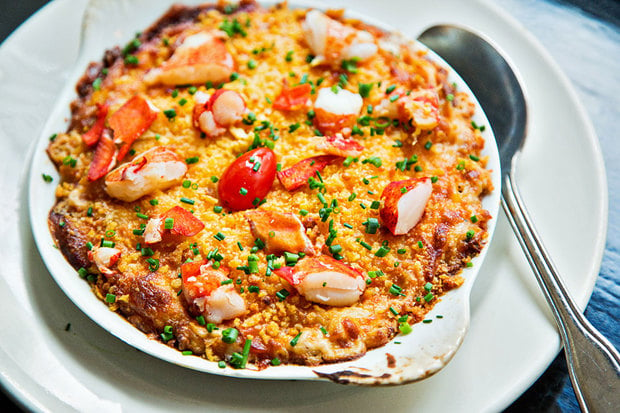 Foodie road trip: The Restaurant at Patowmack Farm
42461 Lovettsville Rd., Lovettsville, VA
If dad dreams about a pilgrimage to Noma, take him to chef Tarver King's greenhouse-like dining room overlooking the surrounding countryside; many of the ingredients come from the nearby land. King's cooking is adventurous and creative, but doesn't lack the delicious factor—thankfully Noma-esque live ants aren't part of the experience.
Also good: The Alley Light (Charlottesville, VA) for inventive French; Baltimore's Woodberry Kitchen.
Pre/post Nationals Game: Osteria Morini
301 Water St., SE
If you want to treat the family to more than a ballpark dog during the Nationals vs. Pirates games this weekend, consider Morini. The airy Italian welcomes fans with game-day specials—and don't be shy about sporting Nats gear—but upscale dishes like truffled ricotta ravioli and wood-grilled ribeye steaks feel celebratory.
Also good: Arsenal at Bluejacket brewery for beer-lovers; ultra-crispy Korean fried chicken from Bonchon.