Last night, food lovers gathered at the National Building Museum for Washingtonian's swank, deco-themed AT&T Best of Washington party. Their mission? To sip and sample their way through offerings from over 80 restaurants—ranging from cheap eats favorites like Thai Taste by Kob and Ethiopic to high-end destinations like Rasika and Del Campo. As parties go, it was pretty great, with boldface chefs, (candy) cigarette girls, and plenty of eye candy, including a shiny 1932 Ford and an adorable Saint Bernard in a pink tutu. But back to the eats—here are our food team's highlights from an evening of glorious excess that would have made Jay Gatsby proud.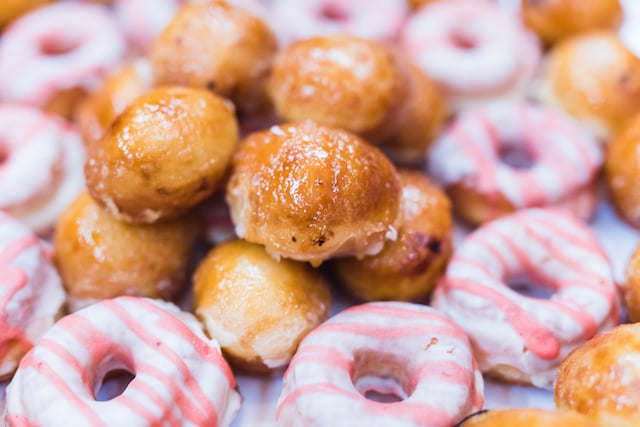 Favorite dessert trend: Doughnuts, doughnuts everywhere! We couldn't get enough of the milk-chocolate doughnut pops from District Doughnut, the crackly creme brulee bites from Astro Doughnuts & Fried Chicken, or the fried zeppole with Nutella cream from Pizzeria Orso. Runner up: The gorgeous array of colorful macarons from Olivia Macaron.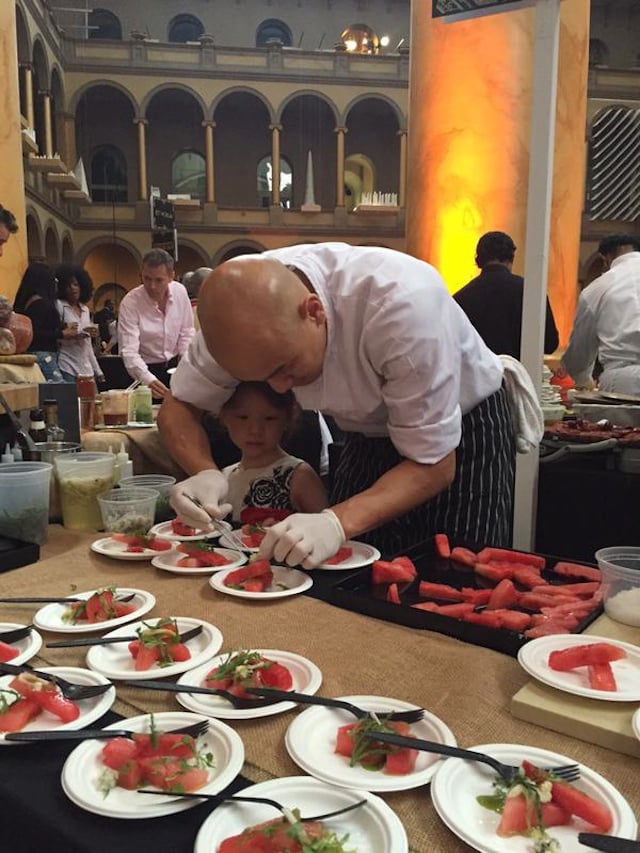 Cutest helper: Charlotte Ma, the adorable four year-old daughter of Water & Wall owners Tim and Joey Ma, helped her dad assemble plates of smoked watermelon with sea beans, roquefort, green-tomato coulis, pickled scallions, and cilantro oil.
Best cold soup: Iron Gate's chilled pea soup with housemade yogurt, dill, and seared shrimp. The dish was creamy, cooling, and beautifully balanced. To go with it, sommelier Brent Kroll served a taste of "salty" Greek wine from a vineyard where the grapes are hit with sea air. Runner up: The thick Persian yogurt soup accented with walnuts and rose petals from the Estadio/Proof/Doi Moi team.
Most creative drink presentation: Toki Underground miniature sake bombs, balanced on chopsticks. Watching a guest bang the table in sake bomb-style and send a number of drinks flying was a party foul highlight.
Best fusion creation: Daikaya's plate of crunchy noodles and rice, shallots, dried peas, and peanuts was a delicious mash-up of Japanese ramen and the Indian puffed-rice salad called bhel puri. Runner-up: The Jewish-Chinese pastrami lo mein from DGS Delicatessen, which we wish was available come 2 AM.
Best use of shellfish: Takoma Park restaurant Republic put out simple but sublime grilled oysters with chili butter. We'll take a dozen, please, with a baguette for sopping up the juices. Runner up: The Fainting Goat's corn-nut-dusted shrimp with radish salsa verde, which the chef described as a "one bite taco."
Best fish dish: Rasika's freshly-seared tuna, paired with aromatic coconut-cilantro chutney. Runner up: Sushi Rock's crisp nori cones filled with citrussy raw salmon.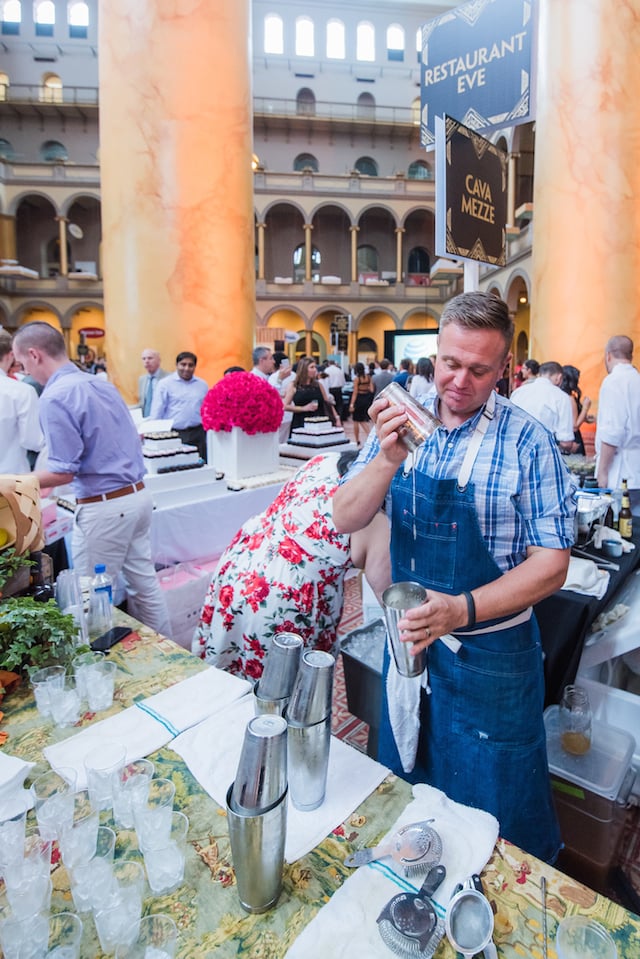 Best cocktail: The old-school daiquiris—no strawberries or blenders allowed—shaken to order by Restaurant Eve's Todd Thrasher. Runner up: The tropical Pisco Punch Royale—a mix of pisco, pinapple syrup, Velvet Falernum, and champagne—from Shaw bar Lost & Found.
Best meal on a tiny plate: Thai Taste by Kob chef/owner Phak Duangchandr handed out a trio of treats: tender chicken and pork satay skewers, plus fried purses holding sweet potato, curry, and chicken. Runner up: The trio of lamb meatballs draped in tomato sauce from Boqueria, which also served a terrific blackberry sangria.
Best porcine snack: The hefty braised-pork sliders from Taylor Gourmet, which were slathered with tangy chimichurri. Runner up: Mason Social's tiny skewers of tasso bacon with beer mustard.
Best use of an offbeat meat: It's a bold move to serve goat at a cocktail party, but Compass Rose's spicy stew—a long-cooked, earthy bowl of goat, curry, and chickpeas accented with a dash of yogurt—had us craving seconds. Runner-up: The smoky chicken-liver crostini from Del Campo.
Best reason to forgo meat: The generous and lovely spring-pea salad from Blue Duck Tavern, with ultra-fresh pods, lavender honey, preserved lemon, and spiced peanuts over a swipe of farm cheese. Runner up: Summer squash with herb vinaigrette, fennel/corn salad, and feta from Cashion's Eat Place.
Best one-bite canape: Warm, fried puffs of pizza dough, which Pizzeria Orso chef Bertrand Chemel doled out with a cool, creamy asparagus/ramp dip. Runner up: Passionfish's sushi roll stuffed with spicy tuna and tempura flakes and drizzled with creamy "dynamite" sauce.
Best throwback dish: Bistro Bis's cool and addictive vichyssoise sprinkled with finely cut chives and brioche. Chef Jeff Buben graciously gave recipe credit to Julia Child. Runner up: The vanilla-custard-filled eclairs from Palisades bistro Et Voila!.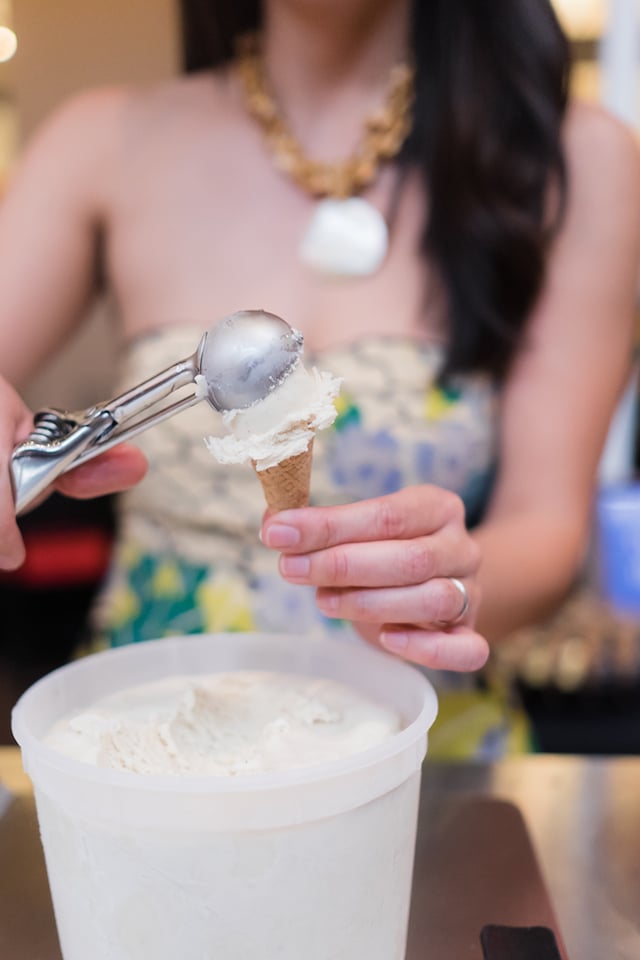 Best palate cleanser: Ice Cream Jubilee owner Victoria Lai offered up miniature cones with bracing gin-and-tonic sorbet and wonderfully floral honey/lemon/lavender ice cream (among other excellent flavors). Runner up: Freshly spun Italian water ice from Bub and Pop's, which came in flavors like dark cherry and watermelon and was made from real fruit.