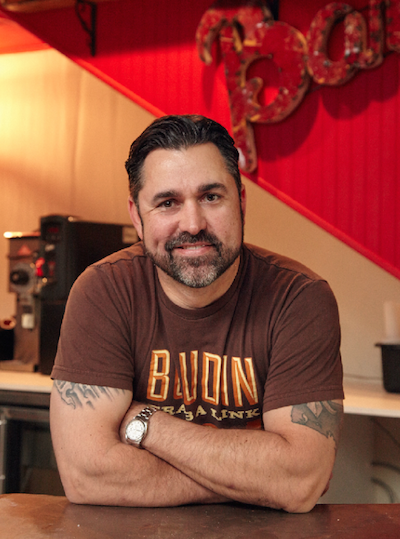 Spotlight on Peru: Tuesday at 6:30, chef Carlos Delgado celebrates the flavors of his native Peru with a six course tasting menu at his H Street, Northeast restaurant, Ocopa. Each course will be paired with pisco cocktails and wine. Tickets ($100) are available online.
Thrill of the Grill: David Guas, owner of Bayou Bakery in Arlington and on Capitol Hill, invites you to join him for dinner at the Hill Center's courtyard Wednesday at 6:45. He'll share restaurant industry stories and sign his new cookbook, Grill Nation: 200 Surefire Recipes, Tips, and Techniques to Grill Like a Pro. Tickets ($75) are available online.
Cocktail party under the stars: Nick Stefenelli takes over Suburbia, Gina Chersevani's Airstream-turned-bar parked outside Union Market, Wednesday from 4 to 10. Stefenelli and mixologist Julien-Pierre Bourgon will debut summer cocktails from their forthcoming restaurant, Masseria. Look for four beers on tap, four frozen drinks, a punch, and a speciality cocktail (drink prices vary).
Eat Responsibly: Think Local First DC continues its dinner series Wednesday from 6:30 to 9:30 at The Loft at 600 F. This month's theme, social responsibility, will be discussed by panelists including Jonas Singer, owner of Blind Dog Cafe and Union Kitchen, and architect David Bagnoli. Catering will be provided by Union Kitchen and Ciao Chow. Tickets ($100) are available online.
After Hours at the Market: Glen's Garden Market transforms into a dinner destination Thursday from 8:30 to 11:30. After regular market operations shut down for the day, the chefs will create a seasonal meal using local produce. Each course will be paired with local wine. Seats ($75) can be reserved online.
Fire Up the Grill: Friday from 5 to 8:30, Reston's Vinifera will host a grill demonstration and cookout with chef John Michael Hamlet. Summery eats like slow-cooked pork ribs, chorizo, and shrimp skewers will accompany penne with pesto and grilled-corn-and-feta salad. Email nicole.bernard@westinreston.com for tickets ($35).
A Tale of Two Wineries: Joe's Seafood, Prime Steak, and Stone Crab celebrates the wines of Nickel & Nickel and Far Niente Friday at 6:30 with a reception and dinner. The five-course meal will feature ingredients like sea scallops and crown ribeye, and each dish will be paired with a different wine. Reservations ($175) are available by emailing joesdcparties@leye.com.
Saturday Funday: Head to Southeast DC's Yards Park for WineYards Saturday from 1 to 5. Over 20 wineries, including Vintage Point, Two Oceans, and Red Ink Imports will provide tastings, all to the tune of live local bands. Each ticket ($35) includes unlimited samplings and a souvenir glass.

Party like it's 1989: Tarara Winery hosts '80s and '90s cover band Gonzo's Nose Saturday from 6 to 9:30. Bring a picnic blanket and settle in with a view of Shadow Lake and the surrounding vineyard. Tickets ($15) are available online.
Barbecue battle: The annual National Capital Barbecue Battle takes place Saturday from 11 to 9 and Sunday from 11 to 7:30. There will be 30 bands, cooking competitions, and samples of smoky meats from restaurants like Famous Dave's and Smoke Shack. Tickets ($12 to $75) are available online.
Barbecue boot camp: Rob Sonderman of DCity Smokehouse heads to the Hill Center Sunday from 11 to 1 to break down barbecue basics and teach you how to cook meat like a pro. The class will be held in the garden and participants are encouraged to bring an apron. Tickets ($85) are available online.