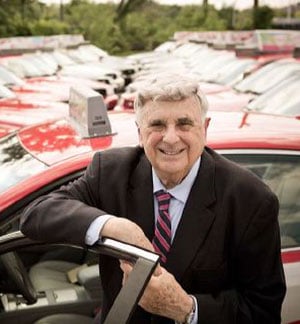 Ron Linton, whose nearly four-year term overseeing the District's taxi industry made him possibly the city's most unfairly reviled public servant, died Monday at age 86. But Linton, who spent six decades in Washington working on nearly every part of DC's infrastructure, thrived on tinkering with the way cities work, even if it earned him enmity from both the providers and customers of the industry he tried to improve.
The final, but most visible chapter of Linton's long career was to oversee a massive, and usually contentious, overhaul of DC's taxi industry from an analog, cash-only business to something worthy of the early 21st century. And while it wasn't in the job description when he was tapped, Linton had to balance all that with the arrival of companies like Uber and Lyft, which upended the entire notion of hired vehicles.
Until late 2013, credit-card readers were rare sightings in the backs of DC taxis, years after other major cities—New York, Philadelphia, Boston—rolled them out. Cabs could be painted any color in the spectrum, and were barely visible with their tiny rooftop lamps. Tack on an increasing public desire to hail cabs with smartphone apps instead of thrusting one's hand in the air on a street corner, and the industry was stuck more than a decade in the past.
"When I came in I found the community was really unhappy with taxi service, and the commission itself had no respect," Linton said in a 2014 interview. "All that had to be turned around."
After taking office in January 2011, DC Mayor Vince Gray decided he wanted to spiff up the taxi fleet, sometimes joking that cabs had common color of rust, said City Administrator Allen Lew. Gray fired the incumbent Taxicab Commission chairman, a former cop named Leon Swain, and put it to Lew to find a replacement.
Lew and Linton went back to the early 1990s, when Lew was running the old convention center and Linton was overseeing the economic redevelopment of New York Ave., Northeast, where he fostered the construction of the Metro station at the intersection with Florida Ave. and enticed the Bureau of Alcohol, Tobacco, and Firearms to build its fortress-like headquarters in what was then an empty, blighted neighborhood. Their paths crossed over the years as Linton had also stints chairing the Metropolitan Washington Airports Authority and the DC Water and Sewer Authority.
Linton was also available when Lew came calling in spring 2011. Then 81, Linton had just buried his wife of 55 years, Nancy, and was looking for something to do to keep busy. He also needed the $144,000 annual salary, having lost most of his fortune in 2008 when the real estate collapse wiped out a company he had started to build senior housing in Maryland.
When Linton was 80, he got a job with the architecture firm McKissack & McKissack to consult on DC's school modernization plan, which Lew, then serving Mayor Adrian Fenty, was overseeing.
Linton sat down with Lew about the taxi job and heard what Gray wanted to do with cabs: make them take credit cards; paint them the same color; phase out old rust-buckets for newer, more fuel-efficient models.
Gray was looking for someone willing to get aggressive with an industry that hadn't really tweaked its business practices since its inception. The mayor was incredulous when Lew told him about Linton.
"Allen, am I reading this correctly?" Gray asked. "This guy is going to be older than anyone in the cabinet."
Lew replied: "Mr. Mayor, let's just say he's got more experience than anyone else in the cabinet."
Gray might have doubted the logic of hiring someone Linton's age, but he found a like-minded bureaucrat and offered the job. Linton had two orders: drag the taxis into modernity, and clean up an agency with a poor reputation for protecting customers and enforcing the rules.
"The mayor's policy was to change things," Linton said. "He laid out where he would like this thing taken. I knew we were in agreement."
The DC Council introduced a bill in December 2011 that promised the biggest rewrite of taxi regulations—already more than 1,000 pages long—since the commission was created in 1985. Cabs would be required to install large, visible dome lights and adopt a uniform paint scheme. More importantly, all taxis would upgrade their meters to interact with GPS devices and transmit trip data back to the commission.
Drivers balked, saying all the upgrades would cost as much as $2,000 to implement (far more if they needed to replace their cars), a hefty chunk of the $31,060 annual salary the average DC-area cabbie earns in a year, according to the federal Bureau of Labor Statistics.
The modernization bill was never in doubt. It took six months' worth of DC Council hearings at which Linton defended the effort, and Taxicab Commission meetings over which Linton presided, but it was guaranteed to pass, which it did in July 2012.
Drivers protested furiously, picketing DC Council meetings and turning commission meetings into shouting matches over the cost of installing credit card readers and the service fees collected by the providers.
"You had among the driver pool a not insignificant number who really didn't want it," Linton said. "This is a pretty mammoth change. Five-to-six thousand vehicles, seven different companies competing. It took adjustments, arguments."
Linton tried to sway drivers to come around "until I was blue in the face" by telling them that riders who pay with credit cards tip 10 to 15 percent better than passengers who use cash, citing results in New York and other cities that have required their taxis to take credit cards.
Drivers still resisted and started organizing in opposition to the new regime. In October 2013, a group of ticked-off drivers approached the International Brotherhood of Teamsters about representing their interests. More than 2,000 drivers now pay the Teamsters $25 a month to be the megaphone of opposition to new competition and regulations.
Linton knew getting drivers into compliance with the new rules was going to be a struggle from the outset. But no sooner than he started working on taxi modernization, the apps appeared.
A week after the taxi-modernization bill was introduced, the District became Uber's newest market. The taxi industry suddenly had hundreds of cut-rate luxury sedans available with a few taps of an iPhone as unexpected competition. Regulations at the time governed taxis, which charged for time and distance using a meter, and limousines billing by the hour. Uber, with its proprietary fare scheme, did not fit either category, and Linton, responding to nervous cabbies, called the new company an "illegal" operator.
On a frosty morning in January 2012, Linton called up a few reporters, myself included, and told us to wait outside the Mayflower Hotel. About 9 AM, a shiny, black Lincoln Towncar pulled up to the curb. Linton climbed out and signaled to his hack inspectors, who had been waiting next to the hotel, to join him in swarming the unsuspecting driver.
The driver, Ridah Benamara, was cited for charging for time and distance without a taxi operator's license. Besides the $500 ticket for charging for time and distance, Benamara got dinged another $500 for operating a livery service within the District with Virginia plates, a $75 towing fee, and a daily impound rate of $35. And it was a Friday before a three-day weekend. Linton tried to say it had nothing to do with Uber.
Uber responded by making it all about Linton. The company seized the opportunity to tell a sob story of government regulators—in the nation's capital, no less—trying to stomp on Silicon Valley innovation.
A few weeks after Linton's sting operation, Uber's founder, Travis Kalanick, flew in to Washington to host a party for his first few hundred members here. Standing in the middle of Shadow Room, a K Street nightclub, Kalanick threw Linton's jowly visage on a screen.
"So there's the guy on the top left, his name is Ron Linton," Kalanick said. "You guys ever heard about him?"
Jeers ripped through the bar as Kalanick hissed into his microphone.
"Fuck that guy!" someone in the crowd yelled, bringing a big smile to Kalanick's face.
Uber CEO Travis Speaks to DC from InTheCapital on Vimeo.
Rachel Holt, who was Uber's general manager here at the time, was standing right behind Kalanick. Now in charge of the company's entire East Coast operation, she did not look back fondly at the early days, which she attributed to Linton.
"That was an eye-opening moment into how Uber might received," Holt said of Linton's stunt. "This wasn't 'let me check out an app.' This was an attempt to impound a car and deliberately make a point."
Unfortunately for Linton, his point thudded, and for a while, he became the face of anti-innovation bureaucracy as Uber became a critical—and growing—favorite of journalists, millennial urbanites, and small-government enthusiasts. Techcrunch accused Linton of "cronyism" on behalf of traditional cabbies. Former House Speaker Newt Gingrich, writing in his 2013 book Breakout, charged Linton with employing "classic prison guard tactics."
The chairman himself later said Uber had a good case, even if its CEO acts like a "truculent teenager."
"The black car service is a good service, and in retrospect they found an inconsistency in the regulations, and they exploited it," he said. "And I think they were right."
Linton said that eventually, but as much as he has pushed urgent change for standard-issue cabs, he was slow to come around on technologies like Uber. The Council passed several stopgap bills exempting the company from Taxicab Commission oversight after Linton's sting and the company's threats to leave Washington. Finally, in December 2012, after a year of bad press, the Council passed a bill that effectively legalized everything Uber had been doing by ordering the commission to draw up regulations for a new "sedan class" of vehicles that could charge for time and distance after being hired via a smartphone app.
The District, Virginia, and Maryland went through that process again over the last year with the growing popularity of apps like SideCar, Lyft, and Uber's UberX platform that allow anyone with a clean car and solid driving record to become a livery operator. These services also allow participating drivers to offer rates below official taxi fares.
The fight in DC heated up after Linton his eight fellow commissioners proposed regulations permitting the ride-sharing services, but only if their drivers are limited to part-time status and submit to greater scrutiny from city agencies regarding insurance and licensing, even though SideCar, Lyft, and Uber all say they conduct detailed background checks and issue $1 million liability insurance policies. Naturally, the apps got riled up again, but their ever-expanding popularity won with legislators.
[Related: How Amazon Prime and Uber Are Changing the Map of Your City]
Last October, over Linton's objections, the District government adopted regulations codifying the ride-hailing apps' practices, including allowing them to set their own rates. In this fight, Linton and the cabbies, who surrounded the Wilson Building with traffic-jamming convoys during hearings were rather closely aligned.
To Linton, the Council giving these free passes to the app services effectively created an honor system. He said Uber is just a company trying to grow to the point where it dominates the entire livery market. And that wasn't really an invalid assessment. Uber is now worth a reported $41 billion and counting. But when it comes to the apps, legislators called the final shots whether or not they heed Linton's recommendations.
"That'll be fine until the first lawsuits, until the first problems blow up in their face," Linton said. "They might get badly bitten."
Indeed, while Uber has become ingrained in Washington's economy, the company has legal entanglements in other markets around the world, from drivers in California suing to be recognized as employees, rather than contractors, to managers in France being arrested for running an "illicit taxi service."
But Linton, by nature, was a fan of rules, befitting the 27 years he spent as a member the Metropolitan Police Department's reserve unit. Linton, who spent most of his private-sector career running a lobbying firm focused on federal infrastructure contracts, signed on to do volunteer police work—traffic management, crowd control at football games—in 1971 and rose through the unpaid ranks until 1994, when then-MPD Chief Fred Thomas put him in charge of the entire reserve corps. (It required Linton, who by then had merged his lobbying firm with another company and was only part-time, to become a fully sworn officer with a badge and a gun when he was 65 years old.) Linton, who continued to go unpaid by MPD, was put in charge with overhauling the reserve units, which now range from administrative clerks at police stations to armed patrols.
Linton's conversational style was easygoing and avuncular, and he was always quick to go on a tangent about one of his many past jobs, going all the way back to his time running the student newspaper at Michigan State University, where his editorials railing against the Korean War earned calls for his expulsion. Following a stint in the 1950s as a cub reporter for United Press, Linton got to Washington as a deputy to Pierre Salinger during John F. Kennedy's presidential campaign. That led to a job as an aide in Robert McNamara's Defense Department. (Linton once had to yank Ed Muskie back into line during Kennedy's funeral procession when the senator from Maine tried to step out to snap photographs of Charles DeGaulle.)
"Ron takes the cake as the best Washington storyteller," said Linton's friend Terry Lynch, with whom he worked at the Downtown Cluster of Congregations, an association of religious institutions.
Linton might have been forced to an uneasy truce with the apps, but people who get in ordinary taxis saw the bulk of his work. Credit-card machines and new, more visible rooftop lights are universal now, and more cabs are being repainted with a now-familiar red-and-gray color scheme. Linton relished the progress when he checked it out for himself.
"How's your cash flow?" Linton asked Mohammed Khan when he climbed in the backseat of Khan's Ford Crown Victoria across from Farragut Square one day in April 2014.
Khan told Linton his tips are up since he started taking credit cards the year before, but that UberX was eating into his overall business. (DC's largest taxi fleet, Yellow Cab, said last fall that the emergence of ride-hailing apps had cut its revenues by 30 percent.) Linton went into problem-solving mode during the ride up Connecticut Ave., Northwest, when Khan said his credit card system provider, DCVIP Cab, was transmitting payments back to him every 10 days instead every 24 hours as required by the modernization rules. Linton pulled out his BlackBerry and called his office.
Up in Woodley Park, Linton hailed a cab that had been painted in the new red-and-gray color scheme, but when he got in, he immediately spotted that the driver had his credit-card machine turned off and faced away from the passenger. Linton's cop side came out when the driver, who also failed to display his identification card, claimed his system is broken.
"You are not to pick up anybody," Linton barked. "You keep this up, I'm going to cite you!"
We exited the cab before Linton could start issuing violations and the driver speeded off. Thanks the new rooftop lights, though, the cab's ID number was clearly visible if we wanted to file a complaint.
"It's a challenge," Linton said before flagging down another taxi. "I can't get in a cab without getting stuff to work on."
For a man who spent the last few years of his life trying to fix the taxi industry, Linton only hailed a cab four or five times a month. Most days he drove from his apartment in Cleveland Park to his office in a shabby DC government office building in Anacostia.
Linton knew he was finished when Gray lost last year's Democratic mayoral primary to Muriel Bowser. But he kept working through an extended period of lame-duckery, dealing with the ride-hailing apps and trying to move forward on a long-stalled initiative to add more wheelchair-accessible taxis to the city's fleets.
Other "change agents" in the District's recent history have been celebrated (or reviled) for their relative inexperience in government. (See: Klein, Gabe or Rhee, Michelle.) With taxis, though, change came from someone with decades in the thick of things and with the fortitude to survive being portrayed as a grumpy codger by new players uninterested in following all the rules.
Still, Linton wouldn't have minded hearing some gratitude once in a while. He said he got an occasional thank-you note from a driver whose tips have improved or a tourist pleased with the improvement in service, but the praise was always fleeting.
"It's nice when the driver begins to acknowledge that it's been good for them," he said. "Of course, I also get the people who say, 'Hey, you know I rode in a cab the other day and the son of a bitch wouldn't take my credit card!'"
But after 60 years working in and around government, Linton developed a standard response to the criticism, and it seemed most fitting in his final role:
"Nobody loves a regulator."