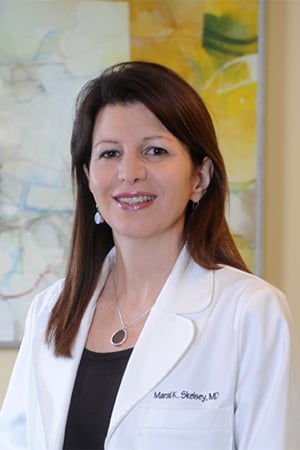 Dr. Maral Kibarian Skelsey answers common questions on Skin Cancer. Dr. Maral Kibarian Skelsey can be reached at the Dermatologic Surgery Center of DC located at 5530 Wisconsin Ave, Chevy Chase, MD 20815. (301) 652-8081.
Why is Mohs micrographic surgery the best treatment for skin cancer?
Traditional treatments often prove ineffective because they rely on the human eye to determine the extent of the cancer. In an effort to preserve healthy tissue, too little tissue may be removed resulting in recurrence. Or if the surgeon is overly aggressive too much healthy tissue may be removed which causes excessive scarring. Mohs micrographic surgery on the other hand, relies on the accuracy of a microscope to trace and remove skin cancer down to its roots.
What is the likelihood of recurrence of my skin cancer with the Mohs surgery?
Clinical studies show that Mohs micrographic surgery has a five year cure rate of 99 percent in the treatment of basal cell and squamous cell cancers. It can also be used effectively to treat less common tumors including certain types of melanoma and Merkel cell carcinoma.
Can I be treated as an outpatient or will I have to be hospitalized?
The treatment is usually completed in one appointment in my office.
What does the treatment involve?
It depends on your particular case. Having completed a fellowship approved by the American College of Mohs Surgery, I am trained in both dermatology and pathology. I perform a sequence of surgery followed by a pathological examination of the tissue removed. After I remove the visible part of the tumor, I return to the surgical site to remove a thin layer of tissue that I analyze to determine if there are any remaining cancer cells. We study this tissue section under a microscope for evidence of remaining cancer. If cancer cells are found I remove another very thin layer of tissue and repeat the microscopic analysis of this sample. The sequence is repeated until there is no evidence of cancer.
Is the procedure painful?
Local anesthetic is used prior to the procedure. Patients generally have minimal discomfort during the procedure and require little or no post-operative pain medication.
What about scars?
As a Mohs surgeon, I am also trained in reconstructive procedures designed to preserve the function and natural appearance of the treated area. And because Mohs surgery preserves the maximum amount of normal skin and results in smaller scars, cosmetic repairs and reconstructive procedures are often less extensive.
Is all of this covered by my insurance?
Yes, Mohs surgery for skin cancer and the subsequent reconstruction are covered by most insurance plans. Check with your carrier for specific questions.
Visit Dr. Maral Kibarian Skelsey's website here.