Celebratory brunches
Because nothing says "freedom" like bottomless mimosas on a Friday…or 7 pm on Saturday.
All-you-can-eat-and-drink Sandoval spectacular
Multiple locations
Richard Sandoval's restaurants offer bottomless brunches throughout the weekend on Friday, Saturday, and Sunday. Indulge in all-you-can-eat-and-drink meals at both the Georgetown and 14th Street locations of Mexican-themed El Centro D.F., or Latin-Asian eats at Masa 14 and Zengo. Expect endless small plates, free-flowing drinks, and a party vibe at all.
Day-to-evening brunch at Bar Pilar and Cafe Saint-Ex
1833 14th St., NW
Sister 14th Street restaurants have your Saturday brunching covered, serving eggs and bloodies until 8 pm. Pilar dishes up satisfying plates like butter-poached lobster salad and fried chicken biscuits, while Saint-Ex leans French. After 8 look for bar snacks off the late-night menu at both places.
Tico's bottomless brunch
1926 14th St., NW
Weekend brunching at Tico starts at 11 on Friday and continues beginning at 10 on Saturday and Sunday. Bottomless brunch cocktails go for $19, alongside an a la carte menu of American/Latin dishes like duck confit and green chili hash, and fried chicken.
Bottomless brunch at Station 4
1101 Fourth St., SW
Head in for a set menu on Friday, Saturday, and Sunday: $30 for an entree (crawfish and sausage omelets, corned beef hash) with bottomless mimosas or bloodies for $30.

Barbecues, roof deck parties, all the fried chicken…
Where to find the best summery fare and food-fueled parties.
Fried chicken buckets (and Friday brunch) at Boundary Road
414 H St., NE
This Atlas District spot has a lot going on over the holiday weekend, starting with lunch/brunch on Friday from 11 to 3. Drinkers can opt for $4 DC Brau beers and $4 rickey cocktails on Friday afternoon and all day Saturday, when the kitchen dishes up buckets of fried chicken alongside a special Independence Day menu. Crispy bird buckets include eight pieces and sides ($40); only 50 orders are available for dine-in or carryout from 11:15 am to midnight on Saturday, and can be reserved by calling 202-450-3265.
AmeriCan DrinkDependence Weekend at Jack Rose
2007 18th St., NW
With a name like that, you know it's going to be a party. The Adams Morgan whiskey spot hosts a Saturday and Sunday rooftop bash from 4 to 7:30 with $4 Flying Dog brews and half-prices snacks like smoked whiskey wings, fried chicken skins, and jalapeño hushpuppies. Admission is free.
Grilling with DC Brau at DC9
1940 Ninth St., NW
DC Brau head brewer Jeff Hancock spins tunes on the rooftop of DC9 during their 5th annual grilling party. Platters of brats, burgers, and sides go for $11, while DC Brau beers are $4. Doors open at 2; admission is free.
Brewery battle at City Tap House
901 Ninth St., NW
The beer-centric restaurant joins local breweries 3 Stars Brewing Company, Evolution Craft Brewing Company, and Adroit Theory Brewing Company for a cook-off on Saturday from noon to 5. Expect plenty of 'cue, traditional sides, a corn hole tournament, and $5 draft beers.
Roof deck grill-out at 1905
1905 Ninth St., NW
1905 fires up the grill on its rooftop on Saturday with a selection of dishes like local sausages, pulled pork, portobello sandwiches, and green bean salad. Wash it down with Atlas Brew Works beer (a full bar is available). The $20 cover charge includes three tickets for food or beer.
Restaurant picnic at Fainting Goat
1330 U St., NW
The 14th Street gastropub serves a celebratory picnic from 2 to 9 on Saturday. An a la carte menu includes snacks ($3.50 to $12) like a peach and burrata salad or sliders, and entrees with seasonal sides ($14 to $19) such as fried chicken thighs with slaw.
Independence Day party at Lincoln Restaurant
1110 Vermont Ave., NW
Celebrate on Saturday at this Abe-themed restaurant, which dishes up a bottomless barbecue buffet ($35 adults; $17 kids 12 and under), and drink specials including $3 PBR and Miller Light, and $30 punch bowls. DJ Freddie spins tunes. The party runs from 2 to 11.
'Cue and crabs at Teddy & The Bully Bar
1200 19th St., NW
Lincoln's sister restaurant, themed after Teddy Roosevelt, lays out a farm-to-table barbecue buffet on Saturday from 2 to 11 ($35 per person; $16 for kids 12 and under). Fried chicken, pulled pork, salads, and pies are all on offer, alongside $5 Heavy Seas IPA and $8 house cocktails. Guests can also opt for cracked, garlic-spiced Maryland blue crabs ($12 for three; $24 for six; $48 per dozen).
Lobster bake at Graffiato
707 Sixth St., NW
Tired of beer and barbecue over the holiday weekend? Head to Mike Isabella's Italian restaurant on Friday, Saturday, and Sunday for a lobster bake of one-pound crustaceans, corn on the cob, sausage, potatoes, and cornbread ($39). Reservations are recommended.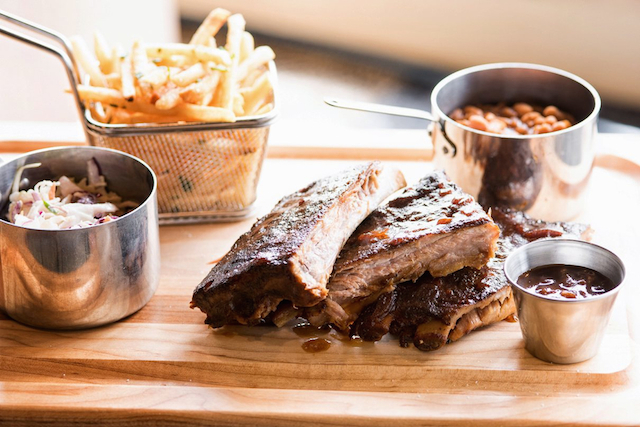 Live music, good eats
Feast and listen to live tunes at these restaurants and concerts.
The Hollies hit Bethesda via Villain & Saint
7141 Wisconsin Ave., Bethesda
Steve Lauri of The Hollies makes a rare performance at Robert Wiedmaier's restaurant/music house on Friday (musical trivia: his band was inducted into the Rock and Roll Hall of Fame in 2010). Sip a drink special, dubbed The Holli-Day, with rum and fresh-squeezed orange and pineapple juices. Doors open at 8 and the concert begins at 9. Tickets ($18) are available online.
Freedom fest at Republic
6939 Laurel Ave., Takoma Park
Head to Jeff Black's Takoma Park restaurant on Saturday from 11 to 7 for a beer-filled party. Guests can listen to live tunes from Yamonamen and Human Country Jukebox, try limited-release beers, and dig into a barbecue feast from chef Danny Wells. Local breweries like Denizens Brewing Company, The Brewer's Art, and Atlas Brewing Company join the festivities. Tickets ($40 to $70) are available online.
Biker bash starting at DC Brau
3178 Bladensburg Rd., NE
Anyone with a motorcycle can head to DC Brau on Saturday at 9 for a Chef Geoff's breakfast and Vigilante coffees before riding the hogs to RFK Stadium for the Foo Fighters 20th anniversary concert. Each ticket ($50 to $125; two ticket limit) includes preferred seating at the show.