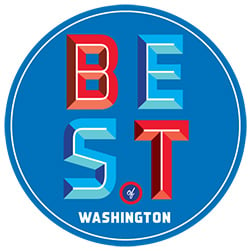 Best Place to Replicate Olivia Pope's Wardrobe: Saks Jandel
In business more than 130 years, Saks Jandel is as much an institution in real-life Washington as Kerry Washington is in Scandal's version. It's also, we imagine, the first place the presidential problem-solver would head for her woman-in-charge wardrobe. From power suits by Akris and Giorgio Armani to architectural evening gowns by J. Mendel, this shop understands the delicate relationship between Washington women and designer labels (they love to wear but not flaunt them)—and the staff can stealthily guide you through the pieces other women have already purchased for next week's power luncheon. 5510 Wisconsin Ave., Chevy Chase; 301-652-2250.
Best Place to Replicate Claire Underwood's Wardrobe: Relish
If you're one of the legions who view the fictional House of Cards political spouse as a fashion role model (and you have the budget of a big TV show), this Georgetown boutique will suit your style. It stocks luxe designers—Altuzarra, Dries Van Noten—with an eye toward the sleekly dignified, sophisticated aesthetic Mrs. Underwood favors. 3312 Cady's Alley, NW; 202-333-5343.
Best Place to Shop When You Want to Look Like No One Else: Anthom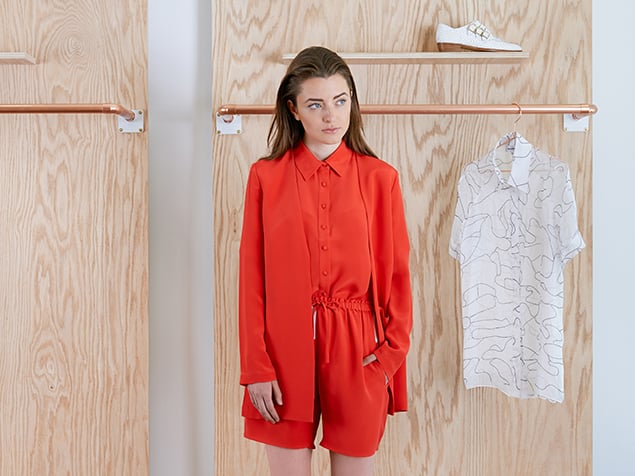 Here's the retail surprise of the year: You'll have to head toward the end of the Orange Line to find Washington's edgiest new boutique. In Fairfax's Mosaic district, fashion bloggers turned entrepreneurs Ashley Turchin, Carla Cabrera, and Marshall Johnson have gathered a collection of under-the-radar designers in their white-walled storefront. Clothing runs are limited, styles skew artsy and minimalist, and we eagerly anticipate the look books posted on their website, each of which inspires us to try the less-is-more approach with our wardrobe. 2910 District Ave., Suite 150, Fairfax; 877-747-1776.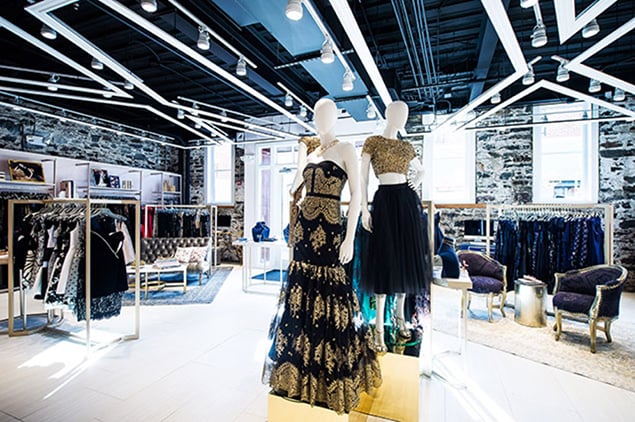 Rent the Runway solves a problem unique to party people of the Instagram generation. For the uninitiated, the system is genius: Try on designer gowns (the online business opened its fourth brick-and-mortar location, in Georgetown, in November), borrow them for 15 to 30 percent of the retail cost, return when finished. Then stop worrying about showing up in your followers' feeds wearing the same thing twice. Just be strategic: If a style is running low right before a big event, chances are it will be making multiple appearances at the same soirée. (We're looking at you, sequined Badgley Mischka with cowl back.) 3336 M St., NW; 202-774-5380.
Best Place for Party Dresses You'll Keep: Alice and Olivia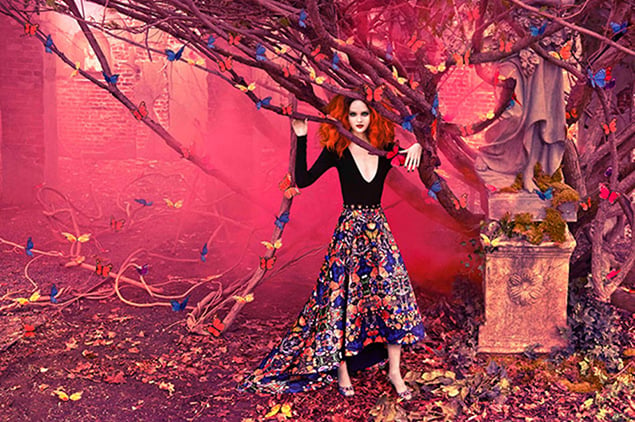 When a boutique takes over a prime M Street storefront from a chain burrito outlet—as happened last November when Alice and Olivia opened in Georgetown—it's a good day for fashion in Washington. Eccentric as she is elegant, Stacey Bendet, the brand's designer, is a frequent fixture on Vanity Fair's best-dressed list, and her playfully patterned frocks blend right into formal affairs without losing their girlish whimsy. Stand out at your next black-tie event with one of her full-skirted, floor-length styles, which feel especially fresh. 3303 M St., NW; 202-602-0445.
Best Haven for Jewelry Fanatics: Tabandeh
Quietly settled on the bottom floor of Mazza Gallerie, this jewelry and accessory shop is the first place our fashion editors head when they've got a photo shoot to style, and with good reason: The store's 200 brands include Erickson Beamon, Tom Binns, Vita Fede, and Kenneth Jay Lane. Prices range from reasonable ($65 for Saint-Tropez-inspired earrings from Gas Bijoux) to outlandish ($7,800 for a Stephen Webster gemstone ring), styles flit from classic to over the top, and the selection isn't limited to what's immediately visible. With the flick of a cabinet door, a staffer will introduce you to drawer upon drawer of more unbelievable baubles. 5300 Wisconsin Ave., NW; 202-244-0777.
Best Alternative to Lululemon: Core72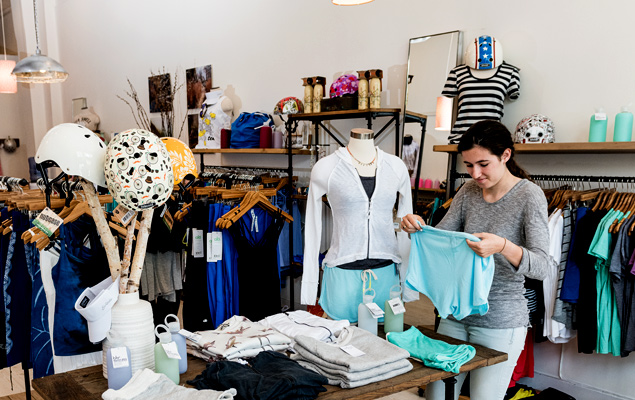 You! Yes, you with the Starbucks cup! Stop looking like every other Lululemon-clad girl in the coffee line and shop instead at Core72. Ferrall Dietrich's boutique carries an always evolving selection of activewear for running, Pilates, weight training, yoga, cycling, and hiking. Koral and Stella McCartney for Adidas fall on the more fashion-forward end of the spectrum, while options from Omgirl and Oiselle satisfy a wide range of athletes. 5502 Connecticut Ave., NW, 202-686-4258; 3316 Wisconsin Ave., NW, 202-244-1100.
Hear us out: The styles at this teen mall store have stretch, hit the right trends, and cater to a variety of heights with short, regular, and long cuts. They also start at $39.95. A tough combo to beat, especially when you're suffering from designer-jean fatigue. Multiple Maryland and Virginia locations.
This article appears in our July 2015 issue of Washingtonian.