MONDAY, JULY 27
MUSEUMS: What was it like for women covering the Vietnam War? This Newseum event, moderated by CNN Pentagon correspondent Barbara Starr, answers that question through the testimony of four journalists, including Edith Lederer, the first woman hired full-time by the Associated Press to report on Vietnam. Free, 7 PM.
MUSIC: Go ahead: Blame the German pair known as Milky Chance for creating the catchy folktronica tune "Stolen Dance," which is impossible not to bop your head to. Their second single, "Flashed Junk Mind," is equally as good. They sold out their first US tour–and tonight they're performing at Echostage with X Ambassadors as their opening act. $35, 7 PM.
TUESDAY, JULY 28
MUSIC: Last year, Interpol released "El Pintor"–the rock band's first album since their self-titled release in 2010. Now they're back on the road, touring for the first time in years and hitting up Washington for a performance at Echostage. $40, 7 PM.
WEDNESDAY, JULY 29
FILM: The Jane Austen Film Festival continues at Dumbarton House with an outdoor screening of Pride and Prejudice. It's the last evening for the series, so grab a picnic blanket and head over to Georgetown for a dose of Keira Knightly under the stars. Pre-registration for the event is full; be sure to get there early to score your own space on the lawn. 7:30 to 10 PM.
MUSEUMS: Everyone's favorite ball pit stays open late on Wednesdays throughout the summer. Stop by the National Building Museum's "The Beach" for some local craft beer, speciality cocktails, and a dip in a germ-free ocean of plastic spheres. $16, 5 to 9 PM.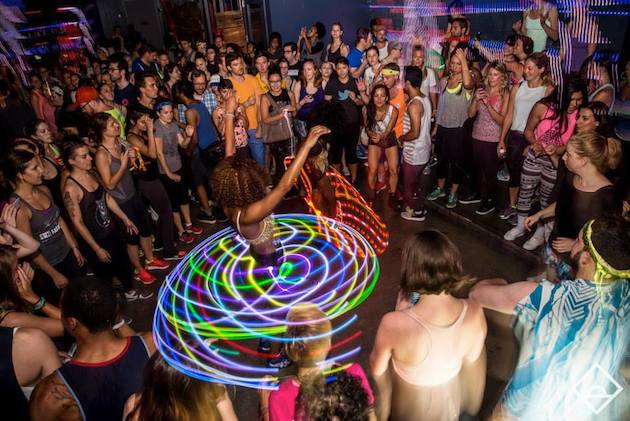 PARTY: You could sleep in on Wednesday morning–or you can crawl out of bed and head over to Daybreaker DC at Dock 5 of Union Market for a early morning fete. Starting at 6 AM, there will be dancing, live music, tunes by DJ David Hôhme, yoga, and an assortment of juices, coffee, and tea. $20 to $35, 6 to 9 AM.