This Virginia town is known for its wild ponies and unspoiled beaches, but its charms go beyond four-legged inhabitants. There's a real Main Street, with a couple dozen interesting shops, galleries, and restaurants catering to tourists as well as locals.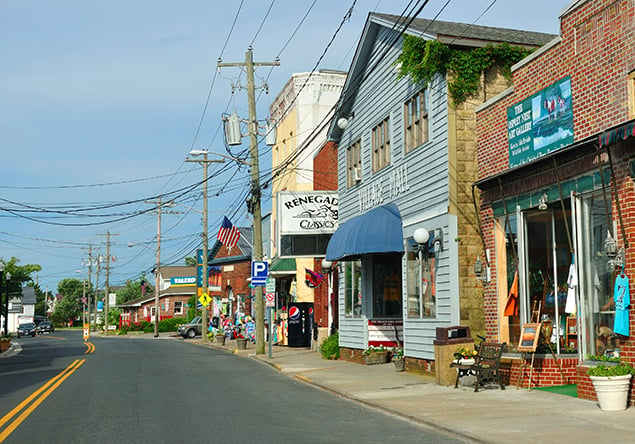 Jamey Brittingham, owner of MamerSass, specializes in repurposing vintage clothing into cool new looks, while Girls Day Out Boutique has beach-friendly designs by Vera Bradley and Fresh Produce. Sundial Books is the place to go for beach reads and jewelry as well as rollicking jam sessions on its back porch. The new Pico Taqueria (6382 Maddox Blvd.; 757-785-9920) stuffs its tacos with everything from cornmeal-fried oysters to crispy cauliflower to pickled Thai chilies. Cool your palate with a waffle cone from Island Creamery (6243 Maddox Blvd.; 757-336-6236). When it's time to explore the natural side of town, join a boat tour with Daisey's Island Cruises, then spend the night—with a view of Chincoteague Channel—at the Waterside Inn (3761 Main St.; 757-336-3434).
Population: 2,913.
Distance from DC: 170 miles.
Town trivia: In 1946, Marguerite Henry wrote Misty of Chincoteague in Miss Molly's Inn, a Victorian that's still open to guests.