Sam Bodkin took the typical classical music experience and did away with nearly every trope. The setting? Forget concert halls. He figured there's no better way to enjoy a string quartet than sitting cross-legged on a stranger's living room floor. The vibe? He thinks it's best to listen to music as it unfolds five feet from your face. Drinking is also allowed.
As for chatting during the concert? That's one line Bodkin wasn't willing to cross. "[The music's] gotta be the focal point of the crowd's attention," he says.
In 2013, he founded Groupmuse, an online platform that connects budding musicians with hosts who want to hold happenings in their homes. It also brings together people who are looking for a new type of music experience: cheap, chill, and intimate classical music concerts. And these people, more often than not, tend to be in their 20s.
"We're trying to reconstitute the listenership for classical music," Bodkin says. "It's kind of really about giving people an unabashadly positive and substantive way to connect to members of the community."
Now Groupmuse is in 20 cities across the world, including New York, Boston, and San Francisco, and has hosted happenings in Stockholm and Berlin. In May, the concerts debuted in DC. Since then, monthly happenings have been held in group houses in Bloomingdale, Dupont Circle, and Columbia Heights.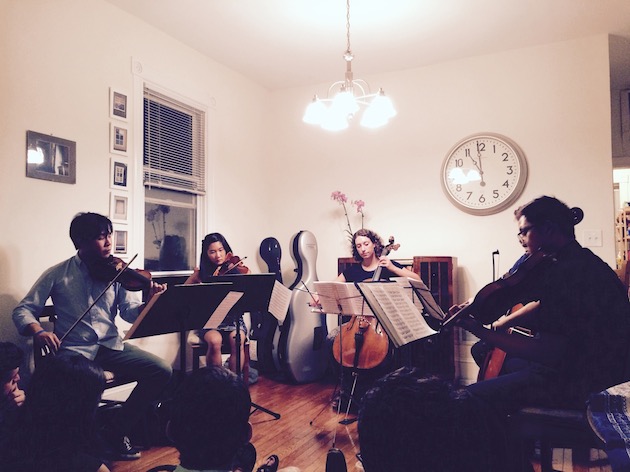 Christian Dutilh–the platform's volunteer organizer in Washington–first attended a Groupmuse this past winter at a Brooklyn studio apartment. He quickly decided to import the concept to DC. The 26-year-old, who owns a real estate and branding company by day, is convinced these concerts are as rewarding for audience members as they are for musicians. "This is me trying to get my friends into a different kind of music that they wouldn't normally be able to explore," he says, adding, "The musicians are so wonderful, so appreciative. They never get a chance to perform in an atmosphere like this."
Here's how it works in DC: "Groupmuses" are free to host, but usually cost $10 per person to attend. Proceeds go directly to the musicians, who are typically young, classical music students at Baltimore's Peabody Institute. Concerts are BYOB. They start with an hour of conversation and mingling; once the tunes begin, audience members are expected to sit down and listen. The music is split up into two 25-minute segments, with a 30-minute intermission in between. After the show, people drink, chat, and hang out with the musicians.
On average, about 35 people attend each concert. There's no vetting process for hosts; all you have to do is sign up. "It's literally easier to host a Groupmuse than it is to host a birthday party," Bodkin says. "You just have to move your coffee table aside."
The next DC event is on Friday, September 11, in the back patio of a Columbia Heights house, featuring Baltimore Chamber Orchestra celloist Peter Kibbe—and just enough room to cram 40 guests.