Meet Welch, a one-year-old, female Chihuahua-mix. She's friendly and outgoing, and enjoys the company of other dogs; in fact, when she sees other dogs, she wiggles and play-bows to encourage them to play. Because of her petite size, Welch would make a perfect companion for someone living in a townhouse, apartment, or condo as long as her human is willing to take her for lots of walks to explore. Stop by the Washington Animal Rescue League and to meet her in-person.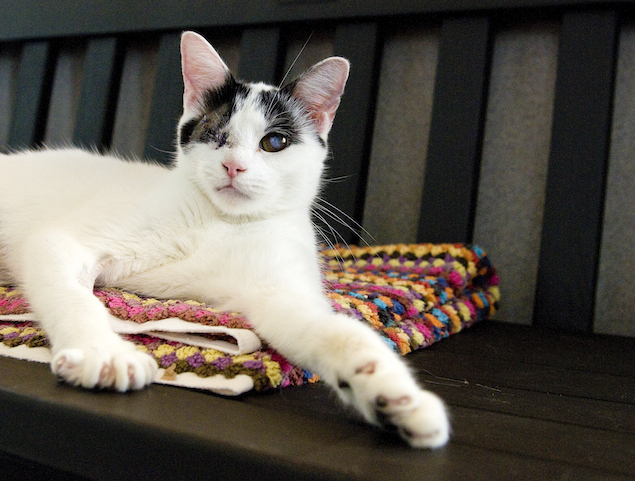 Garnet arrived at the Washington Animal Rescue League after being rescued—along with some 150 other animals—from a hoarding situation in North Carolina. Sadly, an old untreated injury resulted in the shelter's veterinarians having to remove one of her eyes. But that hasn't dampened Garnet's spirits. This lovely little cat is affectionate, playful, and friendly. She's looking for a home where the people will adore her as much as she adores them. And at seven years old, she qualifies for WARL's Boomers' Buddies program, which means her adoption fee will be waived for adopters over the age of 50. Stop by WARL and meet her soon.
Nico arrived at the Washington Animal Rescue League after being rescued from the same hoarding situation as Garnet. A chronic, untreated infection resulted in a permanently crinkled ear, but that only adds to her unique look. Nico is very sweet and affectionate, and actively solicits petting by climbing into your lap and pushing her head into your hands. She's looking for an adult home (or one with older kids) where she will be well loved. You can meet her at WARL.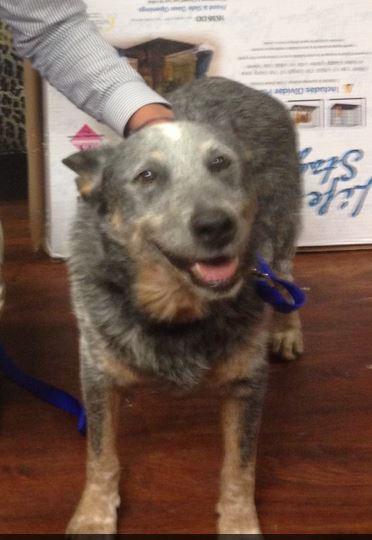 Dr. Pepper is an approximately five-to-seven-year- old Australian Cattle dog. He was surrendered to the shelter when his owners could no longer care for him. He is a very smiley guy and loves to snuggle. He is medium in size, weighing about 45 pounds. Dr. Pepper is very laid back, easy going, and rarely barks. Dr. Pepper is very smart and learns basic commands and routines easily. He does well on a leash and loves to go for walks. Please visit the Rural Dog Rescuefor more information about Dr. Pepper.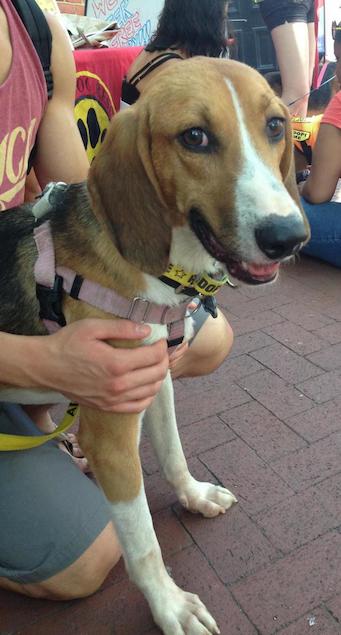 Spencer, a hound-mix, is about two years old and weighs about 50 pounds. He is very loving and eager to please. He is a friend to every person or dog he meets, although he is perhaps too interested in cats! His current caretakers have not seen a hint of food aggression, toy hoarding, or other indication that he will initiate aggression of any kind. In fact, he is extremely social and excited to meet everyone he encounters. Spencer is crate-trained and alerts you when he needs to go outside. While what he wants most is to be with his people, he doesn't suffer from any separation anxiety. When it is bedtime he settles right down, whether in his crate or on a dog bed in the bedroom. Like most Treeing Walker Coonhounds, Spencer is an explorer (though he doesn't ever try to escape the yard) and a climber. True to his breed, he needs a couple of hours of outdoors time each day, and loves to have canine or human companions outdoors playing with him. When Spencer arrived to his foster family he was near-starvation. He has since gained a good amount of weight and his coat is almost completely full. Visit the Rural Dog Rescue for more information about Spencer.