The eastward drift of development in the District has been a boon for thin-pocketed but ambitious restaurateurs, who have set up shop in inexpensive, previously unthinkable locales and, in so doing, have helped reshape the dining scene. The most obvious example is the Red Hen, which, when it debuted in 2013 in Bloomingdale—a neighborhood then largely unknown to those in the power axis of Northwest DC, Bethesda, Arlington, and Alexandria—was generally regarded as a gamble. Today, waits are nearly three hours on a midweek night.
Nido would seem to be an even bigger gamble, situated as it is on a somewhat desolate stretch of Rhode Island Avenue in Northeast DC's Woodridge. The corner of the block once belonged to the seedy Kirk's Motel, and even today, with Good Food Markets and Zeke's Coffee, the strip isn't exactly a bastion of economic development. Across the street from Nido is a Family Dollar, whose sign is clearly visible from a stool at the bar, one of those instances of disjunction commonplace in small, ambitious restaurants that open in hitherto undeveloped areas. Nido is so out of sync with its neighbors that you half wonder if it's a makeover job set up by one of those restaurant reality shows.
The general manager, Erin Lingle, who previously ran the floor at Boundary Road, also did the design, and her aesthetic is straight out of the pages of Real Simple. White is the canvas for the airy, high-ceilinged room, decorated with soft-blue and brushed-brown accents on the tables and booths, old lamps, and antique pictures. At night, the lights are kept low and bossa nova sets the mood. The effect is that of a chill dinner party at an unpretentious coastal resort (at times, too chill—the hush is reminiscent of more lavish and formal dining rooms, where nobody talks above a whisper).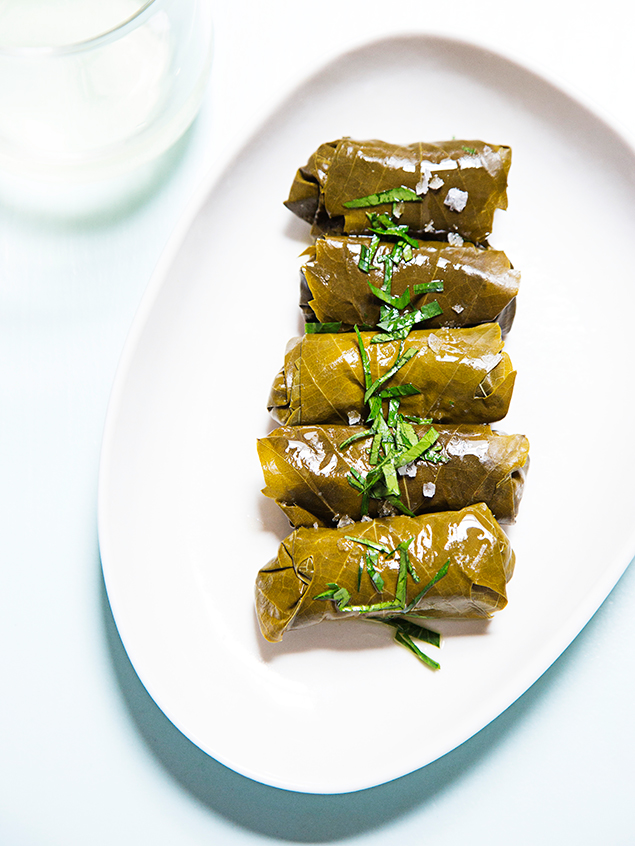 Nido has drawn more than start-up inspiration from the Red Hen. The food—overseen by Aaron Wright, a former second-in-command at the Tabard Inn—also consists of lots of small, lightly embellished plates of Mediterranean cooking. Many have an intentionally offhand feel. The Sicilian-style chickpea purée and stuffed grape leaves are both meant to look as though they've been whipped up at a moment's notice for unannounced guests (in this way letting you discover the surprise of rich, fruity olive oil and roasted garlic in the former and the bits of chicken liver in the latter), while a crisp-skinned chicken thigh with a delicately lemony chicken jus and a juicy, pan-seared cod with romesco are so unassuming that if this were one of those loud and industrial rooms, you might well miss the skill in them.
A beef carpaccio seems like little more than a presentation of high-quality, thin-shaved meat, until you take a bite and discover the carefully deployed deposits of sea salt and, further, the slick of fruity, spicy olive oil for swabbing. Like many of the small dishes, it arrived on the type of plate your grandmother might have used—a cute and startling move when Rose's Luxury first tried it, but having since been copied by a slew of restaurants trying to imbue themselves with soul, it now comes off as an affectation.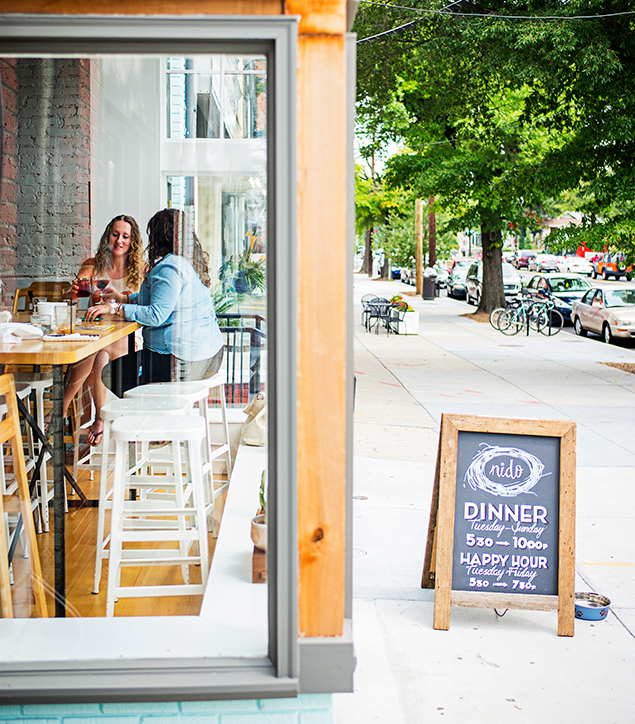 Another crib from Rose's: the two family-style plates, intended for groups of three or four. One is a Basque seafood stew for $37, but although the bowl is abundant with octopus and clams—all of it fresh, of high quality, and tenderly cooked—the dish suffers from the austerity that elsewhere works so well. The tomato-fennel broth could stand more garlic and paprika: more lusty punch.
As at most small, independent restaurants, there's no pastry chef and, as might be expected, only a few desserts to choose from. What's unexpected is that they show real care and effort. If there's a blueberry upside-down cake or pistachio pot de crème on the menu, you're in luck.
You're in luck, too, if you've been looking for a place that doesn't try too hard and isn't too expensive, a place to slip into and find a little peace and tasty sustenance.
This article appears in the October 2015 issue of Washingtonian.
---