Looking for a fun Halloween meal? Try one of these All Hallows Eve-inspired pizzas. We've found recipes for mini-spider pies, dough "bones" dipped in marinara "blood," and stuffed pizza skulls. And don't limit yourself to savory pies—we've included plenty of sweet dessert pies to die for.
SAVORY
Terrifying Toppings and Spooky Shapes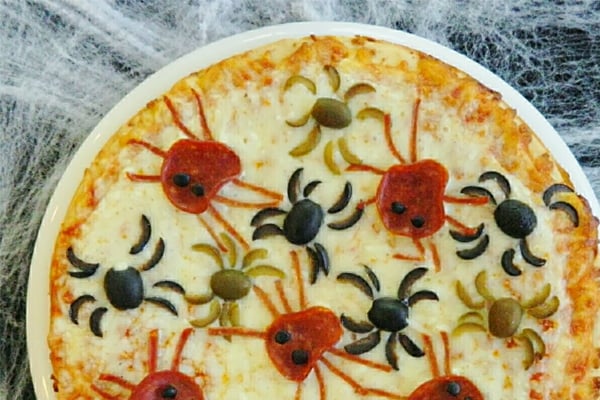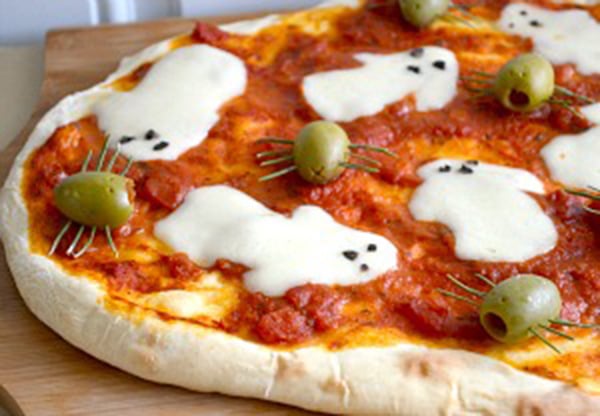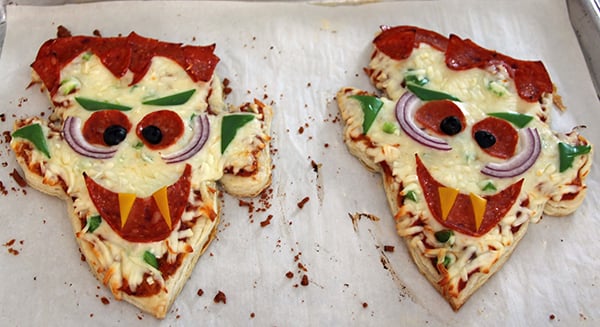 Take your favorite pizza recipe and arrange the toppings in frightening ways. Circular slices of pepperoni and olives make spider bodies, and you can fashion legs out of strips of basil. For ghosts, stamp slices of mozzarella cheese with a ghoul-shaped cookie cutter. Those who want to start with the crust can shape the pizza dough into a face, and arrange toppings like the folks over at at Best Friend Pizza—pepperoni and olives for the eyes, mouth, and hair; bell peppers for brows, ears, and teeth.
Bones 'n Blood Dippables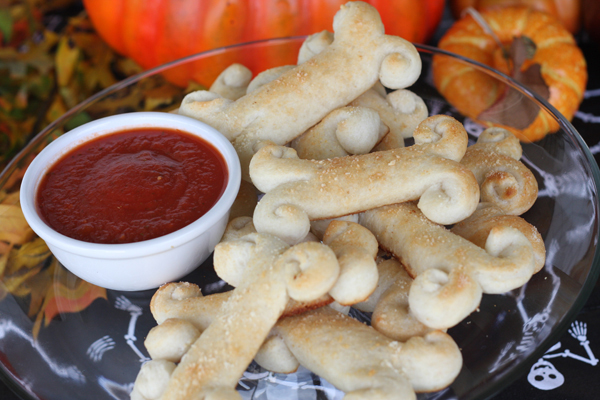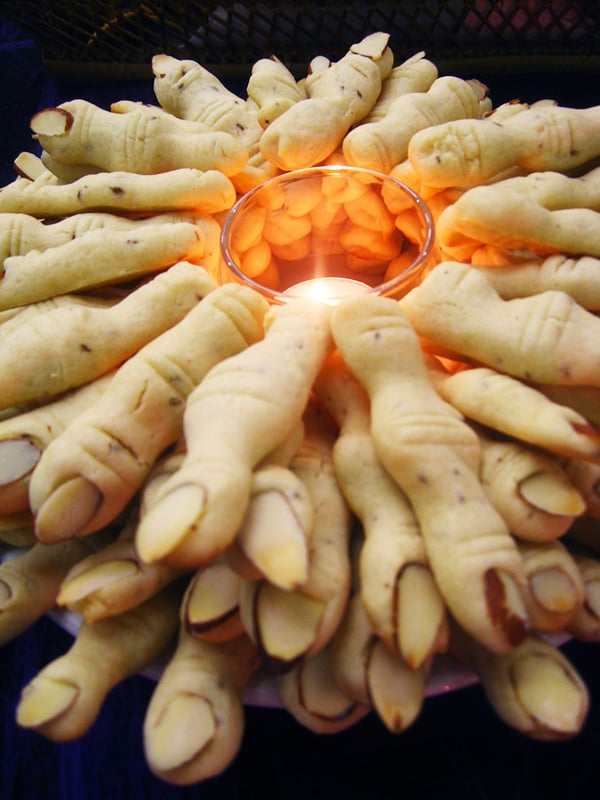 Pizza dough shaped into bones and fingers make fun party hors-d'oeuvres. Try Our Best Bites pizza dough "bones" with a side of marinara "blood" sauce. For a more substantial alternative, wrap the dough around mozzarella cheese sticks, and shape to resemble fingers by scoring the dough with a sharp knife. Adorn the tips with almond slivers for nails, and bake for a realistic take on finger food. For a staple pizza dough, try Jack Bishop's Basic Pizza Dough—simple, delicious, and easy to make ahead!
Eerie Eyeball Pizza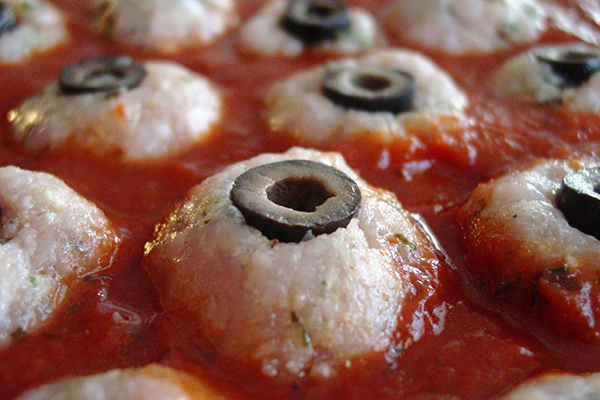 For those who don't mind a pizza that watches you while you eat, consider throwing together a meat-eyeball pizza from Lick the Bowl Good. Monica Holland has a great recipe for Turkey Pesto Eyeballs (just add sliced olives to the top).
Scary Skull Pizza Bites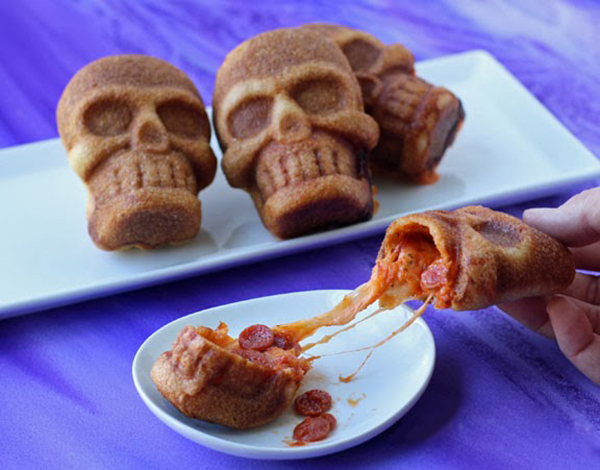 Time to dust off your skull baking pan! Even if you don't have a pan with molds of mini heads, any Halloween theme will do (try Sur La Table in a pinch). Regardless of the shape, this great step-by-step visual guide from Hungry Happenings will set you on the right path. The process isn't as complicated as it looks.
Macabre Minis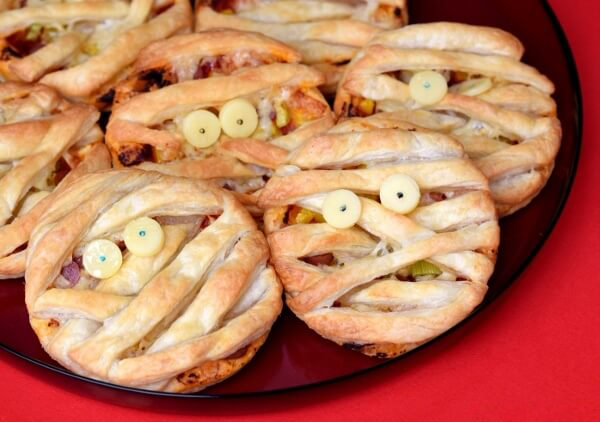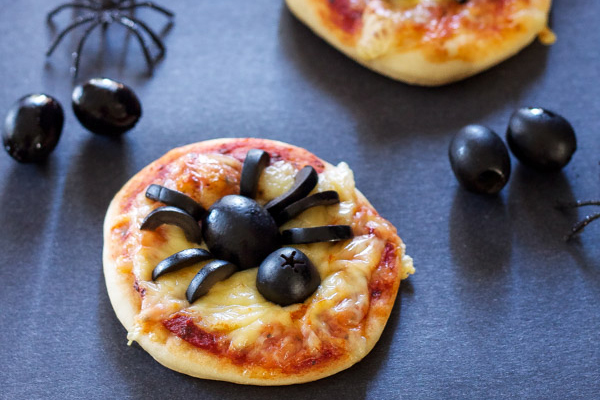 These bite-sized treats will be a hit for your Halloween party spread. For mini mummy pizzas, pick up a sheet of puff pastry, your favorite sauce, and toppings. Cut circles of puff pastry, add your toppings, and layer on strips of puff pastry in mummy fashion. Recipe Runner's Mini Spider Pies are equally easy, and follow a similar pattern. Make your mini pizzas, arrange the olives into a spider shape, and bake. To prevent the spider legs from splaying during baking, consider adding the olives after the minis are out of the oven.
SWEET
We've compiled all the spookiest dessert pizza pies that you'll want at your next Halloween gathering. They range in flavor from chocolate brownie and Nutella to pumpkin spice and caramel apple.