Fred Armisen is everywhere these days. Besides working on Portlandia, the SNL alum is starring in the IFC series Documentary Now! and performing in the house band for Late Night with Seth Meyers. He's also harboring strong feelings about DC's music scene.
"Was there a better label than Dischord [Records]?" Armisen asked on Saturday at a live taping of NPR's Pop Culture Happy Hour at the Howard Theatre. "I think Ian MacKaye is everything that I always wanted to be. Everyone wanted to be part of that scene. It was really the best… I will always, no matter what, be a punk more than anything."
Armisen and All Things Considered host Audie Cornish joined Linda Holmes with Stephen Thompson and Glen Weldon for the taping of their weekly podcast rounding up "the best and worst of pop culture." At the top of the show, the curtain rose on Armisen alone onstage with his guitar, performing "Wait for the Blackout" by the Damned.
Armisen left the stage after his performance, making way for Holmes, Thompson, Weldon, and Cornish to take their seats for the first segment. In the spirit of Halloween, their discussion centered on what scared them most–for Cornish, it was the 1987 movie Hellraiser; for Weldon, it was sports. For the second segment, Armisen returned to the stage for an interview with Holmes.
Armisen's one of those performers that you see everywhere but almost never as themselves. Out of character, he was soft-spoken with a surplus of boyish energy. He was also always looking for opportunities to get back into character, at one point slipping into a spot-on impersonation of Paul Lynde.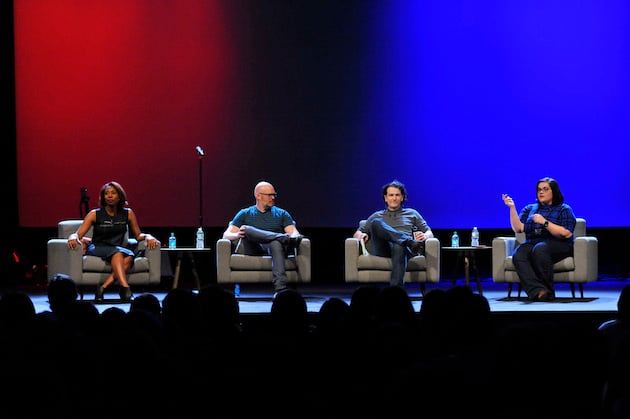 The show ended with a pop culture trivia quiz, where Holmes tested the other panelists' knowledge of TV shows' Halloween episodes. "Most of them are vintage," she explained. "I was afraid if I picked something current it would turn out that Fred was in it."
After the show ended, Armisen surprised Holmes and her producer by requesting an impromptu Q&A with the audience, during which he revealed that his favorite character to play on SNL was Garth, along with Kristen Wiig, of the perpetually underprepared musical duo Garth and Kat.
Some audience members were dressed up for Halloween–there were multiple Where's Waldos and at least one Trump–but most opted out. Naturally, Armisen commended the cardigan-wearing bespectacled crowd on their "NPR listener" costumes.