San Juan, Puerto Rico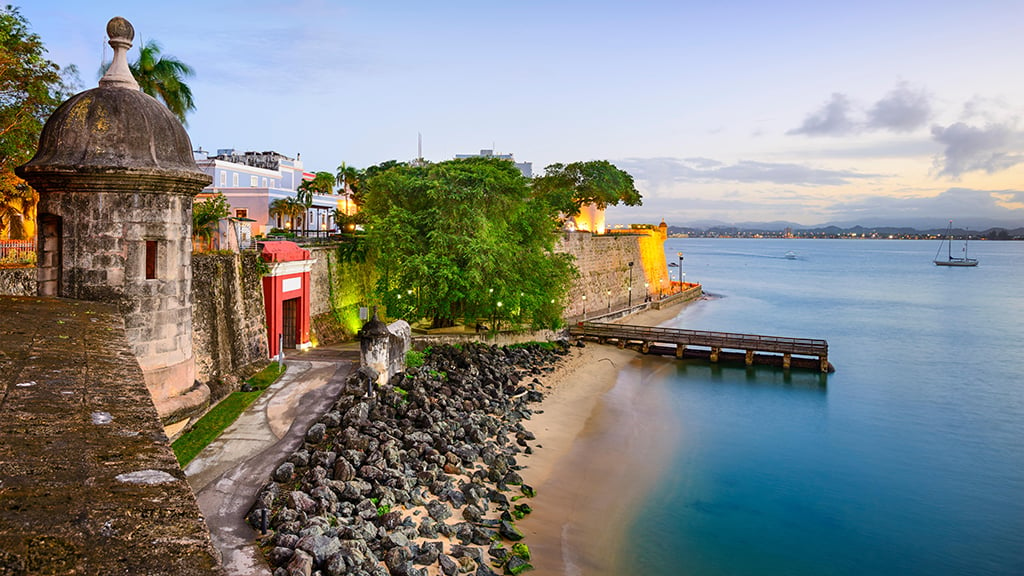 Flight time: Four hours from Reagan National and BWI.
Average high in December: 83.
Game plan: Once your plane lands, fine art and great food await at the Museum of Art of Puerto Rico (299 Ave. de Diego; 787-977-6277), a short hop west of the airport. The museum's much-heralded restaurant, Laurel Kitchen Art Bar, serves dishes such as shrimp brûlée with plantain crust.
After lunch: If you go straight from lunch to a hotel in Old San Juan, you can walk off the calories with a stroll along the labyrinth of cobbled streets. Or explore the Condado Beach district, which is experiencing a renaissance. Puerto Rican tourism took root here in the early 1900s and boomed in the 1960s. A number of vintage hotels lining its main drag, Ashford Avenue, have undergone major renovations of late. Most notable is the Spanish Revival Condado Vanderbilt (1055 Ashford Ave.; 787-721-5500). Opened in 1919 as the island's first luxury hotel, it features a double staircase and floor-to-ceiling windows overlooking the Atlantic.
—Jayne Clark
North Beach, Miami Beach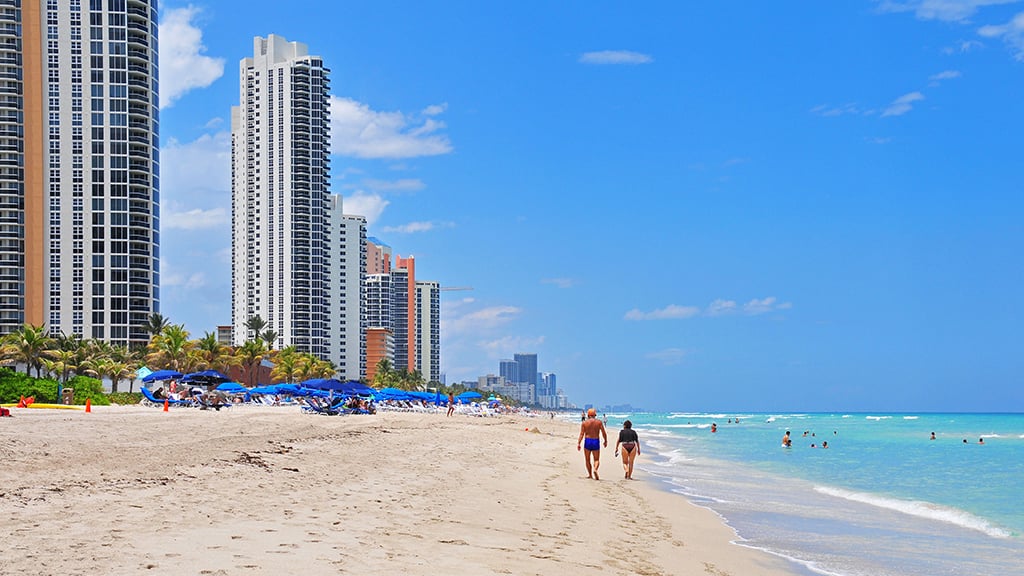 Flight time: 2½ hours from Reagan National and BWI.
Average high in December: 78.
Game plan: North Beach—with its low-slung, MiMo (Miami Modern) buildings and thinner crowds—is South Beach's mellower cousin. It's home to some wonderfully funky Latin American eateries; before hitting the white sand, grab an empanada or arepa from pint-size Venezuelan Moises Bakery (7310 Collins Ave.; 305-868-0548).
After lunch: North Beach's action—and cool architecture—centers on Collins Avenue, a block from the shore. (Walking tours, which point out gems such as the "cheese hole" facade of Temple Menorah, take place the first Saturday of the month; reserve at mdpl.org.) A boardwalk amid the dunes lures dog walkers, kids, and cyclists; rent your own wheels from one of the bike-share stations for Citi Bike. Rolling along, you'll encounter attractions including the North Beach Bandshell, a restored midcentury amphitheater that hosts concerts and movies. Lodgings, many dating to Miami Beach's mid-20th-century heyday, include the New Yorker Boutique Hotel (6500 Biscayne Blvd.; 305-759-5823), a rehabbed 1950s motel with an aqua-and-white paint job and a courtyard.
—Jennifer Barger
Punta Cana, Dominican Republic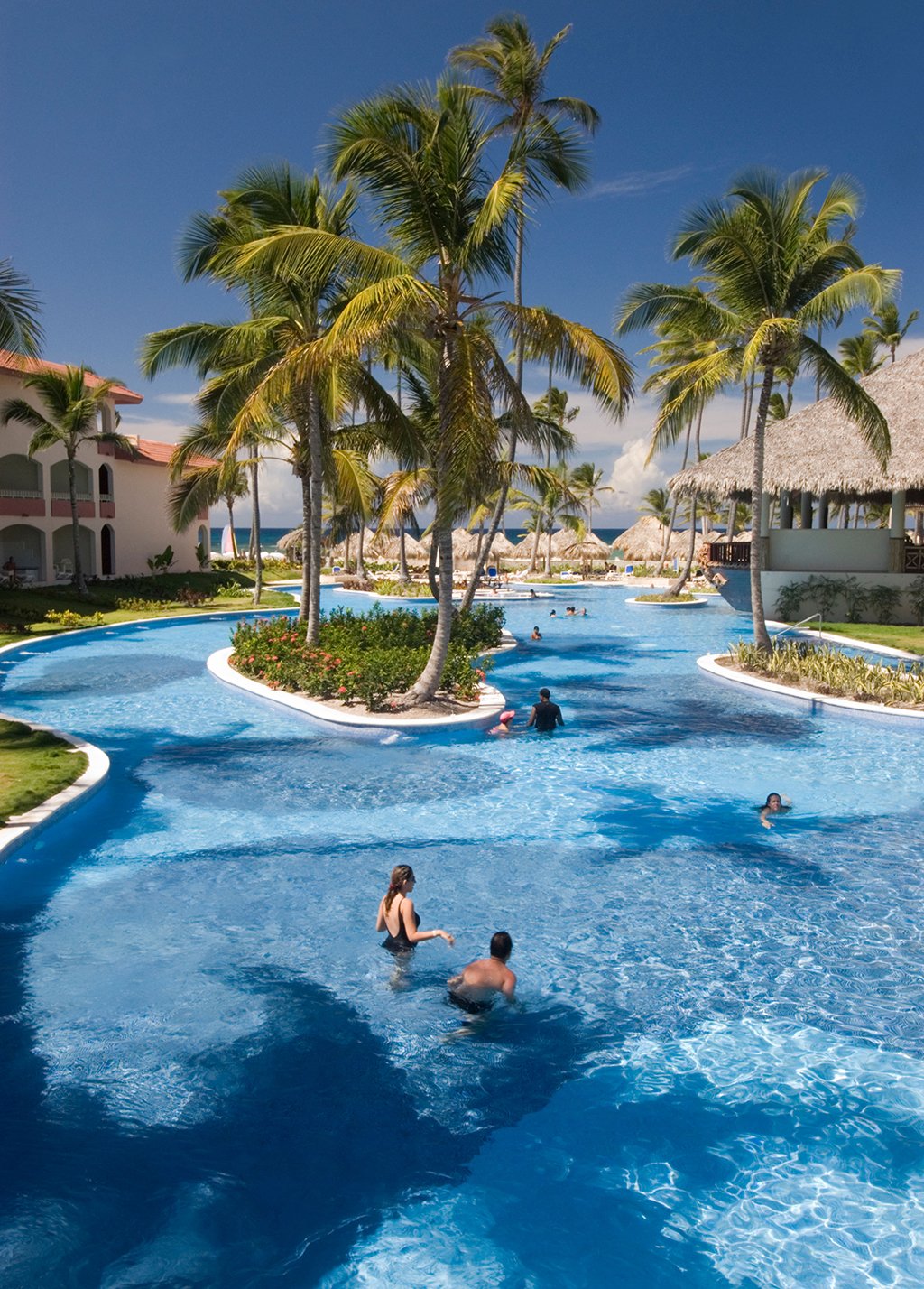 Flight time: Four hours from BWI and Dulles.
Average high in December: 82.
Game plan: This Caribbean island's easternmost point is also its most popular, drawing the bulk of tourists. Most are destined for one of its check-in-and-never-leave, all-inclusive resorts. But before checking in, consider a stop for lunch at an independent eatery. Carbon Caribbean Cuisine (Calle Gri Gri; 809-959-0018), near the airport in Puntacana Village, specializes in island fare. For local seafood served at water's edge, try Jellyfish on Bávaro Beach (Carretera Bávaro km 0; 809-840-7684).
After lunch: Punta Cana is a 100-mile stretch of distinct beach areas. Lodgings range from adults-only all-inclusives, such as Iberostar Grand Hotel Bávaro (Playa Bávaro; 888-774-0040) to family-friendly resorts like Majestic Colonial Punta Cana (Bávaro; 888-774-0040). There are other reasons to venture beyond the resorts: Scape Park at Cap Cana (809-469-7231), a one-stop eco-adventure attraction, Manati Park (Bávaro; 809-221-9444) for botanical gardens and swimming with dolphins, and Isla Saona, a nature preserve with great snorkeling and pristine beaches.
—J.C.
Phoenix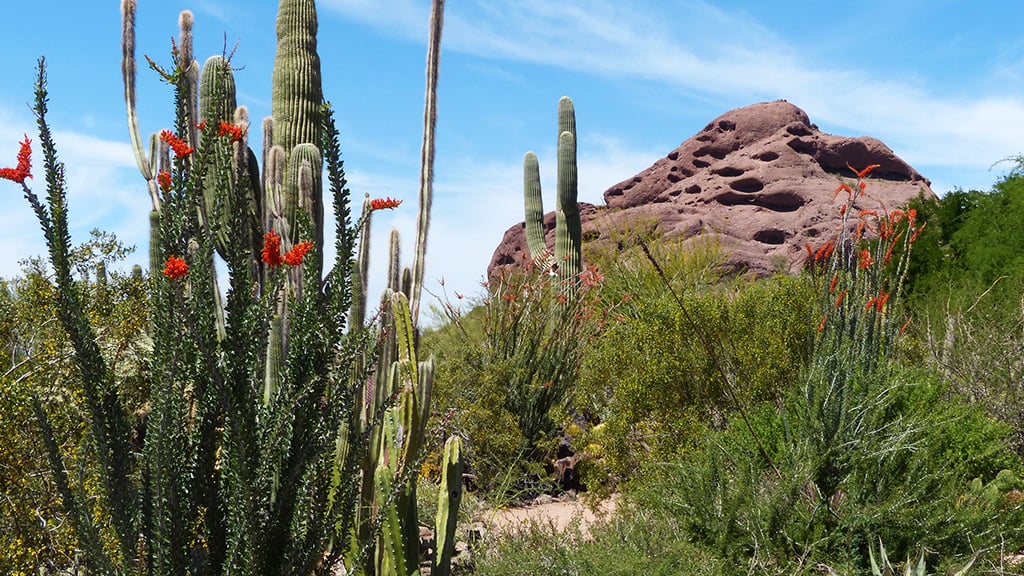 Flight time: Five hours from Reagan National and BWI.
Average high in December: 67.
Game plan: Given the three-hour time difference in winter, an early-morning flight from the Washington area will deliver you to Phoenix with plenty of time to work up an appetite for lunch. Head to Papago Park, just east of the airport, where crimson sandstone buttes rise from the Sonoran Desert. A climb up Hole-in-the-Rock rewards you with views of the sprawling city, the nation's sixth-largest. Easier on the legs is a stroll through the park's excellent Desert Botanical Garden (1201 N. Galvin Pkwy.; 480-941-1225), where you'll learn to distinguish a saguaro from a prickly pear.
For lunch, a short drive to the Arizona Biltmore (2400 E. Missouri Ave.; 855-689-2878) showcases the best of old Phoenix. Take a seat in Frank & Albert's, a casual restaurant named for the hotel's architects, Frank Lloyd Wright and Albert Chase McArthur. In a region bursting with ever bigger and glitzier resorts, the 1929 Biltmore, with its etched sandstone blocks and broad, manicured lawns, deservedly claims the title Jewel of the Desert.
After lunch: If the Biltmore's architectural pedigree piques your interest, visit Taliesin West in nearby Scottsdale (12345 N. Taliesin Dr.; 480-627-5340), Wright's winter home and school from 1937 until his death in 1959. From here, it's a short jaunt to one of Phoenix's newer attractions, the Musical Instrument Museum (4725 E. Mayo Blvd.; 480-478-6000). Far from a musty collection of harpsichords, this mash-up of Rock & Roll Hall of Fame–style pop culture and Smithsonian-quality scholarship is endlessly engaging.
—J.C.
Siesta Key, Florida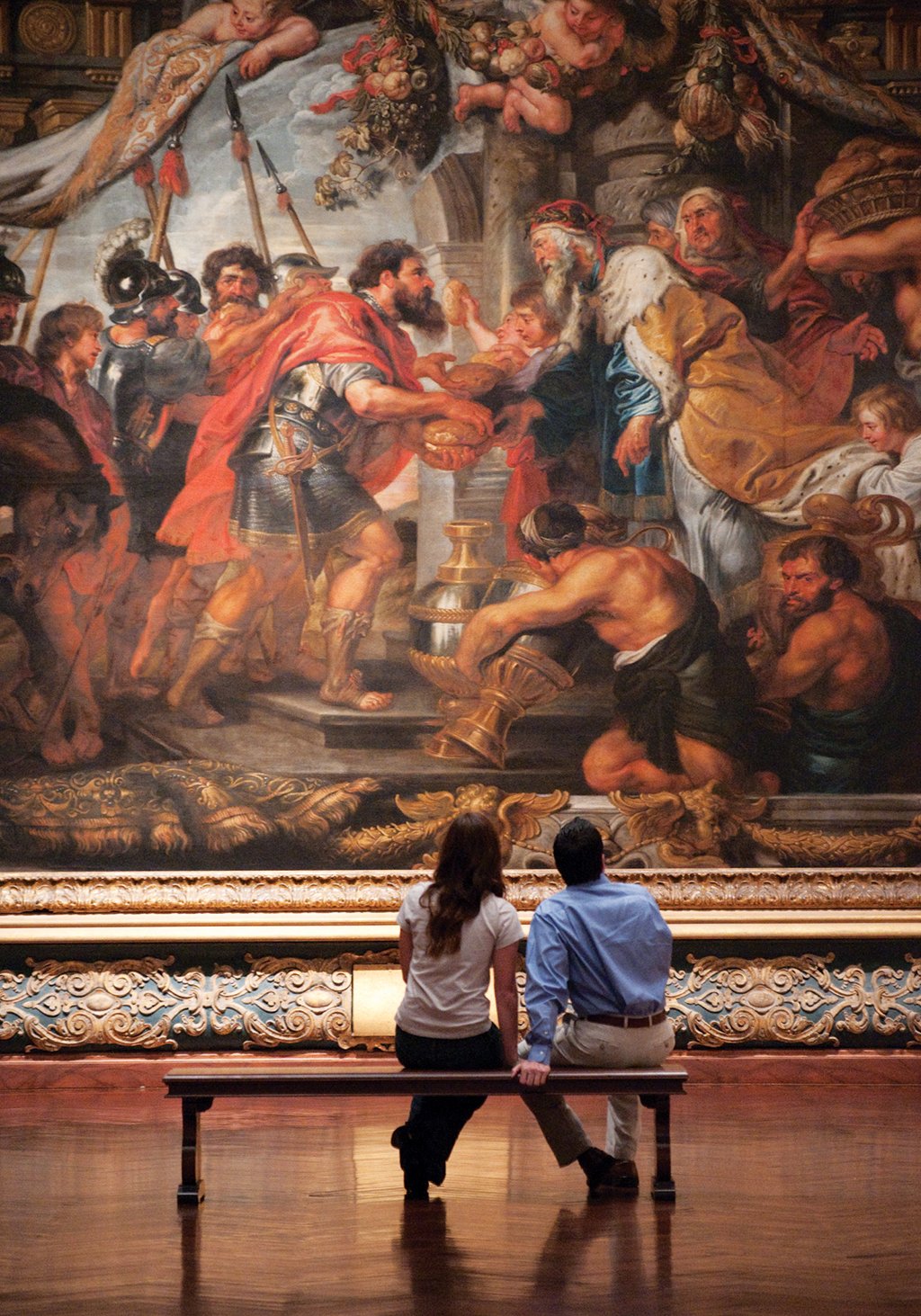 Flight time: 2½ hours from Reagan National.
Average high in December: 73.
Game plan: The beaches on Siesta Key regularly get named the best in the US outside of Hawaii. The sand is as white and powdery as sugar, and because of the high quartz content, it stays cool underfoot. After the 12-mile drive from Sarasota Bradenton International Airport, grab a prosciutto panino from local fave Bonjour Frenchcafe (5214 Ocean Blvd.; 941-346-0600) or get a patio table at the Cottage (153 Ave. Messina; 941-312-9300), a popular eatery with a menu that circles the globe, from Korea (short ribs) to Peru (ceviche).
After lunch: Hit Siesta Beach, the most popular of the key's four strands, with its family-friendly atmosphere and Sunday-night drum circles. (This is laid-back, low-rise, old Florida.) When it's time to rinse off the sand, explore the area's mangrove tunnels with Siesta Key Bike & Kayak (941-346-0891), then cool off with a dozen oysters and one of 21 beers on draft at the Siesta Key Oyster Bar (5238 Ocean Blvd.; 941-346-5443), known to locals as SKOB. For a cultural fix, the Ringling, ten miles north in Sarasota (5401 Bay Shore Rd.; 941-359-5700), showcases both high-brow (works by Rubens) and low-brow (a clown car) in a complex that includes the Museum of Art, the Circus Museum, and the big-top impresario's own Gilded Age mansion on Sarasota Bay.
Spend the night at the boutique Capri at Siesta (6782 SaraSea Cir., Sarasota; 941-684-3244), within walking distance to Siesta Key shops and restaurants and with access to a private section of Crescent Beach.
—Joe Sugarman
Nassau, Bahamas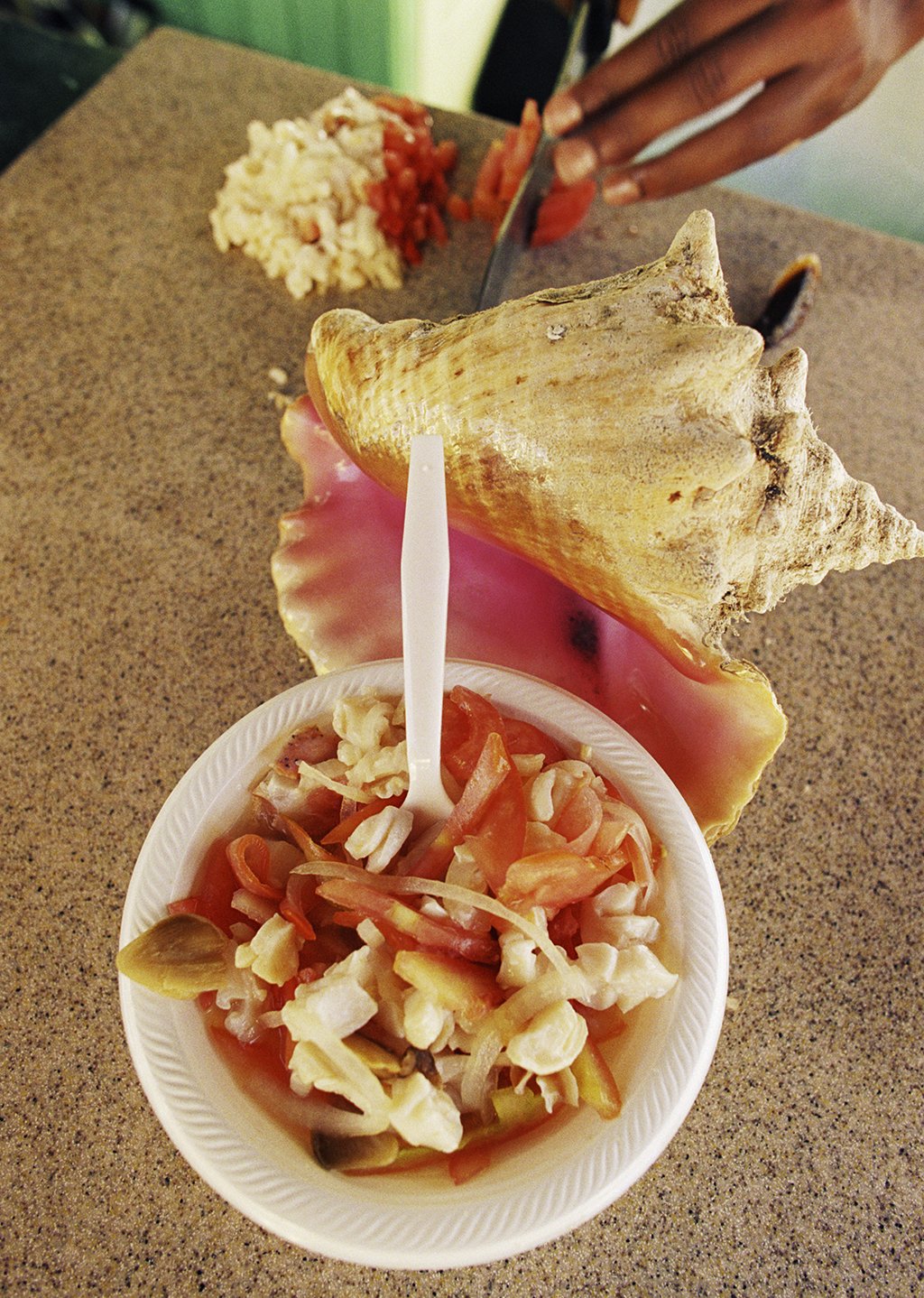 Flight time: 2½ hours from Reagan National and BWI. (The Reagan National flight doesn't get in till 3:30, so if you want lunch on the island, fly from BWI.)
Average high in December: 80.
Game plan: For a taste of authentic Bahamian food, head directly to Arawak Cay, near downtown Nassau and just 20 minutes from the airport. This area of colorful, casual eateries—collectively called the Fish Fry—serves local staples such as fried grouper and cracked conch. Oh Andros (242-326-7115) has generous portions, and its mac and cheese gets raves.
After lunch: Sky Juice—a concoction of coconut water, sweetened milk, gin, and spices—is a favorite island libation. But if rum is your spirit of choice, consider a visit to nearby John Watling's Distillery (17 Delancy St.; 242-322-2811) for a free tour and tasting. Its setting in a restored estate house overlooking the harbor is a bonus.
From there, it's a short bus or cab ride to Cable Beach and its mix of lodgings on a soft, white ribbon of sand. Choices include the 700-room Melia Nassau Beach (W. Bay St.; 242-327-6000) and family-oriented digs including Blue Water Resort (W. Bay St.; 877-962-7728), with its three-bedroom suites.
—J.C.
Montego Bay, Jamaica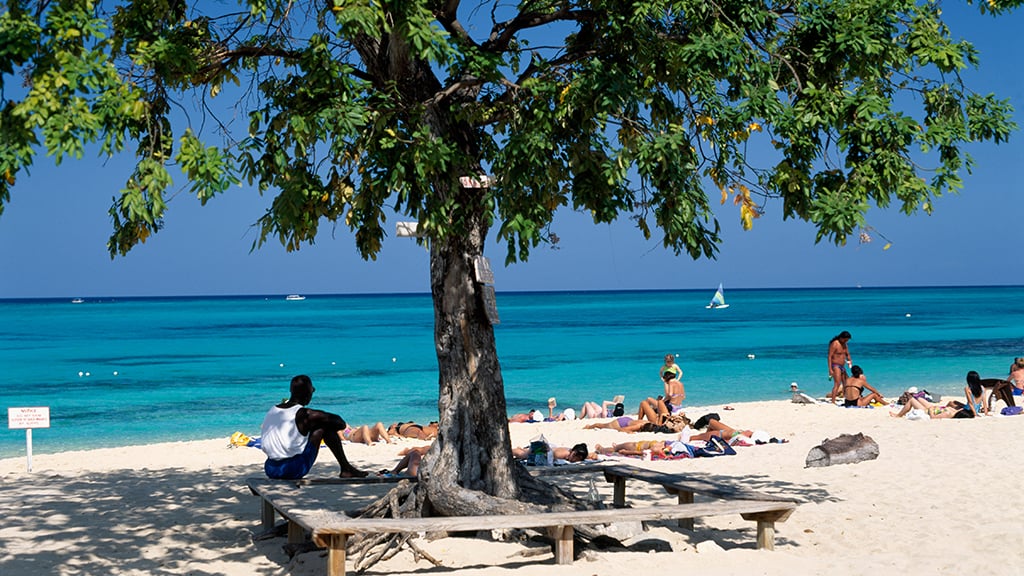 Flight time: 3½ hours from BWI.
Average high in December: 84.
Game plan: Bypass the chaos of downtown Montego Bay by turning left along the coast highway as you exit the airport. The road leads to the kinder, gentler MoBay area of Rose Hall, also dubbed the Elegant Corridor thanks to its upscale lodgings. Among them is the Hyatt Zilara Rose Hall (Rose Hall Rd.; 888-763-3901), an adults-only, all-inclusive resort. Its sister resort, Hyatt Ziva, caters to all ages.
Have lunch at Scotchies (A1 highway near the Coral Gardens neighborhood; 876-953-8041), one of the island's top spots for jerk cooking—slow-roasted chicken, fish, and sausage, laced with potent seasonings including allspice and Scotch bonnet peppers. The hot-off-the-grill fare is served under thatched-roofed cabanas. Don't skip the delicious sides such as "festival" (Jamaica's answer to the hushpuppy) and roasted yam.
After lunch: Nearby, Rose Hall (Rose Hall main road; 888-767-3425) is Jamaica's best-known Great House, thanks to the legend of Annie Palmer, a "white witch" who may or may not have killed her three husbands. (For a creepier experience, opt for an evening candlelight tour.) Afterward, steady your nerves with a rum cocktail in the former dungeon reimagined as Annie's Pub.
—J.C.
Tulum, Mexico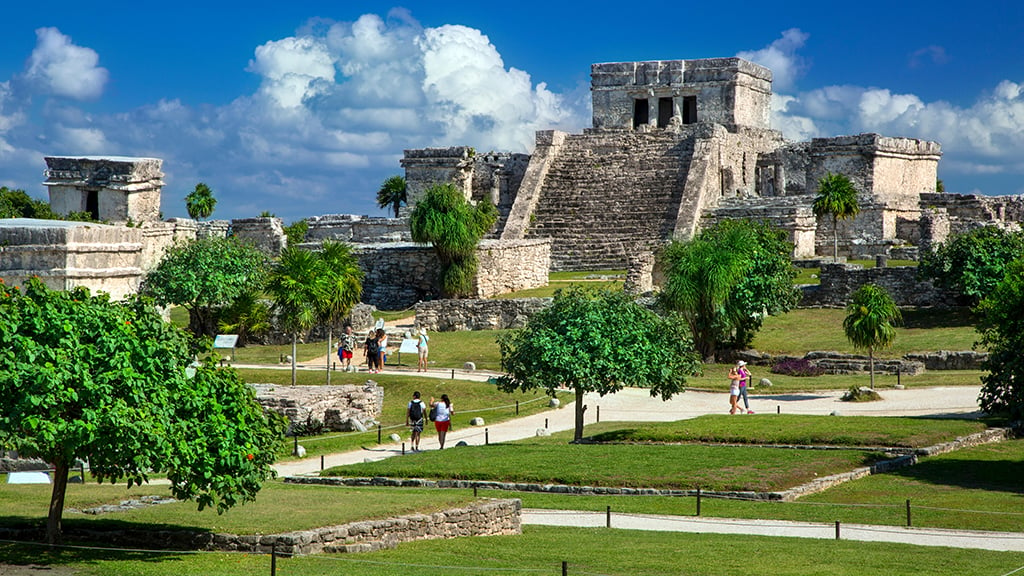 Flight time: 3¾ hours from BWI or Dulles.
Average high in December: 81.
Game plan: If you're okay with a late lunch—the earliest flights from the Washington area get into Cancún around noon, and Tulum is about a 90-minute drive from there—consider this enclave on the Mayan Rivera. Book a shuttle to Ahau Tulum (beach road km 7.5; +52 984 108 2127), a simple-chic resort where you can kick off your shoes and dig into fresh shrimp ceviche at the beachside restaurant.
After lunch: Plop onto a beach chair or your private porch to nap, read, or gaze out at the sea, or take a swim in the Caribbean. (Seaweed can be thick in Tulum's waters; if it's bad in front of Ahau—it varies day by day—walk down the beach to find a clearer spot.)
Tulum—once known mainly for yoga retreats where guests sleep in hammocks at resorts without electricity—still has a laid-back, eco-friendly spirit. Because of or despite that, it's become a destination of the moment, with chefs opening hot spots such as Posada Margherita (km 4.5; +52 984 801 8493), where pasta is cut to order, and Hartwood (km 7.6; no phone), where everything is cooked in a wood-fired oven or grill. Popularity hasn't spoiled Tulum: Most hotels are small, with limited electricity and sensitive plumbing (you can't flush toilet paper). Yoga is ubiquitous, as is massage—ranging from $45 hourlong rubdowns on the beach to the decadent $115 90-minute clay massage at Mayan Clay Spa (km 8.5; +52 984 807 9376). Still presiding over the area is the dramatic cliffside Mayan ruin of Tulum; plan an excursion some morning before tour buses arrive from Cancún.
—Sherri Dalphonse
Amelia Island, Florida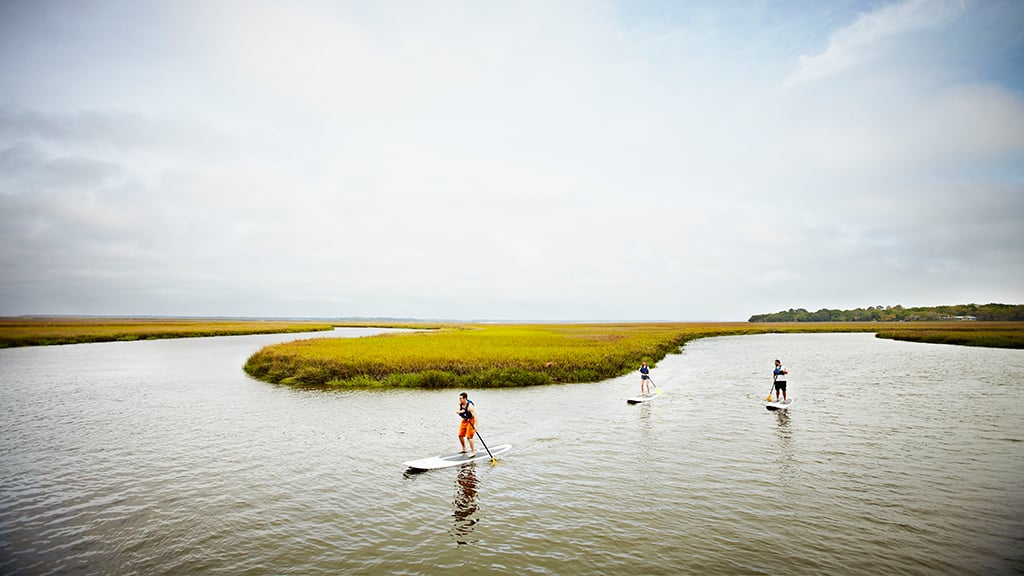 Flight time: Two hours from Reagan National.
Average high in December: 65.
Game plan: After the 30-minute drive from Jacksonville International Airport, head to the historic fishing village of Fernandina Beach, on the island's northeast side. Here you'll find dozens of independent boutiques, art galleries, and restaurants. Timoti's Seafood Shak (21 N. Third St.; 904-310-6550) is the place to go for fresh fish. Order a basket of fried oysters or the ahi tuna bowl with coconut rice, avocado, and spinach, then stake your claim on one of the nearby beaches.
After lunch: Get a dose of Civil War history from the impeccably uniformed interpreters at Fort Clinch (2601 Atlantic Ave., Fernandina Beach; 904-277-7274). The historic garrison, a Union base throughout most of the war, is part of a state park that features miles of beach, nature trails, and a half-mile-long fishing pier. Amelia Island is also a classic golf destination. Whether you play or not, consider a stay at the Omni Amelia Island Plantation (39 Beach Lagoon Rd.; 904-261-6161), which boasts three courses, including the classic Pete Dye–designed Oak Marsh Course and the Ocean Links Course, with five holes located right on the sea.
—J.S.
This article appears in our December 2015 issue of Washingtonian.