Last Wednesday Kitty Kelley, Washington's queen of the scandalous biography, threw a party to celebrate the re-publication of her controversial best-seller His Way, about Frank Sinatra, a few days shy of what would have been Ol' Blue Eyes's 100th birthday. The event was also a fundraiser for Reading is Fundamental.
A documentary crew followed Kelley as she greeted guests, including NPR's Scott Simon, the Washington Post's Ruth Marcus, columnist Kathleen Parker, American Scholar Editor Robert Wilson, Pulitzer Prize-winning biographer Kai Bird, James Grady, author of the CIA thriller Six Days of the Condor, and Nina Straight, novelist Gore Vidal's half-sister. Kelley wrote about the tangled Vidal estate in the December Washingtonian.
Director Alexandra Ryan wouldn't comment on the film. Nor would Ben Cotner, director of Netflix's original documentaries. Kelley speculated the film could have been sparked by people seeing "402 boxes of files that constitute the research and reporting that have gone into various biographies–Jacqueline Kennedy Onassis, Elizabeth Taylor, Sinatra, Nancy Reagan, the royal family, the Bush family dynasty and Oprah Winfrey."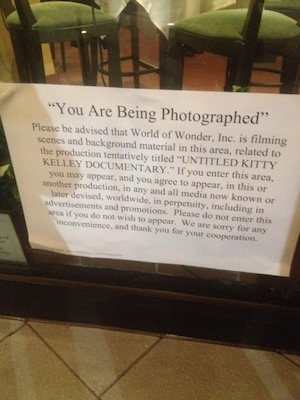 Camera crews interviewed invited guests as they filed into i Ricci restaurant for the event. A sign outside advised people entering the area that they were being photographed by World of Wonder, Inc. "For a production tentatively titled 'UNTITLED KITTY KELLEY DOCUMENTARY.'" Cognizant of the long and winding road facing most documentaries in production, Kelley laughed and told Washingtonian, "it'll be fun if it happens."
She's enjoyed stirring things up for decades. Kelley likened herself to Eloise in the classic children's book Eloise in the City, a "spoiled little brat who gets into trouble and is having a wonderful time doing it."
Sinatra famously tried to block publication of the biography with a lawsuit filed in September 1983 seeking $2 million before the first draft of the book was even completed. The crooner might have been far angrier than people thought: He threatened to have Kelley "whacked" by his alleged Mob connections before she could finish, according to singer Paul Anka's 2013 memoir My Way.
Writers groups and others formed a coalition and rallied around Kelley, calling Sinatra's suit "a chilling example of how a powerful public figure…can orchestrate what the public shall know about him."
The Dec. 9 soirée was a high-energy evening where cocktails and gossip flowed freely. Finally, as friends and colleagues milled about, Kelley smiled broadly and invited everyone to "hoist a glass to Ol' Blue Eyes and to the First Amendment."