You can smell Bad Saint from down the block, a smell that calls to you with all the immediacy of roadside barbecue. Walking along the anti-scenester restaurant row of 11th Street in Columbia Heights, you try to isolate the components. Smoke and char, for sure, but beyond that—and there is more, definitely more—who knows?
The smell is both promise and curse, because once you step into this wonderfully idiosyncratic Filipino restaurant and divine the source—the cook at the wok stand who tilts his metal pan toward dramatic flames—you'll discover that the gratification you long for is about to be delayed, and not by a little.
On this night, there's a two-hour wait, may-be longer. It's a Monday.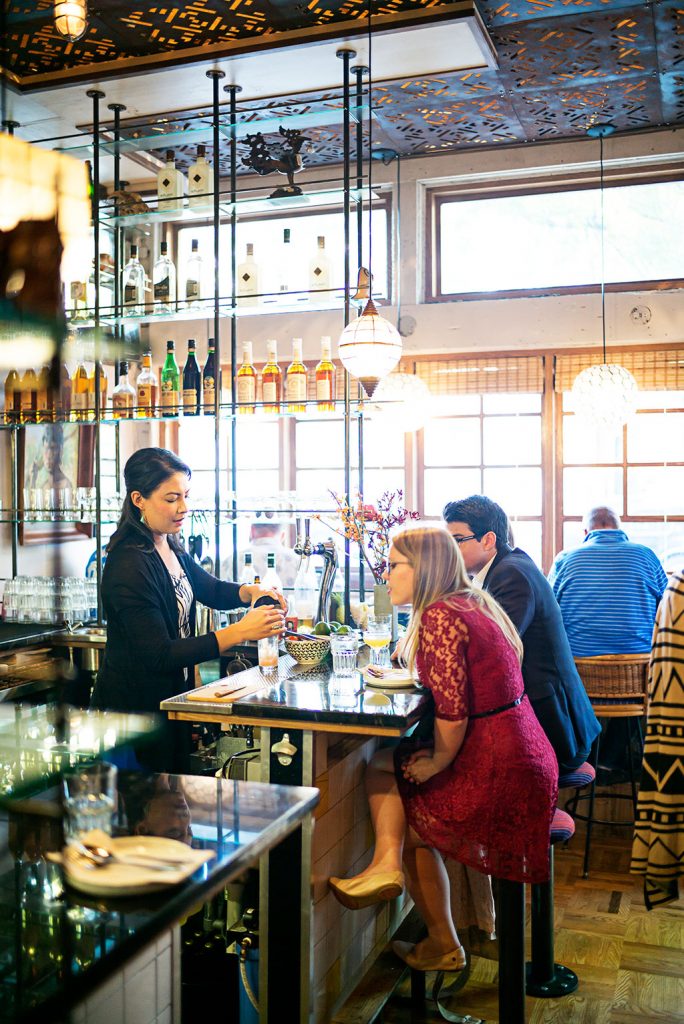 Bad Saint officially seats 24, but what this actually works out to is two small tables and 16 stools in a cramped warren of a space that looks like something you might find wedged into a scruffy block in the East Village.
Here's why it's worth it to put your name on the waiting list and slip off to a bar to await your summons by text. Because of, yes, the smoke-kissed glories coming from that wok, but also because of the quality of that summons. It's a text message, but an uncommonly cheery and personalized one—an unexpected bit of graciousness.
At a glance, Bad Saint comes across like so many other hipster restaurants that have crashed the scene—no reservations, bathroom wallpaper that salutes Filipino punk rock (without explaining that that's what it's saluting)—but don't expect the aloofness that can result when a restaurant aspires to the psychic condition of rock 'n' roll. The place exudes not just warmth but, more unusually, a kind of earnest enthusiasm.
Much of that spirit flows from the force field that is Genevieve Villamora, who co-owns the restaurant with Nick Pimentel. (He also co-owns Room 11 down the block.) Villamora is a proud graduate of Komi and Little Serow, which set the standard for service in the era when fine dining became less fine. She's also a keen observer of the runaway success of Rose's Luxury, the restaurant that, in its all-embracing niceness, Bad Saint most resembles. You'll forget you're being served and not simply being attended to by people who can't wait to press upon you all the complex, exciting flavors on offer.
Filipino cuisine, for all the recent attention heaped upon it, is still an obscurity to many. Even Filipinos can't agree on what constitutes the core of its dishes: In a country of more than 7,000 islands, unity and coherence simply aren't possible. In this regard, the cuisine is intensely micro-regional, to use the term beloved by many slow-food devotees. One night, a waitress remarked that she'd never heard of some of the dishes on chef Tom Cunanan's menu—"and I've been eating Filipino food all my life!"
Pointedly, you won't find any preparations of pata or sisig, two popular dishes that might have been expected to make the cut.
Of course, I'd be willing to bet that even if you've been eating Filipino food all your life, you haven't eaten anything like this, with this vividness, this clarity, this punch. I've had many renditions of ukoy, a fritter of shrimp and sweet potato, but nothing to rival the one here, teased into an unruly mass of crunch and salt and sweetness. And I've never eaten a silog—traditionally, a breakfast of rice, egg, and meat—that made me think it was deserving of close study. But each component is treated with such care (the beef has perfect chew, every grain of rice tastes of garlic, the egg gives up a thick sauce) that the dish ends up transcending its comfort-food intentions.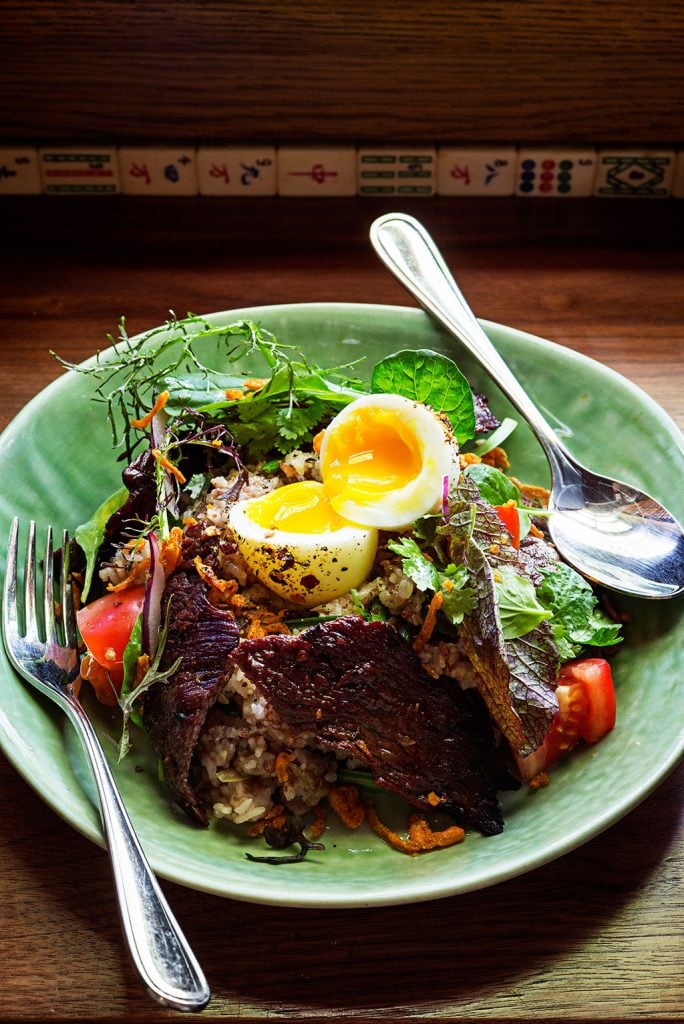 It's not too early to say Bad Saint is the best Filipino restaurant in the area. But to say only that—and really, it was hardly a competition—is to miss the broader significance of the place, and of what makes it so exciting.
Bad Saint would have been inconceivable if not for Seng Luangrath's Laotian restaurant, Thip Khao, which couldn't have existed without Johnny Monis's ode to northeastern Thailand, Little Serow. Like its forebears, Bad Saint declines to present itself as a broad introduction to a little-known cuisine, preferring the riskier approach of an intensive immersion course. Not only are there no concessions to mainstream sensibilities, but there are no explanations of what you're about to get into. Nothing to tell you that Filipino food isn't like the other cuisines of Asia—that it isn't about spice or heat or harmonious balance. Or that, in an age that celebrates the culinary mash-up, it has long endured as one of the fascinating fusions of global cuisine—the collision of an indigenous island culture and colonial Spain.
For the novice, there will be moments of bewilderment: A stir-fry of bitter melon with egg and tomato—a bowl of comfort to many Filipinos—is still bitter melon to most Americans. And the menu, lacking the signposts of appetizer and entrée, might lead you to conclude you're in for one of those incoherent "small plates" experiences, the table cluttered with lots of disparate tastes.
There will be many more moments, however, of astonishment. I've eaten three meals at Bad Saint, and only two of the menu's 13 dishes—slightly oily stir-fried greens and an unremarkable tangle of thin noodles—didn't compel me to clean my plate. I came to take for granted the casual brilliance of this kitchen, to expect that slabs of immaculately rendered pork belly nestled into crisp lettuce cups and draped with tangy slaw would be fantastic. Or to know at a glance that a bowl of sweet-salty clams and Chinese sausage in a chili-stoked broth that soothes more than it stings would make me fall in love with it.
When a cook sets to work on a dish of squid in a curry-like gravy, the kitchen literally goes up in smoke: The smell of char, of garlic, of vinegar from the wok is intense and billows into the restaurant. I smelled it for hours after, a fittingly resonant souvenir.
This article appears in our December 2015 issue of Washingtonian.
---