When I sat down with him a few days after the launch of his new restaurant, Momofuku CCDC, I thought David Chang was simply spinning out disaster fantasies.
In a previous Washingtonian interview that resembled an extended session with a therapist on the couch (full disclosure: Chang is editor of Lucky Peach, a magazine I've written for), the neurotic and delightfully off-kilter chef spoke about how the place had been so hyped for so long that diners were sure to hate it, how coming from out of town (the Northern Virginia native is a New Yorker now) made him a target, and how he knew that he and his team would stumble, often, for a while—perhaps for years.
I thought the celebrated chef was practicing some sort of mind-over-matter strategy—visualizing the worst (in elaborate and often excruciating detail) so as somehow to avert its ever coming to pass.
But what if it wasn't a strategy?
What if Chang had peered into the future and glimpsed the fate that befalls so many kings with multiple far-flung colonies to govern?
The original Momofuku was tiny, and scruffy, the ultimate underdog. The public embraced the young chef's aesthetic, which was closer to that of a garage punk band than that of a Michelin-starred chef. He caught a wave, inspired a generation of chefs, and became a cultural hero.
For Chang, as for most alt-rockers, the notion of selling out is the great and enduring fear, and he has wrestled with his own Faustian bargain—how, as he has evolved from running a business with one employee to an operation with nearly a thousand, does he retain his (and its) soul?
As if to short-circuit the inevitable carping from diners that the new restaurant in glitzy CityCenterDC is nothing like the DIY original, Chang compared himself to an indie filmmaker who suddenly finds himself blessed with studio backing. Same director and sensibility, more toys and more money to play with.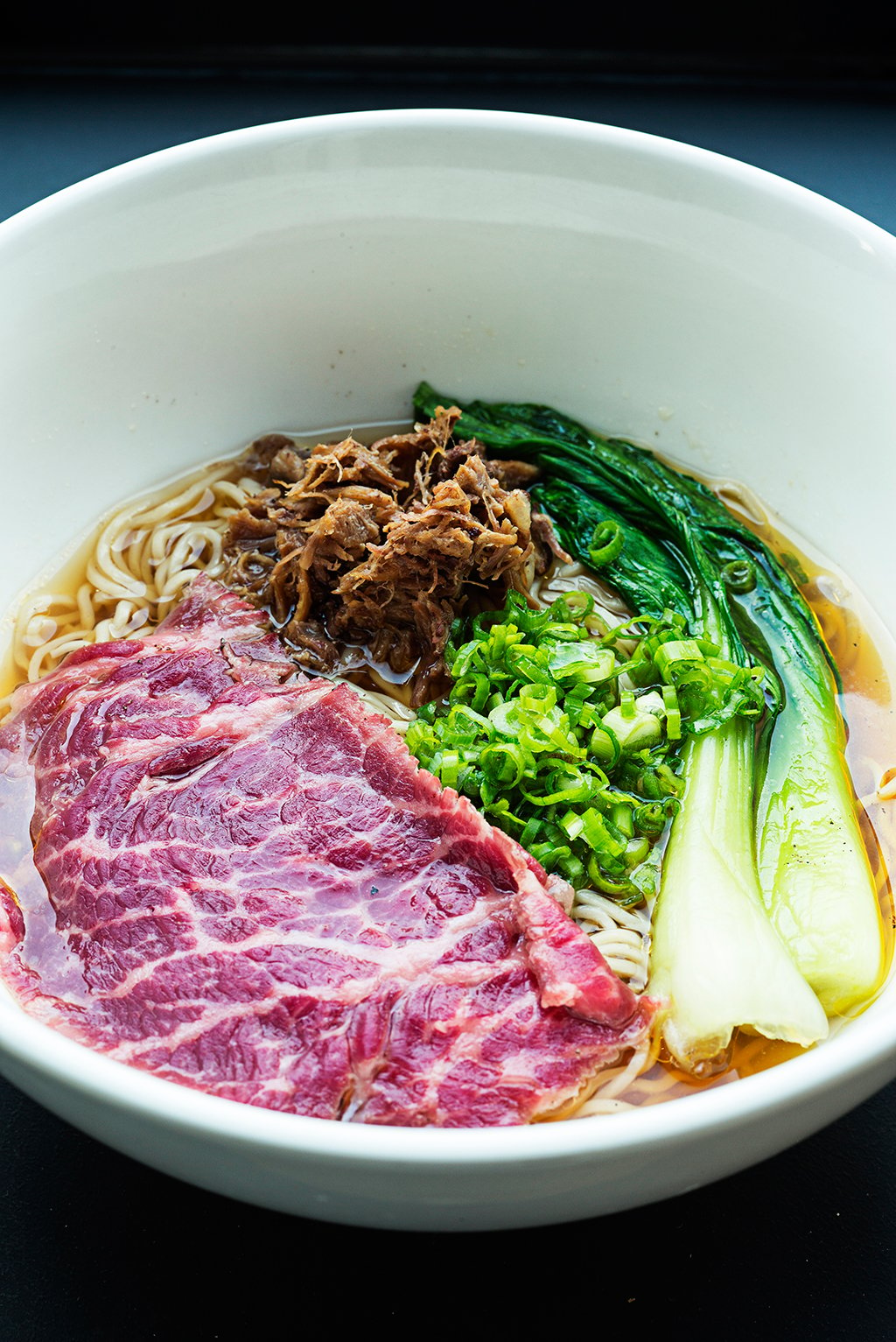 To continue that analogy, I'd say the indie ethos is sometimes lost amid the excesses and special effects.
The latest iteration of the brand is big—the biggest of Chang's 20 ventures, including six restaurants in New York, one in Sydney, and three in Toronto—and though from one angle it's really just a glorified noodle bar (backless wooden stools, a pack-'em-in setting, an open kitchen working at high speed and volume), from another it's unmistakably an outpost of a celebrity-chef empire, with all that entails. The star makes only occasional appearances. The menu is less a concept album than a greatest-hits, cobbling together good dishes from other outlets. The trait that most defined Chang and gave rise to a global phenomenon—the sense that you're tasting not just a dish but the workings of one man's quirky, perfectionist mind—is at times here in abundance; at others, you may feel as if someone is copying, without connection, from Chang's own book.
Ramen and pork buns—Chang's signatures—are here, and if you want to understand what makes his food so seductive, this is the place to start. It's simple food, street food, really, but rendered with an almost maniacal care for detail, as if every bite were meant to induce a moan or sigh.
If you've never had a Chang bun, picture a kind of small Asian hamburger, but with the roll steamed rather than baked, stuffed to bursting with exceedingly rich fillings. I ordered buns on all three of my visits. The first time, the pork and brisket buns were extraordinary. A friend wondered how much flavor could be packed into something that fit into his palm and that he munched like a burger. The second time, I opted for the shiitake-mushroom buns. If anything, they were even more remarkable: To think that cooks could coax so much umami magic out of a bunch of humble stems. The third time? The slabs of pork belly were fatty, and the shrimp bun looked (and kind of tasted—oof) like a cross between a Filet-O-Fish and a hash-brown patty.
The ramen comes in two varieties, including what's listed here as Momofuku ramen, the dish that launched a thousand imitators. The noodles have great spring and the pork shoulder is luscious, but what makes the dish is its labored-over broth, which simultaneously conjures the hammy, smoky likker that gathers at the bottom of the collard pot and a French consommé.
Good as it is, the bowl I was thinking about for days after was the beef noodle soup, whose broth tastes like liquefied prime rib. This is not soup—this is an elixir.
Here, you think, is why some of the chef's restaurants in New York require a reservation weeks out, why DC locals tore up Twitter a year ago when the new place was announced, why his cookbook is both a cult classic and a bestseller, why he has morphed from a chef into a kind of cultural shaman.
Other dishes I ate collapsed the distance between NY and DC: shaved slices of prosciutto-like Virginia ham with tiny flaky biscuits and red-eye mayo made with coffee and Sriracha; a rotisserie chicken turbo-boosted with a glaze of spicy, garlicky soy vinaigrette; and a black-bass crudo perked up with crisp curls of tart apple and a vibrantly tangy dressing of pickled chili and yuzu.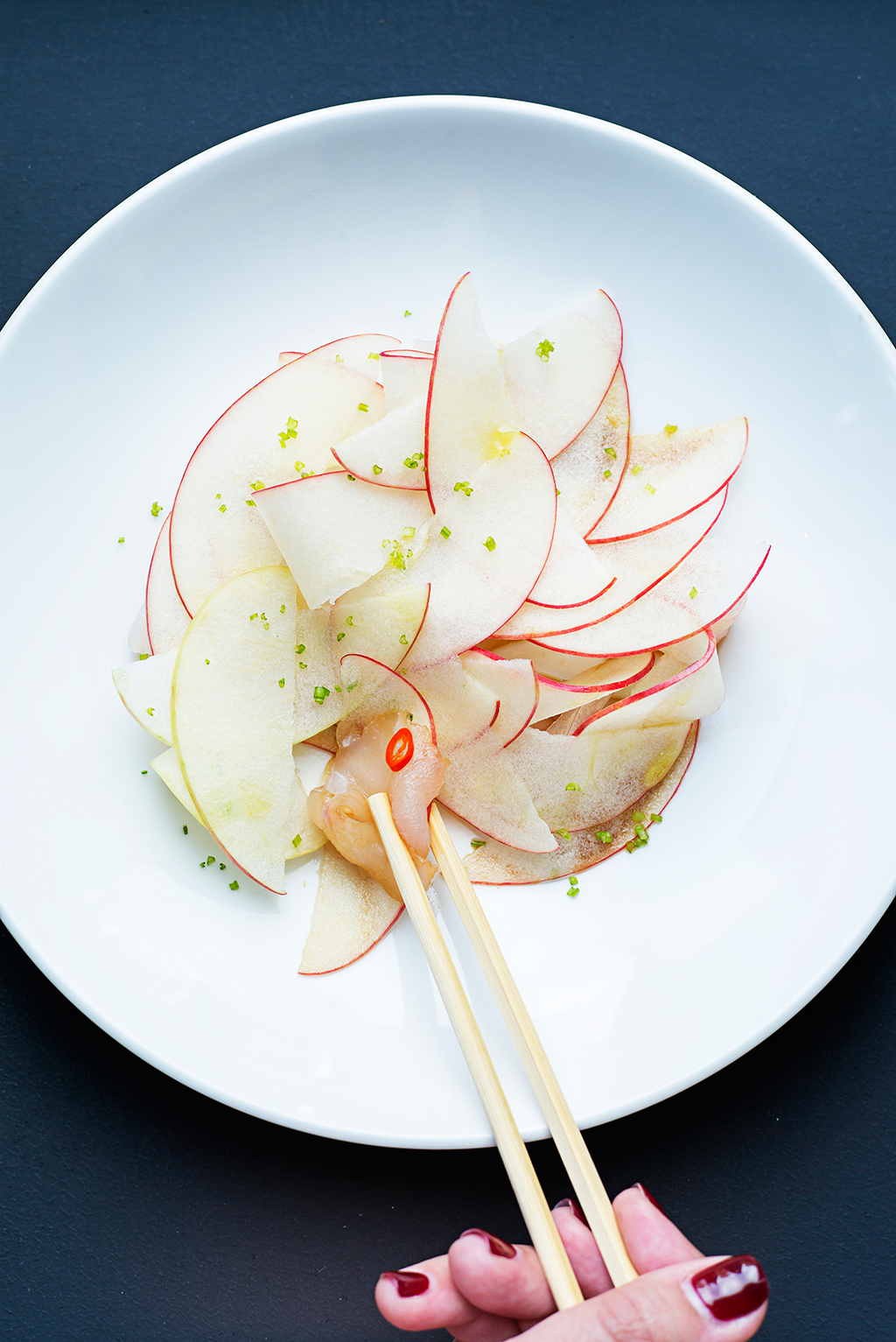 But there also were dishes that showed the offhandedness and imprecision that can sometimes result from a high-volume operation where the boss isn't around. Brussels sprouts dressed with multiple shots of fish sauce and mint were vivifying at bites one and two but lost their appeal as they sat and absorbed the abundant liquid at the bottom of the bowl. A spicy fried catfish—with crunchy, glazed filets meant for folding in leaves of lettuce—was ultimately not spicy enough to mask the muddiness of the fish and put me in mind of listless Chinese carryout. A marinated, crunchified twist on deviled eggs was thoroughly ordinary, and ordinary is the last thing you expect of a Chang restaurant.
Desserts come from celebrated pastry chef Christina Tosi's Milk Bar, which shares space with the restaurant (and, in the early weeks, gave rise to lines snaking around the property). All of Tosi's famed treats are here—Crack Pie, Compost Cookies, cereal-milk soft-serve. If Chang made his reputation creating high-end versions of food you want to eat late at night when you're drunk, Tosi (like Chang, raised in Northern Virginia) made hers concocting upscale versions of the junk food you ate as a kid. Smiles abound, particularly over the rich and irresistible Crack Pie. All, however, are delivered to the table in their store packaging, some with a refrigerated chill.
For a restaurant that wants to be regarded as cool and indie, it comes across as an unexpectedly crass, consumerist gesture. But it also encapsulates what Momofuku CCDC is: a packaged brand, a chip off the block. There will be thrills, yes—if you're lucky, quite a few. Just don't expect the raw excitement of youth, or the consistency of maturity.
This article appears in our January 2016 issue of Washingtonian.
---