At this point it's clear the biggest signing Washington's NFL team has made this year isn't any free agent, but the Danish architect Bjarke Ingels, whose firm is conjuring up the design for the stadium the team hopes will one day replace FedEx Field.
Ingels's stadium vision, which he showed off last Sunday on 60 Minutes, inspired a wave of reactions, especially for the proposal of a moat ringing the actual stadium: CityLab's Kriston Capps called the hiring of the Bjarke Ingels Group a "a sweetener in [Dan] Snyder's plans to relocate his team," possibly back to the site of RFK Stadium, where a moat would make considerably less sense than it would at, say, a Medieval Times. For the Win noticed the surfer in the first moat rendering and wanted to know how many Washington residents actually surf. "Like a couple dozen?" And Deadspin's Drew Magary simply called the stadium design "fucking stupid."
Regardless of practicality, though, additional renderings of BIG's stadium design released by the team this week suggest the moat is no joke. While the moat would apparently be used in the warmer months for kayaking, surfing, and beach-going, one of the new images suggests a winter mode, with an iced-over moat hosting pick-up hockey games and ice skaters.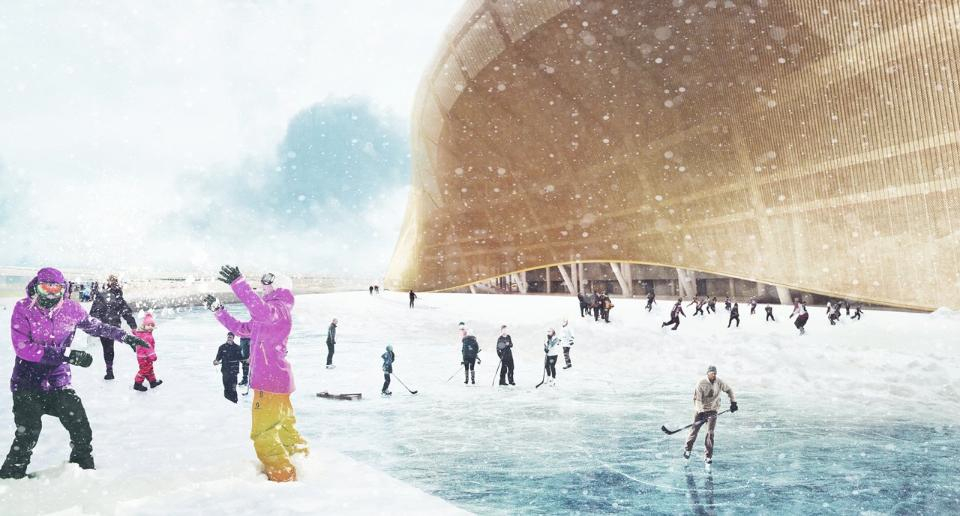 Other renderings show vast, verdant frontage—which suggests a different site than RFK Stadium—full of football fans. "Tailgating becomes a picnic in the park," Ingels said during his 60 Minutes segment. There's also one that shows a massive crowd gathered outside the stadium at night with a stage in the distance. Will Snyder's fantasy stadium also become DC's newest concert venue?
In fact, the least interesting of the additional renderings is one of the interior—it just looks like a football stadium.