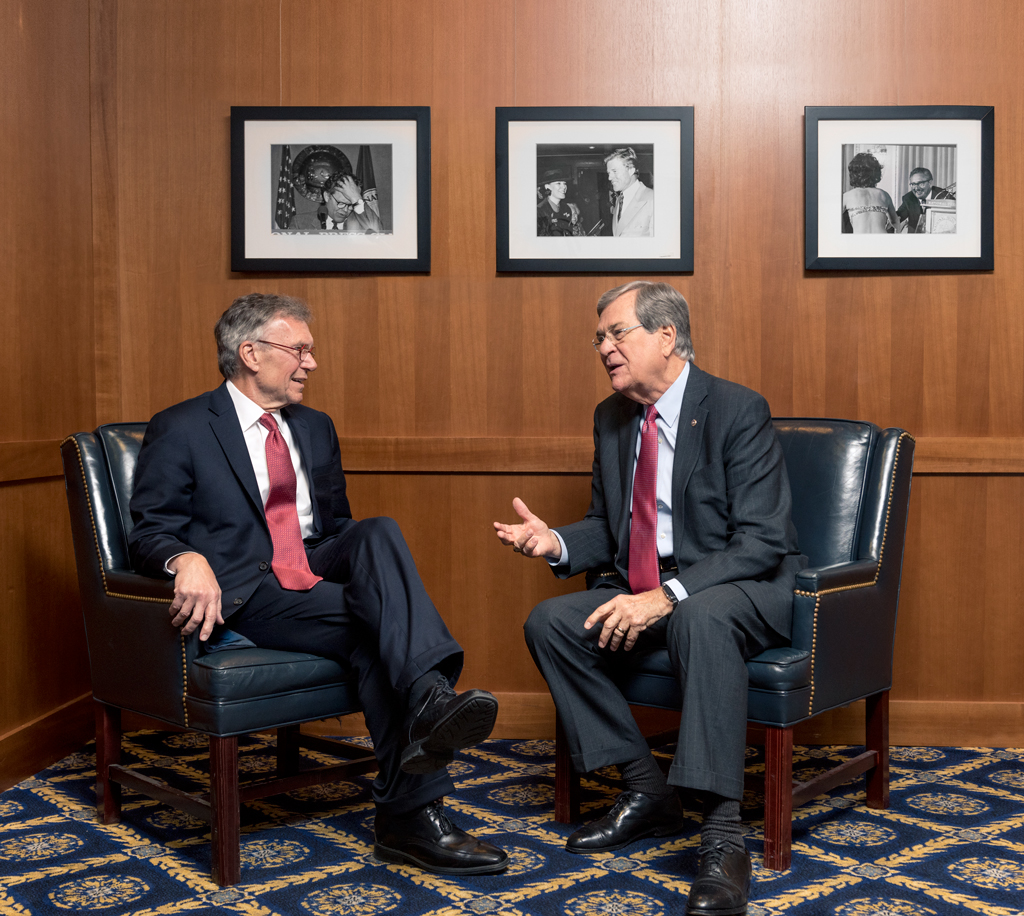 Tom Daschle and Trent Lott
Daschle, 68, is a former senator from South Dakota. Lott, 74, is a former senator from Mississippi.
How they met: They served in the House of Representatives together, then really got to know each other in the mid-1990s when they each began turns as Senate majority leader and minority leader.
What bonded them: "We went through a lot of things together," Lott says. "We went through 9/11. We went through the anthrax attack on the Capitol. We went through the 50/50 Senate, when we had an equal number of Republicans and Democrats. And we went through the impeachment trial of William Jefferson Clinton." Says Daschle: "We learned to like each other and to trust each other."
How they stay friends: "He's a liberal prairie populist," Lott says. "I'm a Southern conservative. His hero is John F. Kennedy; mine is Reagan. We know that. You can disagree without being disagreeable, to use the old quote."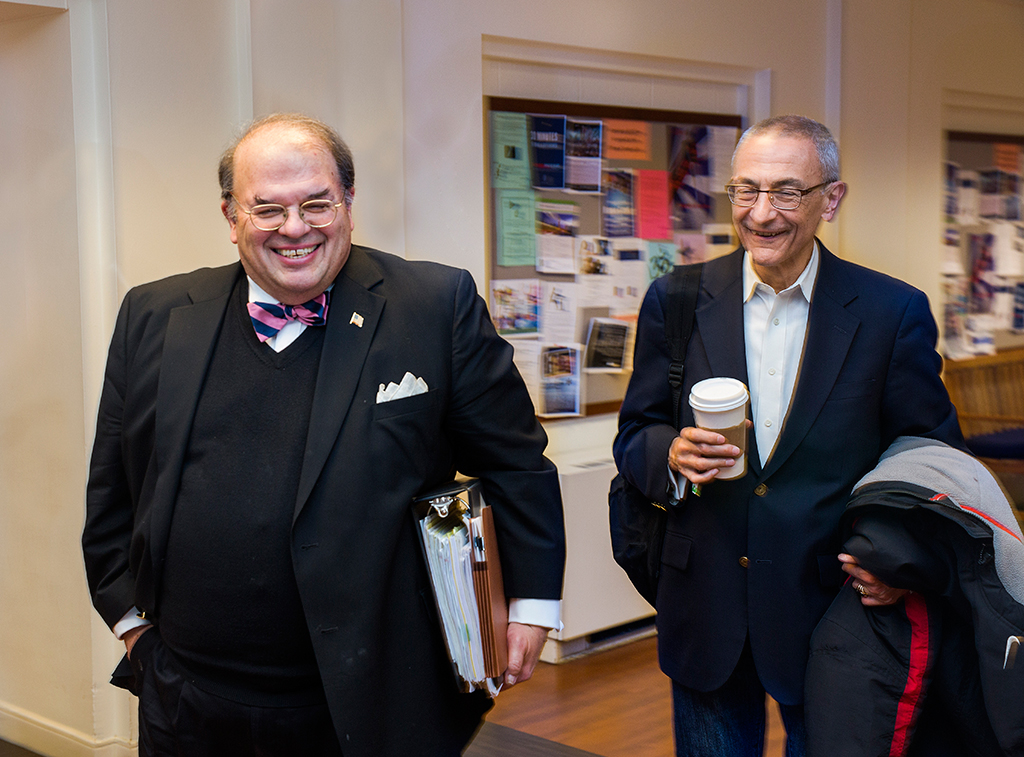 Richard Leon and John Podesta
Leon, 66, is a federal judge on the US District Court for the District of Columbia. Podesta, 67, is chairman of Hillary Clinton's campaign and former White House chief of staff under Bill Clinton.
How they met: "I deposed him during the Whitewater investigation, the summer of '94," Leon says. "Which is usually not the basis of a friendship," says Podesta.
John is every bit as too thin as I am too heavy. It's kind of an Abbott and Costello or Laurel and Hardy.
What bonded them: In 1996, they were guests a few times together on Crossfire. "The second time," Leon says, "he mentioned his car was in the shop and I offered him a ride. As we were driving home, he said, 'I have this course at Georgetown Law on congressional investigations. I was wondering if you'd be a guest speaker.' " Says Podesta: "I thought he was a straight shooter, and he thought I was a straight shooter. We've taught together since 1997."
How they stay friends: "I try to ignore most of his rulings from the bench, and he probably tries to ignore most of what I do in politics," Podesta says. "It's a good friendship."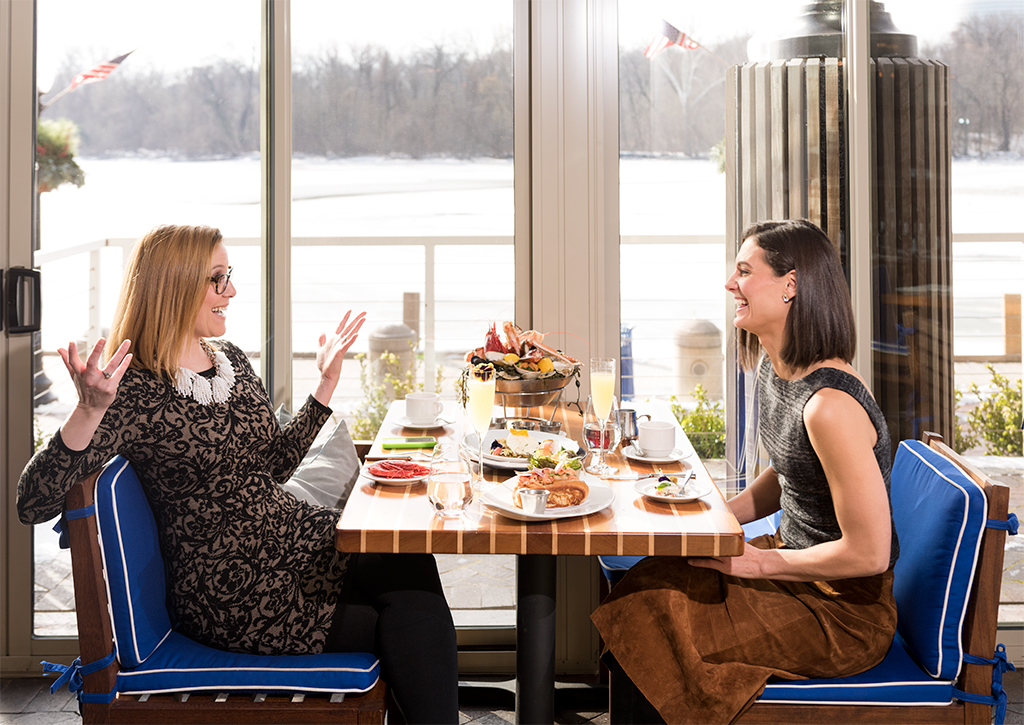 S.E. Cupp and Krystal Ball
Cupp, 37, is a Republican political commentator and CNN contributor. Ball, 34, is a Democratic commentator and Glamour contributor.
How they met: From 2012 until last July, they cohosted the MSNBC talk show The Cycle.
What bonded them: "I've always thought the reason we get along so well is that SE is a conservative from a liberal area [of California] and I'm a liberal from a conservative area [of Virginia]," says Ball. "We grew up knowing good people who saw the world differently."
How they stay friends: While they may argue politics, they never make it personal. "We were on the show one day, having an explosive argument," Cupp says. "We go to break, and I check my phone and have an e-mail from [screenwriter] Aaron Sorkin. He said, 'What did you and Krystal say in the break just now?' I had asked her where she wanted to get sushi. I think he was disappointed we didn't go to fisticuffs."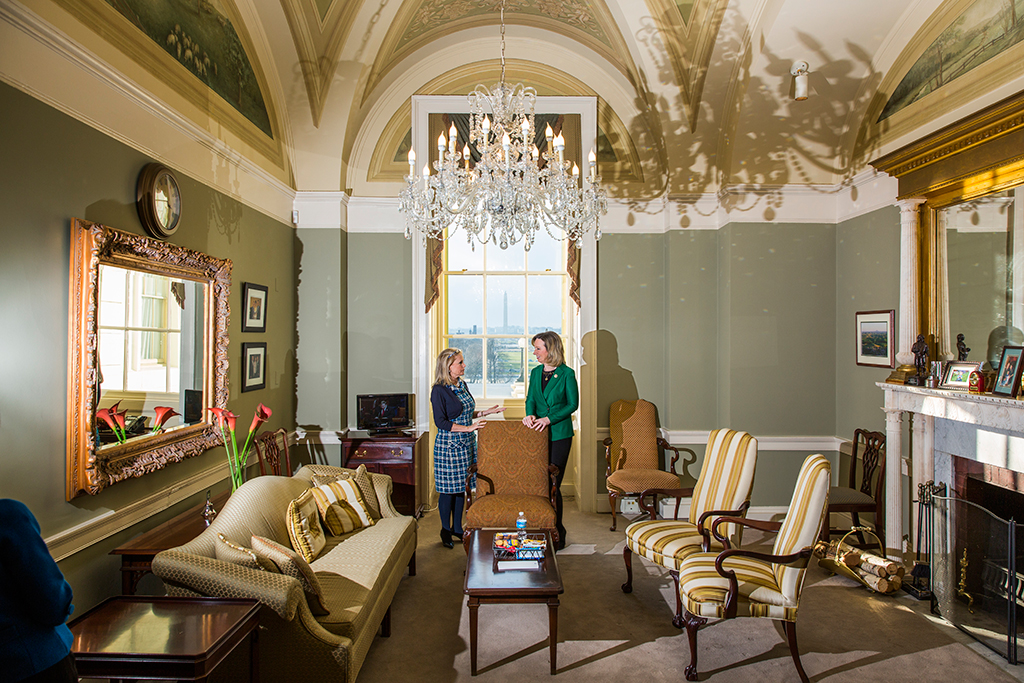 Debbie Dingell and Barbara Comstock
Dingell, 62, is a Democratic congresswoman representing Michigan's 12th district. Comstock, 56, is a Republican congresswoman representing Virginia's 10th.
How they met: "I've known Barbara at least 20 years, from when I started these bipartisan lunch-es. I met her so long ago," jokes Dingell, "I was probably a Republican at the time."
What bonded them: "We both have tried to help women over the years," says Comstock. "When I founded the Young Women Leadership Program [for girls in middle and high school], Debbie was one of my first guests."
Last year when my husband, John, was in the hospital, Barbara said, 'Have you been out? I'm meeting you for breakfast.' So we went to the McLean Family Restaurant. She was making sure I was okay.
How they stay friends: "The women in Congress do stick together," Comstock says. "We have the Lindy Boggs Room off the House floor, and it has photos of every female member who has ever served. It's always a smaller number than people think."
Mary Matalin and Donna Brazile
Matalin, 62, is a Republican political commentator who was a deputy campaign manager for George H.W. Bush in 1992. Brazile, 56, is a Democratic political strategist who managed Al Gore's presidential campaign in 2000.
How they met: "Back when she worked for George Herbert Walker Bush and I worked for Michael Dukakis, there were only four or five female operatives," Brazile says. "When you're at a presidential debate and you look around and there are only four, five women, you get to know them."
What bonded them: Yes, they're the type of TV figures whose disagreements many people might assume involve a certain amount of mugging for the camera. But consider this: "In 2012, CNN thought we were in New Hampshire, but we had snuck home to watch an LSU football game" in their mutual home state, says Brazile, adding: "We became closer after Hurricane Katrina, no question." She and Matalin were on the board of the Louisiana Recovery Authority.
How they stay friends: They vacation together—in 2013, they went to Italy. They attend Mardi Gras and the New Orleans Jazz & Heritage Festival together. They might go to Catholic Mass together. Says Matalin: "We agree on what matters in life—family and faith."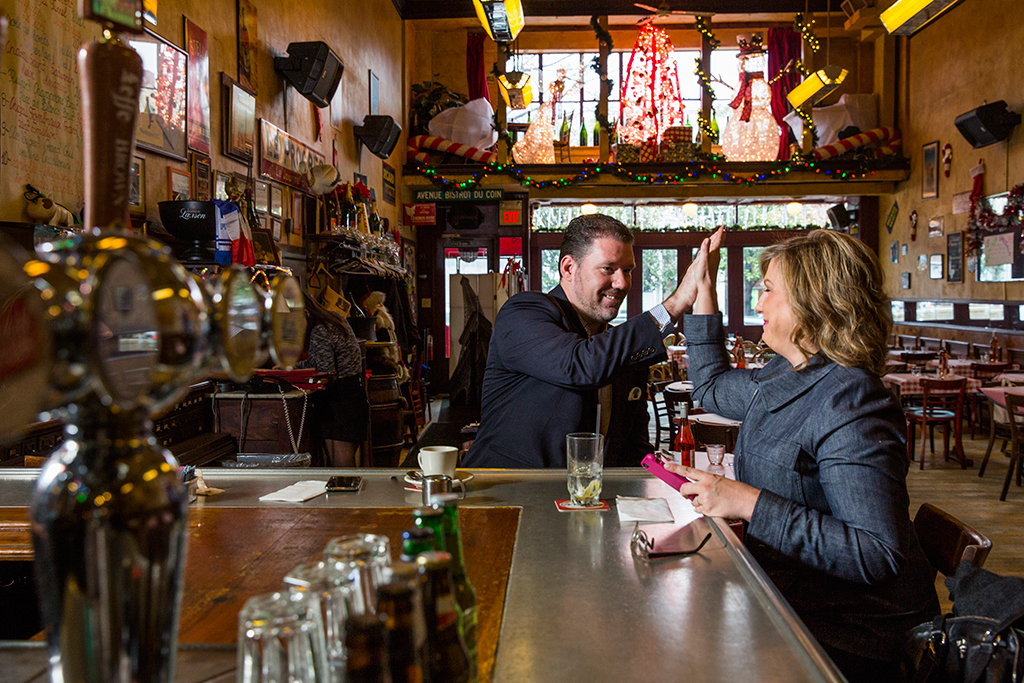 Douglas Heye and Tracy Sefl
Heye, 43, is a Republican political strategist. Sefl, 44, is a Democratic communications consultant.
How they met: "We were both consultants on a very large 2008 election project, and it was designed to be bipartisan, which sometimes works in Washington and sometimes doesn't," Sefl says.
What bonded them: "Once we found our mutual affinity for bad '70s pop culture, that was pretty much it," Heye says. Says Sefl: "He was at a surprise party for my 40th and brought the most amazing gift. He knows I love the show Quincy, and he had, probably in the depths of eBay, ferreted out this old script."
We don't have anything politically that's off-limits, but he's a big Yankees fan and I'm a big Cubs fan and we keep those out of the conversation.
How they stay friends: "Even where we disagree, I know she has a principled position and has thought about the issues," says Heye. Says Sefl: "One of the things I like is that he doesn't spew talking points with glassy-eyed, overcooked punditry. He delivers his sentiments with a degree of sincerity and openness."
This article appears in our Defense of Washington feature in the March 2016 issue of Washingtonian.