One of the stronger bragging points from the makers of ride-hailing apps like Uber and Lyft has been that their software acts as a sort of firewall against the racial and geographic discrimination seen in regular taxis, which have a long record of poor service toward people and communities of color. Over a year-long investigation in 2013, for instance, WUSA9 found that one-third of DC cabs ignored black potential customers, while white potential customers were never passed by.
But even the new technologies appear to be capable of replicating the unsavory habits of the industry they have displaced. According to the neighborhood blog Congress Heights on the Rise, a Southeast DC resident recently ordered a ride from Lyft, only to be promptly snubbed by the would-be driver via text.
"Hey cancel the ride," the driver, identified only as Chinedu, wrote. "I don't pick up from SE, sorry."
The customer, whose name was not given, texted back to warn the driver of getting a poor review citing the refusal to pick up in Southeast. The driver did not appear to mind. "Go ahead," Chinedu texted back.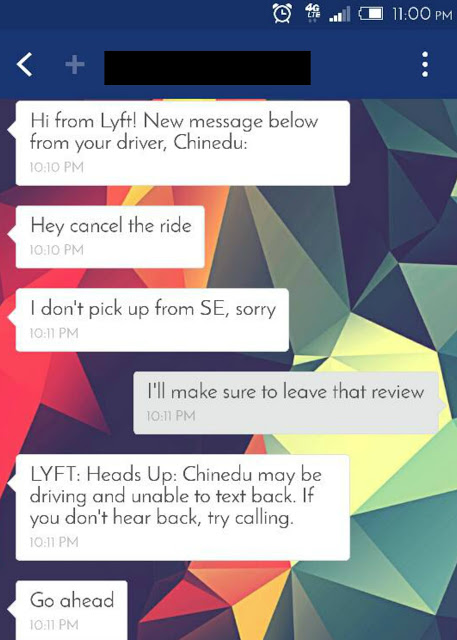 According to Congress Heights on the Rise, the put-out Lyft customer plans to file a complaint with DC's Office of Human Rights, which coordinates with the DC Taxi Commission on discrimination complaints. For normal taxis, snubbing a potential rider based on appearance or destination is deemed "failure to haul," and carries a fine of $500. But such complaints—which require the aggrieved party to remember a cab's four-digit registration number can be difficult to file. Companies like Lyft, which keep digital records of every ride—and allow riders and drivers to text-message each other—could make it easier to file gripes.
UPDATE, 4:10 PM: In a statement, Lyft says it has suspended the driver who declined to pick up the southeast DC resident, identified by Washington City Paper as Elizabeth Hearn.
"Lyft does not tolerate any form of discrimination and is committed to maintaining an inclusive and welcoming community," the statement reads. "Pending a further investigation, the driver's access to the Lyft platform has been suspended."