Our Washingtonian Recommends lists bring you the best places to eat, drink, and be entertained—all selected by Washingtonian editors.
There's something cathartic about spring cleaning. Whether packing up that one item you never wore (and ashamedly still have the tags on) to needing a serious detox of all those pieces from college you just can't let go of, there are places in the Washington area that will not only take your clothes but also benefit the community.
2114 14th St., NW, 202-328-6608; 2204 Martin Luther King Ave., SE, 202-885-9613
A thrift shop that accepts new, gently used, and vintage apparel, Martha's Outfitters partners with the District of Columbia to split clothes—some are given to those in need, others are sold. The proceeds help support various Martha's Table programs for the poor and homeless.
3933 Minnesota Ave., NE; 202-396-2050
If you have men's business attire to get rid of—including suits, blazers, shirts, ties, and shoes—this store will take it off your hands to help out men who are homeless, disabled, ex-offenders, or others on public assistance. The clothing is distributed free to the men, who are partnered with a program that teaches career development, interview preparation, and financial literacy.
106 N. Columbus St., Alexandria; 703-683-5544
If you have mid- to high-end labels you feel you just can't give away to anyone, this shop will take adult clothing donations—and use the proceeds to benefit Inova Alexandria Hospital.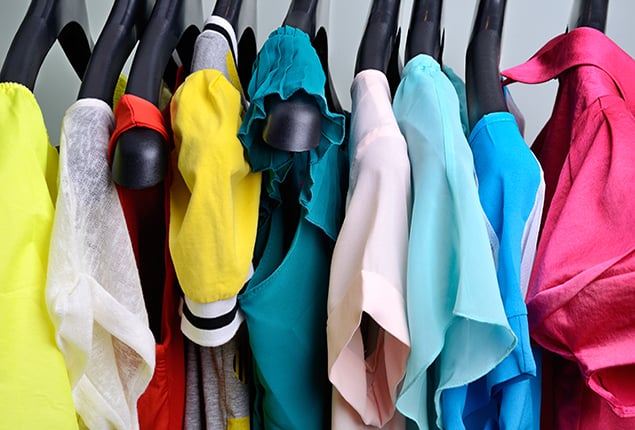 1318 14th St., NW, 202-299-9148; 3279 M St., NW; 202-333-2829
If you'd like to get a couple of dollars for your gently-worn clothing, you can head over to Buffalo Exchange, a chic, trendy chain that will give you cash (or store credit) for all the items accepted. If they don't accept your items, you have the option of taking them home or giving them up for donation while in the store. Buffalo Exchange will then donate those clothes to Martha's Outfitters.
1010 Vermont Ave., NW, Suite 900; 202-293-0351
If you have a suit or any other items of professional clothing you don't wear anymore, you can donate  gently-worn pieces (on hangars) to Suited for Change. The clothes are given to low-income women to increase their employment and job potential. Visit the nonprofit's site to find out which days they accept donations. dressforsuccess.org; call 202-269-4805 for an appointment.
7125 Wisconsin Ave., Chevy Chase, MD; 301-654-0063
This secondhand shop accepts donations of clothing, shoes, housewares, books, and more. You can also shop the store, where you'll find vintage apparel, accessories, and two specialty rooms with higher-end home decor, antiques, small furniture, and jewelry. Profits go to five charities providing direct services to Montgomery County residents.