On May 4, Urban Adventures Companies, the parent company that owns Vida Fitness, is opening its latest venture: Sweatbox, a boutique gym. This newer, smaller gym will follow the tradition set before it by SoulCycle and barre studios by offering one type of workout, interval training, with a per-class payment system. Sweatbox is located off the lobby of the Vida gym on U Street at 1612 U Street, NW. We tested the gym in a preview session, and we've got a few notes for those eager to try Sweatbox for themselves. 
1. Sweatbox is gritty luxury.
Though the gym's branding is Crossfit-like with its military font logo and hardcore name, the experience is more SoulCycle-like than one might expect. Directed at each six-by-eight-foot "box"—individual stations on the raised platforms on either side of the room—is a spotlight, so each participant gets their own pop-star lighting. Mirrors line either side of the room and participants are lined up along the wall facing in, so they can watch themselves—and others—in the mirror across the room. Throughout the workout, upbeat pop remixes pound through the room, seamlessly transitioning from one Top 40s hit to the next.
2. It's hard.
Throughout the class, participants switch between pedaling on a stationary bike to bodyweight exercises with TRX straps to strength training with hand weights. If you've ever tried high intensity interval training (HIIT), you're probably well-versed in how this goes, doing one exercise continuously for a minute before switching to the next. Good to note: the lightest weights offered at Sweatbox are 12.5 pound dumbbells.* Have you ever attempted reverse flies with 12.5 pounds in each hand? It hurts. A lot. And that was before we switched to the TRX straps, sticking our feet into the handles, so that our legs were suspending horizontally, with our palms pressed down into a plank.
This was difficult enough, so when the peppy instructor—called the "Sweatboss"—asked me to plank pike by hinging at the waist and sticking my butt into the air, I sat back on my heels and laughed, because there was just no way that my body was doing that.
*This is an absurd starting weight for my upper body strength, but when you consider that the people who designed this workout probably have biceps the size of babies' heads, it's slightly less ridiculous. Lucky for you, Sweatbox has already put in an order for boxes of lighter weights that class-goers can grab on their way into the studio.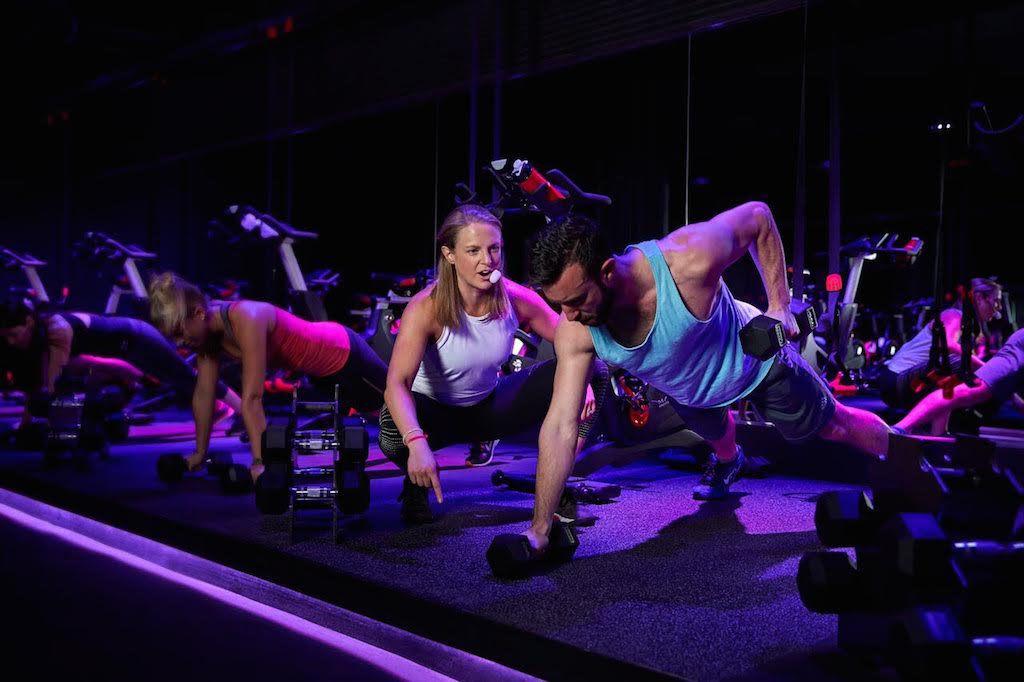 3. It will bring out your competitive side.
For the spinning portions of the class, each station has its own Matrix IC7 Coach by Color indoor cycle. This is not your typical spin bike that simply registers resistance and RPM to determine your wattage. It does that, but it also uses your age, weight, and fitness level (determined by how many hours you workout per week) to assign you with a Functional Threshold Wattrate (FTW) number. This number is used to determine how hard the you need to pedal in order to get into the color zones: white for very light pedaling, blue for light, green for moderate, yellow for very hard, and red for your maximum. A light at the front of the handlebars of each bike glows these different colors based on your current wattrate.
Throughout the class, the Sweatboss would tell the class to get to green, so we would have to pedal until the white light turned to blue then green—and then try to maintain that level of effort. The instructor would then push us to pedal harder, to get into the yellow zone, while the accent lights in the room shifted from green to yellow. After a minute of high intensity, she allowed us to back off—the room lights went to blue, and as our paces slowed, so did the lights on our bikes.
While the color system is a useful way to express different levels of effort—it's much more affective than just saying "pedal harder"—it also is akin to public shaming. Because the colored lights face outwards, the color level you're at is visible to everyone else in the class, so if they're all on yellow and you're toiling away at blue, it's obvious (and embarrassing).
4. You can get nerdy with it.
If you so choose, you can wear a MyZone heart rate monitor during the class. The heart rate monitor allows you to use a targeted heart rate to know how hard you're working during the class, and afterward, this information is delivered via Bluetooth to your smart phone. The MyZone monitor tracks your in-class progress, but it also helps you to track your historical progress as your cardiovascular health improves.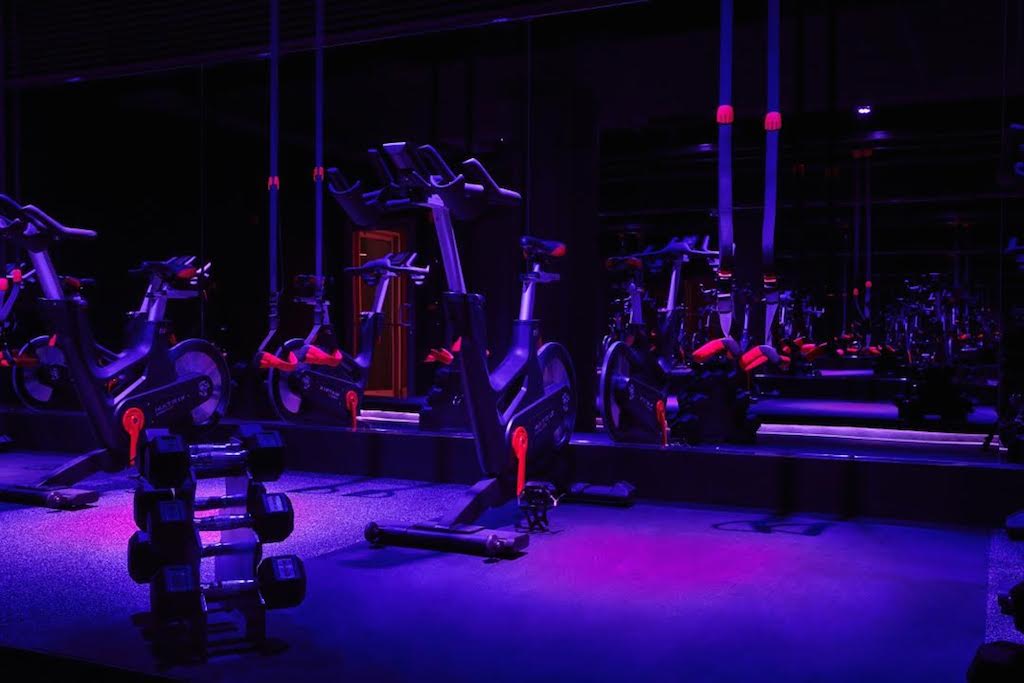 5. You can't shower there.
Even though Sweatbox is located within Vida's U Street location, the memberships are completely separate. Vida's monthly membership starts at under $100 and gives the member access to the complete facilities, including all Vida classes, the sauna, and the glorious locker room showers. Sweatbox operates as a boutique gym: classes are purchase individually for $39 or in bulk at a discounted per-class cost. There is a front desk a few lockers outside the Sweatbox room that's connected to the main lobby of Vida fitness, but once you're through with your workout, you can't head upstairs for a hot shower unless you're a paying member of Vida. While Sweatbox doesn't have its own showers, after the class, an employee walked around and handed out eucalyptus-scented, icy-cold hand towels to wipe the sweat away.
6. You can try it for free.
Your first class is free at Sweatbox—you can register for it here—though there is a $10 intro class that we'd recommend if you hate feeling lost during a workout class. The intro class goes over how to set up your bike and how to identify your FTW number, as well as how to use the TRX straps. Sweatbox also sells a first-time client package for $95 that includes a Myzone Heart Rate Monitor, the FTW orientation, and two Sweatbox classes.
7. Urban Adventures isn't worried about cannibalizing their Vida clientele. 
"The decision to move into the boutique studio space was made for a few primary business reasons," says Sweatbox's client experience manager Tara Sampson. "First, the trend of studio fitness is absolutely here to stay.  These specialized studios offer an experience that really resonates with clients and participants are willing to pay a premium be a part of these communities."
Additionally, Sampson says, the comparatively low overhead of opening a Sweatbox makes it easier for Urban Adventures to add new properties faster, as opposed to the time and resources it requires to build a 50,000-square-foot facility like Vida U Street. Urban Adventures has also been paying attention to the national statistics on boutique fitness: according to a survey conducted by the International Health, Racquet & Sportsclub Association, 42 percent of large gym members also book classes at boutique studios.
"SweatBox allows us to fill a niche in the market and speak to a different demographic than our traditional Vida market," says Sampson. "We sincerely believe these two concepts are complementary and will coexist in a strikingly mutualistic way."
Sweatbox is located at 1612 U Street, NW.