Really good home-style Greek cooking can be hard to find in Washington, which is why this family-run dining room ringed by pictures of sun-drenched islands is such a find. Order a bottle of Grecian wine and settle in over velvety taramasalata with warm pita wedges, grilled octopus doused in an oregano-heavy red-wine vinaigrette, and a molten block of kasseri cheese proffered in a sizzling skillet. Cobbling together a meal of such small plates is tempting, but then you'd miss the Mediterranean comfort fare—beef-stuffed grape leaves in a creamy lemon sauce or sweet shrimp bobbing in tomato-feta stew. The service matches the food: unfussy but warm, and quick to please.
In this age of the pop-up restaurant and the speakeasy restaurant, it's inevitable we'd also have the restaurant within a restaurant. From the outside, and even from the inside, this is a sushi spot called Tsunami. But what's most exciting is the menu of dishes from northern Thailand, the culinary terrain explored so successfully by chef Johnny Monis at nearby Little Serow. The kitchen at Baan Thai, as the nesting doll of a place is called, lacks the endowments of a James Beard Award–winning chef, and it also can't match the fanatical commitment to delivering precision on the plate every single time. But the best half dozen or so dishes—including vermicelli with chili-peanut sauce and crispy rice cakes with ground chicken—seduce you with complex, exhilarating tastes that never stint on heat or sourness. Leave room for the kanom krok, magical little half-moon pancakes filled with coco-nut custard.
Anyone mourning the disappearance of the white tablecloth should visit this grand Afghan banquet hall, decked out with crystal chandeliers and a smartly suited waitstaff. That's not to say you're in for a formal meal, but it'll be a feast nonetheless, starting with crusty ovals of freshly baked bread. It's tempting to order tender aushak dumplings—stuffed with scallions and sauced with ground beef, yogurt, and a shower of mint—as an entrée, but resist the urge. Both aushak and their meatier cousins, mantu, are available in small portions, as are stellar vegetarian options such as caramelized eggplant. Then you can round out a meal with charcoal-grilled kebabs—we're partial to smoky marinated chick-en thighs—and a massive qabili palow, featuring ten-der hunks of lamb buried beneath a heap of fragrant rice, carrots, and raisins.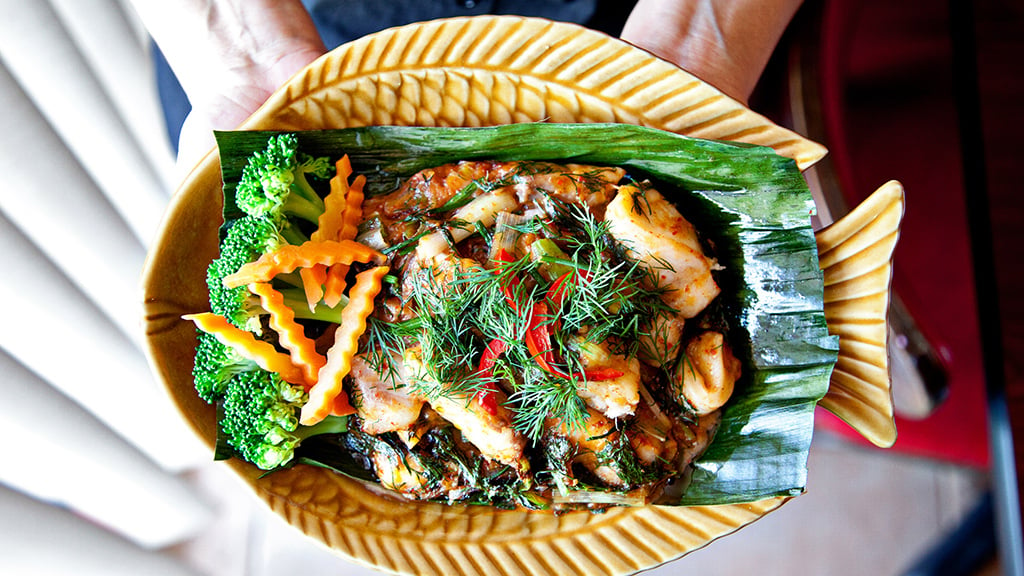 Years ago, diners had to request the "secret" Laotian menu to avoid ho-hum Thai fare at Bangkok Golden. Though chef Seng Luangrath's flagship restaurant still serves both, there's no need to be coy—the kitchen openly offers its fiery, herbaceous larbs (minced-meat salads), fragrant lemongrass-laced stews, and excellent fish steamed in banana leaves with chilies and dill. The lineup doesn't change as often as at sister restaurant Thip Khao, but keep an eye out for specials like spicy fried mackerel and sun-dried pork. Seeking heat? Insist on "Lao hot," as the menu says, and quell the fire with a cold Beerlao.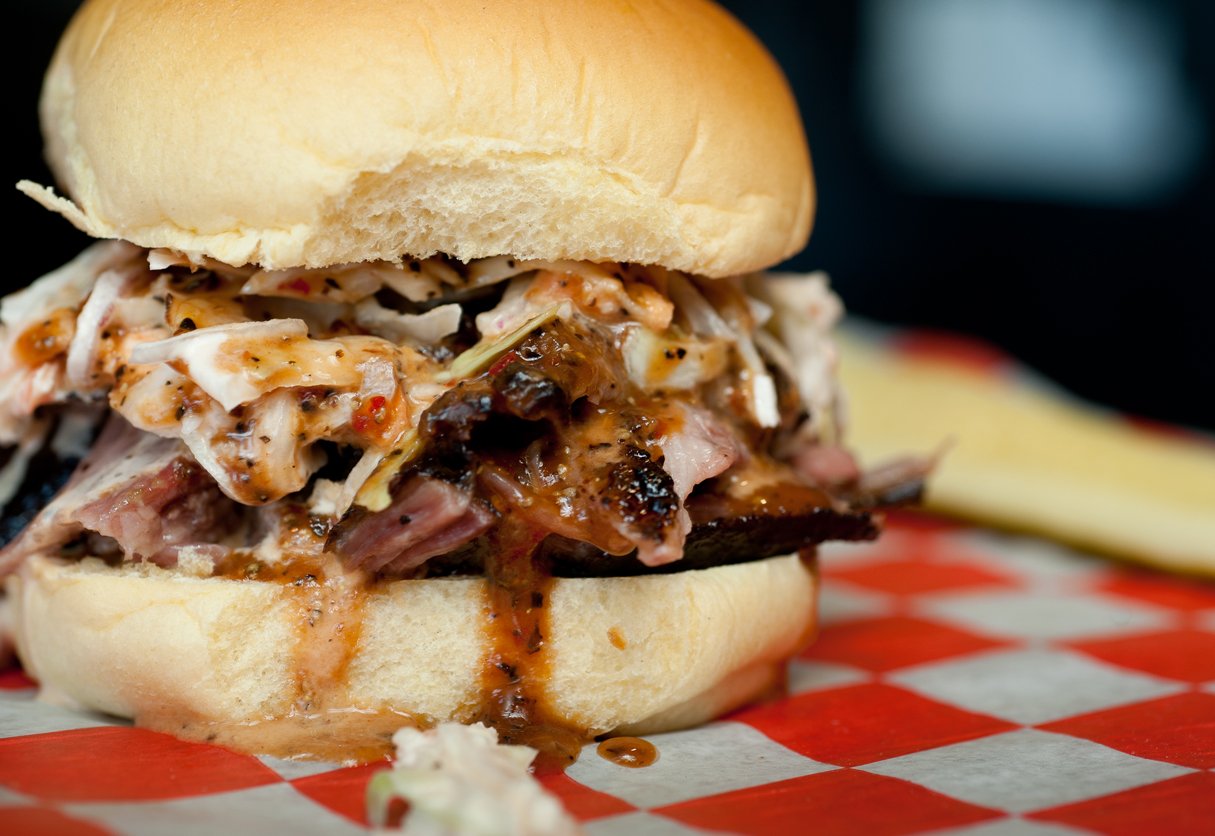 Ten years ago, Andrew Evans was creating inventive American tasting menus at the Inn at Easton, an endeavor that landed him a front-page profile in the New York Times food section. On the side, he traveled the country entering barbecue competitions. Now his passion project has become his main focus. At his BBQ Joint—whose four locations include a stall in Union Market and a collaboration with Eric Hilton on 14th Street—Evans doesn't stick to one regional style so much as showcase his own vision of barbecue. Texans might find the brisket a little light on the smoke, but we love it for its supreme butteriness. And the excellent ribs are meaty, tender, and glazed with spicy-sweet crimson sauce; at the 14th Street location, look for the red light, which signals they're at their peak, just after they've been pulled from the smoker and had time to rest.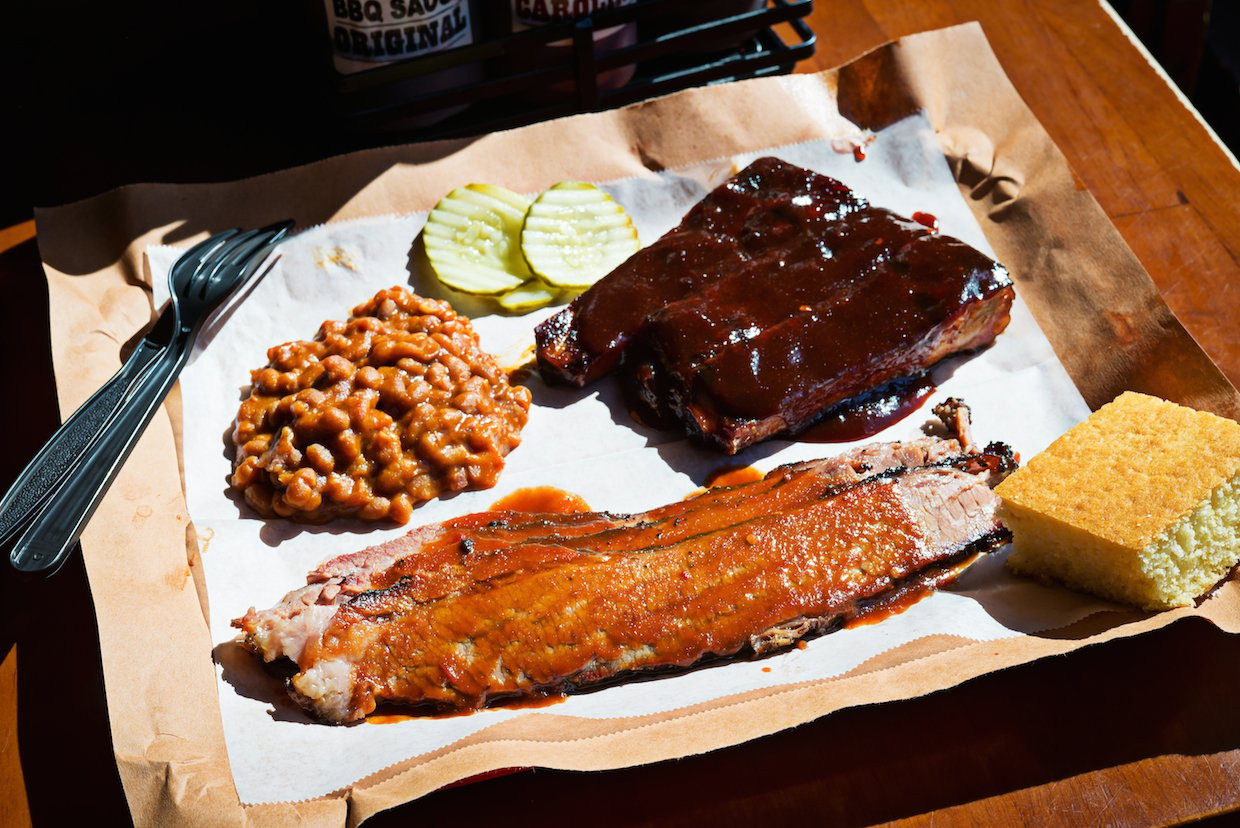 Perhaps the single best bite of barbecue we put in our mouths this year was something called Arkansas beef. Imagine hunks of brisket—meltingly fatty on the inside, ringed with a crusty bark on the outside, and submerged in a thick, crimson sauce that balances spicy, sweet, and tangy. It's the strongest reason to visit these folksy Frederick-area joints, but not the only one: Finely chopped pork is properly vinegary, and barbecue chicken is infused with an assertive smokiness. And unlike at some barbecue spots, sides get as much attention as the meats: Potato salad, slaw, and collards are all made with care.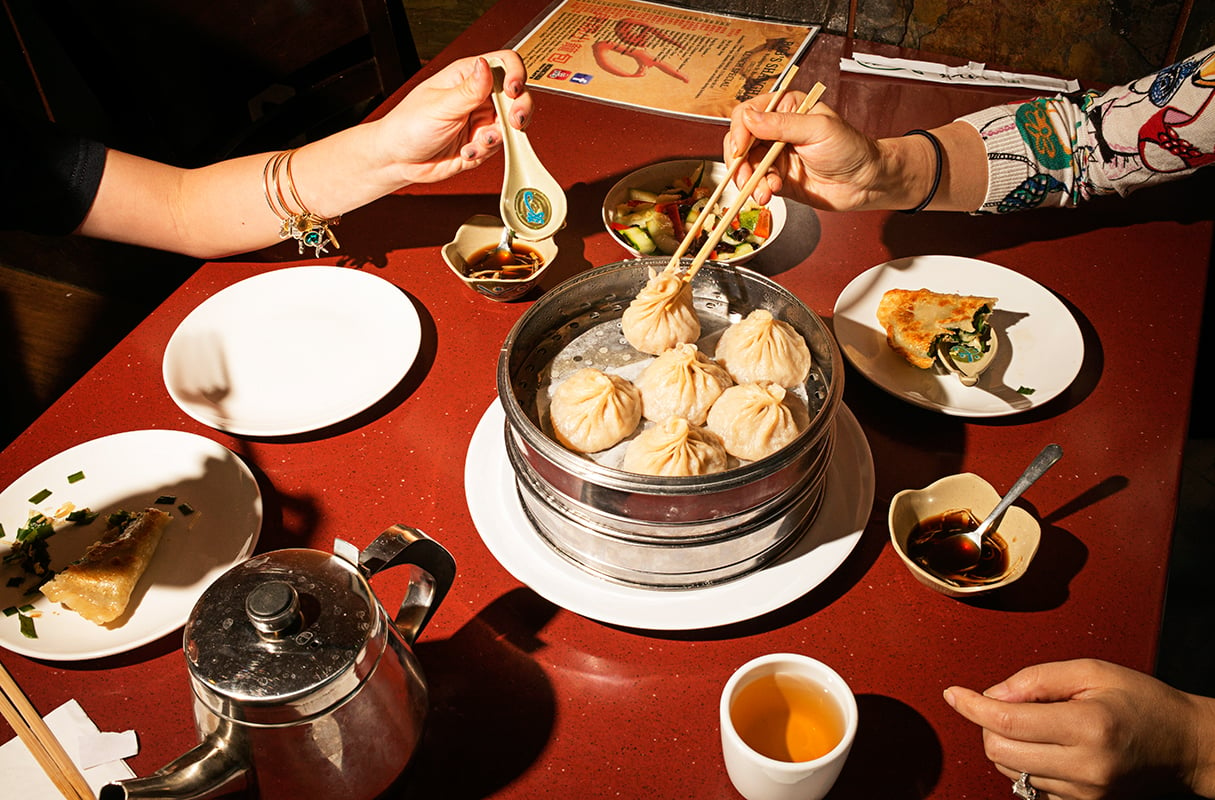 It tells you something that on a menu encompassing dim sum; dumplings (there's a special window to watch the cooks stretch and roll the dough); and Cantonese, Szechuan, and Taiwanese dishes, one of the most winning items is the simplest: a plate of snow-pea leaves. They hit the table tender and crunchy, the slight vegetal bitterness leavened by generous spoonfuls of fortified cooking liquid. When it's on—and lately it has been very on—Bob's delivers this degree of effortless excellence across the board, in teeming bowls of delicately wrought soups that are best shared with a group, in the tender soup dumplings known as XLB (pierce the top and slurp the hot broth inside before eating), and in stir-fries without even a smidge of excess oil.
Some restaurants are obsessed with playing hip-hop or power pop. At Bonchon, you'll encounter another kind of soundtrack—a symphony of relentless crunching. That's how ridiculously crispy the chain's Korean twice-fried chicken is, even—it defies culinary logic—when doused in sticky-sweet garlic-soy glaze. The famed birds are the number-one reason to visit (or to call for carryout, though waits can stretch to an hour-plus), but some locations such as Arling-ton, Centreville, and Navy Yard serve well-made cock-tails and a short list of starters, too.
This rowhouse restaurant may have a Ninth Street address—on the restaurant row off U Street that's known as Little Ethiopia—but it lies blocks from its competition. The cooking, too, stands apart, with a complexity and robustness that are testament to the unspoken but unmistakable desire of the operation, owned by Alemayehu Abebe, to cook for Ethiopian expats. You don't have to have grown up in Addis to appreciate this passionately uncompromising approach. You might have tasted dozens of versions of beans and tomatoes, but it's unlikely any has come close to this remarkable depth or richness. Likewise the yebeg wat, its hunks of lamb thickly coated in a stew-like sauce that looks more like melted chocolate than the red of an all-day marinara that some places favor, and whose flavor can't be chased with a long sip of St. George, the Ethiopian equivalent of Heineken.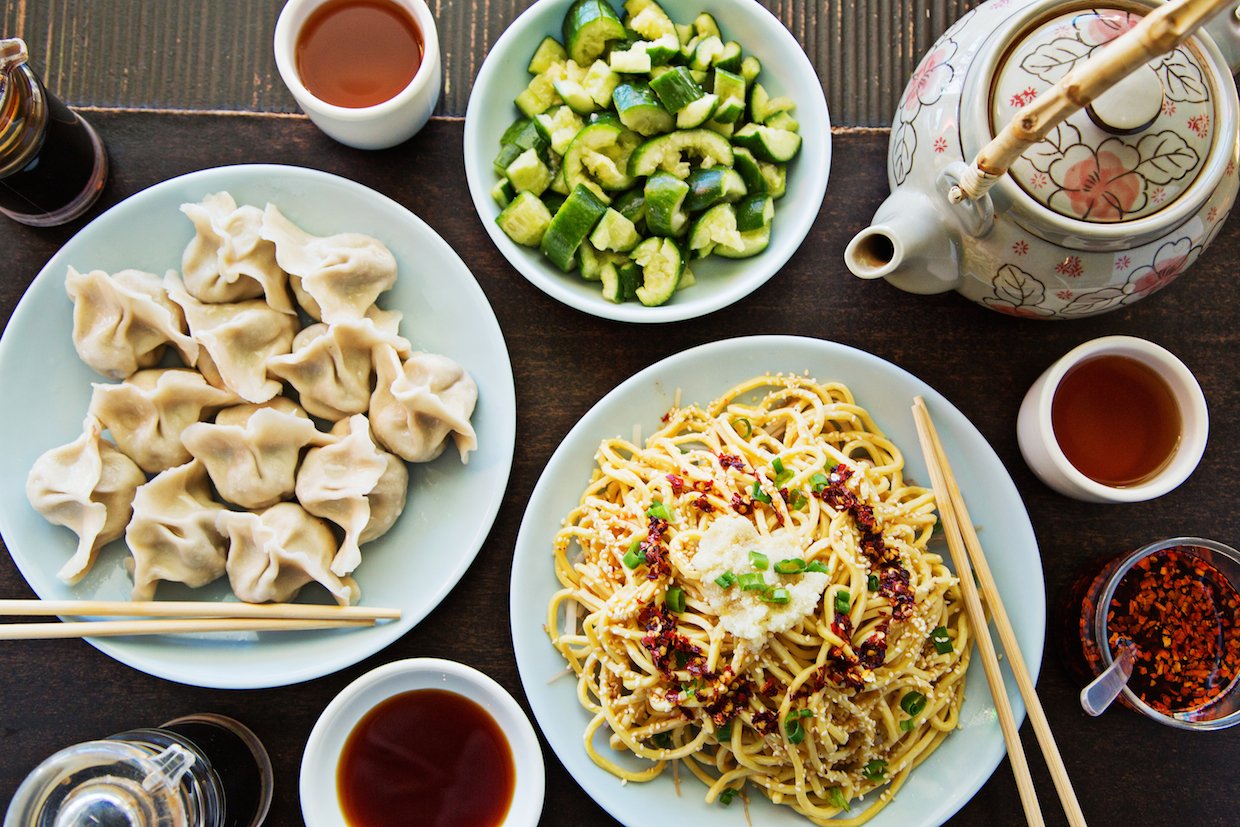 China Bistro is the English name—the Mandarin characters on the sign out front mean "Mama's Dumplings." Not that you should expect Mama herself in the back, toiling over floured balls of dough: The name refers not to a maternal guru of the age-old craft but to the home-style character of the dumpling-making, which eschews elegance and lightness in favor of heartiness and chew. The wrappers are plenty supple, the fillings always fresh and light even when they make use of meat (we gravitate to shrimp-and-chive and beef-and-celery). To maximize the experience, ask for a portion of chili sauce, mix a little into your soy-based dumpling sauce, and dip away.
The menu at this no-frills restaurant is voluminous, covering Cantonese and Szechuan cuisines along with Chinese-American standards (think crab Rangoon) and more arcane finds (bullfrog with yellow chives—far more delicious than it sounds). But the dishes that keep us coming back are the chili-stoked Szechuan preparations: thin-skinned dumplings with a slick of fiery oil, chili-flecked green beans stir-fried with bits of pork, jerky-like strips of spice-rubbed dried beef, and mapo tofu, a fragrant tureen of pork and silky bean curd with a torrent of peppers. Tamer plates such as snow-pea leaves with garlic, bacon with smothered leeks, and salt-and-pepper fried fish are worthy—and for many of us, necessary—counterpoints to all the heat.
This strip-mall mainstay has the feel of an old-time Chinatown restaurant, with families gathering around steaming tureens and platters and a menu that goes on for pages. Though all the greatest hits of neighborhood Chinese carryouts are here, there's much more to the place. Focus on the Szechuan dishes, perked up with the likes of garlic, chili, ginger, and peppercorns. That means wontons in broth with a flotilla of chili oil, or salty-sour green beans with pork, or a delicious plate of fried eggplant studded with slivers of ginger. Don't miss the puffy scallion pancake, which is lighter than most and makes a nice accompaniment to the spicy stuff.
There's something decidedly not now in the atmosphere at this Bosnian gem, its tables laid with workmanlike white cloth and bearing untrendily gargantuan portions. You're ten miles from DC, but it might as well be ten hours. Just order a plate of ćevapčići, tight-cased beef sausages with more juice than some fruits. Or bite into the massive Bosnian burger, a beef patty marinated in onion juice and black pepper, cooked to perfect pinkness, and dolloped with sour cream. Either will pair nicely with one of the earthy Croatian reds on the list. The larger the plate, the less precise the cooking, but the wiener schnitzel is as tender and crunchy as you'd hope. Don't skip dessert—in particular the crempita, a special that's a glorious testimonial to the Old World love of creamy and caloric confections.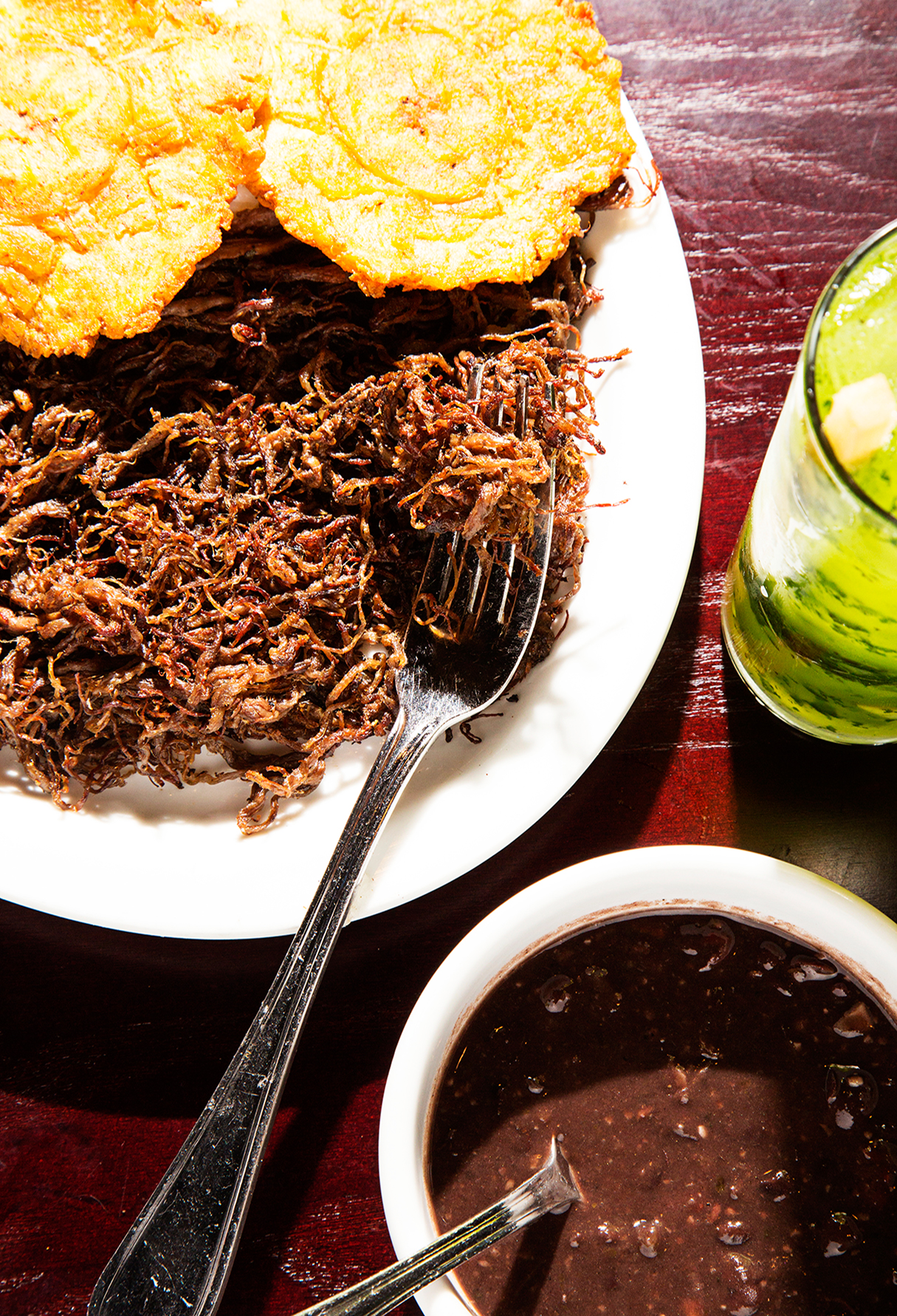 The rice here is textbook, each grain distinct and slicked with oil; so are the beans, delivered in an inky simmered soup that sings of garlic and oregano. Devotees of Cuban cooking will know at once that we're telling you about more than, yes, the rice and beans. If a Cuban kitchen understands the importance of these backbone elements of the cuisine, it can probably be trusted with everything else. And this one can. The cooking has the soulful heartiness you look for, from the crunchy croquetas with bits of ham to the rich hash of ground beef, potatoes, and olives known as picadillo to the diet-exploding tres leches cake, a confection of milk, cream, and meringue held lightly together with flour.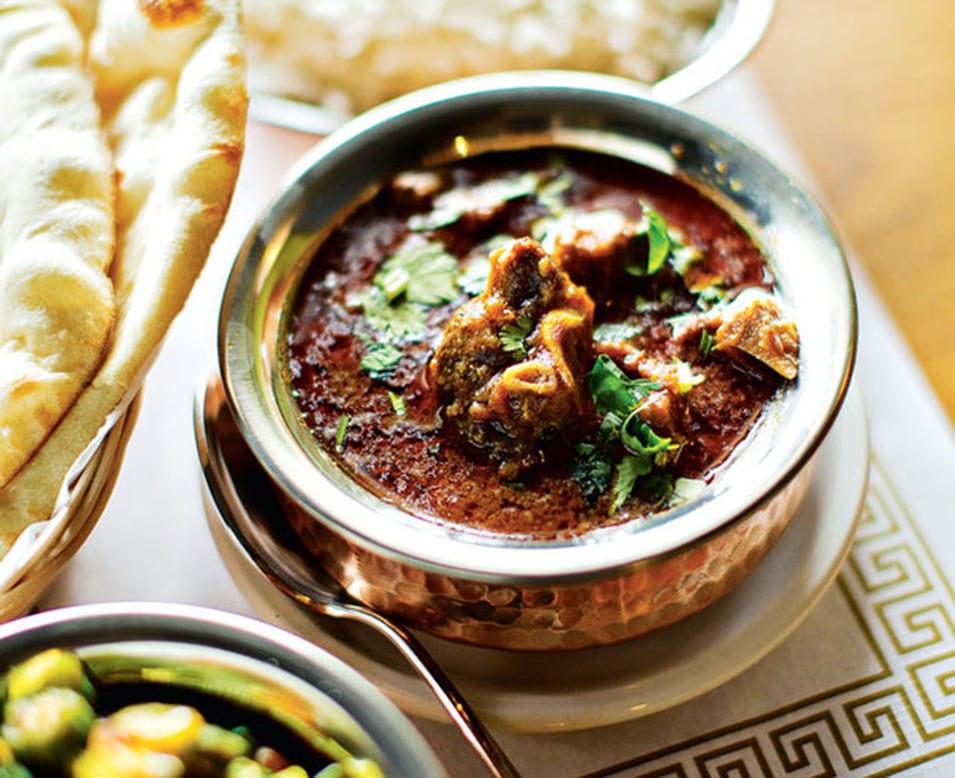 Northern Virginia is home to some of the most rewarding subcontinental cooking in the area. Rasika, Bombay Club, and Indique—which have helped shape the direction of contemporary Indian cooking in the country—all reside in DC. Curry Leaf is in Laurel, far from the vital center or even any sustaining pocket. Yet it attracts crowds nightly, a testament to the consistency and quality of chef Sam Krishnan's cuisine, as well as to an audience that doesn't seem to care if it turns up a good lamb korma in a setting suited for a diplomat or, as in this case, a faceless strip mall. While all the usual suspects are here (butter chicken, palak paneer), it's the obscurities—such as a Hyderabadi egg curry with a thick, peppery gravy or a chili-pepper curry that's not the fire pit you expect but a subtler, more nuanced expression of spice—that give the place its culinary character.
The versatility of the place alone ought to earn it a spot in your dining-out rotation. At breakfast, it's an easygoing antidote to greasy spoons or corporate cuisine. (Get the ful, a dish of stewed favas, garlic, and olive oil with warm, crunchy bread.) Midday, it's a pit stop for coffee and an Italian-style pastry or cake from the adjoining bakery. Come dinner, its enormous value becomes readily apparent. Bring along a group of like-minded friends and watch the table bloom into a lavish and colorful feast of complex, powerfully spiced stews—50 bucks rarely brings so much warmth, comfort, or deliciousness. (If you're more experienced with the cuisine, try springing for the teff injera, a nuttier-tasting alternative to the thin, lightly fermented bread that serves as both utensil and wrap.) Dama has in recent years made meatless cooking a priority, with another entire menu devoted to the Gondarian staples that make up the contemporary Ethiopian table—among them, a fascinating and tasty wat, or berbere-spiced stew, with tender, roasted garlic cloves.
Even at noon on a sunny weekday, the lights are dimmed, the shades are closed, and the air is musky with incense at this white-tablecloth Ethiopian dining room. Nobody seems to care—all the better to focus on the cooking, which serves vegetarians and vegans particularly well. No veggie sampler in the area comes close to the one here, with its round of injera holding a rainbow of vivid little piles. The collards, which in lesser hands can be dull and one-note, leap with flavor; green beans and carrots are bright with black cardamom; and the yellow-split-pea stew called kik alecha is a soothing, warming contrast to the cold salads. The injera—lacy, sour flatbread used as both plate and utensil—is so good you'll want to keep it coming long after you've cleaned your platter.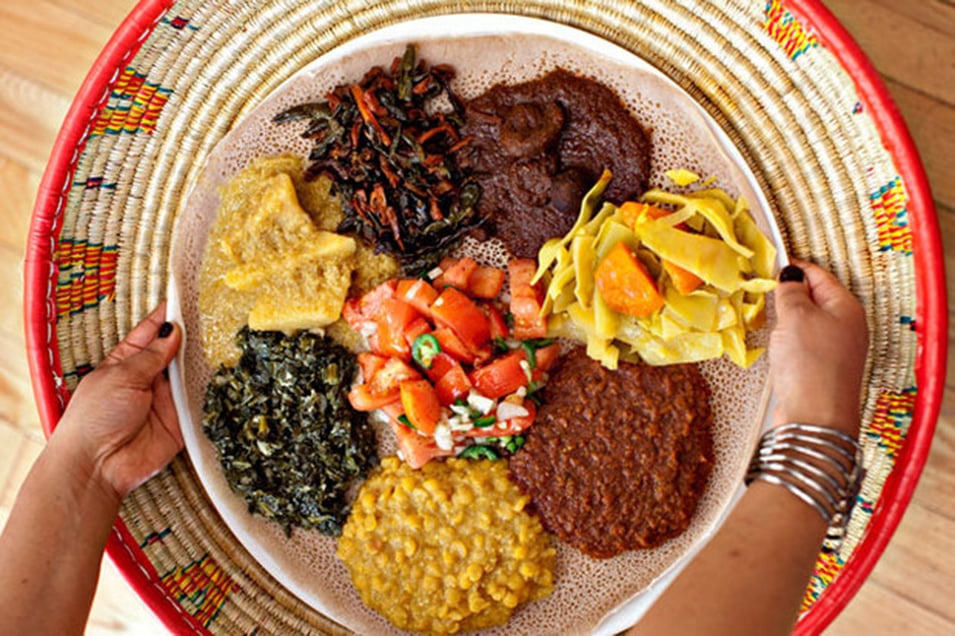 Naming the best Ethiopian in Washington is a bit like picking a top New York slice—great options abound, and small differences at each spot (the tenderest tibs, house-made injera) breed loyalists. What keeps us coming back to owners Samuel Ergete and Meseret Bekele's serene restaurant: the quality of ingredients and the care with which the kitchen prepares each dish. Stepping into the warmly lit, brick-walled dining room feels like entering a home, as does the pleasant welcome and offer of a drink from the varied list of Ethiopian beers and wines. If anywhere, this is the place to try kitfo, the traditional tartare-like dish, here made with prime beef and house-made spiced butter. The seven-vegetable combination plate makes for a wonderful share. Garlicky collard greens, deeply caramelized string beans, lentils, and split peas (bright kik alecha, richly spiced mesir wat) make for a satisfying tour of the kitchen's breadth.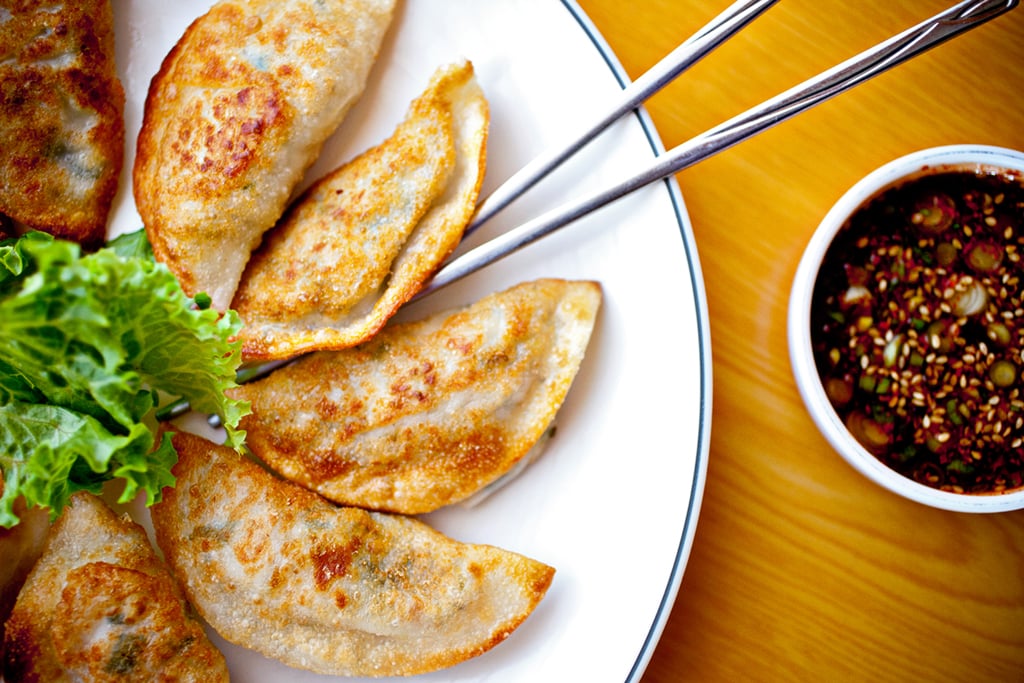 If you're looking for Korean barbecue, you can find half a dozen restaurants in Koreatown (a.k.a. Annandale) for that, from industrial and trendy to dowdy and traditional. Korean fusion or ramen? Annandale has plenty of those, too. Gom Ba Woo, on the other hand, is a small, cozy restaurant with a self-effacing humility. Its excellence lies in the perfect steaming of its mandu (large, pork-filled dumplings), the crisp edges of its seafood pancake—striped with green onion and studded with bites of octopus—and the delicate sweetness of its lightly glazed short ribs dressed with sesame seeds. Not the subject of breathless blog posts, perhaps, but they'll leave you feeling nourished and sustained, with a quiet sort of joy.
What's that giant cauldron billowing steam in the kitchen? At these Korean places, it holds the house specialty, sul leung tang—a milky-white, cooked-for-hours ox-bone soup. Get it with brisket, then dress it up with scallions, garlic, and chilies from the condiments plate. Another pleasure: oxtail soup, which boasts a mahogany-hued broth and gargantuan hunks of meat. Liquid dinners aren't the only reason to visit. Bibim bap comes with a perfectly fried egg atop the mound of rice and vegetables. (Mix it all together with a dollop of the spicy-sweet chili sauce that comes on the side.) And the free bowls of panchan, the array of pickled and spicy embellishments, such as turnips, kimchee, and cucumbers, are more than an afterthought. Eat them solo or add them to pretty much anything.
With its looming flat-screen tuned to CNN and glaring fluorescents, this Vietnamese spot looks more like a mani-pedi joint than somewhere you'd want to have dinner. But bypass the place based on looks and you'll miss out on one of the best reasons to visit the restaurant-crammed Eden Center. Dishes arrive in rapid-fire succession, so you might find yourself juggling appetizers and entrées. Still, don't stint on either. This is a kitchen that handles so many things with skill—shattering-skinned spring rolls, tender nubs of shaky beef, a textbook bánh xèo crepe or gingery sauté of clams—that it'll likely take you as long to decide what to order as it will to eat.
Smoky meat barbecued Korean-style is the obsession at these K-pop-blaring 24-7 hot spots, as evidenced by the vivid photos of various cuts covering the walls at each location. Meaty beef ribs, spicy pork belly, and thinly sliced bulgogi are the classic choices, but it's worth branching out for slices of prime rib and boneless pork neck. All are cooked at the table by a flurry of fast-moving servers who fill your plate to make room on the grill for what's next. The array of panchan—the condiments that add spicy, sour, sweet, and crunchy notes to whatever you're eating—may seem skimpy compared with other Korean restaurants, but each little plate is a gem, whether it holds a dollop of potato-and-egg salad or a chili-shot cucumber salad.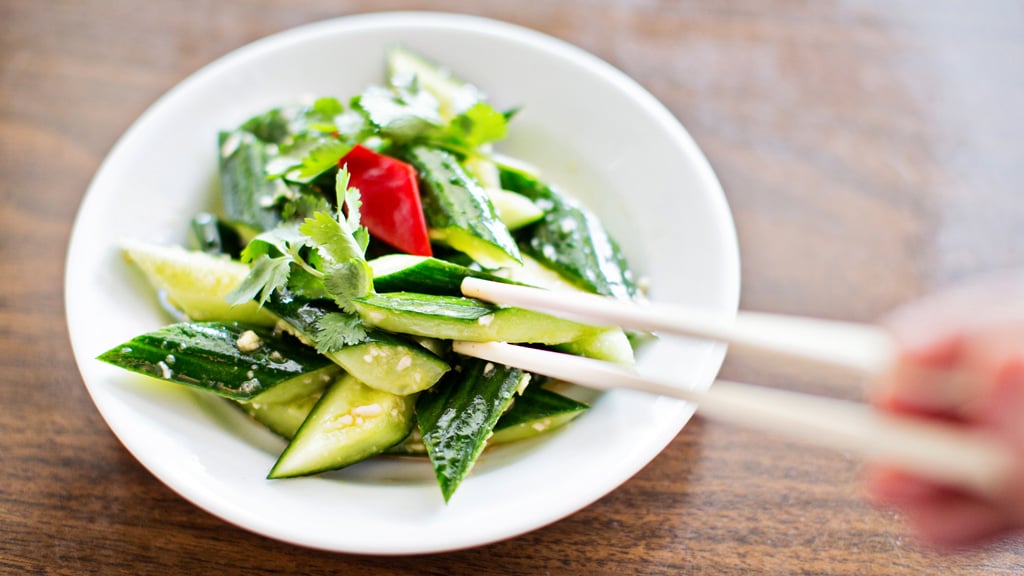 Restaurateur Liu Chaosheng (also behind Uncle Liu's and China Jade) continues to build his Szechuan empire—a high-end Tysons venture is expected this year—but we keep returning to this reminder of his humble beginnings. Little has changed in the plain strip-mall dining room, where plates of cumin lamb and dried chili-fried chicken remain bountiful—even by family-style standards—and specials are handwritten in Mandarin on the wall (ask the waitstaff to translate, for tasty results). Though dishes arrive in a haphazard order, don't miss appetizers such as wontons in fiery chili oil.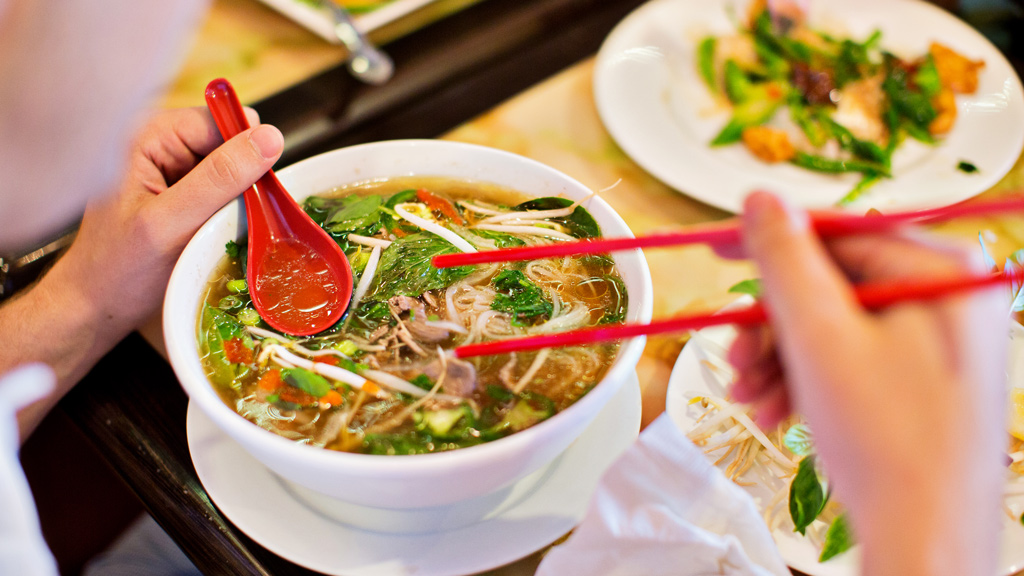 Diners crowd around the tables at this Eden Center storefront, even on weekdays. The reason? It's a place that does many things well—and the menu goes on for pages. Bánh xèo, the oversize crepe laced with shrimp and pork, is crispy and light. The lineup of caramelized meat, seafood, and poultry casseroles—we especially like the versions with pork and black pepper and with chicken, lemongrass, and chilies—doesn't lean too sugary. And we could linger for hours over the soups, whether a spicy Hue-style beef brew or a sweet-sour tureen of catfish in a tamarind-infused broth. House-made lemon soda is the drink of choice, and Vietnamese iced coffee, with its dollop of sweetened condensed milk, easily doubles as dessert.
Funds are low, but you're in the mood for meat—a lot of it. What to do? Head to these slickly industrial all-you-can-eat Korean barbecue houses. For a set price, choose from a dozen cuts of beef and pork (we love the tender, juicy pork steak, thick-cut pork belly, and beef brisket). Lunch is the best deal ($16) and beers are cheap, too: $4 to $6. Just be forewarned that wastefulness is frowned upon—an eat-what-you-order policy keeps gluttony in check.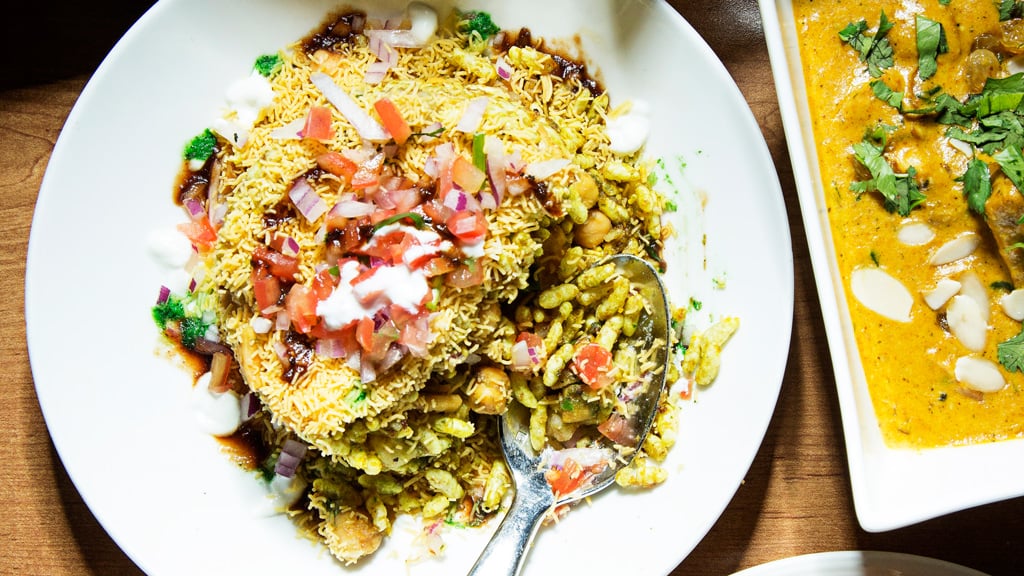 It's prettier than most suburban curry houses, with a stylish bar and a colorful, low-lit dining room. It's prettier, too, on the plate—but that doesn't mean much if the kitchen can't keep pace with the atmospherics. This one, overseen by the folks behind the vegetarian stalwart Woodlands, can. The menu aims to balance traditional tastes and street foods, classical approaches and more contemporary ones, and has no demonstrable weak spots. It does have a clear strength, and that's in its vegetable curries, carried off with a finesse (and lack of oil) not often found elsewhere. Seafood, too, is handled with care, notably a preparation of shrimp moilee in which prawns are matched up to a creamy, coconut-rich gravy loaded with crunchy mustard seeds and dark, fragrant curry leaves.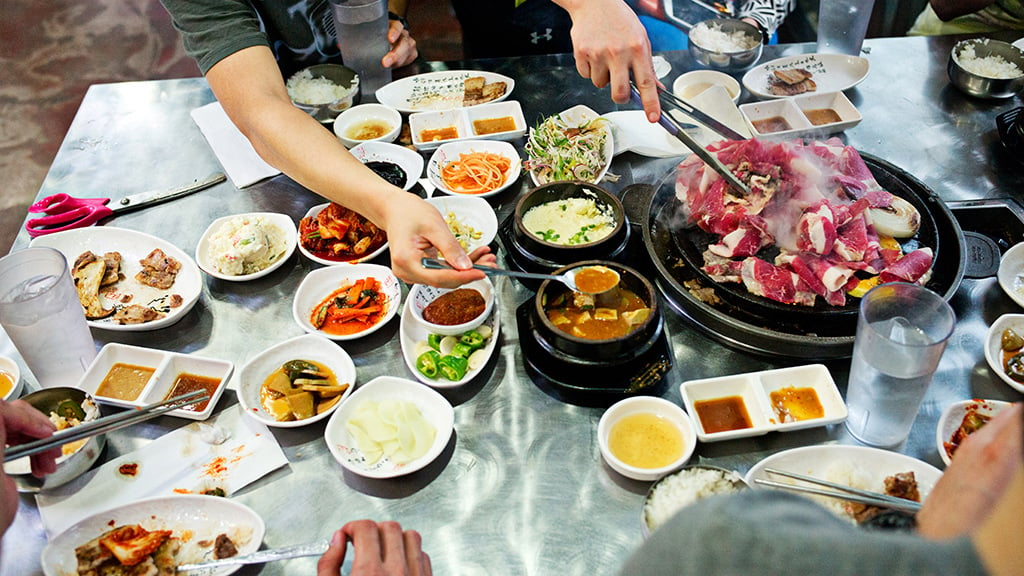 Korean barbecue is seldom a bad thing; even mediocre places are still more fun than a night at Benihana. But this Annandale spot is a cut above, a next-generation rethink of the idiom. What distinguishes it? Not the gas grills, which nearly everyone uses. (We can wish for charcoal; one day.) It's the quality and variety of the meats, which run from duck to short ribs and will make you forget all about the Steak-umm–like strips you pry from the cooktop elsewhere. The panchan, the small buffet of snacks that hits the table before the main event, are uniformly strong. So are the supplementary dishes, such as the tender, lightly steamed pork dumplings and the seafood pancake, a delicate frittata with octopus, squid, and green onion.
On a recent Saturday night, the line stretched out the door and customers waited in a cold rain. No bigtime chef is attached to the venture, nothing about the atmosphere even remotely suggests a scene, and the cooking makes no attempt to push boundaries. The draw? The consistency and quality of this small Peruvian strip-mall cafe. Fish is the focus, whether lightly cooked with lime juice (as with the bright and attractive presentations of ceviche or tiradito, the latter a fan of white fish atop a vividly yellow pool of aji-pepper sauce) or fried (most memorably, a whole trout flanked by rice and yuca). Potatoes are transformed into an array of treats, including the papa rellena, with spuds mashed and molded around a mix of raisins and ground beef, and the papa Huancaína, in which a lightly spicy cheese sauce drapes tender squares of steamed potato.
With its ornate chandeliers, starched tablecloths, and paprika-red valances, this 125-seat dining room is among the biggest, and most opulent, settings on this list. The food can be equally impressive. Biryanis, served in copper pots, are revealed from beneath their cover of naan at the table. Curries tend to be vibrantly spiced, and salads—such as the cool mix of puffed rice and tamarind known as bhel puri—are well balanced and full of texture. One good way to sample everything: the lavish lunch buffet, $11.99 during the week and $13.99 on weekends.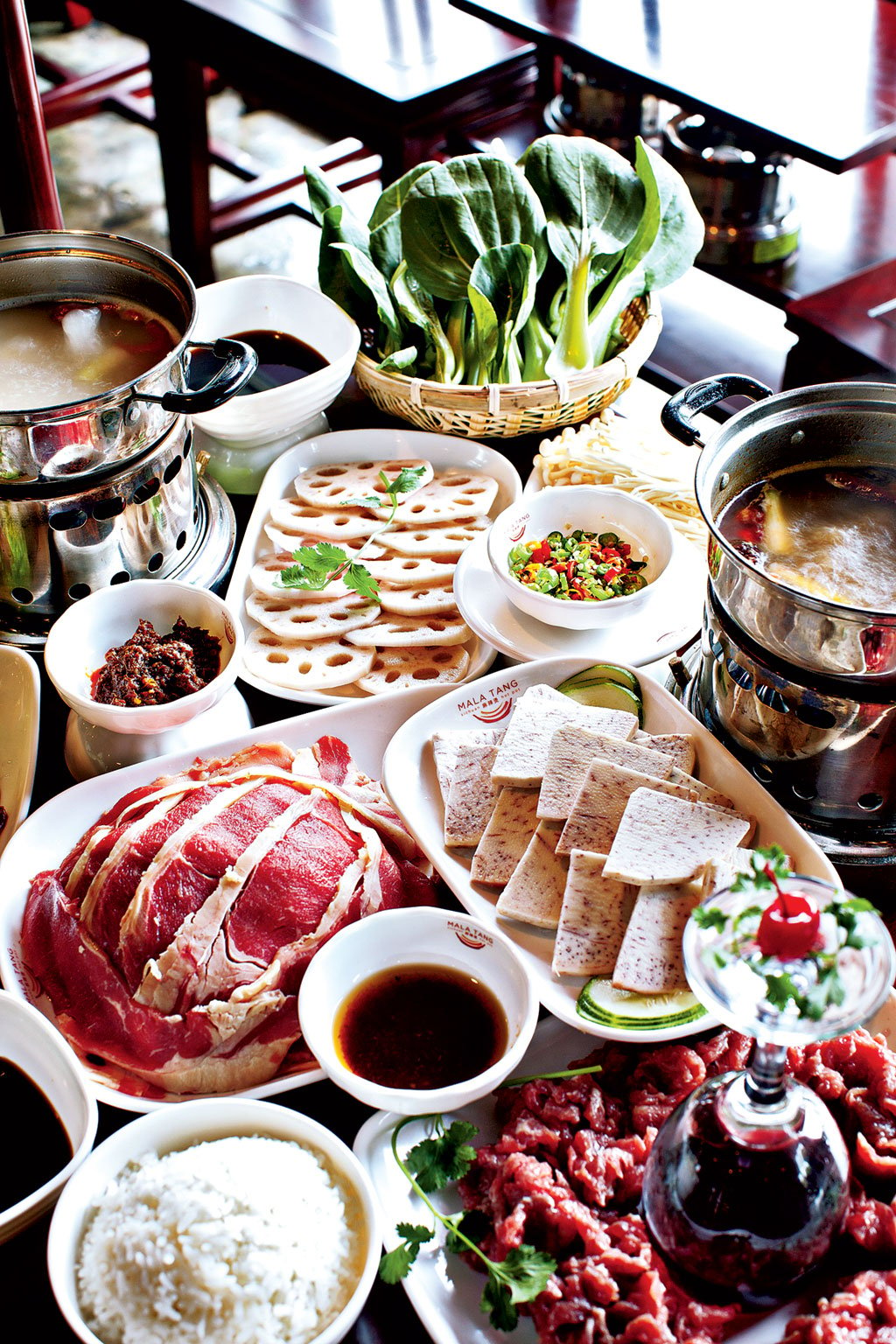 You'll eat to the tune of bubbling hot pots at this Virginia Square dining room. The waitstaff urges a cauldron per person, filled with simmering stock in which diners can cook an à la carte array of meats, seafood, and vegetables—we found that a single order for two to three people works perfectly well, and you'll have more room to sample from the expansive Szechuan menu. The fare is both spicy and drink-friendly—large-format beers are offered for a reason. Opt for the "Mala (spicy)" broth, and round out the meal with garlicky dan-dan noodles, tender wontons in chili oil, and crisp-edged scallion pancakes.
Washington is a bastion of global cooking, home to one of the richest culinary cultures in the country, but the traditions of the Arabian peninsula remain largely obscure to many diners, even with the arrival, in the past couple of years, of the area's first Yemeni restaurants. In a food scene ever more in thrall to the sexy and new, this four-month-old restaurant isn't pedigreed or high-toned enough to change that, but the cooking deserves wide notice. The smoky baba ghanoush is a marvel, a lustrous whip garnished with fried pine nuts, nigella seeds, and a swirl of olive oil. Tear off pieces of the marvelous pitas and dip them. But save some for the fasha, a sputtering cauldron of cumin-laced shredded beef, tomatoes, garlic, onions, and cilantro. It's a hard entrée to top, but the haneeth does. The showstopping plate—like many entrées here, it feeds two or three—features some of the tenderest hunks of lamb we've come across, each bite fragrant with preserved lemon and coriander, atop a mound of perfectly steamed rice.
In this era of abbreviated communications, here's one to remember: M9. That's the designation on the menu at this quick Vietnamese cafe for a gigantic bowl of egg-noodle soup. Don't bother with the thin strips of beef massed near the top—this is not about the meat. It's not even about the tangle of egg noodles, which have great spring. It's about the broth, a tongue-coatingly rich extraction of beef fortified with dried shrimp. Voilà—surf and turf in liquid form! Mi La Cay is no one-hit wonder. You'll also find the best bánh mì outside of Falls Church and a slew of small, simple plates that deliver unexpectedly big flavor—lacquered quail with lime dip, say, or tightly bundled grape leaves packed with beef, onions, and black pepper and plucked hot from the grill.
Usually the meat in bibim bap is the least interesting thing about this savory mix of rice, zucchini, carrots, slivers of seaweed, red-pepper paste, and soft-cooked egg. Not so when it comes to Moa's short-rib rendition of the Korean comfort food, which nearly every table seems to be digging into. We may never be able to eat bibim bap any other way again. Those tender ribs also come Korean-barbecue-style on a sizzling skillet. Wrap the savory meat in a lettuce leaf, then add slivers of garlic. The cooking has a made-by-Mom vibe, and the hominess extends to the dining room, where owner Elisa Choi and her servers are eager to chat at length about more offbeat dishes such as fishcake soup.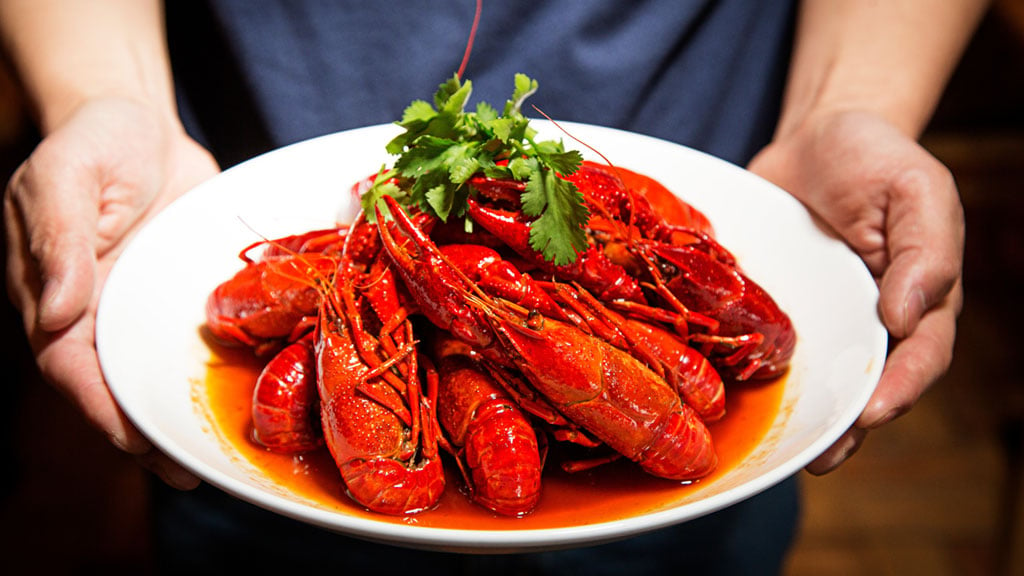 If you're not familiar with Jiangsu cuisine, don't worry—this bright restaurant offers a delicious introduction (and a pictorial menu for easy ordering). Start with salted duck, a delicacy of the region—it's not "salty" at all but lightly cured to emphasize the bird's meaty flavor, and served in fat slices. Groups can splurge for one of the kitchen's head-turners: a whole "flower fish," scored crosswise and fried so it resembles a pinecone glazed in a sweet-sour sauce. Still, don't overlook humbler offerings like spicy cucumbers. The julienned slices arrive in a bright toss of garlic, chilies, and cilantro—a dish that makes you wonder why there aren't more Jiangsu restaurants around.
It's well established that there are legions of eaters who chase spicy food as if it were on the black market. Chili-heads, they're sometimes called, for their pursuit of the addictive high found in scorching renditions of Thai, Indian, or Szechuan cooking. To fully appreciate Hua Wang's little thing of a place, you need to be a tang-head. You need, that is, to love vinegar—specifically the complex depth of Shaanxi vinegar, a dark, earthy, faintly smoky liquid that punches up, for instance, her sour soup with tiny pork dumplings (a marvel, and only $6) as well as her "cold skin noodles," a plate of noodles, cucumbers, peanuts, and tofu that's so much more than just its core elements. For those who can't take that much brightness, there are also excellent burgers (with ground meats stuffed inside house-made rice-flour buns) and big, rewarding hand-cut-noodle bowls.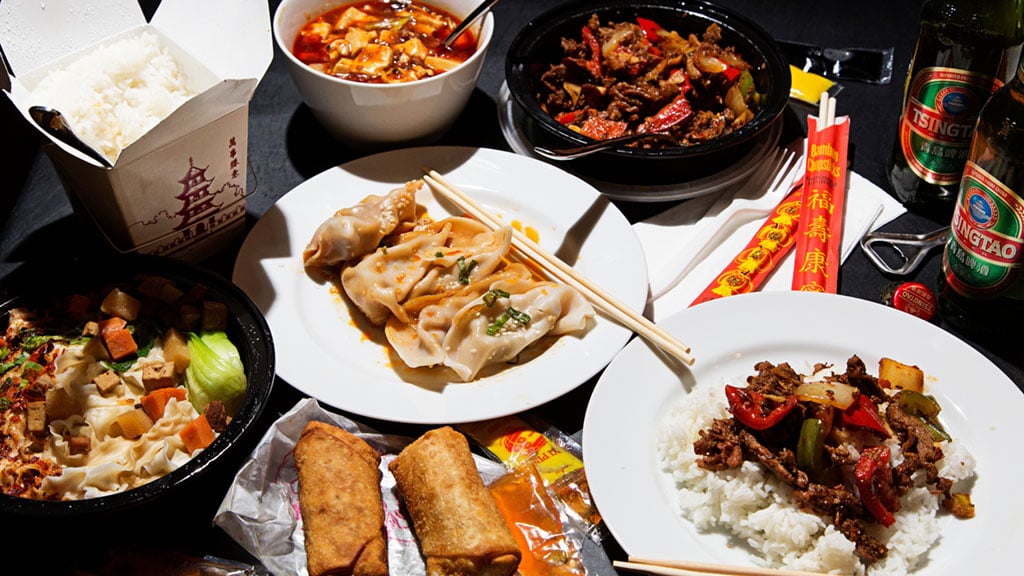 It's in a dingy-looking motel in Northeast DC, and the service—at best!—approaches a sort of gruff efficiency. But you're not here for niceties; you're here for the superlative Szechuan cooking, which has a power and zing that none of the remaining restaurants in Chinatown can touch. The whiffs of cumin when you walk in should guide you—to the skewers of lamb that crunch with the fried, fragrant seeds or to an aromatic stir-fry of cumin lamb. Szechuan isn't one big lip-scorcher—the cuisine has a wide variety of moves, including burgers (sandwiched in crisp rice-flour buns) and noodle bowls—but many of the greatest rewards are in those dishes swimming in vats of red-chili oil, from a starter of pork dumplings to a mouth-numbing tureen of soft tofu and fish that could feed four.
In the food world, Peter Chang has become the equivalent of Waldo, with devotees of the chef's sometimes magical cooking wondering, on any given night, which of his seven restaurant kitchens (from Richmond to Rockville) he's commanding. Here's one way to tell: Order the scallion bubble pancakes, which on a recent night at his Arlington outpost were every bit the showstopper they had been in his pre-expansion heyday—big and round and puffy as lanterns, without even a trace of grease. One misstep aside (an unremarkable duck special), the meal hummed along at that high level. There were stellar renditions of Chang's greatest hits—crispy cilantro fish rolls with fingers of lightly fried, cumin-dusted flounder plus a perfect mapo tofu that, even as the fiery pool of chili oil made our heart race, couldn't stop us from eating.
Never had Uighur food before? You're not alone. In North America, only a handful of restaurants specialize in the cuisine, which descends from a nomadic band of Turks who settled in northwestern China. The northern Chinese character is immediately evident—the emphasis on stuffed buns and hand-cut noodles, the use of star anise and chilies—but then you dig into the minced meat with noodles. Looks like a typical stir-fry, with peppers and onions, but the Middle Eastern influence eventually reveals itself: The noodles are short and coated in a rich meat sauce. Queen Amannisa isn't a smooth ride (the pastries are disappointing, and some dishes feel too quickly rendered), but the highs are high, especially a massive tureen that comes across as a cleaning-out of the fridge—bone-in chicken, thick noodles, potatoes, onions, peppers, chilies, all drenched in a fascinating red sauce—but sure doesn't taste like it.
The peeling-paint decor at Ed and Pookie Duangrat's Thai restaurant might be tired, but the cooking? Hardly. This is a menu full of energy and eccentricities, especially when it comes to the snacky side—we go for dumplings wrapped in lychee bulbs, buttery wok-roasted cashews, and a fiery dip of "Thai Bolognese." The kitchen is especially good with the fry basket. A winning salad features shards of crunchy catfish doused in lime juice and plenty of cilantro, while hunks of battered cod get treated to an addictive red-chili sauce.
The truth is you could stand blindfolded in the Eden Center—a restaurant-rich shopping mall that amounts to a Little Vietnam for the region—point in any direction, and probably get a good meal. There are shops specializing in pho, bánh mì, bánh cuon, mock meat, bánh xèo,and bun bo Hue, to name just some of the staple dishes that define the extraordinarily diverse culinary culture of a country smaller than some US states. One of the great pleasures of Rice Paper is that it's a kind of mini–Eden Center, bringing together all those tastes under one attractive roof as well as an encyclopedic range of dishes from northern, southern, and central Vietnam. It's not just volume and breadth, though, that make the place great. It's the consistency of the cooking and the quality across the board—the bright, popping salads; the delicate, crunchy crepes; and the clay pots of meats and fishes that somehow manage to hit every pleasure center of your brain at once.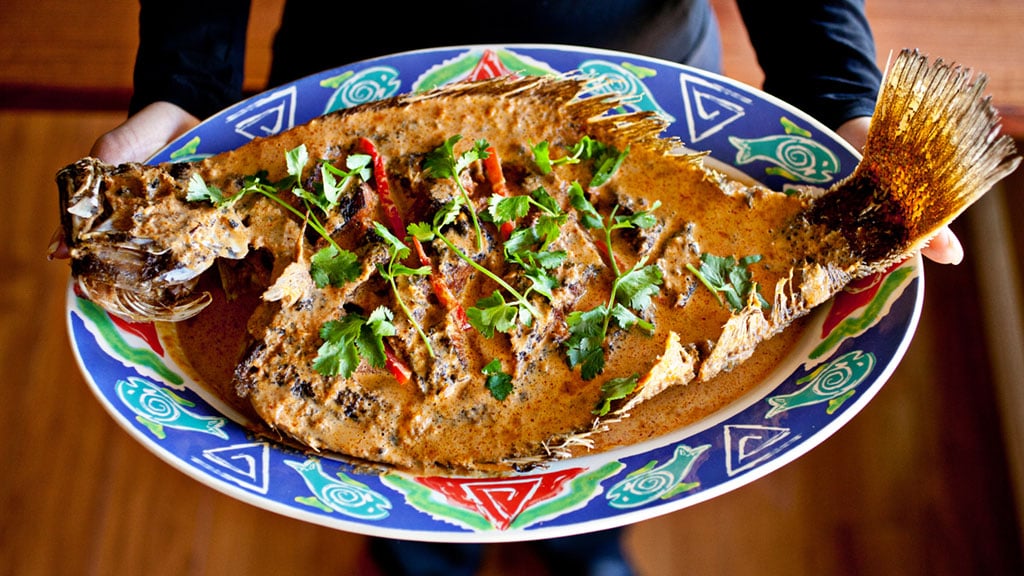 Why is it that many diners drive from the other side of Montgomery County, or from Prince George's or DC, to eat here? It's strange to think that a hole-in-the-wall Thai place would be destination dining, but it shows what nearly two decades of remarkable consistency and a repertoire of at least half a dozen standout dishes can do. The menu is long and, stir-fries aside, strong throughout. But the most memorable eating comes from loading up on starters and salads—a crunchy, batter-dipped tangle of watercress, shrimp, squid, and onion is a must—and structuring your meal around a centerpiece item, such as the whole fried fish doused with red curry or festooned with peppers and basil.
When owner/chef Kelem Lemu is at the stove, the cooking at this erstwhile Donut Connection, now an Ethiopian coffeehouse and diner, rises a notch and transforms the place into a cafe of cozy, communal warmth. Be sure to ask if she's in. And while you're at it, be sure to let your young and gracious servers know you want your beef tibs—a dish analogous to a meat stir-fry or fajitas—cooked derek, or extra-dry (the marinated morsels become more interesting than if they'd been left pink in the center: crunchy and full of savor). One dish you won't find at many other Ethiopian restaurants in the area is ayeb gomen, in which garlicky, chopped collards are tossed with a soft house-made cheese. An Ethiopian beer such as Bedele or St. George is the ideal pairing with the rich, spiced food, but don't pass up one of the best cups of coffee around; the soy lattes are creamy and sublime, and more satisfying than some desserts.
At this brightly lit dining room crammed with expat Persian families, decisions are minimal. Maybe a Shirazi salad—a simple lemon-and-olive-oil-dressed dice of cucumber, onions, and tomato—and a starter of torshi bademjan, a dish of garlicky eggplant. Then it's on to beautifully charred kebabs of seasoned lamb, marinated bone-in Cornish hen, and kubideh, traditionally eaten with raw egg mixed into the rice. The meats come with grilled tomatoes and white rice, but the flavored basmatis, such as shirin polo, studded with orange rind, pistachio, and almond, pair well with the savory meats and are worth the upcharge. Pale-yellow saffron ice cream makes for a light, fragrant dessert. Take a cue from the regulars and share—each bowl has three generous scoops.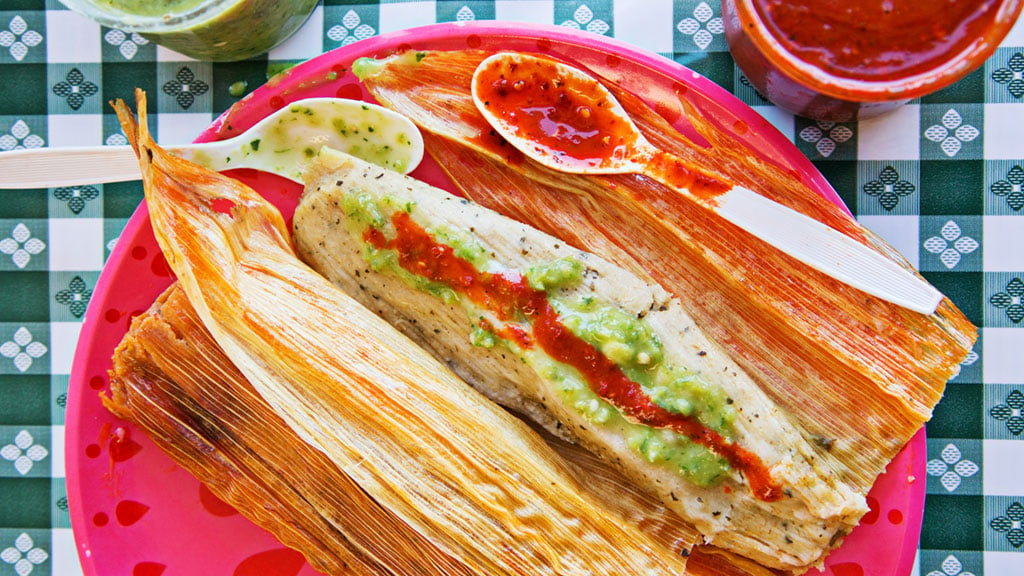 Tacos you can get anywhere. You're here for an authentic taste of Puebla. That's the ancestral home of owners Bernardo and Clara Vargas, which helps explain the glorious mole poblano, a foundational dish of Mexican cooking believed to have originated in that food-rich region. The complex sauce—of chilies, nuts, chocolate, and more than a dozen other ingredients—that coats the chicken leg and thigh is so aromatic you can smell it from across the table, and so dark you could almost gaze at your reflection in it. Saucing is a specialty here. You see it, too, in the pork in adobo, a frequent special, its tender cut of rib meat drenched in a red sauce so irresistible you'll be tearing off pieces of house-made tortillas to swab up every last drop.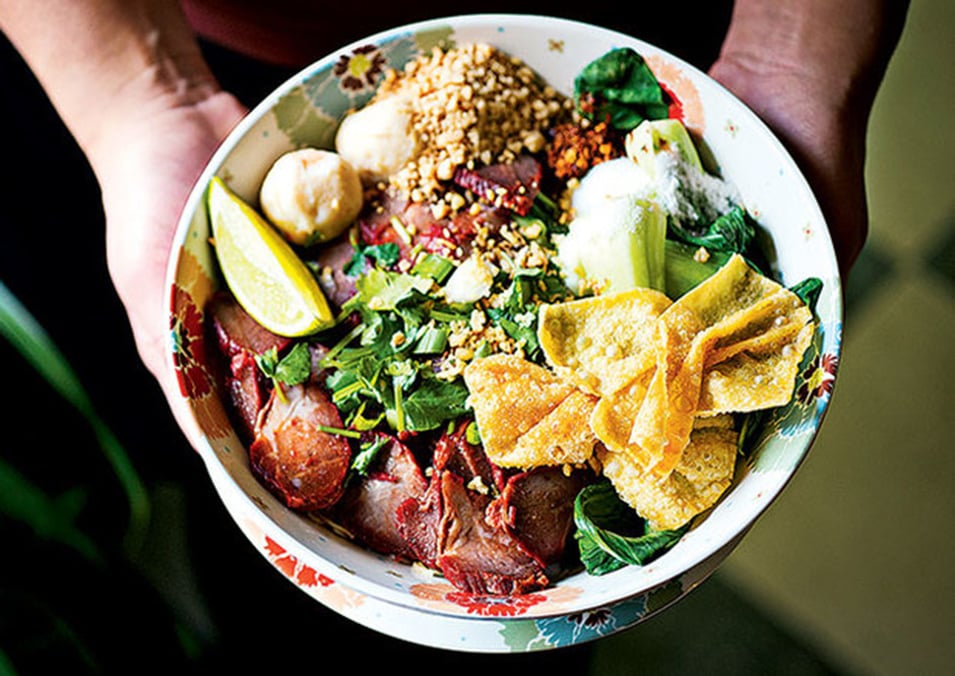 It tells you something that, be-fore your noodles arrive, the server brings a spice tray—four little bowls of chili sauces and chili-stoked vinegars. Well, two somethings: One, this tiny operation adjacent to a Vietnamese grocery values the particularity of the individual palate. And two, its clientele appreciates ping and heat. This is among the most uncompromising Thai cooking in the area. That doesn't just mean hot dishes are hot. It means chef Phak Duangchandr—Kob to friends and family—doesn't shy away from the spiky edges that other Thai places are intent on softening: pungency, funky flavors, tanginess. You see it in small touches (the sharp, stinging dipping sauce that accompanies skewers of grilled pork) but also simply in the range of dishes, which include many things you won't find anywhere else, such as Thai street snacks that aren't generally thought to be restaurant-ready. Kudos to Kob for recognizing that there are non-Thais out there who are thrilled to dig into the tastes that she and her family have been eating for years.
See what other restaurants made our 2016 Cheap Eats list. This article appears in our May 2016 issue of Washingtonian.