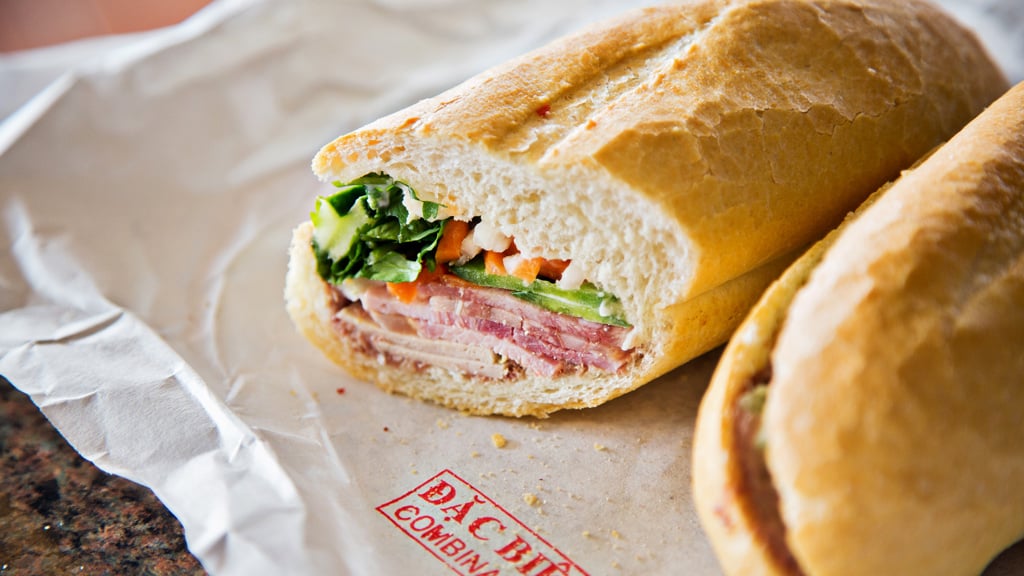 3103 Graham Rd., Falls Church; 703-205-9300
It's too bad there's no place to sit, because these sandwiches deserve to be lingered over—though just try not to down the whole thing in less than five minutes. The bánh mì, an ingenious mingling of East and West, takes as its starting point the baguettes and pâtés that are the basis of every French picnic, lightens them (the baguettes are made with rice flour, the pâtés thinly spread), and then piles on the ornamentation (cilantro for aromatics, pickled carrot and daikon for tang, chilies for heat). What makes these particular subs so good is that the baguette is as crunchy as it is light, and warmed before assembly. The embellishments are also unfailingly fresh and crisp.
Also good: Bánh mì #1 (cold cut); bánh mì #2 (roast pork).
7000 Muirkirk, Meadows Dr., Beltsville, 301-210-3059; 6945 Oakland Mills Rd., Columbia, 410-290-3434; 10907 Guilford Rd., Annapolis Junction, 301-725-3012
From the outside, these casual, quick-serve shops appear to have all the charm of a Subway. But then you walk in and are hit with the marvelous whiff of yeast and baking bread—the same undeniable smell you pick up on at a patisserie in Paris. The owner, Gerald Koh, spent time there as well as at DC's Bread Line, under Mark Furstenberg, learning the verities of bread baking. Koh's loaves—warm, airy, crusty—are the foundation of every sandwich at Bon Fresco. Topped with melted Brie, a tangy sun-dried-tomato pesto, and caramelized onions or with slices of tender London broil and cheddar (to name just two of his smart arrangements), they make magic.
Also good: Tomato-saffron soup; spicy peanut soup; Genoa sandwich, with mortadella, soppresatta, and salami; Capri sandwich, with prosciutto, salami, and capicola; mozzarella-and-tomato sandwich; chicken-picante sandwich.
1815 M St., NW; 202-457-1111
When you unwrap the white paper from your sandwich, you'll likely spend at least 30 seconds studying it. No, not to find just the right photo angle—to figure out how you'll possibly manage to get the damn thing into your mouth. Philly-inspired hoagies, served on soft, squishy rolls and as stuffed as a clown car, are chef/co-owner Jonathan Taub's specialty. His Jewish version sounds dubious—it's decidedly unkosher, crammed with corned beef, roast turkey, and brisket, plus salami, Swiss, and a mess of creamy coleslaw and Thousand Island dressing—but we couldn't put the thing down. An Italian sub, done up with cold cuts, arugula, pecorino, and hoagie relish, is more manageable, and pretty terrific.
Also good: French onion dip with chips; house-made pickles; brisket sandwich with Gouda and apple-horseradish cream; Bulgarian feta sandwich with arugula, eggplant, and roasted and grilled vegetables; seasonal-fruit-flavored water ice.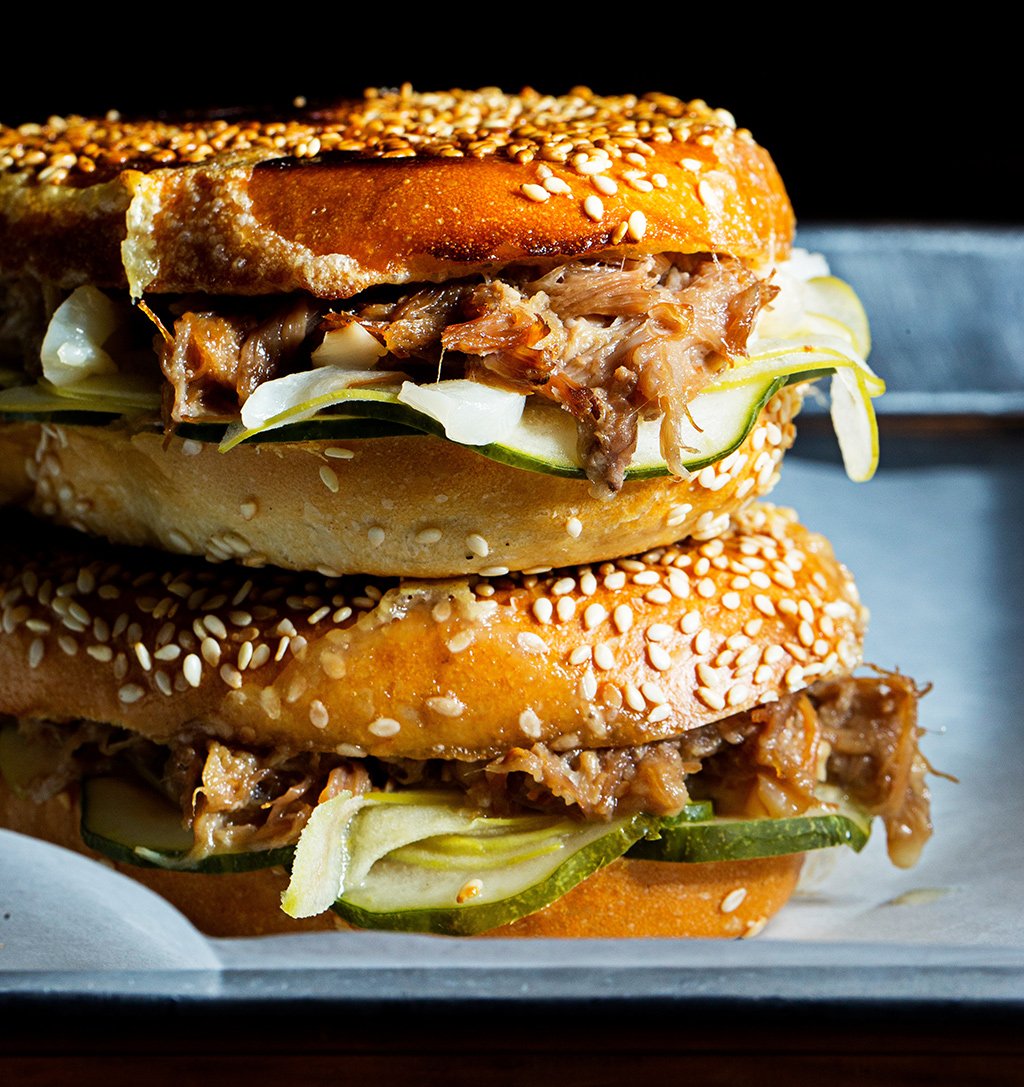 132 Church St., NW, Vienna; 703-865-7829
While some chefs focus a place tightly on one dish (say, kolaches or Korean tacos) or at least a cuisine, Tim Ma takes the broad view. His sandwich shop pings around the globe, with stops in places as diverse as Vietnam, for a messy pork-belly bánh mì, and Philly, for a fabulous riff on a cheesesteak. Ma manages to pull off his scattered vision, thanks to grounding elements like house-smoked meats and smartly whimsical accessories: A take on a Cuban sandwich gets its tangy sweetness from pickled apples and a swipe of lychee. The place doubles as a small market, where you can pick up local vinegars and Ma's pickles and kimchee, or sign up for a CSA.
Also good: Virginia Italian sub; pastrami sandwich with carrot sauerkraut; crème fraîche wings.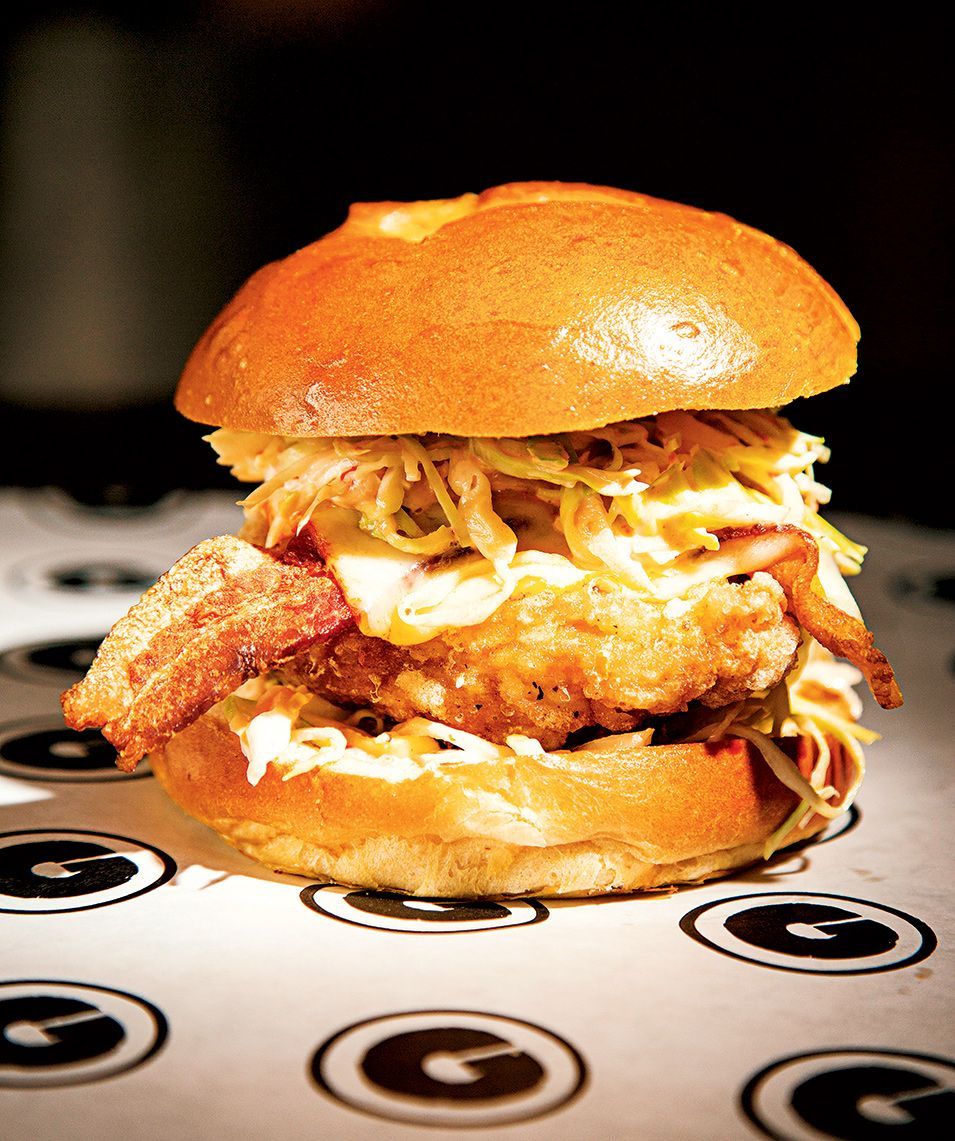 2201 14th St., NW; 202-234-5015
There's perhaps no better partnership in Washington, at least when it comes to restaurants, as that between Kapnos, Mike Isabella's Greek small-plates house, and its neighboring sandwich shop, G. Inside Kapnos's kitchen, whole goats, lambs, and pigs are burnished on spits over a wood fire. Meanwhile, over at G, those succulent meats become the fillings for some of the area's best sandwiches. The star of the menu is the baby goat, its crispy, fatty shreds stuffed into a sesame roll with spicy harissa mayo, sweetly pickled onions, and a fistful of lemony roasted potatoes. Isabella's Jersey-Italian background gets a nod, too, in the form of excellent meatball-and-mozz and chicken-Parm subs.
Also good: Bangkok bánh mì, with pork and peanuts; spring-lamb sandwich with tzatziki; Italian hoagie; lamb chili.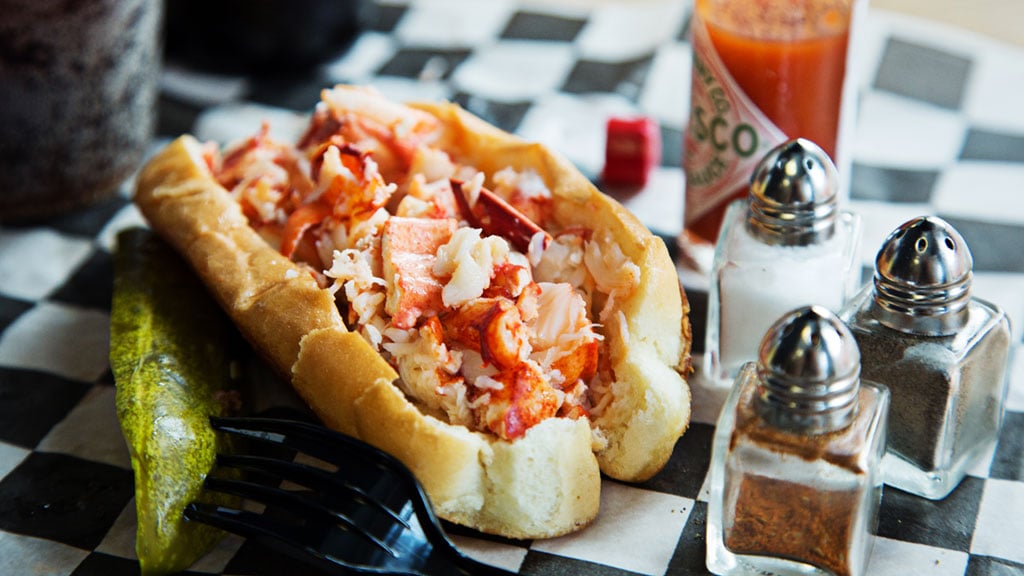 188 Main St., Annapolis; 410-280-2254
Now is the time to hit this tiny sandwich shop, before winter returns and owner Dan Beck is forced to rely on frozen lobster. Until then, he's sourcing much of his titular product from a small outfit in Maine that claims to be able to trace every large-clawed crustacean back to the boat where it was harvested. In a stew made with a dozen ingredients, that dedication to freshness of course counts, but it's also less obvious. In a lobster roll, where the star is made to stand alone—just a buttered, griddled roll and a little mayo (not too much!) to keep the tail meat moist—Beck's mania for sourcing matters more. Anything fresher and you'd have to move to Maine. Would it be nice to have more on the menu than just a chowder and a bisque and some chips to go with your lobster roll? Yes, it would. But we'll take Beck's singular focus and pursuit of the highest quality possible over a halfhearted attempt to be more things for more people.
Also good: Connecticut-style lobster roll (with butter, not mayo).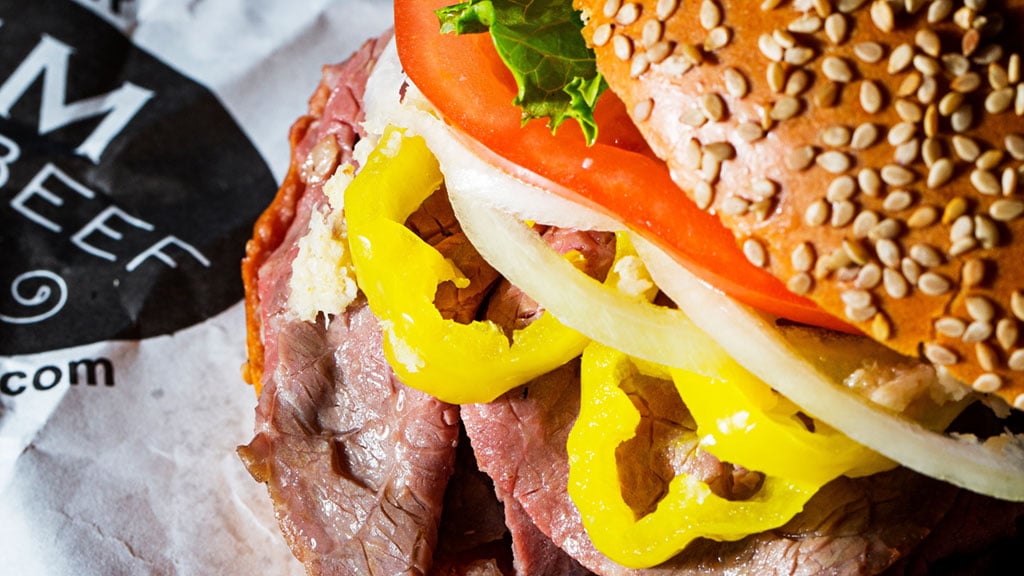 905 Brentwood Rd., NE; 202-248-0389
This glorified lunch counter in industrial Northeast serves sandwiches with no pretensions of being "gourmet." And that's a great thing in a city where too many people equate "upscale" with "quality." This is an order-at-the-counter operation, but unlike the chain sandwich shops, the meats (baked ham, roast beef, smoked turkey, and brisket) are not presliced but showcased, glisteningly, under heat lamps. It's hard not to ogle them as you stand in line, filling out your order slip to customize your creation. The accessories are no-frills and decidedly unfashionable (no Peppa-dew peppers or fancy mayos), and the sandwiches are the better for it. Roast beef is the titular item, but we gravitate to the brisket and ham, with the excellent onion rolls our bread of choice.
Also good: Roast beef with cheddar; brisket with coleslaw and barbecue sauce on an onion roll.
See what other restaurants made our 2016 Cheap Eats list. This article appears in our May 2016 issue of Washingtonian.