The former Georgetown home of Jackie Kennedy, purchased in the aftermath of President Kennedy's assassination, has been listed recently for $9.75 million, according to the Wall Street Journal and Washington Fine Properties, the selling agency.
"Built in the 1790s, the roughly 7,000-square-foot Federal-style brick house has six bedrooms and staff quarters," writes WSJ. Real estate site Redfin also notes that it has 5.5 bathrooms.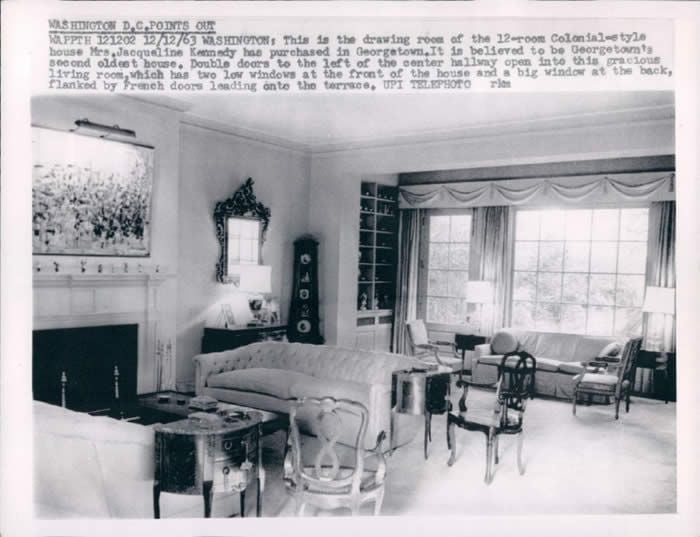 As Carol Ross Joynt explained in this magazine in 2008, "Jackie bought 3017 N Street after her husband's assassination and intended to make it her permanent home, but she found it untenable to raise John Jr. and Caroline in the Georgetown fishbowl, where tour buses often parked outside their front door. She moved to New York City in 1964. According to the woman who has lived at 3017 N Street since 1976, former Miss America Yolande Betbeze Fox, the basement still has bolts of fabric that Kennedy decorator Billy Baldwin bought to use throughout the grand home."
This video posted on YouTube shows old newsreel footage of Mrs. Kennedy moving into the home in 1964, carrying some books from the car to the front porch while crowds watch from across the street. A man who appears to be Bobby Kennedy appears towards the end.
The house sits just two blocks away from another Kennedy property at 3307 N St., where John F. Kennedy, Jackie, and daughter Caroline lived while he ran for president, and where son John F. Kennedy, Jr. was born. As Ross Joynt explains, "it's the house from which the
couple departed on a snowy morning in January 1961 to go to the inauguration and then move into the White House."
No current photos of the home's interior are available as of yet, but we will keep this post updated with any new information.