Next time you order lunch from Uber Eats, Uber's food-delivery service, it may arrive on two wheels instead of four. The transportation provider has quietly started delivering some meal orders via bicycle.
The bike deliveries suggest that Uber—a business organized almost entirely around cars and their drivers—is making another push to branch out from a company that provides passenger transportation (and, recently, food) to a more robust logistics provider. At the very least, it continues to apply pressure against services like Postmates, which lets anyone with a car or bike run errands for its users.
Uber's bike-delivery service, which launched without any announcement May 31, is relatively small. Uber spokesperson Bill Gibbons says there are only "dozens," of people delivering Uber Eats orders on two wheels, as opposed to the "hundreds" or "thousands" the company typically uses to describe the size of its potential fleet.
But the company added bike service to supplement its Uber Eats service in the most congested parts of DC where bikes are far more efficient than cars. Bikes have been dispatched when a customer is less than three miles from the restaurant from which he or she ordered, and if the route from restaurant to customer is along a bike-friendly streets. The Uber user still pays the normal service fee of $4.99, regardless of the mode of delivery.
Washington is not the first place Uber is experimenting with bike deliveries. In 2015, the company launched a one-hour courier service, Uber Rush, in San Francisco, New York, and Chicago using both cars and bikes. And just as cabbies have felt put out by Uber's ride-hailing service, traditional bike messengers in those cities quickly started to chafe at the tech company horning in on their racket.
Unlike the consumer-facing Postmates—in which users make a food purchase through the app or send a courier to a store with specific instructions for what to buy—Uber Rush services businesses that want to make deliveries, like Nordstrom and 1-800-Flowers, which are using Uber-dispatched messengers to complete orders in the three cities where the service is available. Recruiting DC-area cyclists into the Uber Eats platform, as the company has been doing with recent Facebook ads, feels like it could be a trial balloon for introducing the Rush service.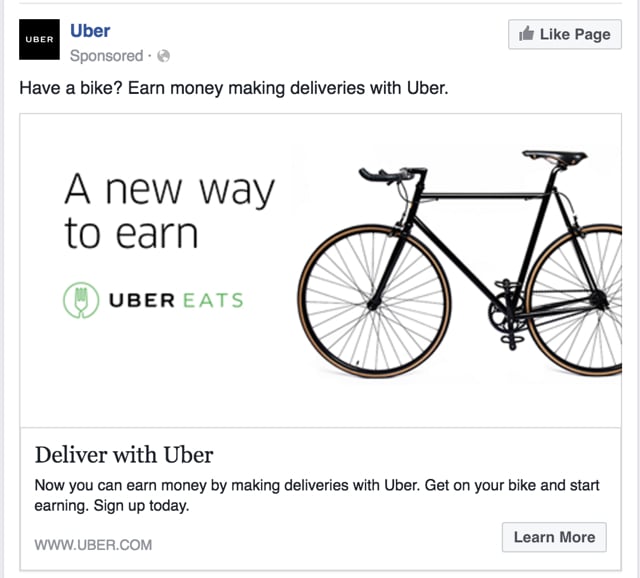 For now, at least, Uber's small band of cyclists-for-hire are limited to short-distance food orders, and there are limits to exactly what the company is willing to transport on two wheels: Only "bike-compatible food" like sandwiches, Gibbons says. Pizzas will still arrive by car.