Kiehl's has already garnered respect for its serums with its "Daily Reviving Concentrate," a little yellow bottle that creates an "unmistakable glow" according to one reviewer. But now they're taking their skincare game to a whole new level with customizable, personalized facial concentrates.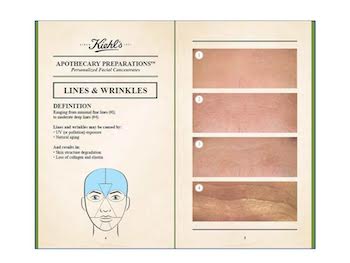 The service is called Apothecary Preparations as a throwback to Kiehl's history as an actual apothecary. Today, the "apothecary" process involves a Kiehl's employee walking you through a conversation about your skin by using a dermatologist-inspired "skin atlas" to identify what your main skincare issues are. After nailing down the customer's skincare concerns, two Targeted Complexes are chosen and combined with a base of Kiehl's Skin Strengthening Concentrate.
The Targeted Complexes each focus on one skincare concern, including: redness, wrinkles, rough texture, large pores, or dullness. Depending on what the customer's top two concerns are regarding their skincare, those two Targeted Complexes are selected and added to their concentrate. The consultation is free, and customers will have the chance to test the finished product before purchasing a bottle to take home for $95.
The Apothecary Preparations service is only available in-store, and currently it's only up and running at Kiehl's New York City flagship store. But come October, the program will launch at Kiehl's in Georgetown, which will be the only store in the DC market with the service.
Kiehl's is located at 3110 M St., Canal Square in Georgetown.