The only thing that really matters in Washington right now is the US Botanic Garden corpse flower, which is currently releasing a noxious odor of rotting flesh into the humid air of the front greenhouse room. Live-stream viewers and in-person visitors may notice a woman with an easel right in front of the flower, patiently sketching while sweaty tourists snap selfies with the superstar plant. That's Mara Menahan, the Botanic Garden's 24-year-old botanical illustrator—real title—who hails from Helena, Montana.
Menahan, a Truman Scholar who started working at the Botanic Garden a year ago, has been drawing the plant every day for nearly two weeks. The result will be an illustration of the plant's full life-cycle, which will be used to create the world's first corpse flower flip book. Washingtonian spoke with Menahan between pen strokes this morning to learn what it's like to be America's official corpse flower artist.
How did you come to draw plants for a living?
I grew up being outside and playing in the woods. My grandmother is a rancher, and she taught me how to identify plants on her land. But the first thing I remember drawing regularly were birds, and I would copy them from my dad's field guides. So nature's always been the subject of my art, even when it wasn't something I did for work.
But I realized that the science about conservation was already out, and that there was actually a storytelling and communication issue. I would say that this job has helped me tell plant stories in a new way. I'm a layperson when it comes to this — I'm just like you. But then I have the fortune of having these conversations about the corpse flower with all the horticulturalists and PhD botanists here. Every time I draw, they explain the botany of the flower to me, in technical terms. And then I get really excited about what I'm drawing, and then I get to pass that on in conversations with all the visitors who come to see the flower.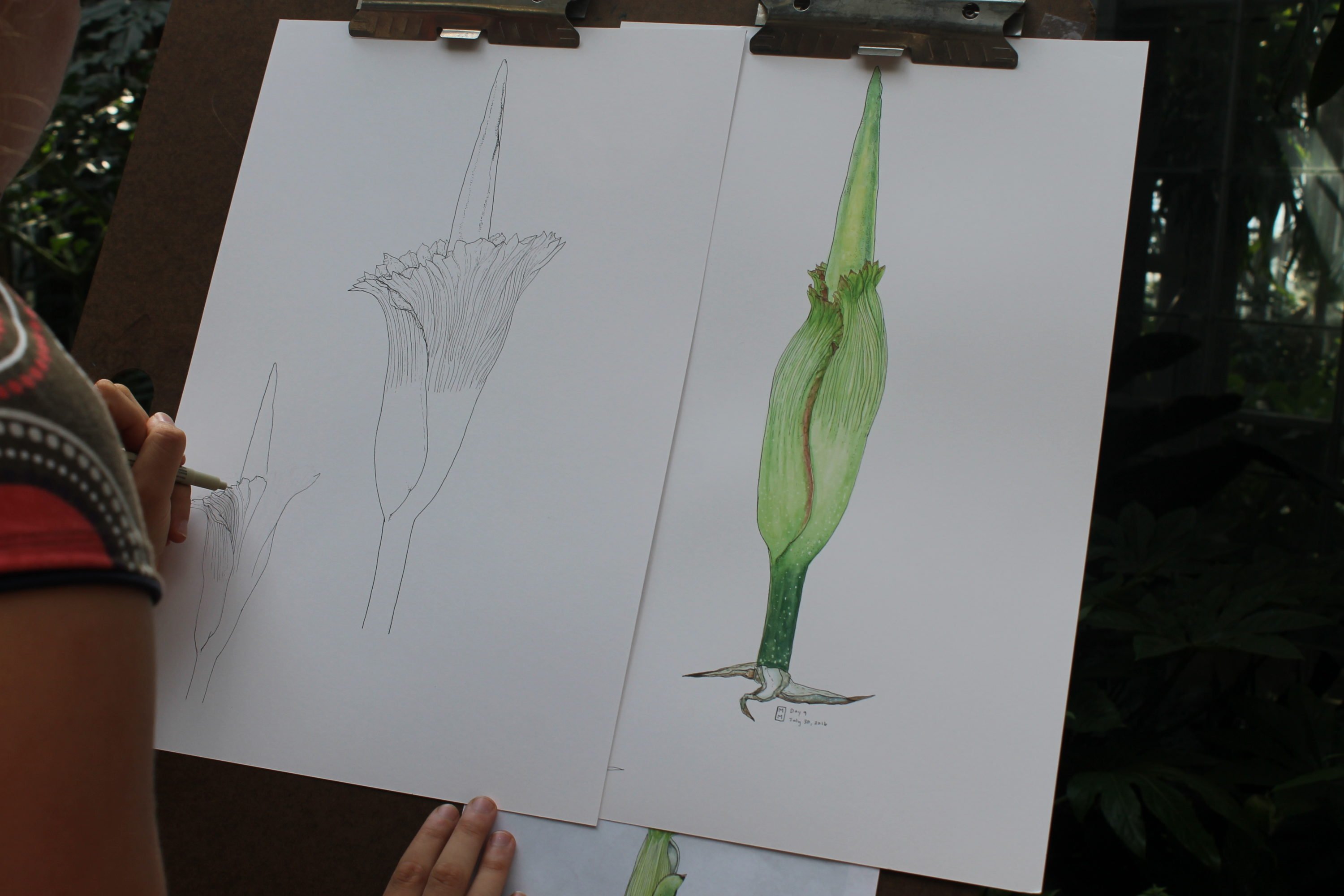 What is it like having to adjust your work schedule around such an unpredictable plant?
My life has been the cycle of this plant for the past two weeks. I've been doing an illustration every day since I started drawing it on July 22. The whole process (of completing a drawing) takes about 3 hours. And I've been in here on days when it's been 90-something degrees! But once I'm here, I have to be with the drawing. So I don't really leave. I've been doing my illustrations every day at the same time, 5pm. The plant has been averaging about 7 inches of growth a day, so I can definitely see the difference from day to day.
This morning I turned on the live stream, and it was alarming that the plant had already bloomed. I was like, darn it! So I rushed down here. I've been here working on this morning's illustration since about 9am. I wasn't going to come in until later, but I had to get my first drawing going. The bloom opens up over a period of four hours, and I'll be making three illustrations over the course of today. So I'll be here till 11pm tonight.
Why draw the plant? Why not just photograph it?
When I come to this job, I'm thinking about what illustration can show that photography can't. The reality is, an illustrator can use pen to define lines and boundaries. Photography is getting there, but illustration is still the standard in botany. And when a scientist discovers a new species, they're actually required to do a plate of all the different parts of the plants, all the identifying features. Artistically, the other reason I think it's important is because it's this process of observation. I'm maintaining a tradition that's been done for hundreds of years, using the same techniques as Audubon. In this world of digital overload, I think people pay special attention to hand-drawn things.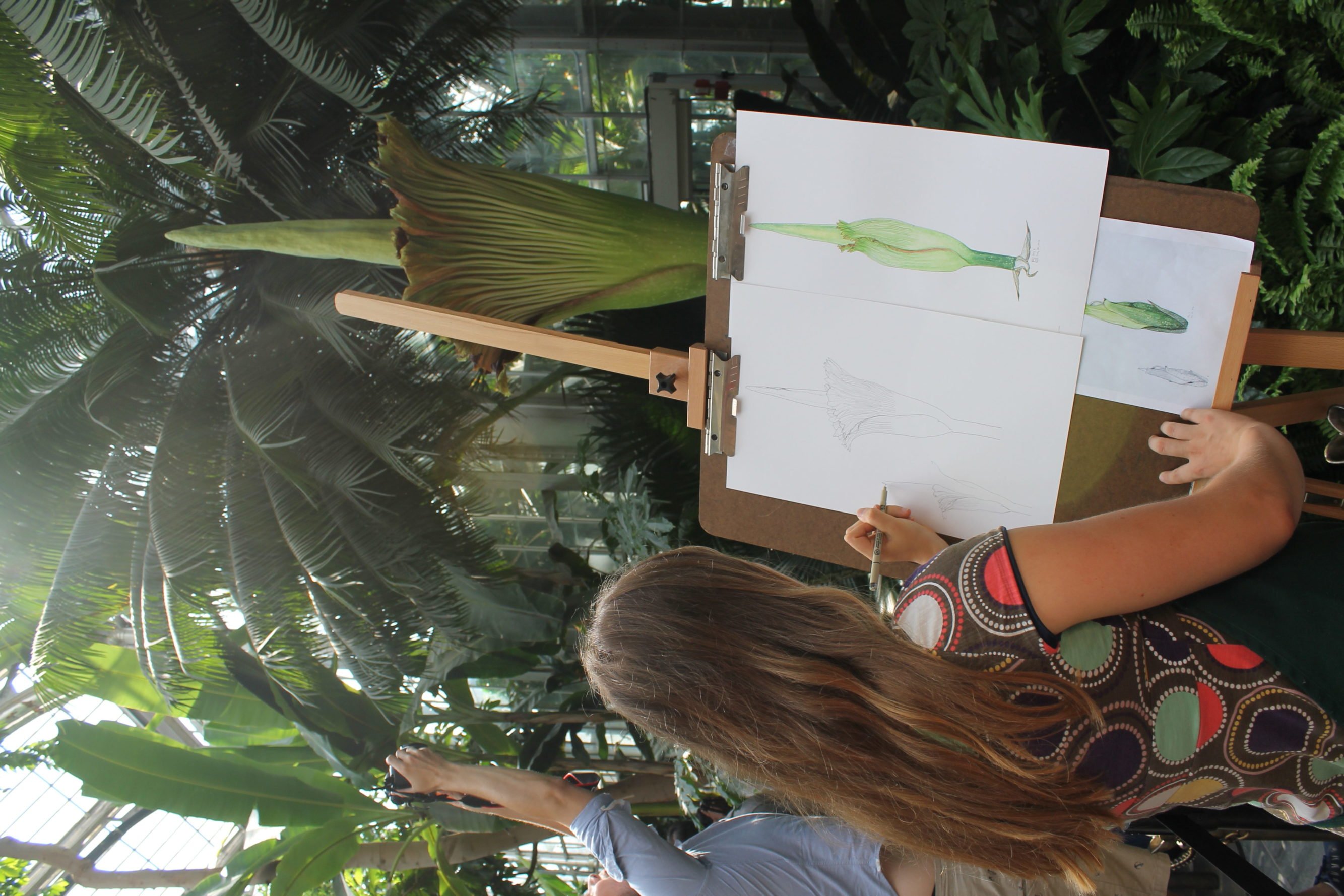 Have you witnessed any interesting viewer reactions to the plant?
The plant only releases a scent for a very short amount of time, and I like it when people have come in (before the bloom), and it's totally not smelling at all, and they're like Oh My God, I smell it!
I've also had people writing in saying, I saw you on the corpse flower cam. Being on camera all the time is a little weird, but it's not very good resolution — so it's ok!
What's your relationship with your muse right now? Do you feel a bond with it?
I feel like I've been really attuned to the changes. It's amazing, when you start painting something and you have to reproduce it, it makes you start thinking about color in a different way. You can't see them now, but the plant started with these modified leaves enveloping the whole thing. Those have slowly died now, but they used to be basically the whole plant. As they were dying, they were changing into this silvery color — the edges had silvery-purple stripes.
I'm in awe of how much the plant has grown, and how fast. There is something about it that seems part animal, because of that and because of the scent. The smell comes in waves, and I'm pretty used to it by now. I've watched it grow from 3 feet tall, and now it's taller than me (88 inches). So that doesn't seem plant-like to me. It's more like a creature. 
This interview has been edited and condensed.