A new bill could make it illegal for New Jersey drivers to groom themselves, eat a sandwich, or even drink a cup of coffee while motoring. That kind of government extreme could never pass here, could it?  
Councilmember Mary Cheh chairs the DC Council's Transportation and the Environment committee. She says something so expansive as to prohibiting doing "anything" other than driving while behind the wheel seems to be overly broad, and that maybe New Jersey's point was to be dramatic.
"I don't see anything like that on the horizon for us," Cheh says. Restrictions on tuning the radio and interacting with a child might be needed, Cheh says, but she would need to see data correlating between "everything not connected to driving and accidents" before the council pushes something like the New Jersey bill through legislation. "We will certainly watch it to see if there are good effects, but right now I don't see it as a viable piece of legislation now in the District of Columbia."
But according to spokespeople for the DC police and at least one lawyer who specializes in distracted driving cases, a law like New Jersey's may already exist in DC.
The District's "Distracted Driving Safety Act" of 2004 is geared toward the use of cell phones while driving, but it also addresses anything that distracts drivers, such as "reading, writing, performing personal grooming, interacting with pets or unsecured cargo, using personal communications technologies, or engaging in any other activity which causes distractions." Police are authorized to pull over and ticket motorists if they're caught violating the law, with violators subject to a $100 fine.
In fact, the 12-year-old DC law is nearly identical to New Jersey's legislation, which was introduced by assemblymen John Wisniewski and Nicholas Chiaravallot. It states,"An operator of a moving motor vehicle shall not engage in any activity unrelated to the actual operation of a motor vehicle in a manner that interferes with the safe operation of the vehicle on a public road or highway." Although primping and consuming caffeinated drinks are not specifically mentioned in the bill or the District's active law, the general "shall not engage in any activity" leaves it open to interpretation.
In fact, the District collect data that tracks how many crashes are caused by inattentive driving. From 2004 to 2013, collisions caused by distracted driving decreased by almost 24 percent. This data includes the 2013 distraction categories of, interacting with pets, personal grooming and reading while driving.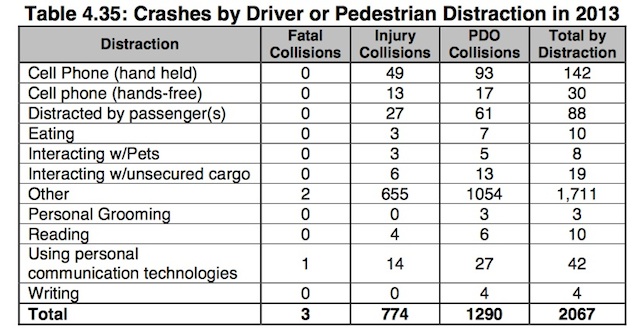 So why haven't you been pulled over for taking a few sips of coffee while sitting in morning traffic or reapplying lipstick on your way to a happy hour with the girls?
Koria Stanton, an attorney who handles distracted driving cases for Price Benowitz, says the enforcement of distracted driving is subjective based on the patrolling officer. "The officer can say what you were doing, your action, caused you to then not pay attention to the road." She explains, "Its a subjective catch all depending on what the officer believes."
The difference between using a mobile device and taking a bite of a burger while driving is that using a cell phone is a "hard no," while doing you'd probably have to perform some other type of moving violation before an officer cites you for slurping your Frappuccino. For example, if eating your snack causes you to weave in out of a lane, you might be pulled over and cited for distracted driving, but you're unlikely to be popped for eating while stopped at a red light.
In contrast, the DC inattentive driving law prohibits the use of mobile devices all together unless you are initiating or terminating a call, "It's black and white," Stanton says. "If you have a phone in your hand you're going to get pulled over."