Before 2014, it wasn't legal in DC for a restaurant and bar to also produce its own spirits on-site. But thanks to a new distillery pub law, the city's first such hybrid establishment, District Distilling Co., is able to open its doors at 14th and U Streets, Northwest this Friday. The first made-on-premise booze will likely debut in about six weeks.
The District Distilling team was part of the initial effort to introduce the distillery pub legislation, inspired by DC's other distilleries and breweries ability to reform archaic Prohibition-era laws that once restricted people from even sampling alcohol inside a production facility.
"There was an inequity that there are wineries that serve [food], there are brewpubs, so this was the natural extension," says Chae Yi, the President/CEO of District Distilling and one of its previously mysterious partners.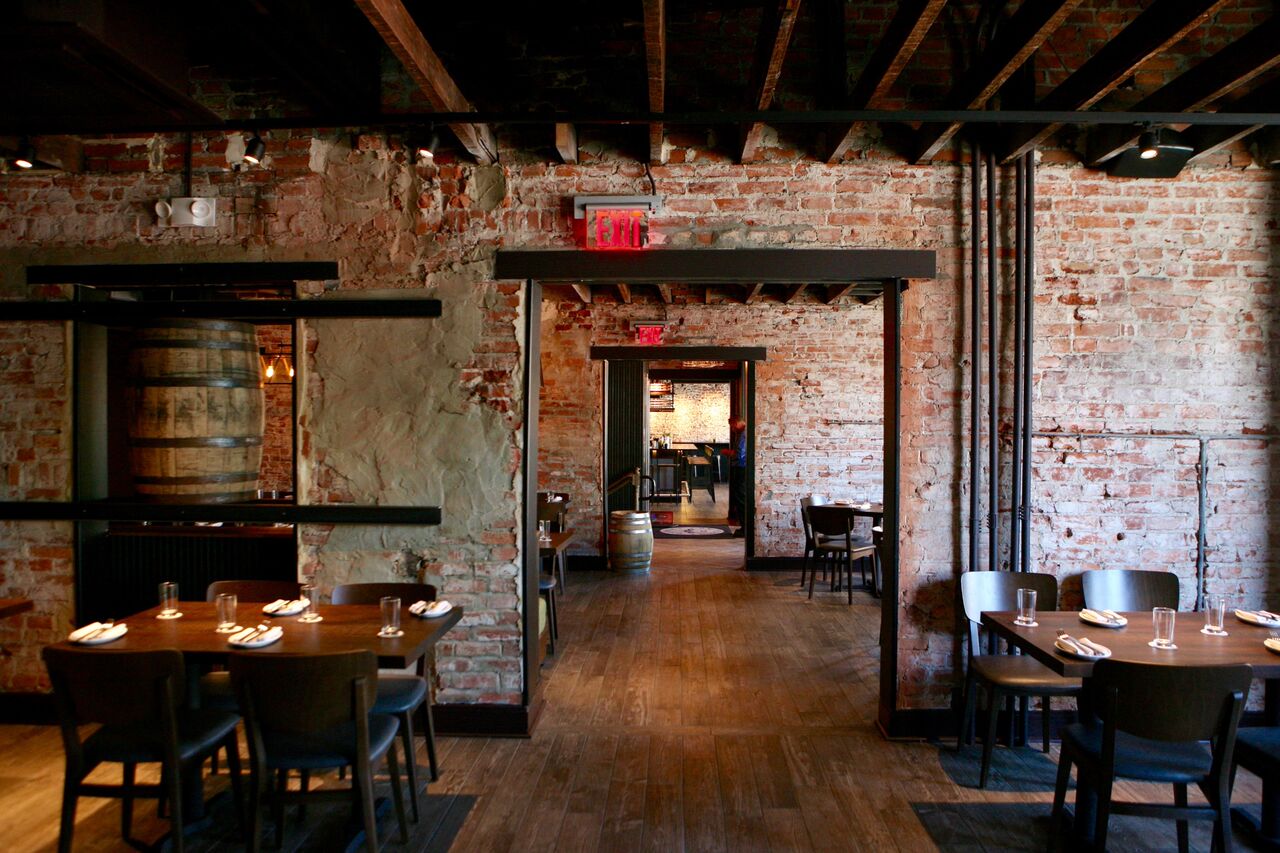 The first floor of the multi-address space (1414-1418 U Street Northwest) is occupied by the distillery, which will produce vodka, gin, rum, and whiskey. There's also an event space/retail shop where guests can buy bottles, books, and District Distilling-branded glassware and swag.
Head upstairs, and you'll find the 139-seat bar and restaurant. Chef Justin Bittner, formerly of Bar Pilar and Cafe Saint-Ex, is behind the food menu—and also the barn doors throughout the space. (He's really into woodworking.) Dinner dishes include gnocchi with ramps, bacon, and parmesan chips; a half-roasted chicken; and crispy skin suckling pig with hatch chiles, kidney beans, and Carolina gold rice. Family-style meals for groups will eventually be introduced.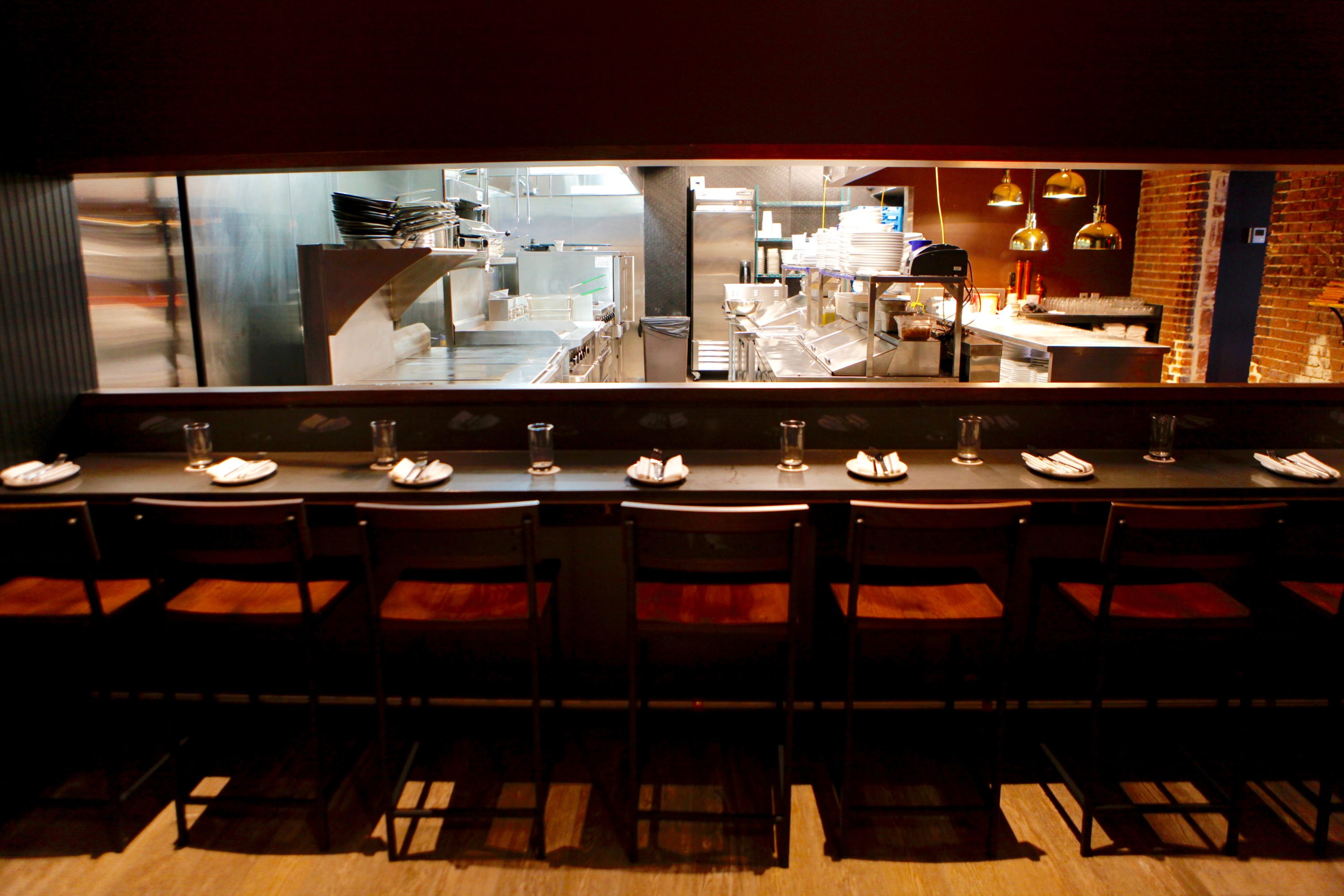 A bar menu features snacks and small plates ranging from shrimp toast to smoked brisket tacos. After 11 p.m., diners can indulge in gut-busters like smoked pork shoulder poutine with bourbon gravy, or the "Double D" burger with aged cheddar, hickory bacon, and onion jam. The kitchen won't close until 1 hour before last call.
Bittner is already incorporating booze in dishes like a whiskey-rubbed smoked salmon and a bourbon pecan pie, but expect District Distilling's own spirits to make a culinary appearance at some point. "It's another awesome ingredient that we know exactly where it came from," says general manager Said Haddad, an alum of Bar Pilar, Marvin, Brixton, and other U Street-area bars.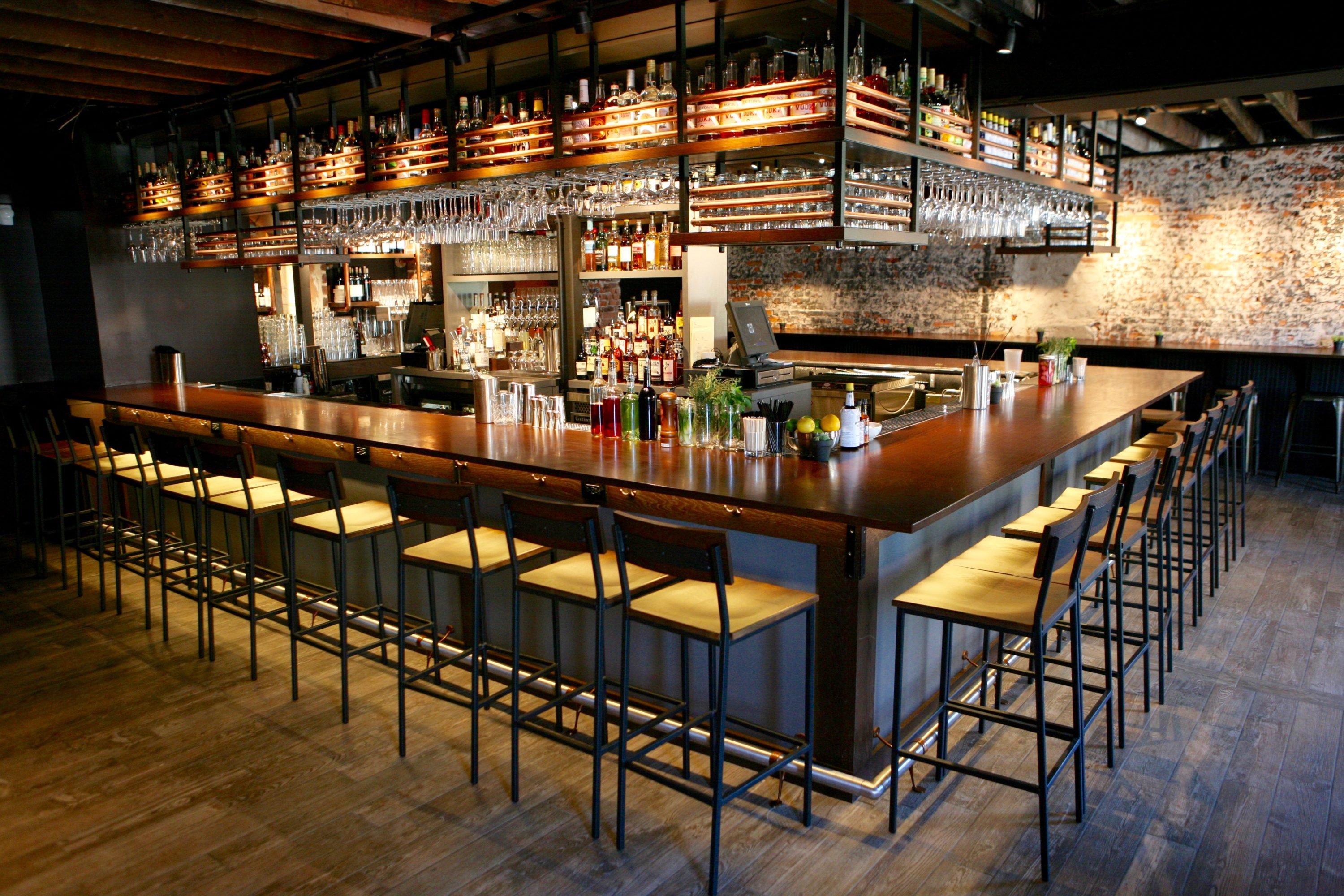 District Distilling's spirits will, of course, also eventually be incorporated into cocktails. But for now, they're using a range of other products in the menu of classic and "signature" drinks. Highlights include the "Singe" tiki cocktail that's garnished with serrano-togarashi pineapple, or the "Smolder," a smoky cherry-whiskey cocktail with cherry ice and Himalayan pink salt.
Bartenders have free reign of the downstairs prep kitchen—which Haddad dubs "the lab"—so they can play with pickling, juicing, smoking, and infusing various ingredients for cocktails.
"Shift punches" are boozy draft drinks–available by the shot, cup, or carafe–the typically combine liquor, amaro, or liqueur plus bitters. The upscale shooters are a riff on a bar industry post-shift tradition: "When you go from bar to bar, bartenders usually the first thing they do is they'll hand another bartender a shot, and it's either whiskey, tequila, Fernet," Haddad says.
In this case, there's a fancy twist with options like "the Dictator" with Pikesville Rye, Montenegro amaro, and Peychaud bitters. It's also available as a combo with different beers.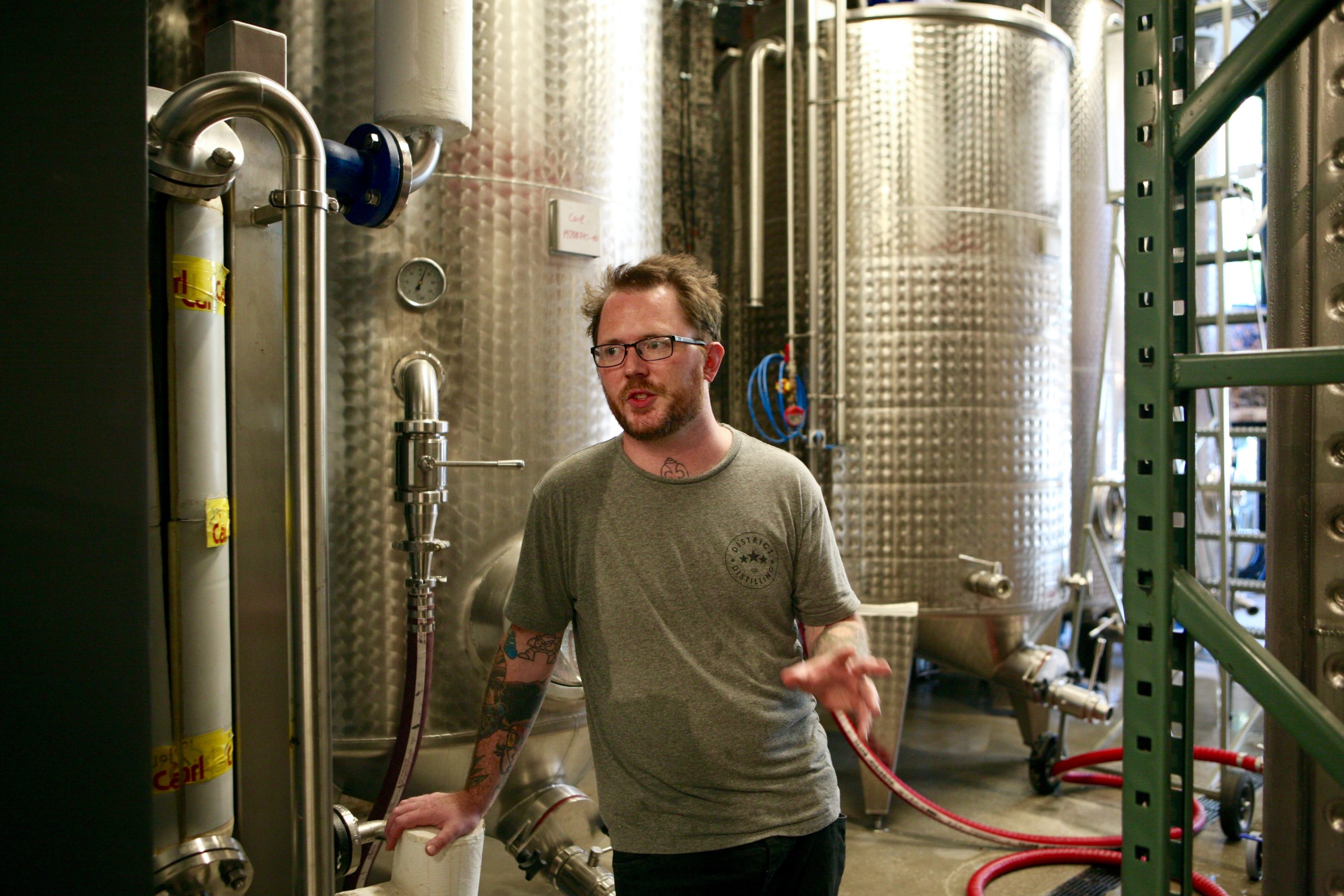 Head distiller Matt Strickland comes from Corsair Distillery in Tennessee, where he specialized in whiskey. His first product, however, will be Corridor Vodka (named after the U Street Corridor). "I'm basically making whiskey, but just a really pure form of it," Strickland says of the rye- and barley-based spirit.
While he's hoping to have the initial product ready by early October, he's not looking to rush it: "If it's not ready, it doesn't go out… That was one of my big stipulations for coming here." Distillery tours will begin once there's something to taste.
The vodka will be followed by gin, rum, and bourbon. The Checkerbark Gin, named after a wild juniper species, is a take on a London dry-style gin—"a little more demure," Strickland says. "It's meant to go into cocktails." The distiller is also working on a more "in your face" American-style gin called Wild June.
District Distiller's Buzzard Point Rum will be made out of panela, an unrefined sugar with a creamy flavor. "There's only a handful of rums that are done with panela, so I wanted to play with that. I'm also playing with a couple different yeast strains too," Strickland says.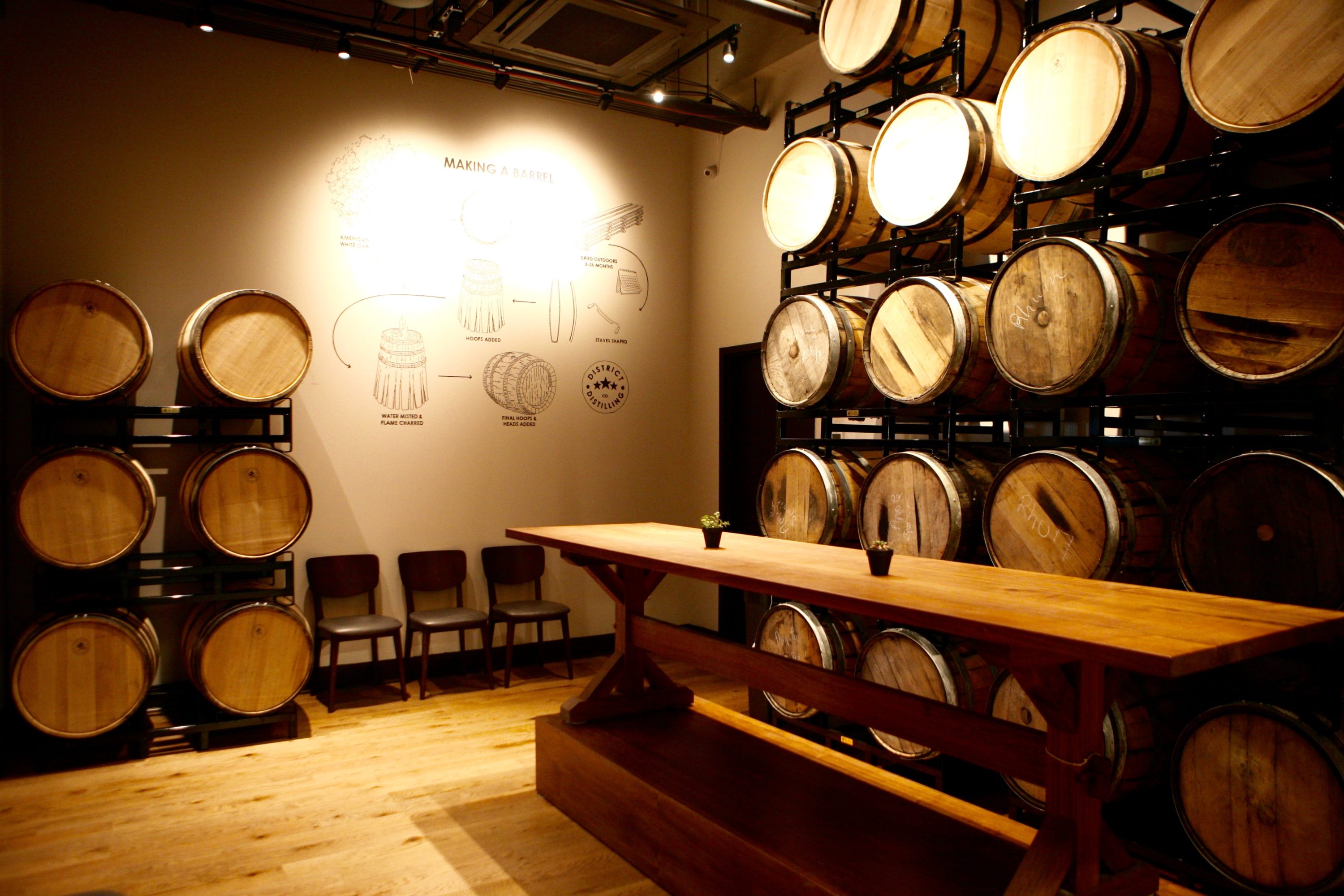 While Stickland is working on a few bourbon blends to release this year, his first made-from-scratch bourbon could come out as soon as next year. "I'm working with a bunch of local farmers," he says. "I'm not buying grain from any of the big grain houses. That's actually another stipulation I had."
A smaller, 45-gallon still can be used one-off experiments and special releases.
The products will just be available on-site to start, but eventually, they'll make their way into other bars and retail shops in the DC area. The longterm goal is to distribute nationally.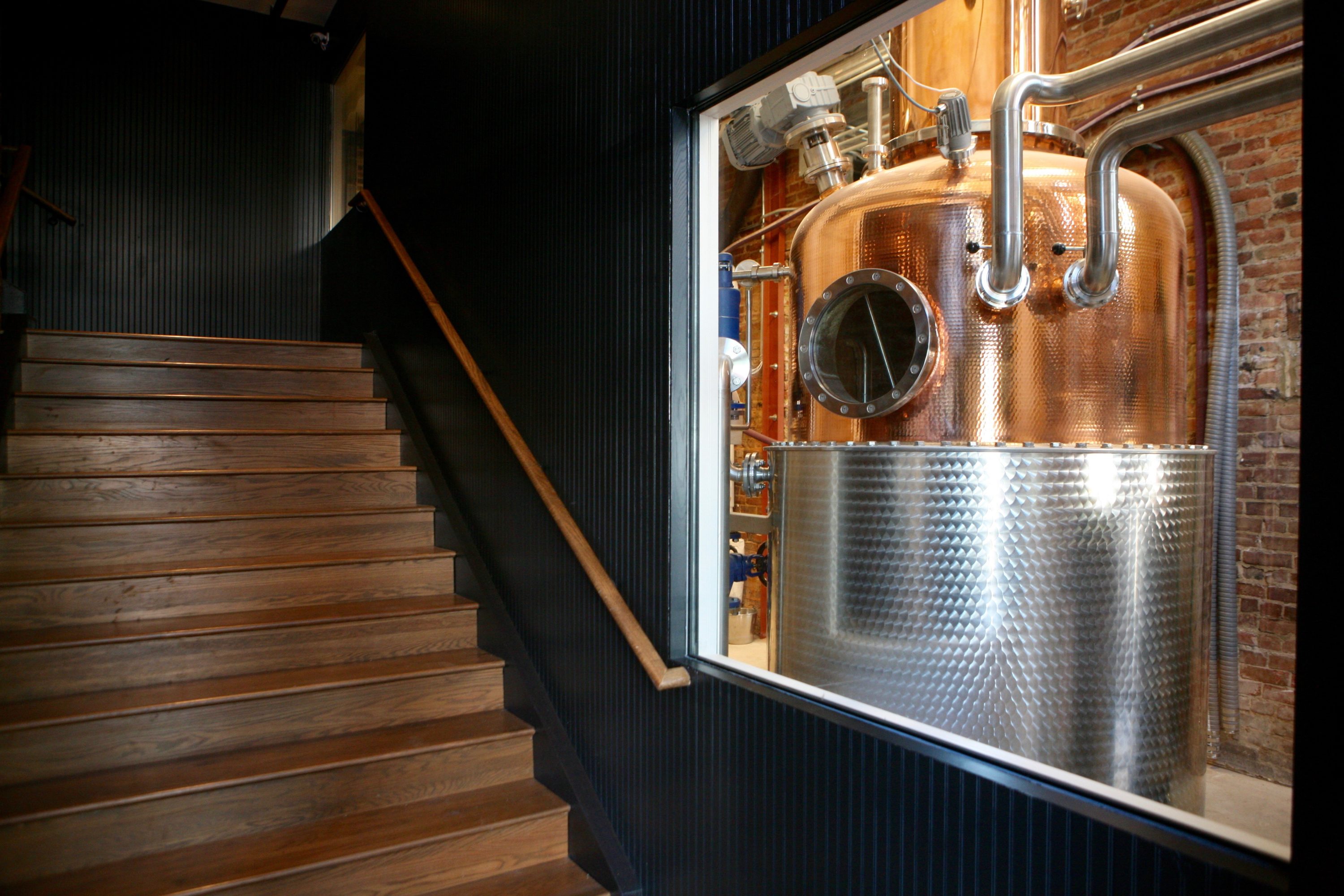 District Distilling Co. 1414-1418 U St. NW; (202) 629-3787.