There are plenty of companies that make bike bags, but many of their designs tend to be awkwardly shaped and strange-looking when separated from your bike. Paul Challan, who's lived in DC since 2009, wanted to create a bike bag that fits more seamlessly into your non-biking hours. This spring, Challan's dream turned into reality when he launched his own DC-based online store, Grip Unlimited.
The design of Grip Unlimited's messenger-shaped bags is seemingly simple: they drape over the main horizontal bar of the bike frame and it's held steady by a non-slip material that lines the inside of the top flap and two velcro straps that wrap around the vertical bar beneath the bike seat. But the process of designing the bag was anything but simple.
To start, Challan didn't even know how to ride a bike when he first moved to Washington; today, he rides a Schwinn and hand-delivers DC orders day-of or the following day. When he initially began looking into carrying a U-lock on his bike, his first contraption was made of PVC piping before he switched to 3D printing models.
"[I] visited a bunch of plastic molding factories and started making prototypes. I was going around to bike stores measuring the U-Locks and different bike frames that I had to make so many compromises to fit all kinds of different U-Locks it just didn't feel right, and I didn't feel it would be a good product," says Challan. "After about six months, I was sitting in my bed, sleepless, thinking 'Was that just six months wasted?' Then it kind of just came to me—why not transform it into a bag that fits the U-lock as well as a bunch of the other things you'd carry on your day-to-day."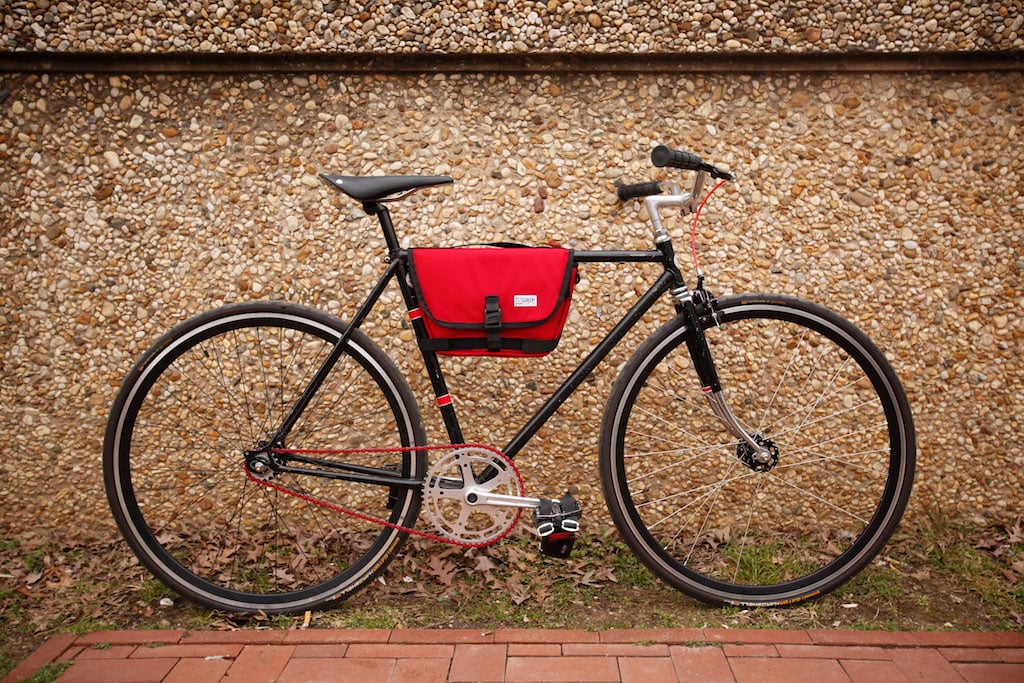 Challan sewed his first-ever bike bag with his mom and a sewing machine on the kitchen table while he was home for the holidays. Afterwards, Challan found a manufacturer in Baltimore—a friend of a friend of a friend named Jeremiah Jones, who would be able to hand make Challan's designs at his soft-goods company Sew Lab USA. In July 2015, Challan's Kickstarter campaign raised $11,000 for Grip Unlimited, and in April 2016, he was able to start an online store.
As he developed the bag, Challan chose to make it out of weatherproof nylon and outfitted it with a magnetic buckle that Challan says "has an 80 pound load capacity and can be opened and closed with one hand" as the magnet in the buckle snaps it shut. The bike also has padded pockets to protect any electronics you want to store alongside your U-lock.
These features aside, what Challan really thinks sets his $88 bags apart from other bike bags is how it looks when it's not on the bike. Each bag is equipped with an adjustable strap so it can convert from frame bag to petite messenger bag.
"It's funny, when I started working on the frame bag I thought, 'This is incredible, how has no one made this type of attachment for a bike before?' Sure enough, I started looking and plenty of companies have made bags like this before," says Challan. I started looking at the others when I started making the bag, and what I think makes our frame bag stand apart from those is that a lot of companies make frame bags to stay on your bike, for long camping bike trips and such. Our frame bag is one that looks good on and off the bike."