"I want to eat fancy food, but I want to wear cut-off shorts doing it," says restaurateur Jackie Greenbaum, which basically sums up the experience one could have at Little Coco's.
The funky Italian restaurant, which opens in Petworth on Thursday, is Greenbaum's latest venture with business partner Gordon Banks. Housed in a two-story building—which boasts a 35-seat roof deck—the eatery adds to their growing roster of neighborhood-oriented bar/restaurants, including El Chucho (Columbia Heights), Slash Run (Petworth), Bar Charley (Adams Morgan), and the late Jackie's in Silver Spring. When the latter shuttered in March, much of the staff—including head chef Adam Harvey—turned their attention to Little Coco's.
Initially the 100-odd seat space will open for dinner, with all-day service (including breakfast) expected to launch in the coming months. Here's what to know when you go.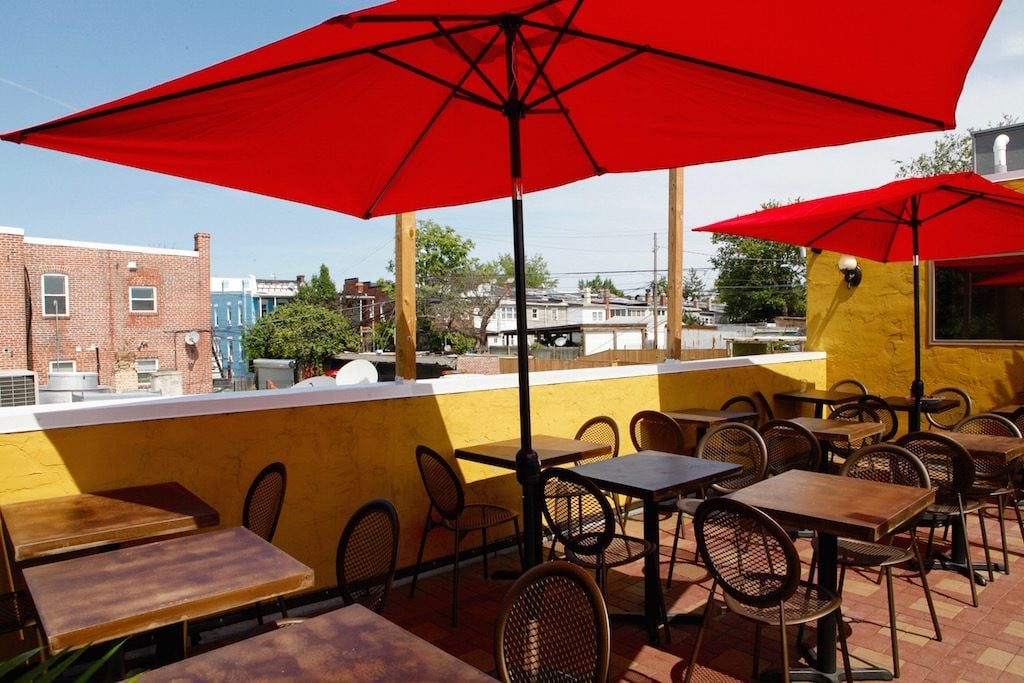 There's deep-fried pizza infused with beer
Chef Adam Harvey's family influenced the menu—his wife, a first generation Italian-American, is the "Cocozzella" in Little Coco's name. Still, he took creative liberty with the modern-Italian menu (sample), especially when it comes to the pizzas. The pies are more like pinsa —ancient flatbreads that pre-date the pizza—which he fell in love with at Pinsere, a tiny shop in Rome. Harvey mixes local Pale Fire Brewing Co. beer and honey into the crisp crusts, and tops the rounds with creative ingredients such as house-made porchetta, smoked peaches, and taleggio cheese.
Neapolitan-style pies also makes an appearance, though not like everywhere else. Harvey recreates pizza fritta (i.e. fried pizza), a popular street food in Naples. Here the dough is stuffed, calzone-style, with mozzarella, basil, and tangy marinara, and deep-fried so the center is molten and the exterior extra-crispy.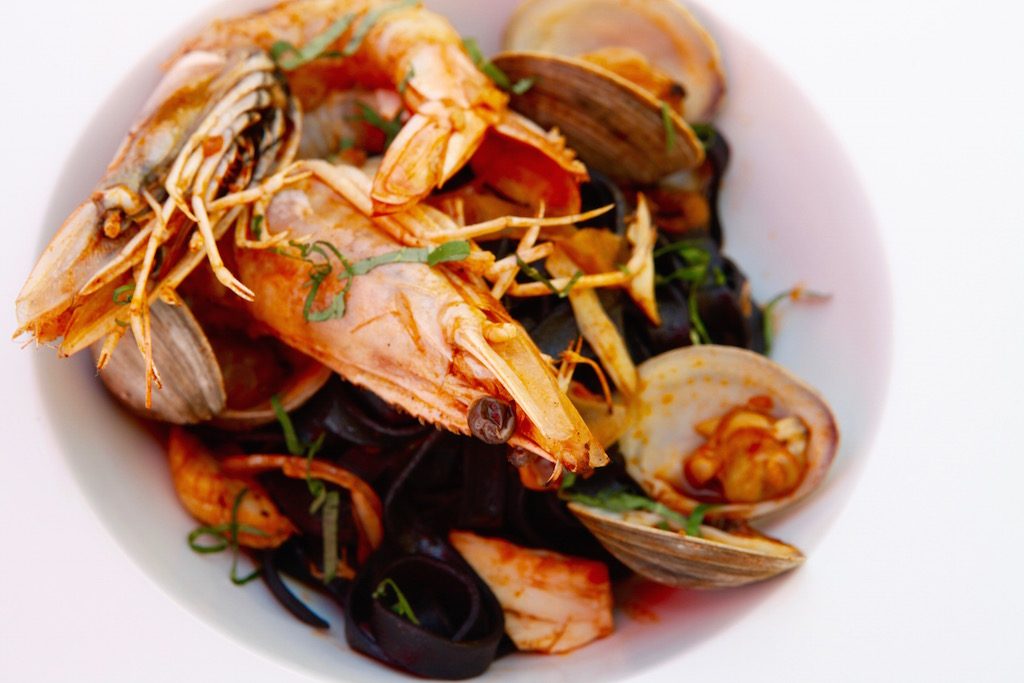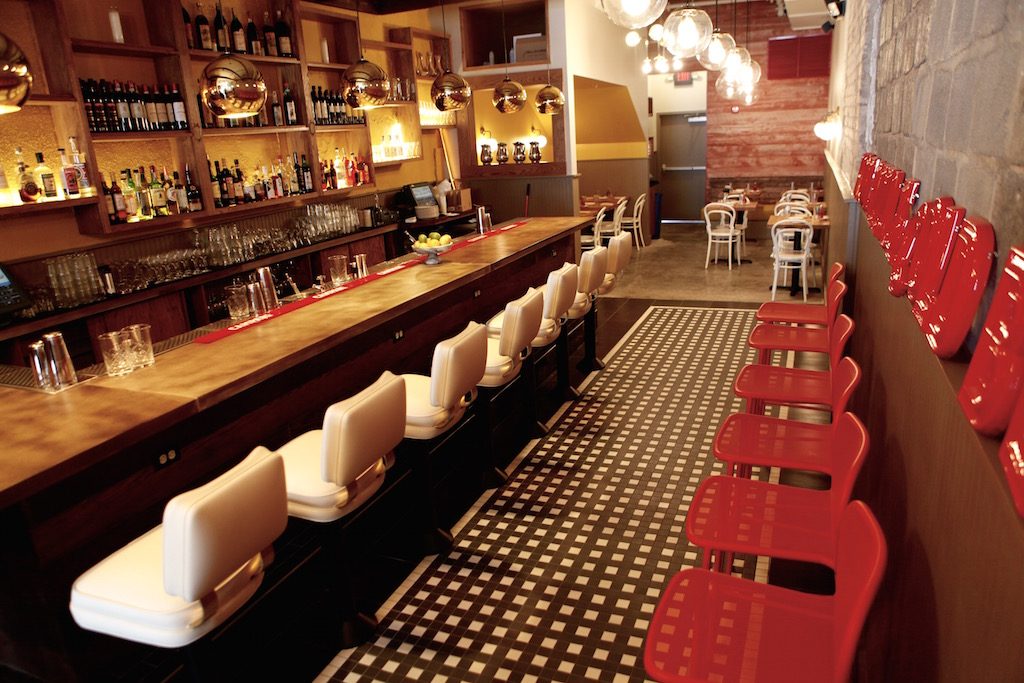 Kids are welcome (but maybe not in the "Tinder booth")
Co-owner Gordon Banks lives three blocks from the restaurant, and part of the inspiration behind the concept was his three year-old daughter. "There are 22 kids on my block and there's nowhere to take everyone," says Banks. "I go to 2 Amys and see all my neighbors."
In addition to the creative pizzas, kids (or anyone) can DIY a pie with plain cheese or pepperoni, or go in for homey pastas like baked ziti. That being said, there're plenty of elements to foster a date-night vibe—including the "Tinder booth," a two-seat banquette at the bar perfect for getting close over smoked rabbit pasta and a bottle of Italian wine.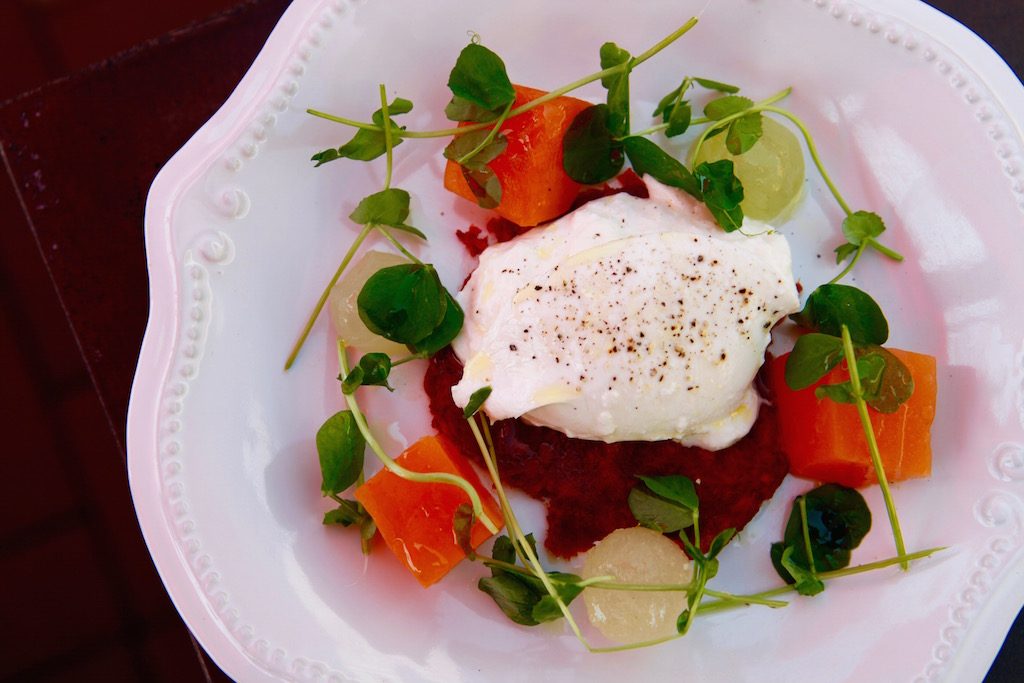 Vintage amaro is an option, but also pitchers of Peroni
"Just because you do a chef-y pizza doesn't mean you have to abandon a college tradition" says Banks, who'll serve draft beers by the pitcher. The 20-seat bar area can accommodate a wide range of tastes. Cocktails ($10 to $12) include a variety of Negronis, dark n' stormys on tap, and frozen ginger-white peach bellinis. Drinks can splurge on a nice bottle of Chianti—or better yet, vintage amaro like Frenet Branca circa 1930—or crack a $4 'Gansett tallboy.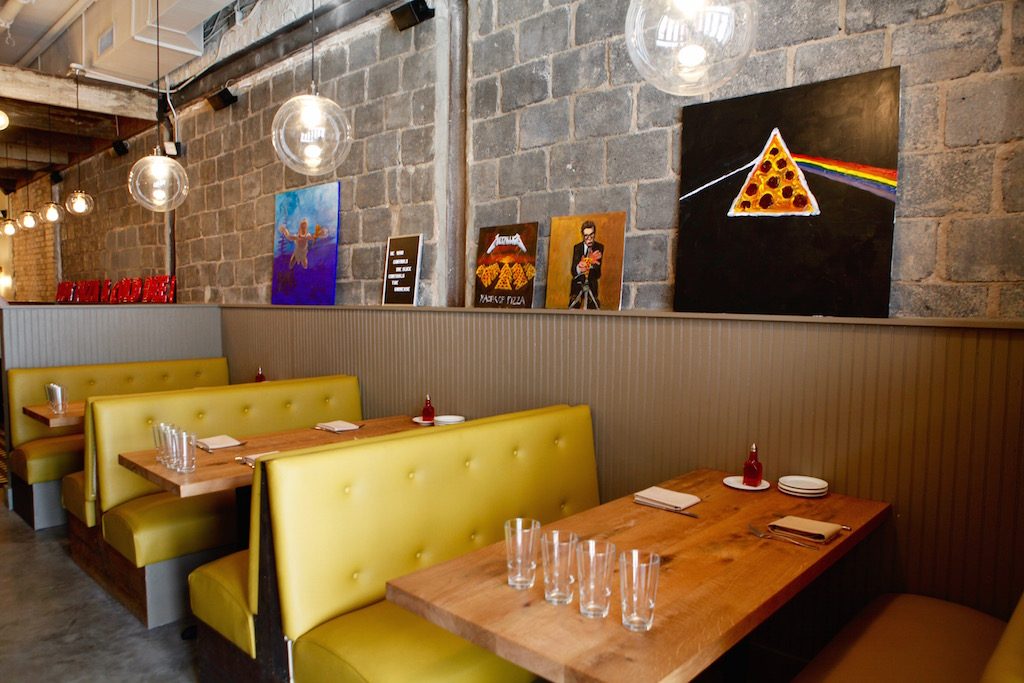 Entrees are red sauce-size
Though Little Coco's isn't a red sauce Italian, the entrees pay homage to throwback spots when it comes to size (i.e. they're huge). "Splurge for one, split for two" is the tagline for dishes like a pound-plus Roseda Farms ribeye and potatoes ($38). On the flip side, all pastas can be ordered full and half-size.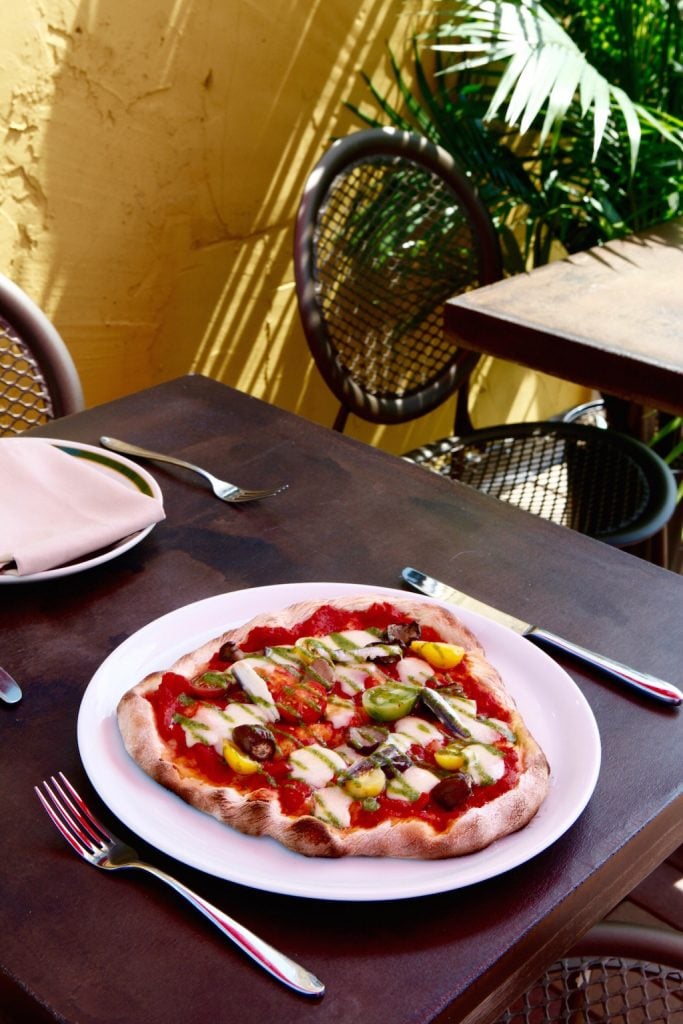 Hours will stretch: breakfast-to-late-night
Though initially open for dinner, Greenbaum and Banks plan to serve the neighborhood at all hours. In the coming months, Little Coco's will open at 8 am for La Colombe and Ceremony coffee drinks and fresh pastries like parmesan-truffle scones. Lunch is also in the future, as well as weekend brunch.
Little Coco's. 3907 14th St., NW (14th and Randolph St.); 202-853-9889. Open Thursday, September 8 at 5 pm.