Our Washingtonian Recommends lists bring you the best places to eat, drink, and be entertained—all selected by Washingtonian editors.
In the museums:

Sweet Home Cafe, the Museum of African American History and Culture
1400 Constitution Ave., NW
The new museum's cafeteria is divided into four geographic groups, designed to tell a rich culinary history: the North States, Agricultural South, Creole Coast, and Western Range. Visitors will find classics like buttermilk-friend chicken and shrimp n' grits from chef Jerome Grant, alongside lesser-known specialties such as "son of a gun" short rib stew and a spicy Caribbean-style pepper pot. The dining hall is also part of the exhibit, ringed with photos and lunch counter-style seating to represent the sit-in movement.
Mitsitam Cafe, the Museum of the American Indian 
Fourth St. and Independence Ave., SW
Similar to the African American history museum, the eclectic cafeteria is divided into  geographic regions representing different native cultures and cooking traditions throughout the Americas: the Northern Woodlands, Mesoamerica, South America, Northwest Coast, and the Great Plains. Dishes range from cedar-planked salmon to enchiladas mole and house-made buffalo burgers.
The Pavilion Cafe, the Sculpture Garden
Seventh St. and Constitution Ave., NW
Warm weather brings diners to the Sculpture Garden for a simple Mediterranean menu of pizzas, salads, and sandwiches. The menu offers options for kids, as well as beer and wine for adults.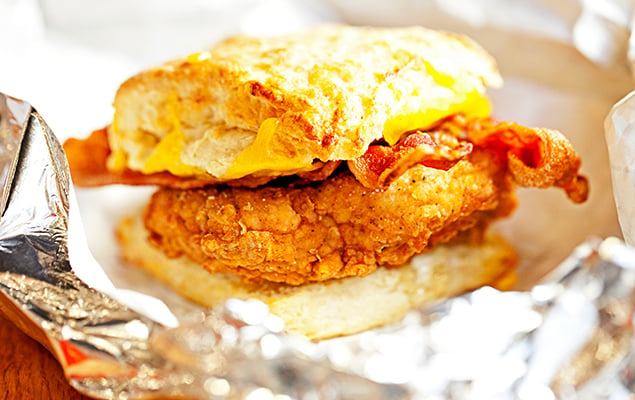 Within a 12-minute walk:
Woodward Table/WTF
1426 H St., NW
Looking for something casual but filling? Stop by WTF (a.k.a. "Woodward Takeout Food") for counter-order flatbreads and sandwiches at breakfast and lunch, including a killer bacon-and-fried chicken combo. Chef Jeffrey Buben's adjoining sit-down restaurant offers a large, eclectic variety of Southern-leaning dishes for lunch and dinner.
Red Apron Butcher/The Paristan
709 D St., NW
Red Apron, a butcher shop/restaurant near the National Archives, dishes up breakfast and hearty lunch sandwiches like the delicious meatball sub. Service is counter-order, but tables are available for seating. Adjoining sister eatery the Partisan opens for lunch and dinner, with a bustling bar scene and equally robust eats.
District Taco
1309 F St., NW
This local fast-casual chain serves inexpensive and satisfying tacos, burritos, and quesadillas (breakfast through dinner). Guests can customize their own tacos with a variety of meats, shrimp, and grilled fish, with a ton of free toppings.
Old Ebbitt Grill
675 15th St., NW
The American menu at this historic restaurant near the White House offers something for everyone, from a large kid-friendly lineup to the splurge-worthy "Orca platter" loaded with fresh-shucked shellfish. Expect a crowd any time of day. Nearby sister restaurant the Hamilton offers a similarly varied menu (sushi! burgers!) in a huge space that includes a live concert venue come evening.
Central Michel Richard
1001 Pennsylvania Ave., NW
Michel Richard, one of Washington's most beloved and legendary chefs, recently passed away. His legacy lives on at this boisterous brasserie under the guise of executive chef David Deshaies. The food is upscale but not stuffy—think perfect steak tartare, a variety of burgers (get the lobster), and decadent $25 fried chicken platters.