After the bells rang, people in the crowd sang "Lift Every Voice and Sing." Video by Rosa Cartagena.
Bells are now ringing throughout Washington. #NMAAHC

— Washingtonian (@washingtonian) September 24, 2016
President Obama helps ring the "Freedom Bell" from the First Baptist Church in Williamsburg to open the museum. Bells are now ringing throughout Washington. The museum is now officially open.
A Tuskegee Airman waving to the President during his remarks. #APeoplesJourney #MakingHistory pic.twitter.com/egTb6YSfYa

— Smithsonian NMAAHC (@NMAAHC) September 24, 2016
It is an act of patriotism to understand where we've been and this museum tells the story of so many patriots. @POTUS #NMAAHC

— Judith Weisenfeld (@JLWeisenfeld) September 24, 2016
Obama: "… It's not the underside of the American story. It's essential to the American story." #NMAAHC

— Benjamin Freed (@brfreed) September 24, 2016
Obama: "By knowing this other story, we better know and understand each other." #NMAAHC

— Benjamin Freed (@brfreed) September 24, 2016
Obama: "This museum helps us tell a richer and truer story of who we are." #NMAAHC

— Benjamin Freed (@brfreed) September 24, 2016
Obama on the slave block where Andrew Jackson and Henry Clay spoke from in 1830: "That stone explains why this museum is so necessary."

— Benjamin Freed (@brfreed) September 24, 2016
President Obama is now speaking. Our reporter hears shouts of "Obama! Obama!" "We love you!" from the Washington Monument crowd.  "What makes this place so special, is the larger story it contains," Obama says.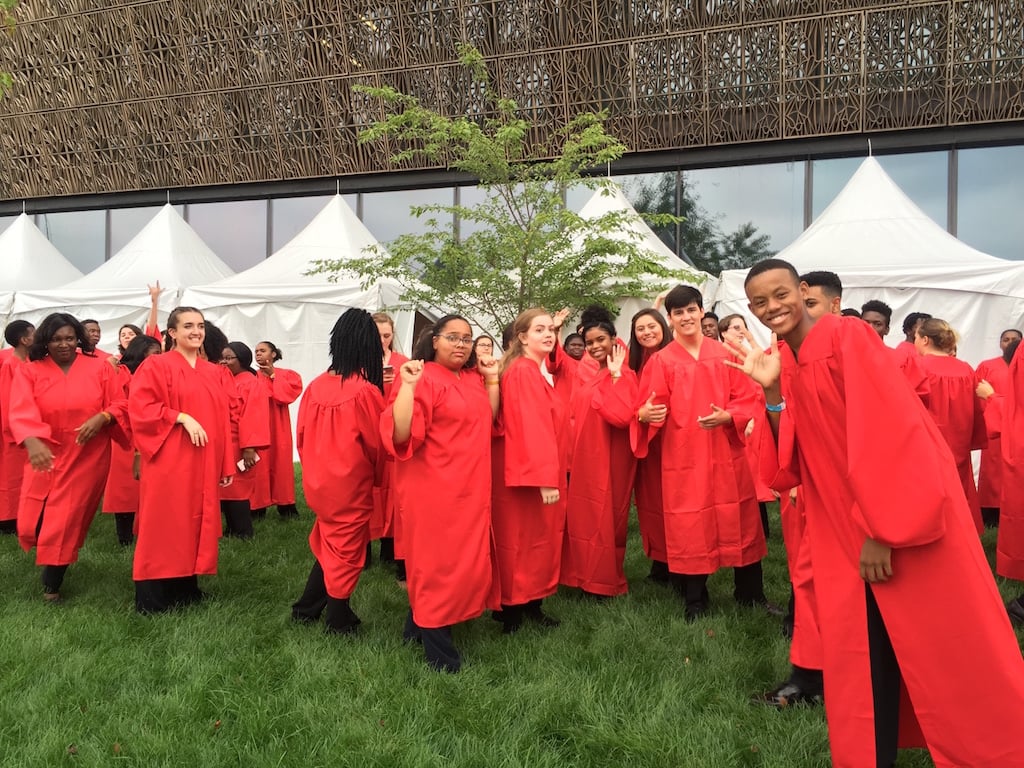 Patti LaBelle sings Sam Cooke's "A Change Is Gonna Come," ending it by singing, "A change is gonna come…Hillary Clinton."
—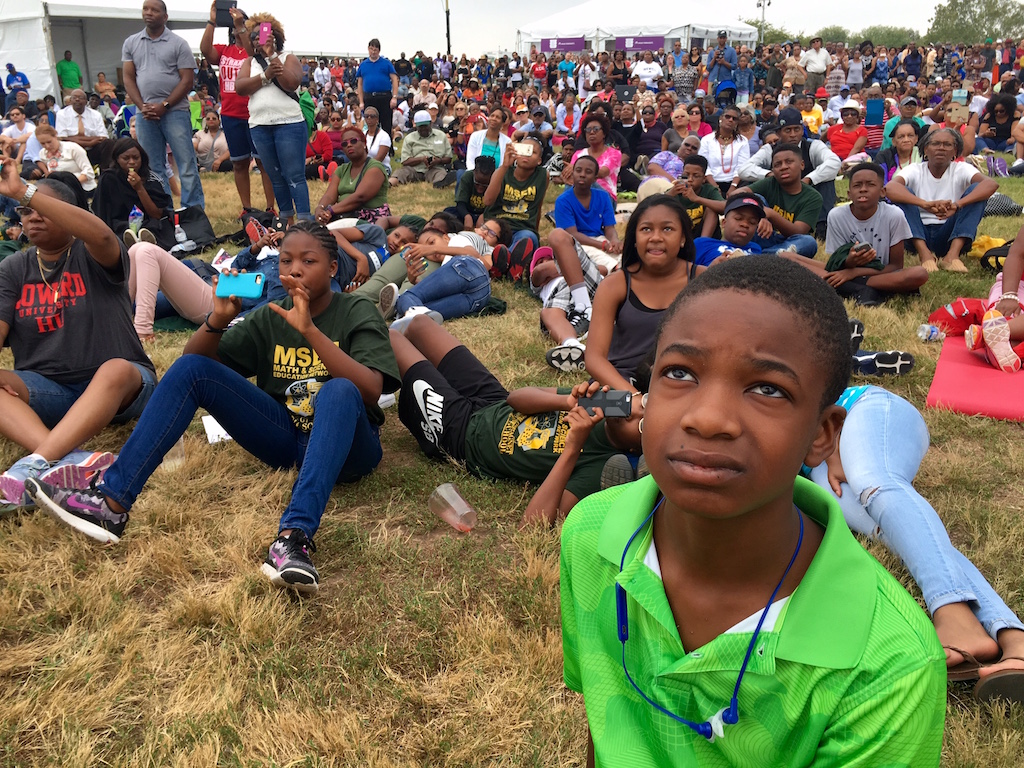 Grayson Haywood, Chicago
Grayson was born December 16, 2003: The day President George W. Bush signed the legislation establishing the museum.
—
POTUS, FLOTUS, Laura Bush, John Lewis, Lonnie Bunch watching Stevie Wonder. #NMAAHC pic.twitter.com/bv5tlIuGlu

— Benjamin Freed (@brfreed) September 24, 2016
The @POTUS and @FLOTUS at our Dedication Ceremony with former President George W. Bush. #APeoplesJourney #MakingHistory pic.twitter.com/Z7kelmTq4C

— Smithsonian NMAAHC (@NMAAHC) September 24, 2016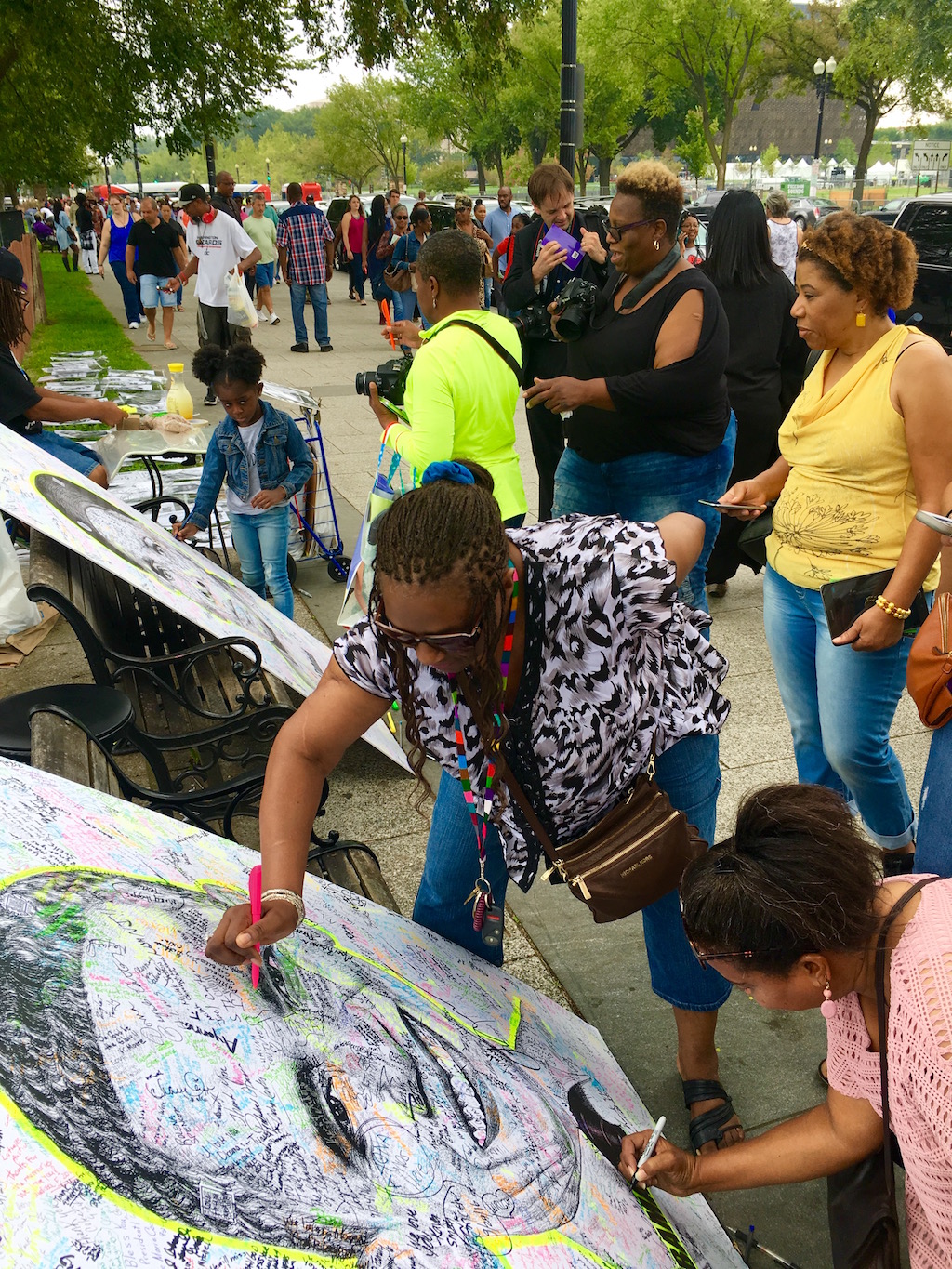 "I haven't seen it yet, but I'm going to," says Stevie Wonder, who follows President Bush.
"I'm pleased this museum stands where it belongs–on the National Mall," says former President Bush, who calls slavery America's "original sin." The museum, he says, "shows a commitment to truth. A great nation does not hide its history. It shows its flaws."
"This is an American museum, because this is history we've made as a country," says Donna Brazile, who's attending with lots of family, including her uncle, a second-generation Tuskegee Airman.
Smithsonian Institution Secretary David Skorton is now speaking. He introduces US Rep. John Lewis, who authored the original legislation in the House of Representatives for the museum, Kansas Gov. (and former US Sen.) Sam Brownback, who sponsored legislation for the museum in the Senate, and the presidents onstage. Also introduced: Vice President Biden, former President Clinton, House Majority Leader Paul Ryan, House Minority Leader Nancy Pelosi (they're sitting together), US Rep. Eleanor Holmes Norton, and Mayor Bowser.
Greta Weber is covering the ceremony as an Instagram Story. If this story form is as new to you as it is to the operator of this live blog, who is a geezer, here's how you can follow along: Go to the Instagram app on your phone and follow Washingtonian. You'll see our logo above the feed with a red circle around it; tap that to see Greta's reporting.
We just heard the National Anthem, and now the Rev. Dr. Calvin O. Butts III is speaking. Butts quotes Langston Hughes and James Brown.
President Obama and Michelle Obama are onstage now, as is former President George W. Bush and Laura Bush.
September 24 occupies an important place in American history: On this day in 1957 President Eisenhower sent federal troops to Little Rock, Arkansas, to ensure nine students would be able to enroll in Central High School.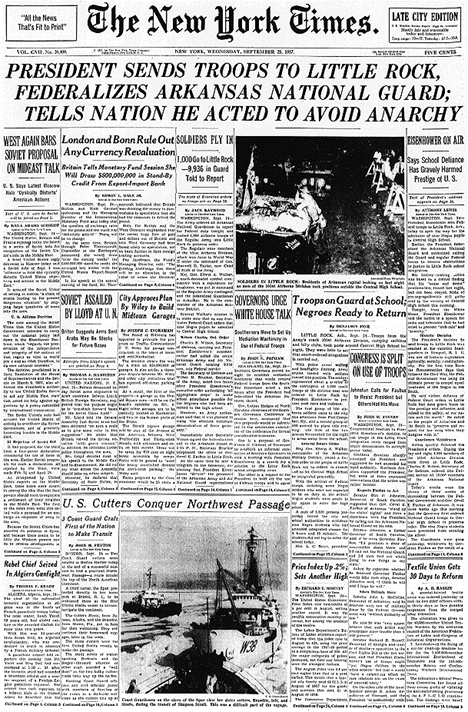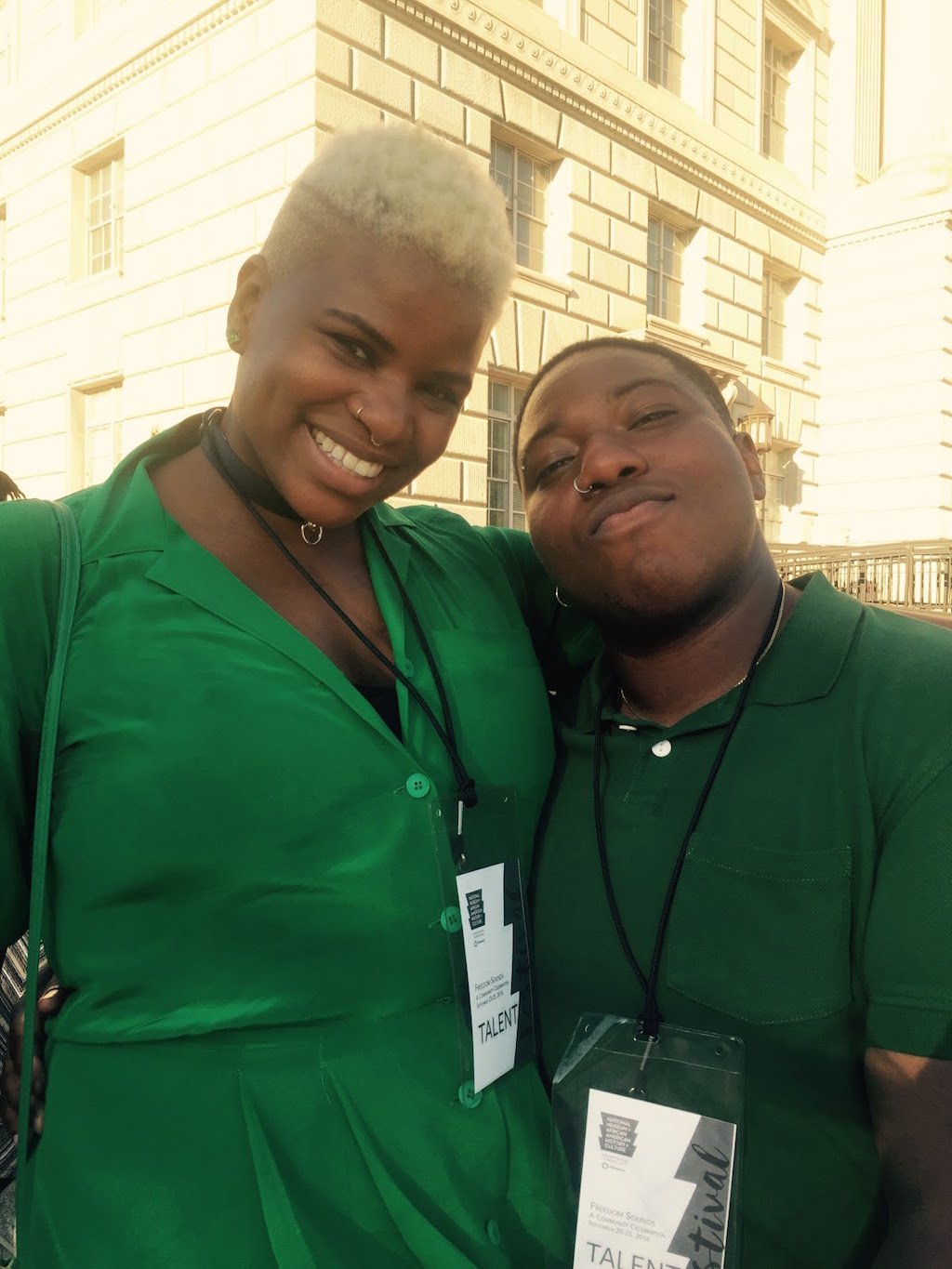 Erica and Ebony
"Black women are usually situated in a narrative of pain. We experience a great deal of subjugation, probably a great deal more than other marginalized groups […] I thought it was super important to come here and to tell our stories and reclaim our joy as black women."
We're still about 20 minutes from the main program starting, Ben Freed reports from the Mall. (Follow Ben on Twitter.)
.@MayorBowser welcoming guests to @NMAAHC "on behalf of 670,000 residents of the District of Columbia." #NMAAHC pic.twitter.com/254J0ueo67

— Benjamin Freed (@brfreed) September 24, 2016
This lady is getting it! #NMAAHC #APeoplesJourney #MakingHistory Blessings Song pic.twitter.com/NHewwfAwCs

— Joanne Berry (@SimplyBerry) September 24, 2016
Angélique Kidjo is now onstage, singing Bob Marley's "Redemption Song."
The Smithsonian's live-stream is now on. If you're having trouble getting on that, the ceremony is on CSPAN.
DC Mayor Muriel Bowser opened the dedication. Brown made a pitch for DC statehood and encouraged attendees to visit DC neighborhoods including Historic Anacostia and U Street. "I would not be here, and you would not be here, if not for the strong trailblazers who were black women," Bowser said.
There are some pretty well-known people at the dedication this morning!
Actor Samuel Jackson at #NMAAHC says "I'm here because we need to be here." #APeoplesJourney #BeInformed @WashInformer pic.twitter.com/CjiIqPXaV6

— S. Wright (@dreamersexpress) September 24, 2016
Class Act: Will Smith goes right over to screaming kids at #nmaahc opening.

— Jonathan Capehart (@CapehartJ) September 24, 2016
As the great granddaughter of a runaway slave who fled to DC, I am proud to be at the dedication ceremony today for @NMAAHC #APeoplesJourney pic.twitter.com/62i5DjgkfN

— Eleanor H. Norton (@EleanorNorton) September 24, 2016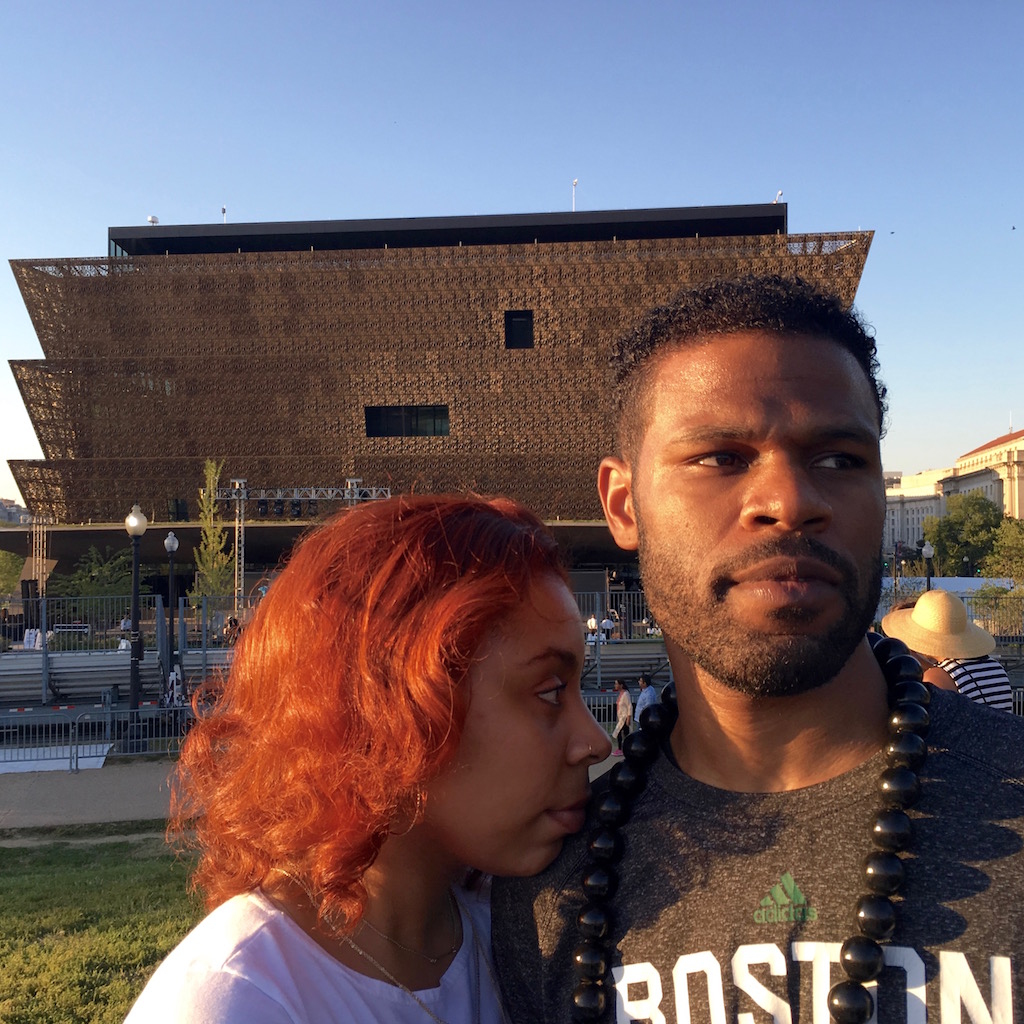 Herbert and Cagney Logan, Texas
"It is good to see tomorrow happening right here"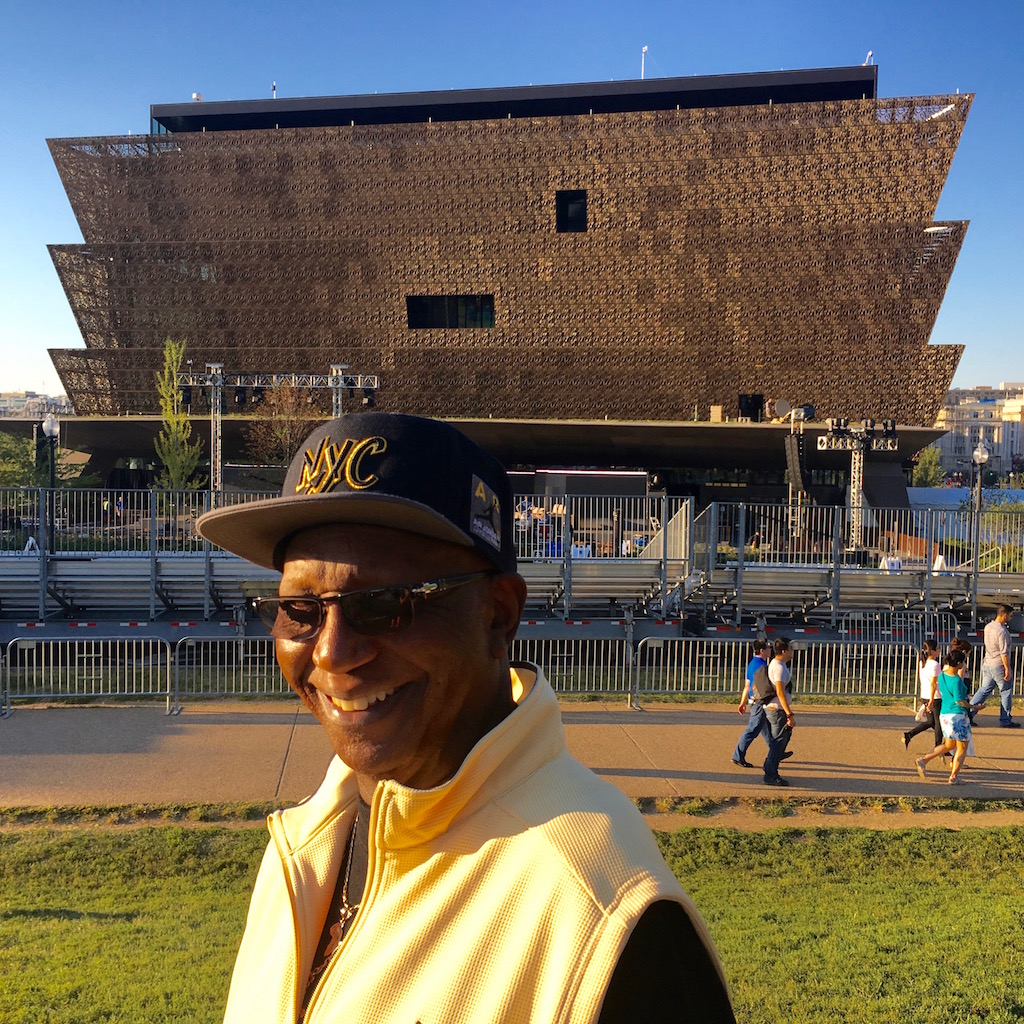 Graylin Hampton
"We came to see this monument that documents our journey and celebrates our accomplishments through all our struggles."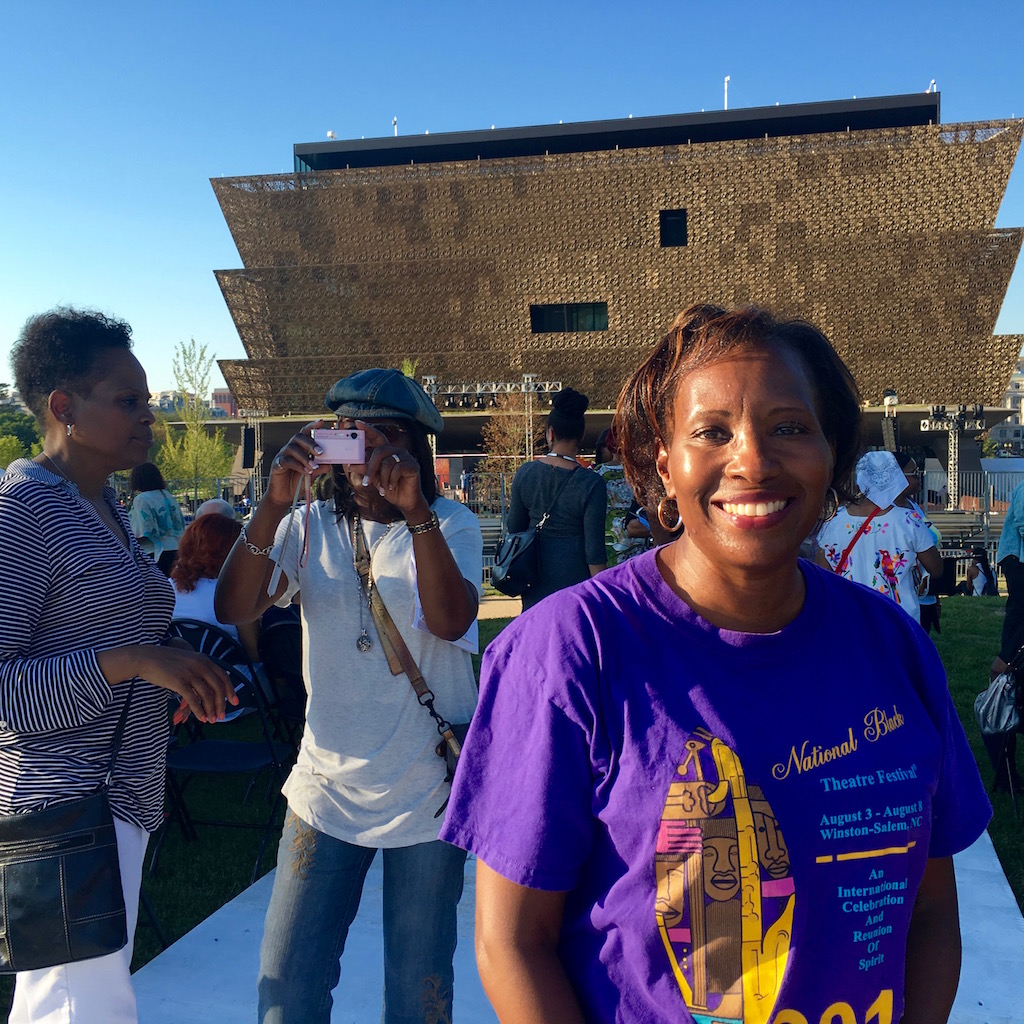 Gayle Carney from Maryland:
"It's been a long time coming. This is important for all people, not just the African American people but for all Americans. I'm very proud that this museum was built and I'm very proud that over 50 percent of the funding came from donors. The timing is so significant–we have our first African American president cutting the ribbon."
Good morning from the Mall, where Washingtonian reporters are covering the dedication of the Smithsonian's National Museum of African American History and Culture. You can find our coverage on Instagram, on Twitter, and here on the Web. If you're heading to the ceremony or driving in downtown DC today, here's information on road closures and what you can bring through security. And if you're looking for a place to eat near the museum, our food critics have some suggestions.