In May of 1995, chef Ann Cashion and business partner John Fulchino stood on Columbia Road, and watched workers hang a neon "Cashion's" sign above the door of their new Adams Morgan restaurant. Cashion's Eat Place opened two days later, and over the following decade, became one of DC's premier restaurants—a pioneer fine/casual spot of the destination-worthy variety that's now ubiquitous in Washington. Cashion fed the neighborhood alongside VIP guests, including legendary chefs (Jean-Louis Palladin, Ferran Adrià) and then-President Bill Clinton, who visited for the pork chops. The kitchen became known for its roasted chickens to-order—a 20 minute undertaking that yielded delicious results, but didn't make for swift table turns in the dining room.
"It's a great luxury to have the bottom line be so completely unimportant to you, for whatever reason, that you're willing to pursue cooking in that way," says Cashion. "It wasn't like we never made money—we did—but we were never going to be extremely profitable with that structure. And that was fine with me. It was a true labor of love."
Cashion earned a James Beard Award for her seasonal American cooking in 2004—the first (and still only) female chef in Washington to win Best Chef: Mid-Atlantic. Her sign lit the block for 21 years, even after Cashion and Fulchino sold Cashion's Eat Place in 2007—name and all—to longtime employees Justin Abad and chef John Manolatos. When the latter two shuttered the restaurant this past May in the wake of financial woes, the sign went dark for months. Then, in one of the DC restaurant industry's great comebacks, Fulchino and Cashion negotiated a deal to reclaim their original restaurant space at 1819 Columbia Road, Northwest. It was only this past July that they moved the sign inside to brighten the dining room. They placed a new one above the door: Johnny's Half Shell.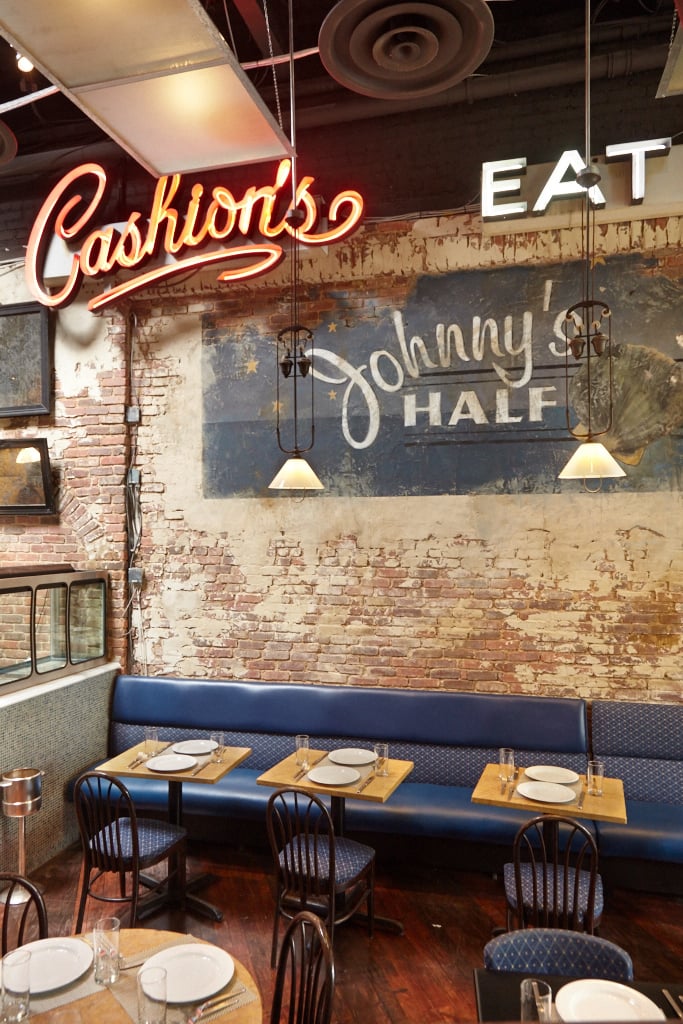 When Johnny's opens this week, it will be the third incarnation of Cashion and Fulchino's Mid-Atlantic seafood restaurant to open in 17 years. The original debuted in Dupont Circle in 1999, in the wake of their success at Cashion's Eat Place. Crowds packed the 35 seats for charbroiled oysters, luscious crab imperial, and crispy oyster po' boys served on rolls flown in from Leidenheimer's Bakery in New Orleans—a novelty at the time. Gourmet magazine named Johnny's one of "America's best new restaurants" a year after it opened. In 2006, the partners moved the Half Shell to a voluminous new space on Capitol Hill, tucked between Union Station and the Capitol Building. It served its last bowl of gumbo on May 26.
Two moves and nearly two decades later, the national buzz around Johnny's has all but died. Still, it didn't dissuade the partners from reviving the restaurant in their old Adams Morgan space.
"The fact we're not going to do something entirely different—or even radically change what Johnny's is meant to be—is a statement," says Cashion. "It's true that people are more interested in food than ever in this market, but that interest is often fueled by constant information that tells them, 'This place is new, this place is hot.' Franky, I don't want to play on that field. We have new restaurants that are great restaurants. But we also have a lot of stuff that will come and go, and not be memorable in any sense. It's really my nature to want to create something that's permanent."
At a time when many restaurateurs prioritize empire over institution-building—opening a string of "concepts" with five year leases—Cashion and Fulchino remain anomalies. Their roots in DC's restaurant industry run deep and wide. The two met in 1988 at the original Austin Grill—she was the executive chef, he was the bar manager—when then-owner Rob Wilder debuted the Tex-Mex joint in Glover Park. The eatery was a hit—President George H.W. Bush became a regular—and the team expanded to Alexandria. Wilder then branched out to Spanish cuisine, and along with Cashion and Fulchino, opened the first Jaleo in Penn Quarter in 1993. Though Cashion headed the kitchen, she and Wilder were eager to find a Spanish chef de cuisine to reinforce the restaurant's authenticity. Wilder sent her on a research trip to Spain. She returned empty-handed, but soon discovered a young, charismatic Spaniard in San Diego by the name of José Andrés. He flew to DC, and wowed the Jaleo team with his tapas in a cooking trial that unfolded in Cashion's apartment kitchen. Two years later, Cashion and Fulchino officially joined forces and moved on to open Cashion's Eat Place, while Andres eventually partnered with Wilder to co-found ThinkFoodGroup. The rest is restaurant history.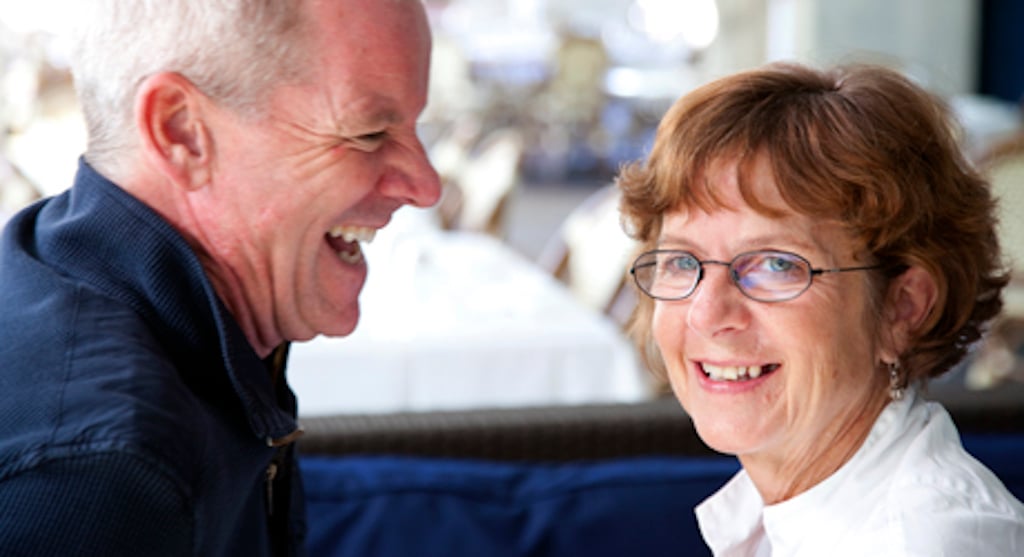 Cashion and Fulchino's partnership has always been a close one, though their personalities differ in some noticeable ways. Fulchino, 56, is boisterous ex-ice-hockey player who still speaks with a strong Dorchester, Massachusetts, accent. He came to the hospitality industry after his hockey career failed to go pro, and he grew tired of the investment banking that followed. Cashion, 61, is more reserved. A Harvard alum, she left Stanford University's graduate program in American Literature for a gig at a Berkeley bakery that paid $3.25 an hour. She never looked back. Cashion strongly prefers the stove to the limelight, and doesn't own a cell phone, let alone a Twitter account. When asked what she thinks about Bon Appetit magazine naming Washington its Restaurant City of the Year, her answer is short—"I don't think about it"—and even shorter in regards to her personal inclusion in the article as one of the city's "incredible" old-guard chefs ("That shocks me").  Fulchino acts as her cheerleader, quick to praise her talents and ability to inspire loyalty in her staff. Much of Cashion's kitchen brigade have been with her for a decade or more—Juanita Flores, for example, was the first dishwasher at Cashion's Eat Place, and now runs food production.
Both Cashion and Fulchino expected a similar level of loyalty when they decided to move Johnny's to Capitol Hill. According to Fulchino, the transition was prompted by a failed lease negotiation with their Dupont Circle landlord.
"I'd like to have taken more time for a new location, but we pulled the trigger," says Fulchino of the space at 400 North Capitol Street, Northwest. "Looking back on it, I was so naive. I didn't see the cyclical nature of that location. I really felt like the whole world was going to follow Ann Cashion—all the people from P Street, all the people from Cashion's—but we just served Congress. I didn't know they'd be out five months of the year."
For the first time, the partners were saddled with what Fulchino calls "a financial albatross." Johnny's Half Shell bloated from 35 seats to over 400. The mental border between The Hill and The Rest of Washington—not to mention the Congressional and Senatorial sides—quickly became clear. Many Dupont and Adams Morgan regulars who once trotted over for Cashion's food never showed, at least not on a basis that could build—and sustain—an institution.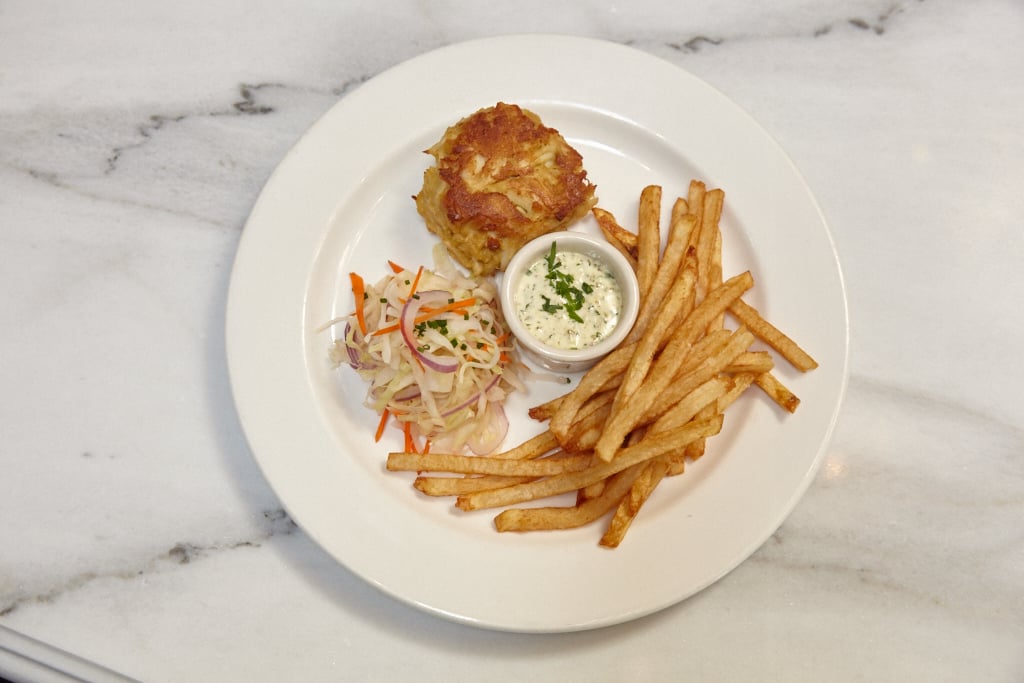 That being said, Johnny's 2.0 lasted for nearly a decade with its own high points. Cashion and Fulchino created Taqueria Nacional next door as a quick-grab alternative, and opened a branch in Logan Circle that still operates today. Also, when the Half Shell was busy, it was slammed—at least for private events. Johnny's hosted over 940 fundraisers for politicians on both sides of the aisle in its nine year run—enough to gain national attention yet again in a John Oliver segment on political fundraisers for Last Week Tonight. Still, the high-volume politicos didn't equal satisfaction in the kitchen.
"They don't care about the food," says Cashion. "They want to be in the room with somebody—it's all about access. So that's discouraging from a chef's point of view. What was interesting was the challenge of meeting their demands, which has everything to do with a timeline and speed. There are a lot of bullies on the Hill, and they all want to start [their events] at noon. God forbid you say, 'your event would come off better if you start at 12:30.' It was very precise, and I took a lot of pride in what went out."
"She says this so humbly," adds Fulchino. "I'd see her face when there would be ten extra people [at a fundraiser], or dishes came back. I'd say, 'they have no idea how good this food is,' because it always was." 
Johnny's kitchen could serve 100 people in 30 minutes for a chicken salad luncheon, but the clientele for crab cake dinners in the regular dining room lagged. Even when the event business boomed, Fulchino says it only accounted for roughly 30 percent of sales. He says he tried to renegotiate the terms of Johnny's 18-year lease to no avail. The partners began to face the reality of a permanent shutter.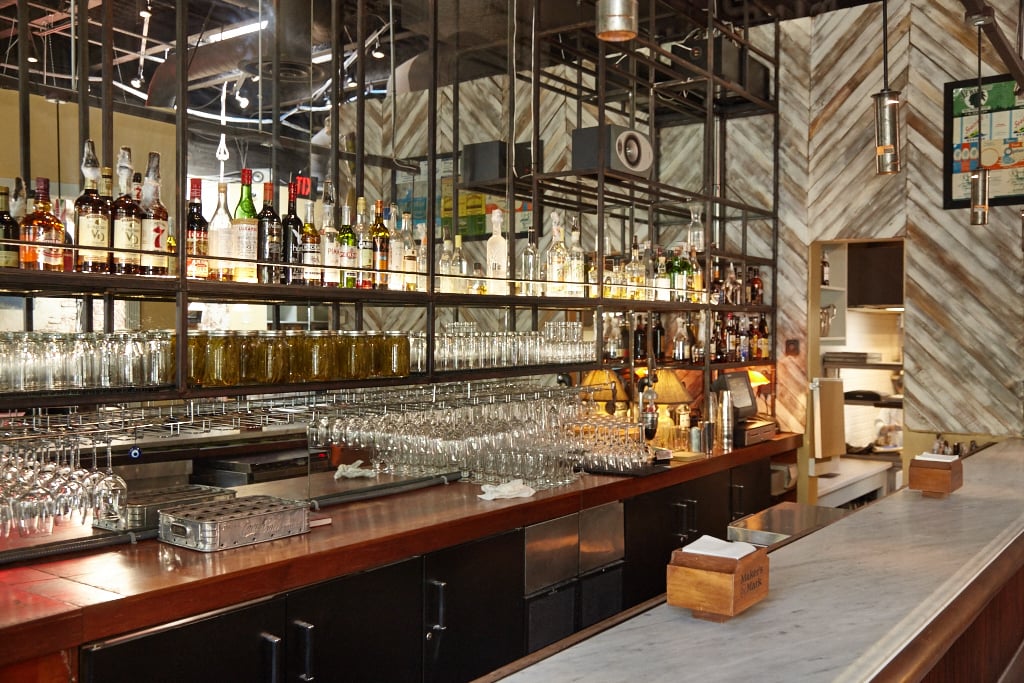 Around the same time, Cashion's Eat Place under Abad and chef Manolatos was struggling. The team tried a more casual approach with a small plates menu in 2014, and retouched the dining room. Abad stepped down from his management position in 2015. In the spring of this year, the Washington City Paper reported that the landlord, Stuart Auchincloss, sued to evict the business over $69,323 in unpaid rent and other expenses.  
"It was total serendipity of timing," says Cashion. "It was not our plan, but we found ourselves at almost exactly the same point, and realized there was a synchronicity there that could work to both of our advantages. It could help him [Manolatos] get through through his situation, and it could provide us with a place to move Johnny's."
Partners of both restaurants worked with Auchincloss—the landlord since Cashion's Eat Place first opened in 1995—and negotiated an asset purchase wherein Cashion and Fulchino would take over the lease.
"I think they're both good restaurants, and I'm glad to have good restaurants in our space," Auchincloss told the City Paper at the time. "What I want to do is encourage people to visit whatever restaurant happens to be going strong at 1819 Columbia Road, Northwest."
"This wasn't without scars," says Fulchino. "But it gives us an opportunity to recapture what was lost over the last ten years on the Hill. We're grateful for the chance."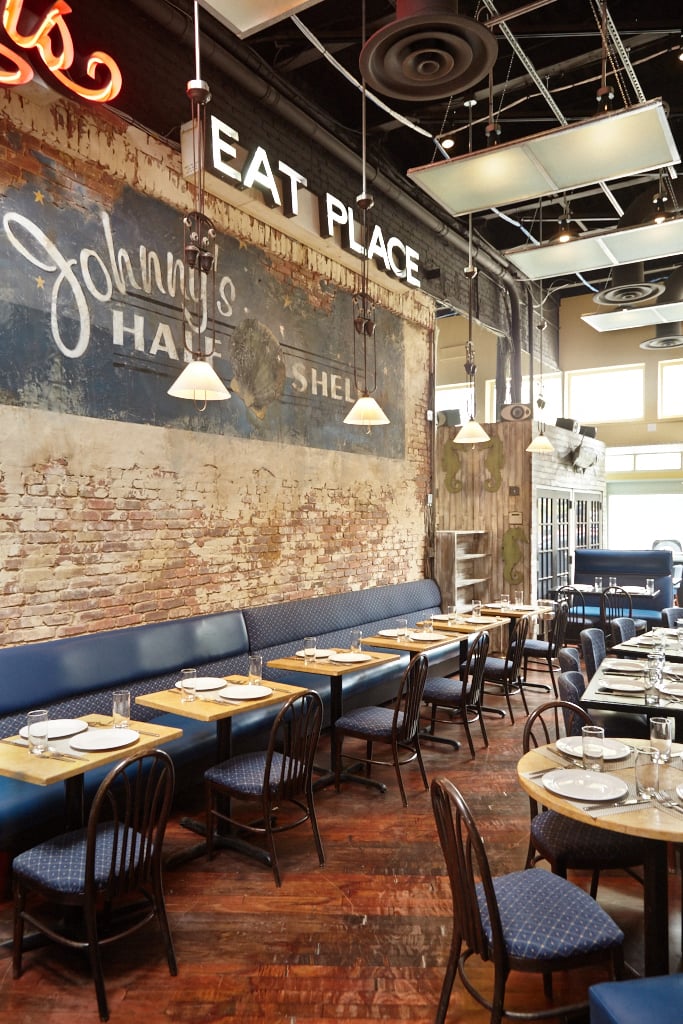 Johnny's Half Shell 3.0 is a fitting combination of all that came before—literally when it comes to the design of the 80-seat space. The bones are Cashion's—the high ceilings, the elevated, bird-cage-like bar—while the blue booths have been pulled from Johnny's on the Hill. A fish tank swimming with colorful African Cichlids harkens back to the P Street days, and adjoins a small oyster bar with a longtime shucker.
While Johnny's menu on the Hill only changed four times a year, Cashion designed a shorter, more nimble lineup that can rotate on a whim–similar to the early Cashion's Eat Place days (here's a sample, subject to change). Prices are designed to be neighborhood-friendly, with new wallet-friendly options like a fritto misto of fall vegetables or chicken braised with late-summer chilies; such items are mixed in with date-night splurges, including spice-rubbed Maine lobster. Old favorites from Johnny's early days are back in the fold, such as "Sartin's style" jumbo hardshell crabs—an ode to the Texas Gulf Coast restaurant known for its spiced and deep-fried crustaceans. Longtime staples like the barbecued shrimp, Chesapeake seafood stew, and crab imperial aren't going anywhere.
"I look at it as a trajectory of chefs, and it's like when you graduate from West Point, you're the next part of the Long Gray Line," says Cashion. "Those of us who really love traditional food, and keep traditions alive, I call it the Long White Line. Other people can't stand to be in the line, and that's a whole different personality type. It's not without value, and it has a lot of impact. But it's not for me."
Johnny's Half Shell. 1819 Columbia Rd., NW. Open Sunday and Monday, 5 to 9 pm; Tuesday through Thursday, 5 to 10; Friday and Saturday, 5 to 11.