When a hot restaurant opens in Washington, a few things tend to happen. First, there's the advance buzz. Then the food-mad droves vying for seats. But you really know a place has achieved thermonuclear status when a single dish becomes social currency. Tell someone you ate at Shaw's All-Purpose and his next question is likely to be "Did you have the eggplant Parm?" When Columbia Room debuted, you'd better have walked away with an opinion on that oyster-leaf cocktail garnish. And if a diner walks into Pineapple and Pearls for breakfast and doesn't order the fried-chicken sandwich, did it even happen?
At Bindaas, a new Indian street-food spot in Cleveland Park, the dish on the edge of everyone's lips is golgappas, a quartet of puffily fried crisps filled with avocado, sugared-and-spiced yogurt, and tamarind chutney. Pop one in your mouth and you'll see what the hype is all about: It's at once tangy, creamy, and ephemeral, disappearing almost as soon as it hits the tongue.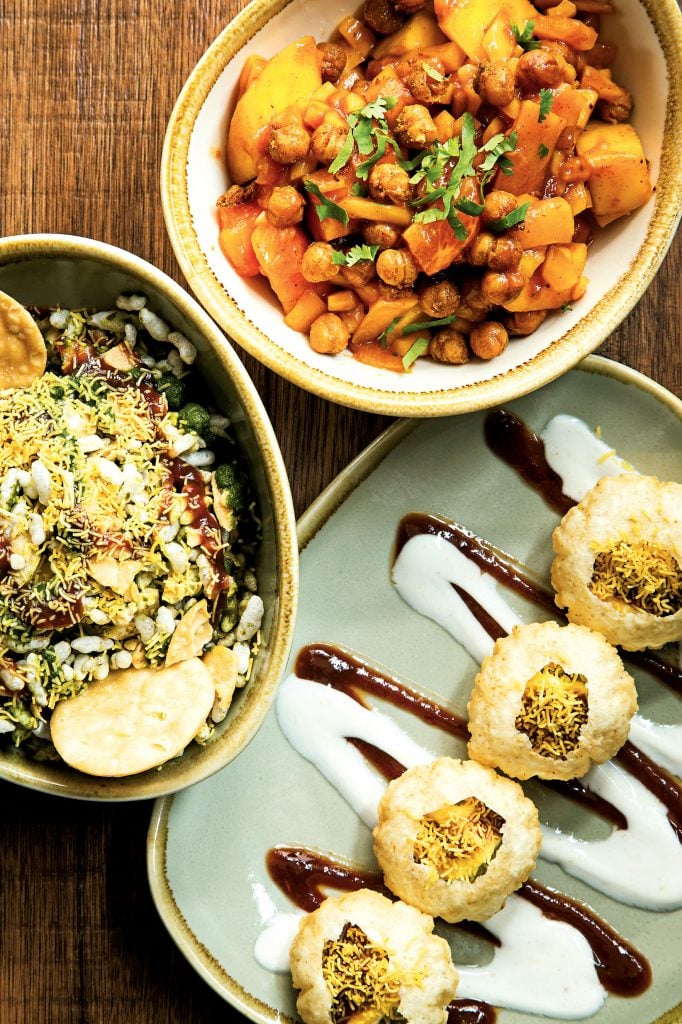 In India, the hollow crisps, also known as panipuri, are traditionally filled with spiced water. Here, the reason for the change in their interiors wasn't just a matter of creativity. It was also a reflection of Bindaas's genial, sharply tailored owner, Ashok Bajaj. The restaurateur—the man behind two branches of Rasika, the Oval Room, and five other places—couldn't stomach the thought of diners spilling anything on their clothes.
Bindaas marks Bajaj's most daring foray out of the world of white tablecloths and gleamingly polished wineglasses. What was formerly the wine bar called Bardeo has been outfitted with spice jars, TVs showing Bollywood flicks, and a menu of shareable dishes that swing from Mumbai down through Goa, Kerala, and elsewhere in India.
In Bajaj's world, you get all the joys of small plates—the gentler prices, the greater variety of flavors—without many of the headaches. Dishes come out at a civilized clip, so a busser isn't awkwardly standing there wondering how to cram just one more plate onto your jigsaw puzzle of a dinner table. One night, I heard a neighboring diner recite a comically long list of dietary restrictions—"curry heat is okay, but jalapeño heat is not," and so on—to a server who displayed the calm understanding of a $300-an-hour therapist.
"I feel like this could become the next Bad Saint," my husband said one Tuesday evening, eyeing the packed tables and bar while we grazed on wonderfully lacy folds of uttapam, a fermented-rice-and-lentil pancake studded with sweet corn and blitzed with cilantro. Except for one important distinction from the no-reservations Filipino hot spot: Bajaj would never allow his customers to stand in line for two hours. (Tables may be reserved through Resy.)
Still, there can be hazards when scrappy, often messy fare like street food gets distilled and upscaled. Flavors can turn punchless, presentations can seem a little too artful. What should be a slosh of sauce might be reduced to a careful dab.
So far, that hasn't been the case here, thanks to Vikram Sunderam, who has also led the kitchen at Rasika since it opened just over a decade ago. Turns out he's as deft with wraps and salads and the snacks called chaats as he is with the elegant, long-simmered curries that earned him and Rasika a James Beard Award two years ago.
A pizza oven now turns out stuffed naan—a version with bacon, cheddar, and chili flakes delivers the salty, slightly greasy satisfaction of a great breakfast sandwich—and thin disks of roti forkathi rolls, the only vehicle on this menu for Sunderam's excellent chicken tikka masala. It's also the source of a Parker House–like roll known as a pao, which can be stuffed with a vindaloo of diced pork—despite its underpinnings of malt vinegar and tamarind and chilies, it didn't sing quite loud enough—or with masala-spiced potatoes.
The shortlist of chaats is where I'd suggest spending most of your time. Some, like pakoras, might sound familiar. Here, though, the fritters typically made from jalapeños are reimagined with smaller, often milder (though occasionally hot) shishito peppers. They're perked up by a tempered rice stuffing that pings with the scent of mustard seeds and curry leaves and by a pickled-onion chutney that gets its deep fuchsia tint from beets. Blue crab makes a showing in a mild, soothing simmer of coconut milk with string hoppers, steamed rice noodles that Sunderam makes in-house. The disks of peppery chopped potatoes called ragda pattice—also a hit at Rasika—are sprinkled with slightly sulfurous black salt and laid atop a stew of yellow peas. Like many dishes here, they benefit from spoonfuls of tamarind-date and mint-cilantro chutneys. You might overlook the Bindaas salad, a mix of tropical fruits typically served from street carts with chili and salt, but it acts as a terrific palate cleanser between all the various dishes.
What's most impressive about this menu is how free of potholes it is. Unlike at Rasika, that's true even when dessert rolls around. Go for a samosa oozing dark chocolate, or a jiggly crème caramel scented with cardamom. Then you'll likely fight your way through a small crowd at the door waiting to get their taste of golgappas, but who will come to discover so much more.
This article appears in our October 2016 issue of Washingtonian.
---