What to Do
Maryland's largest brewery lies about ten minutes south of downtown. After a free guided tour, head to the tasting room for samples (four-ounce pours $2 each). Definitely try the award-winning pale ale or the Bloodline ale, brewed with blood oranges. Also check out Flying Dog's distinctive labels, illustrated by Ralph Steadman, known for his collaborations with journalist Hunter S. Thompson, who was a neighbor and friend of the brewery's founder. Reservations recommended. 4607 Wedgewood Blvd.; 301-694-7899.
Pedaling along Frederick's historic streets is a great way to see the town. You can rent high-end, steel-frame bicycles (or buy them) from Gravel & Grind, or join owners James Johnson and Tracy Hathaway on one of their free, 10-to-13-mile group rides through town or on longer trips farther afield every Sunday afternoon at 4:30. After your trek, head back to the shop for the "grind"—a cup of locally roasted joe. 124 S. Carroll St.; 301- 682-2651.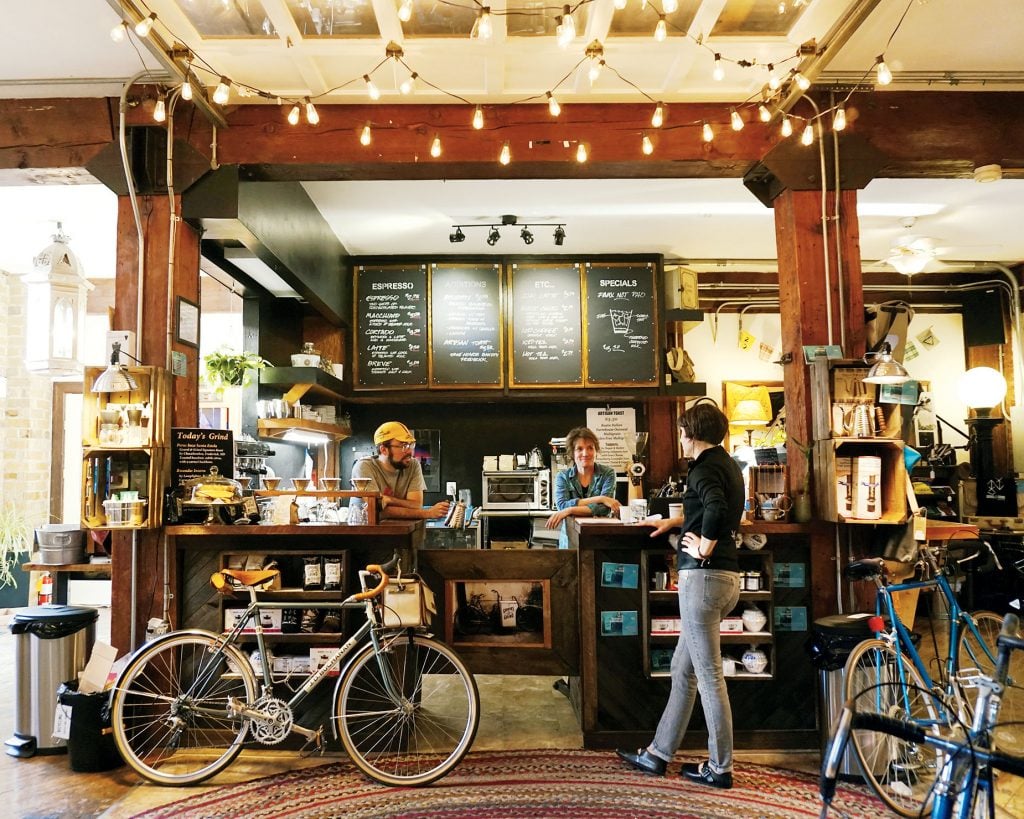 If it weren't for the Battle of Monocacy, Washington might not have survived the Civil War intact. Although the Confederates officially "won" the conflict, the under-manned Union Army held them off long enough for reinforcements to arrive at the capital. The visitor center and museum is a three-mile drive from downtown and is where you'll want to get the background on the battle before setting off on a driving tour of significant sites. 5201 Urbana Pike; 301-662-3515.
National Museum of Civil War Medicine
This museum isn't as gruesome as it sounds. Oh, sure, you'll learn all about battlefield amputations—performed with surgical instruments that look as if they could have been purchased at an antebellum Home Depot—but equally fascinating displays cover the camp life of Civil War soldiers, Red Cross founder Clara Barton, and battlefield medicinals still in use. 48 E. Patrick St.; 301-695-1864.
Where to Shop
You won't find typical antiques-store bric-a-brac here. What you will discover is very cool vintage goods from around the globe, such as old lunch pails from France, armoires from China, watering cans from Germany, and sturdy industrial carts and tables from defunct American factories—great for repurposing as coffee tables or kitchen islands. 10 N. Carroll St.; 301-631-0004. Larger items and furnishings are at the warehouse, a short drive away: 257 E. Sixth St.; 301-631-5340.
This tiny shop is a mecca for pasta lovers, with more than 60 fresh and dried varieties lined up in colorful rows. There are tried-and-true garlic and herb noodles, but it's more fun to explore the exotic flavors, such as Tunisian-harissa fettuccine, chipotle/black-bean tagliatelle, and even a few "dessert" pastas like chocolate-raspberry gemelli. 121 N. Market St.; 301-682-2706.
Sort of a Spencer's Gifts for adults, Retro Metro's novelty knickknacks make for an entertaining browse. Tin superhero signs and mustache magnets sit next to socks with four-letter words and bawdy birthday cards you probably wouldn't want to send your boss. 213 N. Market St.; 301-698-8100.
You could easily outfit both your home and your clothes closet at Silk & Bur-lap. A sophisticated mix of women's fashions from area designers—such as DC's Kim Schalk—and graphic tees from the Dutch design house Zoe Karssen hang on racks, while goat-fur pillows, framed mirrors, and candles with soothing scents are neatly displayed everywhere else. We particularly like the funky chandeliers, made from wooden beads, met-al, and/or crystal, dangling throughout the store. 28 E. Patrick St.; 301-360-9648.
This isn't so much a candy store as it is a museum that sells its Confectionary displays. True Treats traces the history of old-school sweets—and we mean old, old school, like hickory bark, enjoyed by the Iroquois—to 19th-century Buttermints and retro faves such as Goo Goo Clusters, Mary Janes, and Squirrel Nut Zippers. 237 N. Market St.; 240-608-9106.
Where to Eat
Pick your spot: the cool blue-and-white dining room with its pillowy booths or the buzzing bar with its excellent happy-hour specials. Both are fine locations to enjoy chef Rick Ade's sublime Greek, Turkish, and Lebanese small plates. Try the dried-beef pastirma, topped with pistachios, apricots, and feta, or the saganaki—kasseri cheese flamed with brandy tableside and extinguished with a spritz of lemon. 6 N. East St.; 240-651-5155.
Every town needs a go-to barbecue joint, and Black Hog's pulled pork and St. Louis ribs check all the right boxes. But even your buddy Bubba will rave about the Arkansas brisket—charred, chopped, and doused in a sweet crimson sauce. Everything gets served the way good, sloppy food should: on plastic trays covered in brown paper. 118 S. Market St.; 301-662-9090.
This local favorite was serving farm-to-table fare with gluten-free and vegan options long before those became culinary buzzwords. Omnivores still get to enjoy sandwiches and salads spiked with chicken or fish, and all stir-fries are dressed in a choice of 11 sauces ranging from Polynesian to Creole to Japanese. 45 N. Market St.; 301-663-4912.
This "modern Latin bistro" is a newcomer, but it has scored a devoted following with its tasty tacos and made-to-order guacamoles and salsas served with house-made tortilla chips. For something different, try the traditional Peruvian causas—puréed potatoes layered with chicken salad, egg, scallion, and avocado. 129 N. Market St.; 301-694-3015.
Over the years, the Tasting Room has earned a reputation for its special-occasion dinners and see-and-be-seen bar crowd, but we also like it at lunchtime, with its selection of soups (try the lobster chowder, tinged with sherry), salads, and dishes such as shrimp 'n' grits and Thai-steamed mussels. And at $18 for three courses, the prix-fixe option is among the best lunch deals in town. 101 N. Market St.; 240-379-7772.
Seven years after Bryan Voltaggio vaulted onto the national cooking scene with his appearances on Top Chef and Top Chef Masters, his flagship restaurant continues to buzz along. These days, it's easier to score a table—Saturday-night reservations can be snagged a month out, we're told—but even if some of the celebrity shine has faded, the mansion setting remains a glamorous spot to taste the cuisine that put Frederick on the culinary map. 228 N. Market St.; 301-696-8658.
This article appears in the November 2016 issue of Washingtonian.