Global Economy
Washington might fancy itself an international city, but it can't beat Toronto for ethnic enclaves. In Canada's largest city, there's a Little Italy, a Greektown, a Little India, a Koreatown, and four distinct Chinatowns, to name just some of its neighborhoods.
The bustling intersection of Spadina Avenue and Dundas Street marks the heart of its largest Chinatown. Learn to distinguish a durian from a mangosteen at one of its teeming fruit stalls, then sample dumplings and other Chinese comfort food at Mother's Dumplings (421 Spadina Ave.; 416-217-2008).
Four miles east, Gerrard India Bazaar, a seven-block stretch of Gerrard Street East (between Coxwell and Greenwood), claims distinction as North America's biggest South Asian market. You'll find everything from silk saris to the latest Bollywood hits. The butter chicken at Lahore Tikka House (1365 Gerrard St. E.; 416-406-1668) draws raves.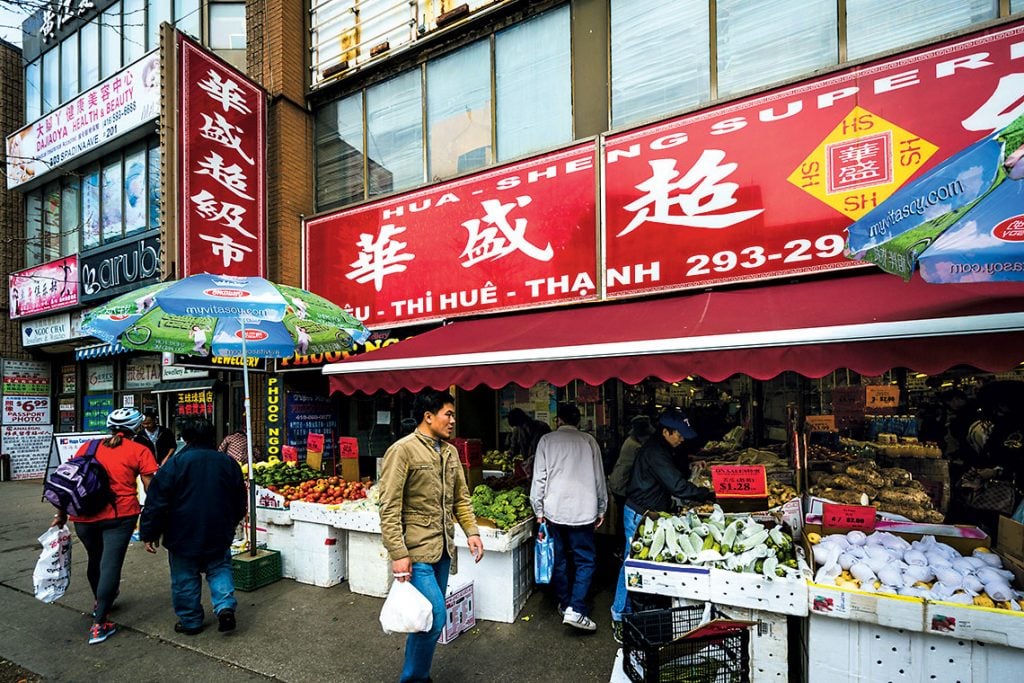 On the Waterfront
A stunning, decade-long transformation of Toronto's downtown waterfront continues. The main drag, Queens Quay, sports a radical new pedestrian-friendly streetscape. Harbourfront Centre (416-973-4000), a ten-acre swath of waterfront between York and Rees streets, hosts cultural festivals, dances, exhibits, live music, and more at multiple indoor and outdoor venues. Check out cutting-edge art at the Power Plant (231 Queens Quay W.; 416-973-4949) and watch artists in action at the Queen's Quay Terminal (207 Queens Quay; 416-203-3269). Or lace up a pair of skates and take a whirl around the Natrel Ice Rink (open mid-November to early March; 235 Queens Quay W.; 416-973-4000).
Make Tracks to South Core
While a repeat visitor will know by sight the CN Tower looming on the city's skyline, you won't recognize the rapidly changing area sprouting just west of it. South Core, which the Toronto Star dubbed the city's first 21st-century downtown, is a high-rise mixed-use neighborhood stretching from Union Station to Lake Ontario. Cut off by Toronto's vast rail yard, it was once literally on the wrong side of the tracks. Now a network of underground and elevated walkways creates easy access to this vibrant area.
It's home to the Rogers Centre—the enclosed stadium for the Toronto Blue Jays—as well as Ripley's Aquarium of Canada (288 Bremner Blvd.; 647-351-3474). All paths converge at Union Station (65 Front St. W.), which is undergoing an $800-million makeover. Like Washington's Union Station, it's an early-20th-century Beaux Arts beauty. Among South Core's anchors is the two-year-old Delta Toronto (75 Lower Simcoe St.; 416-849-1200). The sleek 567-room hotel boasts a Canadian whisky bar and an indoor pool with city views. Just east of the neighborhood is the Distillery Historic District, which hosts the German-style Toronto Christmas Market November 18 through December 22.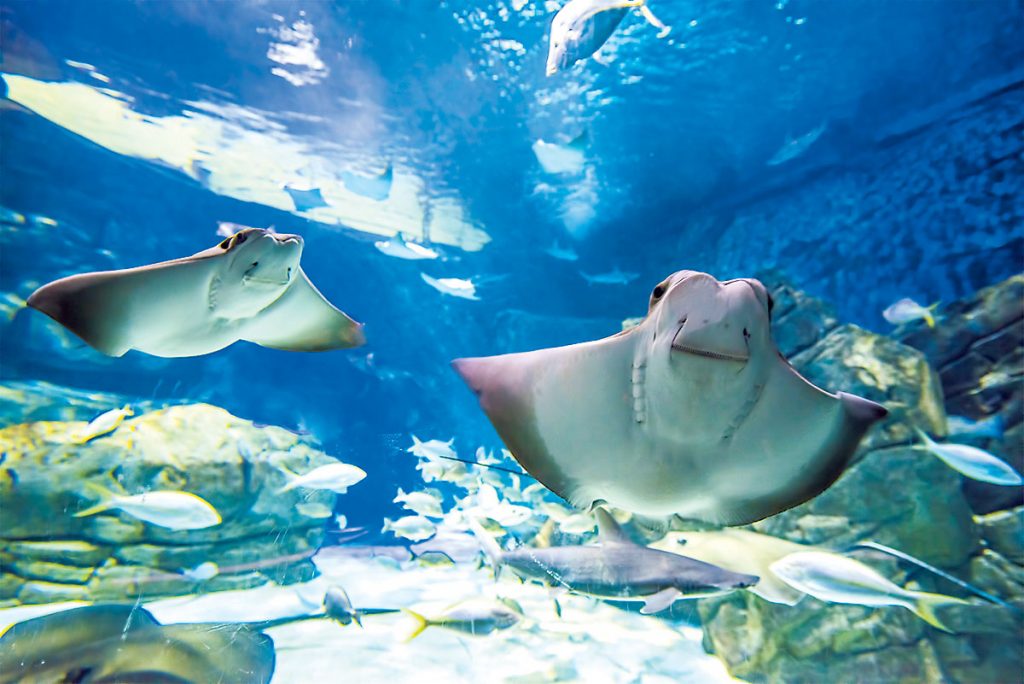 Market Value
The Kensington Market neighborhood (between Dundas St. W., College St., Spadina Ave., and Bathurst St.) is a colorful maze of narrow streets and alleys. Its one-of-a-kind shops and restaurants, and bo-ho ambience, are reminiscent of Takoma Park. Grab a taco al pastor at El Trompo (277 Augusta Ave.; 416-260-0097) or hoist a cold one at Thirsty and Miserable (197 Baldwin St.; 647-607-0134), which has a changing menu of craft beers.
For a traditional market experience, it gets no grander than St. Lawrence Market (92–95 Front St. E.). A hundred-plus purveyors of fresh produce, seafood, baked goods, and more pack the cavernous 213-year-old establishment. Residents do their grocery shopping here, but it's also a popular lunch spot. Stop by the Carousel Bakery(93 Front St. E., Unit 42; 416-363-4247) for a classic rendition of Toronto's signature peameal-bacon sandwich—thick slices of back bacon on a kaiser roll.
Go West
The hipsters moved on from solidly gentrified Queen West ages ago. The latest bastion of cool is West Queen West, so named because of its location on the western reaches of Queen Street West. Resembling DC's 14th Street, though not as newly developed, it's centered along a mile and a quarter of the street, be-tween Bathurst and Gladstone avenues. Here you'll find the boutique Drake Hotel (1150 Queen St. W.; 416-531-5042) with its vintage lobby photo booth and changing art installations. Take in a performance at its Underground nightclub or sip a Nutella latte at the rooftop SkyYard.
The neighborhood is the site of numerous galleries. Don't miss Graffiti Alley (south of Queen St. W. between Spadina Ave. and Portland St.) for a kilometer-long riot of street art. For a tasty meal with a side of history, take a seat at Boralia (59 Ossington Ave.; 647-351-5100), whose menu is in-spired by aboriginal peoples and early settlers. Think pigeon pie and mussels smoked in pine needles.
Shoe-holics proclaim Gravitypope (1010 Queen St. W.; 647-748-5155) the best source in town for designer shoes. Speaking of footwear, the hugely entertaining Bata Shoe Museum (327 Bloor St. W.; 416-979-7799), 2½ miles east, is worth a visit. The Smithsonian may have Dorothy's ruby slippers, but Bata's 13,000-item collection showcases Elvis's blue patent-leather loafers, Elton John's silver platforms, and more.
Insider Picks
"The Art Gallery of Ontario—whose extension was designed by Toronto-born Frank Gehry—has a great collection of Canadian artists. For younger, edgier artists, explore the galleries in West Queen West."
—Monique Smith, Ontario's representative at the Canadian Embassy in DC
"The Toronto Islands—like a mini Central Park—are among the city's best-kept secrets. My wife, three young boys, and I also enjoyed visits to the Hockey Hall of Fame."
—Mickael Damelincourt, managing director of the Trump International Hotel Washington, D.C., and former general manager of the Trump International in Toronto
"I come from a family of foodies, and when we get together in Toronto, it's all about what to eat. We'll go to old-school ethnic restaurants like Messini Authentic Gyros in Greektown or Campagnolo in Little Portugal. Some newer places are doing culinary mash-ups, like ceviche with kimchee at Mexican-Korean Barrio Coreano and Jamaican-Italian fare at Rasta Pasta."
—Tracy Mangano, 20-year resident of Reston who grew up in Toronto
This article appears in the November 2016 issue of Washingtonian.