Our Washingtonian Recommends lists bring you the best places to eat, drink, and be entertained—all selected by Washingtonian editors.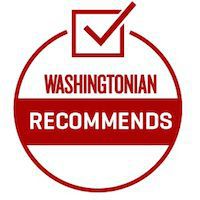 While the "power spot" is becoming a relic of the past, Washington is still very much a city of working lunches. Whether you're eating with a client, a colleague, or the boss herself, we've got you covered.
You're looking to impress without spending too much money: Sushi Taro
1503 17th St., NW
A meal at a Michelin-starred sushi restaurant may sound extravagant, but Sushi Taro has plenty of bargains at lunch. A bento box with miso soup, rice, pickles, tempura, sashimi, and a choice of sushi, fried chicken, grilled salmon, or another protein goes for less than $15. Also keep an eye out for the daily lunch specials like spicy tonkotsu ramen.
You're catching up with a colleague: DGS Delicatessen
1317 Connecticut Ave., NW
This Dupont deli is ideal for a more casual meeting with a colleague, whether you're game-planning a new project or gossiping about last year's holiday party. It's reasonably priced enough that no one will feel uncomfortable: Sandwiches, including pastrami and za'atar grilled chicken gryos, are all $15 or under, while plates, like a salmon salad or chicken schnitzel, are mostly under $20.
You're meeting with the boss: Woodward Table
1426 H St., NW
Maybe you're gunning for a raise or promotion, so you better not mess this up. Woodward Table has a professional vibe without being so expensive or formal as to make things stuffy and awkward. Salads are super fresh and seasonal, but the menu has something for all tastes—from steak frites to hay-smoked rare ahi tuna.
You have an expense account: Blue Duck Tavern
1201 24th St., NW
When someone else is footing the bill, you might as well go all in on the $30 entree, right? The Park Hyatt restaurant offers a local farm-centric menu and tables spaced far enough for private conversations. Don't miss the jumbo lump crab cakes.
The team from New York is in town: Casa Luca
1099 New York Ave., NW
So, you want to show your out-of-town cohorts a good time while covertly wiping the air of superiority off their smug faces. Take them to Casa Luca to give them something to be jealous about. The "presto menu" at the bar offers a non-alcoholic beverage and entree (like grilled branzino or fusilli carbonara) for $20, while "Maria's light menu" includes three low-sodium, low-calorie, high-deliciousness courses for $28.
You want to make it quick: Donburi
2438 18th St., NW
Want to be in and out in under half an hour? This Japanese rice bowl joint has got you covered. You pay at the start, then sit at the kitchen-facing counter to eat, so there's no waiting around for your server to bring your check when you're ready to leave. Even though the meal is relatively fast, there's still plenty to savor. Try the ebi katsudon (panko-coated shrimp) and unagidon (barbecued eel) in particular.