1052 Thomas Jefferson St., NW
The Georgetown bakeshop has an assortment of pumpkin-inspired desserts, including pumpkin amaretto poundcake, pumpkin donut muffins, and pumpkin gingerbread. Besides pumpkin, its extensive pie flavors also include apple-cranberry crumb, and pecan-Kahlua chocolate chip.
Details: Pick up at either Baked & Wired or its sister store A Baked Joint on November 22 at 4 pm, or November 23 at 10 am, noon, 2 pm, or 4 pm.
901 Pennsylvania Ave., SE; 1515 N. Courthouse Rd., Arlington
This Southern spot has traditional Thanksgiving pie flavors like pecan and apple, as well as more adventurous options such as bacon-and-cayenne, and bourbon chocolate chip.
Details: Pies start at $20; order $50 worth by November 17 to get 10% off and a free pint of cranberry preserves. Pick up by 1 pm on November 23.
1250 9th St., NW
The Shaw bakery has creative pie flavors like chai pumpkin and chocolate-bourbon pecan. Customers can also pick up a six-pack or 12-pack of "cinnascones," a delicious hybrid between cinnamon rolls and scones.
Details: Online ordering has already concluded, but customers can call the shop to pre-order.
901 Slaters Ln., Alexandria; 818 N. Quincy St., Arlington
The team of pastry professionals at Buzz Bakeshop is making pies galore, with flavors like bourbon-pecan and key lime. Other treats include orange-cranberry bunts and chocolate babka cake.
Details: Pick up orders in the Alexandria shop on November 21 through November 23. Both shops will also have a limited number of items for walk-ins.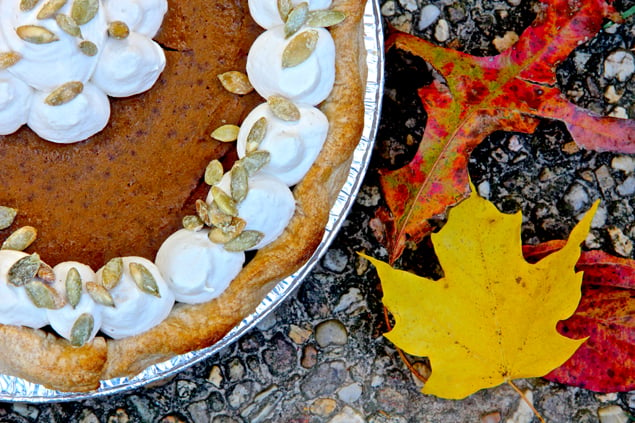 301 Water St., SE #109
Executive pastry chef Alex Levin's pop-up Thanksgiving menu includes Tortino chocolate cake, caramelized apple pie with vanilla crust and oat streusel topping, and pecan pie with dark chocolate crust and honey topping. In addition to cakes and pies, customers can also order artisanal gelato and house-made candies.
Details: Order by 9 pm on November 20; sign up for either pick-up or delivery.
1612 14th St., NW
This fixture on the 14th Street corridor is known year-round for its boozy pecan pie, which features bourbon-and-rum-infused custard. For Thanksgiving, the restaurant is selling its famous pecan pie along with pumpkin meringue pie, banana dulce de leche, and jalapeño cornbread muffins.
Details: Order by November 21; schedule a pick-up for November 22 or November 23.
963 Palmer Alley, NW
Chef/owner Meredith Tomason is creating a variety of seasonal cakes at her City Center shop, including pumpkin cake with cocoa bourbon buttercream, and dark chocolate cake with caramelized pears. For those who prefer low-maintenance baking at home, try ready-to-bake treats like cinnamon rolls and buttermilk biscuits.
Details: Order by 5 pm on November 18; pick up on November 22 or November 23.
2275 L St., NW
Chef Ris Lacoste is helping Washingtonians bring a taste of the high-end bistro into their homes with to-go sides and pies.
Details: Order by November 20; pick up on November 22 or November 23.
1370 Park Rd., NW
For vegan Thanksgiving hosts or guests, the vegan bakery Sticky Fingers has a variety of options. Pie flavors include apple, maple pecan, and pumpkin, while cake flavors include chocolate raspberry, red velvet, and peanut butter fudge.
Details: Order by November 20.
1525 Wisconsin Ave., NW
The Italian market is preparing desserts like mini apple cinnamon crostatas, mini pumpkin cheesecakes with salted caramel, and brûléed pumpkin pies.
Details: Order and put down a $40 deposit by November 17. Pick up on November 22 between 10 am and 2 pm or on November 23 between 3 pm and 7 pm.