What to Do
Tysons Corner Ice Rink
Show off your moves on the ice when DJ Civil plays Top 40 tunes Saturday night from 7 to 10. While most people just glide to the music, a handful take it to Dancing With the Stars levels. Earlier on Saturday, from 11 am to 1 pm, it's all about the kids, with Cartoon Skate, in which a costumed penguin and polar bear (among others) make the rounds on the rink. Regular daily skating continues though February. Tysons Corner Center; 703-356-1240.
The Plaza
This 1½-acre area linking Metro's Silver Line with Tysons Corner Center is an outdoor playground, and not just for kids. Besides the ice rink, there are fire pits, grassy expanses, cafes, a kid's play area, games such as chess and table tennis, and occasional live music.
Your Dog and Santa
You don't need to be a kid—or even a person—to pose in Santa's lap. On pet day, every Monday through December 12, the red man holds court with four-legged present-seekers at Tysons Galleria near Macy's. (His photo ops with kids run daily through Christmas Eve.) At Tysons Corner Center, kids' Santa photos happen daily through Christmas Eve between Nordstrom and Bloomingdale's.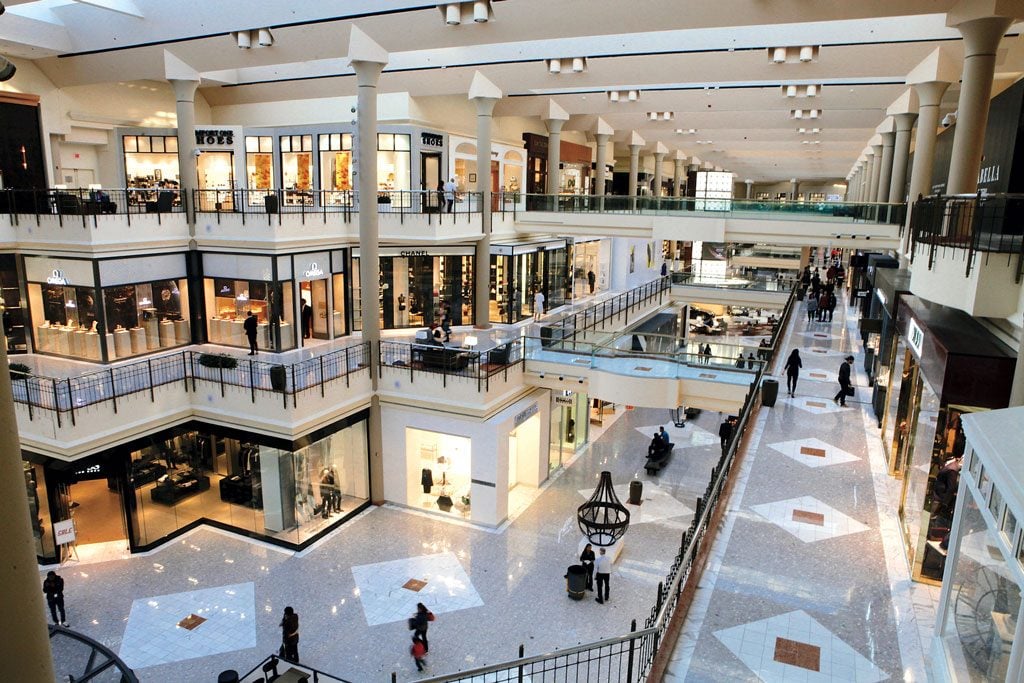 Strollercise
A stroller and yoga mat are all you need to join other moms (or dads) for a Stroller Stride or Stroller Barre class. Strength exercises and power walking are part of the hourlong classes, plus songs and activities to entertain little ones. Check the schedule and sign up for class at fallschurchvienna.fitformom.com (first class free). On the plaza between Zara and Victoria's Secret (in inclement weather, indoors in front of Barnes & Noble, level one), Tysons Corner Center.
Where to Shop
American Girl
Maybe Julie needs a new hairstyle or ear piercing. Book a spa session at this wonderland of all things American Doll. After pampering, dolls and their humans can shop for furnishings, clothes, and accessories or head to the cafe to nibble on mac-and-cheese bites and mini burgers or decorate cupcakes. Tysons Corner Center; 877-247-5223.
Bottega Veneta
Best known for its woven leather handbags, this low-key Italian firm also makes ready-to-wear, shoes, and accessories for men and women. Classics with a subversive twist—color-block blazers, leather sheaths, three-strap Mary Janes—share space with chunky silver and malachite jewelry as well as killer ties. Tysons Galleria; 703-442-3138.
Catamini
Colorful and playful, this French line uses the softest fabrics for its children's togs. Look for mismatched prints, stripes, and artsy animal themes, all in vivid hues. Sales help is deft at putting together outfits, and the out-of-the-box offerings for boys really shine in a market where vanilla rules. Tysons Corner Center; 703-288-3001.
Chelsea Collective
The mix of women's workout wear and sporty lifestyle duds is a fashion girl's dream at this athleisure spinoff of Dick's Sporting Goods, one of two in the country. Look for names such as Nike, Adidas, and Puma along with lesser-knowns including Lorna Jane, Onzie, and Spiritual Gangster. The treadmill for testing sneakers and scheduled running events are a bonus. Tysons Corner Center; 571-326-1285.
Ermenegildo Zegna
Other retailers sell bits and pieces of this luxe Italian line, but this shop has it all. Gorgeous shirts and ties. Elegant suits. Soft suede jackets and cashmere coats. Besides ready-to-wear, the shop has a made-to-measure program, which means personalized fit, fabrics, and buttons on sweaters, suits, and more. Tysons Galleria; 703-714-7332.
Jacadi
Tired of princess outfits? This Parisian brand is known for unapologetically stylish clothes for babies, toddlers, and children. Coats and woolens are especially eye-catching, as are dresses and rompers in grown-up colors (gray, navy, white, black). Tysons Galleria; 703-356-2844.
L.L. Bean
Should you buy a kayak online? No need: L.L. Bean has more than a dozen on the floor at its airplane hangar of a store. There are backpacks, fishing gear, zero-degree sleeping bags—and quirky items the brand is known for, such as mosquito head nets and T-rex pajamas. Tysons Corner Center; 888-552-9876.
Neiman Marcus
At the Tysons outpost of the luxe Dallas chain, which beats the Chevy Chase location in square-footage, the shoe and handbag departments are a who's who of high-end designers, including Tom Ford, Valentino, and Stella McCartney. Beyond the designer goods, there's a toy-filled children's clothing department, gorgeous bibelots for the home, glittering jewelry, top beauty products, and a modern beige-and-cream cafe that still serves its signature chicken salad with orange soufflé. A new perk: "Only at NM" designs done in partnership with big names in fashion. Tysons Galleria; 703-761-1600.
Nordstrom
The Topshop boutique is reason alone to make the trip. Although other area Nordstroms offer the British brand's super-stylish, super-cheap clothes, Tysons has the deepest selection. Also worth checking out: the three huge women's shoe departments and the designer-handbag department (hello, Balenciaga). Recharge at the Nordstrom Cafe with one of our favorite salads—shrimp with arugula, Parmesan crisps, and polenta croutons. Tysons Corner Center; 703-761-1121.
Saint Laurent
Get your rock star on with the French design house's mash-up of ingénue and glam. Clothes are displayed as art on free-floating clothing racks in an industrial space pulsing with a house beat. Check out a black blazer with rhinestone collar that would send Kate Moss into rhapsodies, glittery minidresses, pointy platform pumps, and tasseled mini suede bags. Tysons Galleria; 703-760-0701.
Sophie Blake
Cubist and Art Deco influences give this Washington designer's distinctive jewelry a sculptural feel. Like Blake's flagship store in the Mosaic district, this Tysons pop-up has a smattering of minimalist clothing by Erika Schreiber, plus leather bags from Cuero and Mor and under-the-radar beauty items. The sleek, 900-square-foot space is open through January 8. Tysons Galleria; 646-580-7269.
Uniqlo
Cashmere sweaters for $79.90. Jeans for $39.90. This Tokyo import with bargain-basement prices and an eye for trends has been a secret of fashionistas on a budget for years. Look for a vast array of updated classics for men, women, and children along with the much-anticipated Uniqlo U Collection by Christophe Lemaire, formerly of Hermès. Tysons Corner Center; 703-270-6384.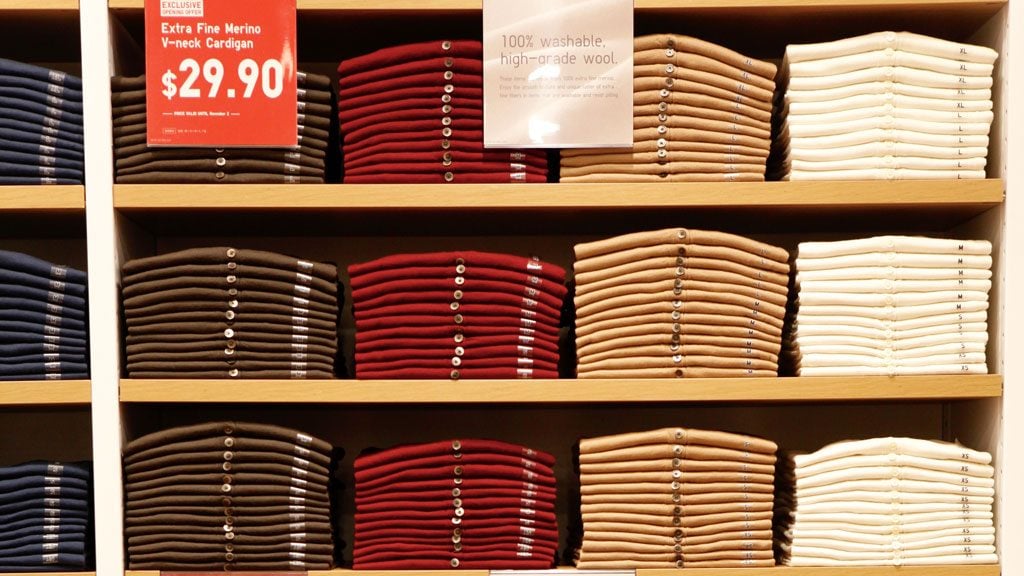 Vilebrequin
Whimsical swim trunks for men and boys are the calling card of this upscale French beach line, which features splashy florals and animal prints in vivid colors. There are also chic beach towels as well as men's polos and sportswear. For "Oldchella" denizens: Swim shorts emblazoned with Rolling Stones album covers are the thing. Tysons Galleria; 703-848-8180.
Where to Eat
America Eats Tavern
After a bumpy start two years ago, this ode to Americana by Spanish chef José Andrés has hit its stride. In the airy farmhouse-style space, look for tweaked classics such as lobster roll with mayo espuma, suckling-pig jambalaya, and a strawberry-shortcake ice-cream bar à la Good Humor. Fixings are seasonal (watermelon salad), historic (Martha Washington's triple-chocolate cake), local (Virginia oysters and wines), and—from the clever cocktails to creative finishes—very much an Andrés experience. Ritz-Carlton, 1700 Tysons Blvd., McLean; 703-744-3999.
Barrel & Bushel
The barrels house 30-plus kinds of bourbon, and there are local brews as well at this beer hall gone California-earthy, with its accents of stone and wood. Don't miss the fried chicken with French toast, the lump-filled blue-crab roll, and mac and cheese with Spam (yes, Spam)—which tastes like crumbly bits of bacon. Tysons Corner Center; 703-848-6340.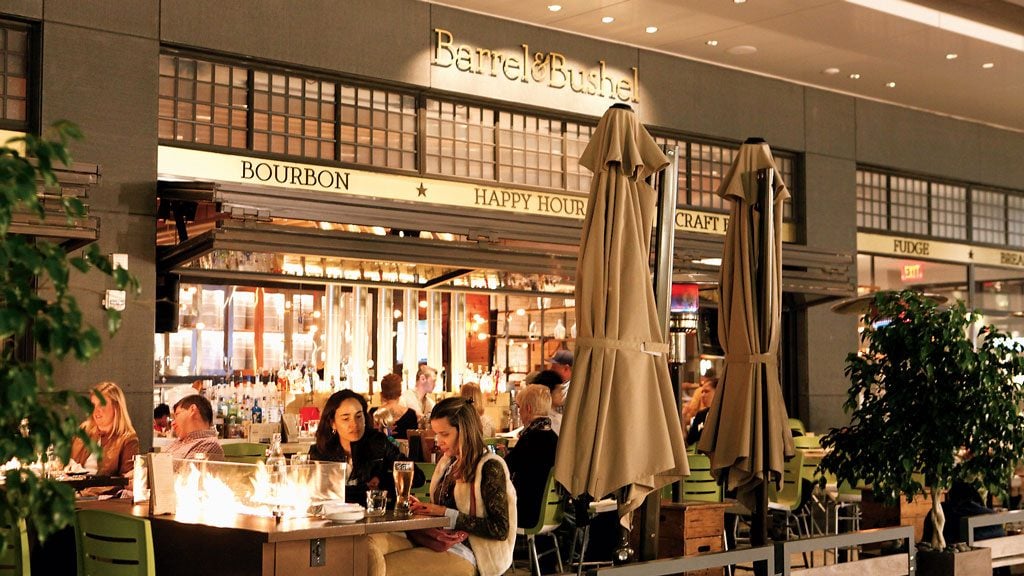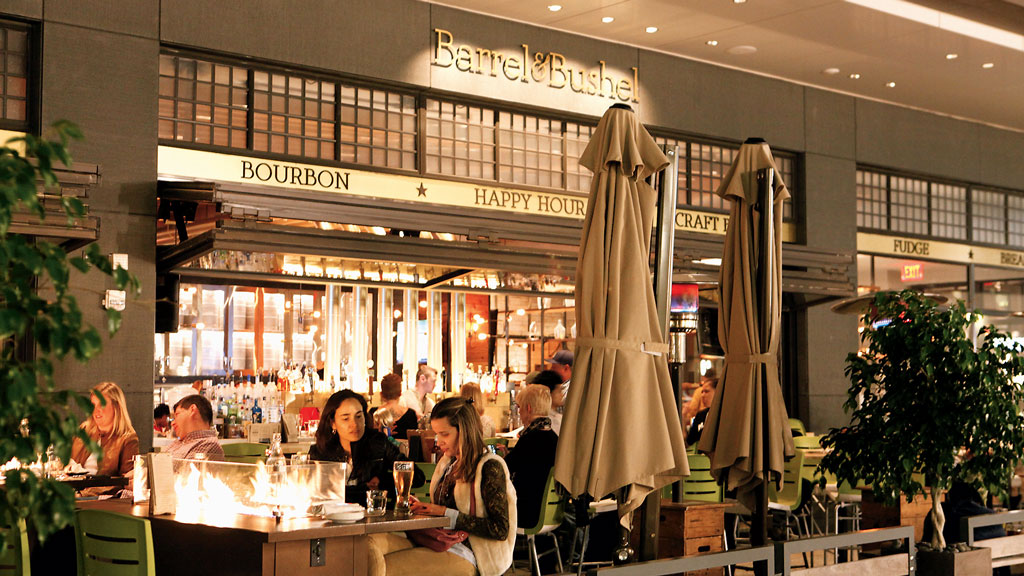 Cava Grill
Greek cooking goes fast-casual at this local chainlet offering mix-and-match pitas, lentils, grains, or greens with dips and spreads (we love the piquant "crazy feta" and eggplant/red pepper) and a protein topper such as falafel or harissa-lamb meatballs. Gild it all with tidbits like cauliflower quinoa or Sriracha Greek yogurt. Tysons Corner Center; 703-288-0005.
Coastal Flats
It's always summer at this beach-housey restaurant. Deviled eggs with sugar-cured bacon, buns piled with lobster or shrimp, crabcakes, and mustardy beef ribs with slaw make us long for July. Reservations are limited during peak hours, but the call-ahead policy gets you on the waiting list. Tysons Corner Center; 703-356-1440.
Entyse at the Ritz-Carlton
Clubby chairs and a roaring fire give this lounge a Downton Abbey feel at tea time. With morsels such as finger sandwiches, scones, and pastries, and live piano, it's a place to get lost for an afternoon. 1700 Tysons Blvd., McLean; 703-506-4300.
Mike Isabella
Come summer, there will be nine Mike Isabella dining options at Tysons Galleria. Among them: an outpost of the Top Chef competitor's flagship Graffiato along with Requin Raw Bar, Kapnos Marketa, a coffee lounge, and a classic ice-cream parlor. The 41,000-square-foot space with its soaring ceiling will include individual restaurants as well as open seating serving several eateries. Tysons Corner Galleria, third floor.
Nostos
Greek classics with a modern twist: At this serene, spare white-walled eatery in an office park near the malls, make a meal of mezze—taramasalata,grilled octopus with fava purée, fried feta with sesame and honey. Or go for a big fish, like whole grilled branzino drizzled with olive oil and lemon. 8100 Boone Blvd., Vienna; 703-760-0690.
Shake Shack
Juicy burgers, thick shakes, and crinkle-cut fries have made this fast-casual chain popular—not to mention the flat-top dogs, crispy chicken sandwiches, and frozen custard. Picnic tables on the plaza position you for some post-meal table tennis or a warm-up by the fire pits. Tysons Corner Center; 571-620-0383.
Shamshiry
Plates stacked with basmati and kebabs are the reason to seek out this Persian eatery in a generic office park. Spiced ground-beef chelo and Cornish-hen chunks are the best of skewered offerings; silky eggplant dip and pickled vegetables add pungent notes. For dessert, take cues from the many Persian families and split the paludeh, a pile-up of shaved ice, noodles, and fruit syrup reminiscent of ice cream. No alcohol. 8607 Westwood Center Dr., Vienna; 703-448-8883.
Silver Diner
This gleaming diner with a social conscience dishes up local, organic, and non-GMO fare across from Tysons Corner Center. Trendy plates such as wasabi salmon sliders (the fish is sustainable) and wood-roasted-vegetable salad share space with homey chicken pot pie and meatloaf, though even these get the Silver treatment: The chicken is organic and the meatloaf made with Angus beef. 8101 Fletcher St., McLean; 703-821-5666.
This article appears in the December 2016 issue of Washingtonian.