We know, we know: You don't think you could squeeze one more thing onto your holiday calendar. But the following happenings are worth a look. They'll put you in a festive spirit and remind you what's special about the season—and Washington.
There are many more events around the region than these. After all, it can also be fun to see the National Christmas Tree, visit ZooLights, and marvel at the ice sculptures at Gaylord National Resort's "Ice!" extravaganza. But here are a dozen activities you may not have done.
1. Holiday in the Park at Six Flags
November 19 through January 2
Why not shake up your holidays—on a roller coaster? For the first time, Six Flags America amusement park is opening for the holiday season and offering light displays, a Santa's workshop, an elf stunt show, carolers, and other live entertainment. Rides, too—more than two dozen, from antique cars to coasters such as the Mind Eraser and Apocalypse. 13710 Central Ave., Upper Marlboro; 301-249-1500. Adults $65.99, children under four feet tall $51.99.
2. US Botanic Garden
November 24 through January 2
The Statue of Liberty may not say Christmas, but have you seen one built out of dried plants? This year's theme at the Botanic Garden is "Season's Greenings: National Parks and Historic Places," celebrating the 100th anniversary of the National Park Service and the 50th anniversary of the National Historic Preservation Act. Model trains chug around recreations of national parks as well as sites such as Mount Vernon. Most Tuesdays and Thursdays in December, the conservatory is open till 8 (versus the usual 5 pm) and features live music. 100 Maryland Ave., SW; 202-225-8333. Free.
3. Mount Vernon Candlelight Tour
November 25 and 26, December 2, 3, 10, 11, and 18
Just as the Lincoln and Jefferson memorials look more special at night, so does George Washington's estate. The candlelight tours feature costumed interpreters and characters—such as Martha—talking about how the first First Family celebrated the holidays. There's caroling around a fire, 18th-century dancing, and a chance to visit with Aladdin the Christmas camel. 3200 Mount Vernon Memorial Hwy., Mount Vernon; 703-780-2000. Adults $24, ages 2 to 11 $16, under 2 free.
4. Festival of Lights
December 1 through January 1
The Mormon Temple in Kensington—officially, the Washington DC Church of Jesus Christ of Latter-day Saints—already is aglow at night. Come the holidays, it's adorned with an additional 650,000 sparkling lights. There's also a life-size outdoor nativity scene and an indoor crèche exhibit showing Jesus's birth as depicted in Germany, India, Nigeria, Sweden, and other countries. Free concerts happen nightly, including bell ensembles, choirs, and orchestras. Concert tickets are handed out at the visitors center an hour before each performance on a first-come, first-served basis. 9900 Stoneybrook Dr., Kensington; 301-588-0650. Free.
December 3
Old Town Alexandria was settled by a lot of Scotsmen—and was named for the Scottish Alexander family—so it's fitting that its Christmas parade features bagpipes and drums, Highland dancers, and Scottie dogs along with classic cars, Santa Claus, and more. If you're there that evening, you can check out more than 50 festively decorated powerboats and sailboats that parade along the Alexandria waterfront. Throughout Old Town; 703-549-0111. Free.
December 3
Wolf Trap's free tradition dates to 1968. Befitting a tradition, you'll hear classic Christmas carols and Hanukkah songs such as "Silent Night," "O Come, All Ye Faithful," "Let It Snow," and "Dreidel." Rudolph, Frosty the Snowman, and Santa make appearances. No tickets are required, but participants are encouraged to bring an unwrapped Toys for Tots donation. 1551 Trap Rd., Vienna; 703-255-1900. Free.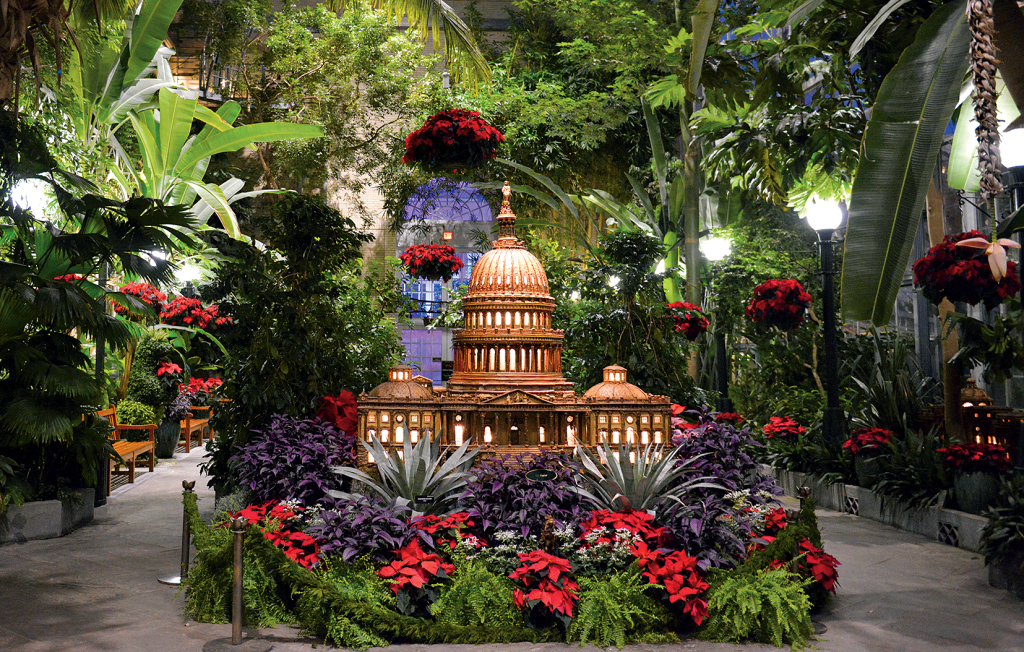 7. Home Sweet Home Gingerbread Workshops
December 3 and 4
Leave it to the experts at the National Building Museum to one-up that gingerbread kit you bought at the grocery store. While these workshops aren't cheap, at $75 a pop, the 12-by-17-inch A-frame everyone builds with is made of "construction grade" gingerbread dough (yeah, we didn't know that was a thing, either) that apparently won't warp. You'll learn how to create a masterpiece with royal icing, cookies, and other decorative elements. The cost is per house, and a group of four can comfortably work on one together. Reservations are required; space is limited. 401 F St., NW; 202-272-2448. $75.
December 9 through 11
This just might be the quirkiest stage production you'll ever see. For the past 30 years, Riverdale Baptist Church has presented a holiday musical in which the choir is perched in a 30-foot-tall, custom-constructed artificial tree. This year's show, "Four Tickets to Christmas," is set in 1905 on a farm in northern Ohio. A touring musical family finds no place to go for the holiday and is forced to deal with longstanding conflicts. 1177 Largo Rd., Upper Marlboro; 301-249-9111. Adults $12, seniors $10, children ages ten and under $10.
9. Santarchy
December 10
Head to the Mall on this day and you may see 100 or so Saint Nicks along with a smattering of snowmen, elves, Grinches, and other seasonal figures. You can rent or make your own Santa costume and take part in this invasion of sometimes rowdy good cheer, or simply walk along with the group and pose for selfies with your favorites. In past years, the "parade" has begun at the Mall side of the National Museum of Natural History (Tenth St. and Constitution Ave., NW) before the Santas headed to nearby bars. Free.
December 10 and 11
Russia's version of Santa Claus is Grandfather Frost. You can "meet" him, along with his granddaughter the Snow Maiden, at this annual event at Hillwood Estate, Museum & Gardens, which celebrates that country's holiday traditions. A hands-on art activity allows visitors of all ages to create their own kokoshnik (a lady's headdress) or a Russian gentleman's hat. You can also explore the estate of philanthropist Marjorie Merriweather Post and see her impressive collections of imperial art and Fabergé. 4155 Linnean Ave., NW; 202-686-5807. Adults $18, seniors $15, students $10, children ages 6 through 18 $5, under age 6 free.
December 17
The meaning of Christmas can get lost in all the shopping and eggnog. You can bring the kids (or yourself)—dressed as shepherds, angels, or animals—to this annual affair, which tells the story of Christ's birth. With its grand Neo-Gothic architecture, the cathedral alone is worth a visit this time of year. Those who want to participate in the pageant should arrive between 1 and 2 to prepare for the show, which runs from 2 to 3:30. Don't have a costume? You can borrow a shepherd's or angel's headpiece. 3101 Wisconsin Ave., NW; 202-537-6200. Free.
December 25
Few places are open on December 25, but the Kennedy Center is. In a tradition going back 18 years, it's again hosting free jazz performances at Millennium Stage from 6 to 7. In the elegant Grand Foyer, with its giant bronze bust of John F. Kennedy, the show is a great place to bring all those out-of-town family members once you've finished your Christmas dinner. 2700 F St., NW; 202-467-4600. Free.
This article appears in the December 2016 issue of Washingtonian.