Some may say ramen lives or dies on the noodles, but it's really the broth. Or as Daisuke Utagawa calls it, the soup—meaning the full armament of seasonings blended with a base stock. Noodles make anything seem soulful and satisfying, but if the soup isn't carefully calibrated, you won't crave another bowl.
Utagawa, who grew up in Japan and Washington, knows that. So do business partners Yama Jewayni and chef Katsuya Fukushima, who made a name for himself over several years at Café Atlántico and Minibar. At Daikaya, the trio redefined ramen in DC by introducing Sapporo style, characterized by a clear chintan stock that incorporates pork bones, chicken, and beef. To individualize different styles, miso or soy-sauce (shoyu) tare is mixed into the long-simmered broth, in addition to garlic, ginger, seaweed, or a pat of butter.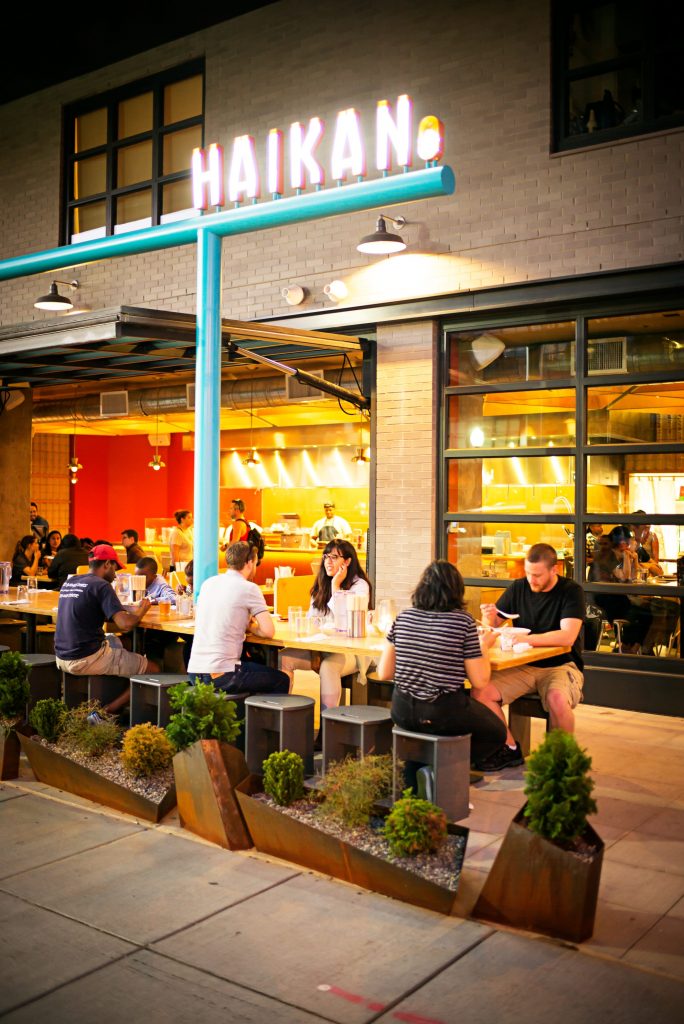 Now the partners are reinventing the experience of eating ramen in a neighborhood bursting with reinvention: Shaw. At Daikaya and its new Chinatown sibling, Bantam King, the whole show moves fast. Ramen hounds extoll speed, slurping noodles first, then broth, lest the strands lose their essential spring. You're supposed to eat and go: It's the business model. Haikan, the largest of the three ramen shops, extends a transactional experience thanks to a broad choice of seats: a bar where you can watch chefs at work; wooden booths; or, in pleasant weather, a long communal sidewalk table.
There's also a polish and ambition that only Daikaya Izakaya, the team's pub over the ramen shop, approaches. The minimalist design—stylish coffers, a wall of glass garage doors—is based on Metabolism, Japan's version of midcentury modern. There's a short cocktail list and a long sake and shochu list. Affable servers encourage several courses of kozara (small plates), though speak up if you want to save ramen for the main—otherwise everything will come in a blitzkrieg.
Haikan's small dishes can make for a meal as vibrant as the crowd. Like his mentor, José Andrés, Fukushima playfully riffs on classics. I was knocked out by a "caprese salad" in which strawberries made an unexpectedly brilliant match for heirloom tomatoes, burrata, and tomato-dashi gelée—little cubes that melted into a citrusy yuzu vinaigrette. "Pea-sar" salad was rich with umami from Parmesan and fried baby sardines (the chefs are big on umami) and used a creamy Caesar dressing to bind a fresh tangle of snow peas, pea shoots, edamame, and a runny egg. Mapo-tofu poutine is better than the usual poutine—though what isn't? (there, I said it)—with melty mozzarella curds and a Szechuan-pepper-spiked gravy.
Not everything hits—including the poutine's lukewarm fries. Cold dishes and those sparkling salads are safer choices than hot kozara. Cast-iron mussels are tough and tasteless; undercooked kabocha squash is too cold to absorb its brown-butter vinaigrette; crab rangoons are all crisp dough, with little cream-cheese filling and none of the promised Old Bay spice.
So, the broth. I've tried each at Daikaya—plus the chicken varieties at Bantam King. Salt is an essential flavor for all, one that particularly pleases in Haikan's shoyu, which is characterized by its soy seasoning; I found the best balance in the cloudy, slightly smoky depths of Haikan's miso with sesame seeds. (As Utagawa says, Daikaya is "bolder"—and, I found, heavy on salt, with its shoyu almost inedible.) The ramen I fell in love with is a complete outlier—Bantam King's chicken-based broth, with plump pieces of moist meat that sharply contrasted with the dry slices of roast pork at Haikan and Daikaya. But that's because I love chicken soup, and Bantam King's is a particularly persuasive version.
I also love a slick of animal fat atop the broth, most often associated with the porky tonkotsu style. Haikan's shoyu and miso soups boast their own meaty richness in the depth of seasoning. Once you choose the style of soup—the simplest is shio, meaning salt—you can personalize it with garnishes. Fibrous bamboo shoots came to be my favorite, along with briny, fresh seaweed and two kinds of chili "spice bomb": vegetarian and pork-laced—a solution to Sriracha, the very thought of which horrifies Utagawa. ("It's got no place on ramen. It's Thai, not Japanese!") Baseline toppings include toasted garlic, charred bean sprouts, morsels of pork, and a crisp sheet of nori. A robust vegetarian version arrives with a seasonal bounty.
A trio of pros has given Washington the gift of three ramen shops that put big helpings of excitement, energy, and expertise into their bowls. At Haikan, they've finally given the city the option to gather—and linger.
This article appears in the December 2016 issue of Washingtonian.
---