Some real-estate agents call them "pocket listings." Others refer to them as "private placements" or "private-exclusives." Regardless of the lingo, they're all talking about the same thing: homes that are for sale, but not publicly listed. If you search the MLS (Multiple Listing Service) or sites such as Redfin or Zillow, they will not show up. You have to know the right agent to find out about the properties, of which there are dozens.
You might assume they're all being sold by the super-rich, or even celebrities, who don't want the masses knowing their business and tromping through their homes. But private listings come in all budgets. They include condos, row-houses, and mansions.
In a market as competitive as Washington's, this is a big deal. Generally, a six-month supply of housing—meaning it would take six months to sell out the entire inventory—is considered normal. The DC-metro area has about a 2.5-month supply (not including private listings) which is why bidding wars and escalation clauses are so common here. But a house-hunter lucky enough to find out about a private listing can likely avoid the stress of competition.
"If a buyer can get their hands on one of these, they're going to pay less," says Kenneth Germer, an agent with Slate Properties. Which raises the question—why would a homeowner ever agree to sell their house this way?
This is where things get controversial. Many agents, Germer included, say they would never advise a seller to go this route. "The best way to get the highest price for your property is to have as many qualified buyers bidding on it as possible," he says. "The only way you can do that effectively is in a public listing."
Agents talk about peers who steer clients toward the private option for self-serving reasons—foremost among them to land twice the commission for their own brokerage by pushing pocket listings only to colleagues within their own agency. "I do believe some people do that," says Mandy Mills, of the Mandy & David Team at Compass. "It's like, you kind of know it happens, because you hear about it." A typical arrangement is for a seller's agent to split a six-percent commission fifty-fifty with the buyer's agent, so that each takes home three percent of the house's sales price. But Germer says he's encountered private listings where the seller's agent will only offer a two-percent commission to an agent outside their own company, thus discouraging competing agents from bringing buyers.
Another theory: As websites like Redfin and Realtor.com give buyers more confidence that they can house-hunt on their own, keeping some listings off those sites is a way for agents to stay relevant.
Still, brokers who sell houses off the public market say there are legitimate reasons to do so. James Thomley, an agent with Real Living at Home, says he would never advise a typical client to list privately, but the Capitol Hill rowhouse that he's currently selling off-market is an outlier. Its owners use it full-time as an Airbnb and don't want to interrupt their reservations to accommodate regular showings. Thomley suggested a private listing as an alternative to not listing the house at all.

Mills estimates that private sales account for five to 10 percent of her team's total annual business. She says she always presents seller-clients with all their options and lets them make the final decision about how they want to list their homes. She says clients with babies and young children often find private listings appealing because it means they'll have plenty of advance notice before a potential buyer wants to drop by. In other words, they won't have to keep their houses perfectly tidy at all times.
Another frequently cited reason: When an overpriced house sits on the market for a long time, it starts to look stale and unappealing to buyers. So, if a client wants to aim for a potentially unrealistic price, listing privately is a way to get feedback from other agents and test the market, without having the house languish publicly for months.
Theo Adamstein, with TTR Sotheby's International Realty, says this was the case with one of his recent private listings—a three-bedroom house in Chevy Chase, Md., which he initially planned to price at $895,000. Instead, he says he aimed high and listed it privately for $945,000. Within a few days, he landed a buyer, represented by Long & Foster, who paid $950,000. (Mills and Adamstein both say they widely distribute their pocket listings across brokerages, split the commissions equitably, and would never use them as a way to keep both sides of a deal in-house.)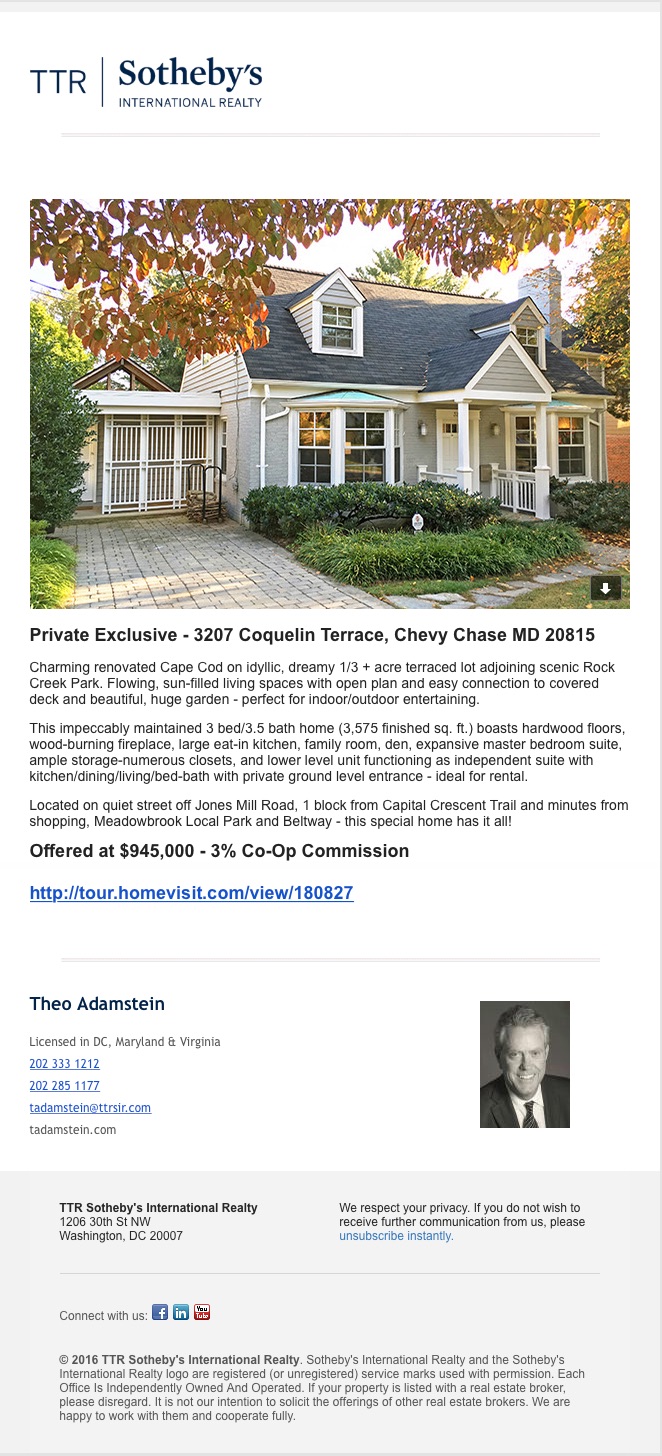 Adamstein, and dozens of other Washington agents, belong to a service called Top Agent Network. It's sort of like Redfin, but just for pocket listings, and only paying members can access it. You have to be a top-selling agent to join, and dues are $55 a month, or $475 a year. Within the last month, Adamstein says about 80 new private listings around Washington have been posted to the site. Countless others are never posted anywhere, so it's impossible to know precisely how many privately listed properties exist in the DC area.
The take-away? If you're a buyer, getting through the door of a private listing could be one of the most painless ways to buy a house in Washington. If you're a seller whose agent is pushing you toward an off-market listing, don't be afraid to push back and ask a lot of questions.