Editor's Note: The Shaw Bijou has changed its dining format since this review was published, cutting prices and courses by nearly half. A new seven-course menu is served for $95 per person, which includes a welcome cocktail (tax, tip, and additional drinks are extra). The dining experience is no longer ticketed and pre-paid via online platform Tock. Reservations are accepted by phone, Tuesday through Saturday.
It's impossible not to want the Shaw Bijou to succeed once you meet the people behind it, as I did over the course of three dinners. The team running the converted Shaw rowhouse is so earnest that you smile at the suavity they've willed themselves to have. They want you to be as enthusiastic as they are about the 13-plus courses during a three-hour meal.
They're young and diverse, both front and back of the house. Executive chef Kwame Onwuachi and head sommelier David Blackburn are Culinary Institute of America (CIA) grads in their mid-twenties; Gisell Paula, the winning pastry chef, is 25. Onwuachi and Blackburn are African-American; Paula is Latina.* Such demographics are rare in the upper echelons of the fine-dining world.
It's also impossible not to apply special scrutiny to a colossally expensive experience. When chefs charge $240 a head including tax and tip—but not including wine or cocktails—they demand comparison with similarly priced restaurants such as Minibar in DC and Eleven Madison Park in New York City, where Onwuachi was a line cook and general manager Greg Vakiner a server.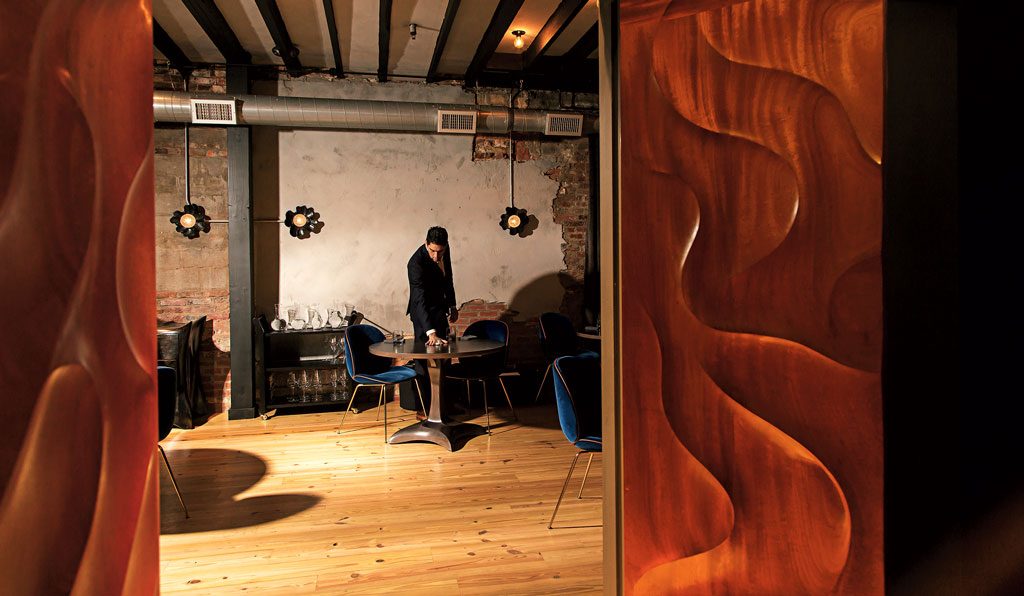 Where is the Shaw Bijou in the exalted company it elected to keep? It gets high marks for affability, imaginative cocktails, and terrific, carefully sourced wines courtesy of Blackburn (Riesling, he'll say, is his favorite food grape—hurrah—and the 2009 Pyramid Valley from New Zealand is focused and ethereal). When you book your ticketed reservation online—prepaid, as at the theater—the website offers a full wine pairing for $185 or a $95 "beverage pairing," meaning diners' choice of alcoholic and nonalcoholic drinks. It doesn't mention à la carte drinking, though that is an option, and far more economical; otherwise the tab can edge close to $500 a person.
The experience is billed as a kind of dinner party over multiple rooms in the rowhouse of co-owner and Immortal Beloved salon founder Kelly Gorsuch. Guests start in the upstairs bar, where chairs are comfily covered in black Icelandic sheep wool. Barmen Benjamin Long and Zac Hoffman fashion cocktails with that mixture of psych evaluation ("strong or citrusy?") and hand-muddled herbs and tinctures that are in the armament of modern mixologists. They do it well—a riff on a Manhattan with apple brandy, for instance, or a refreshing ginger fizz.
The bar is plush, intimate, and sexy in a way the 32-seat dining room downstairs is not. Even the small display kitchen, where you start with an introductory hors d'oeuvre, is sleeker than the bare-brick-and-plaster dining room. Heavy gray-green felt curtains and wooden sideboards haphazardly lined against a wall give it a man-cave look.
The meal is meant to be a culinary tour of the young chef's world travels in far-flung places like Chiang Mai and Hong Kong. Onwuachi also stops closer to home: a childhood spent in the Bronx with his mother, a caterer, plus two years living with his grandfather in Nigeria. I never heard references to his TV appearance on Top Chef—a role that drew enthusiasm from the restaurant's investors, who have seemingly given him carte blanche.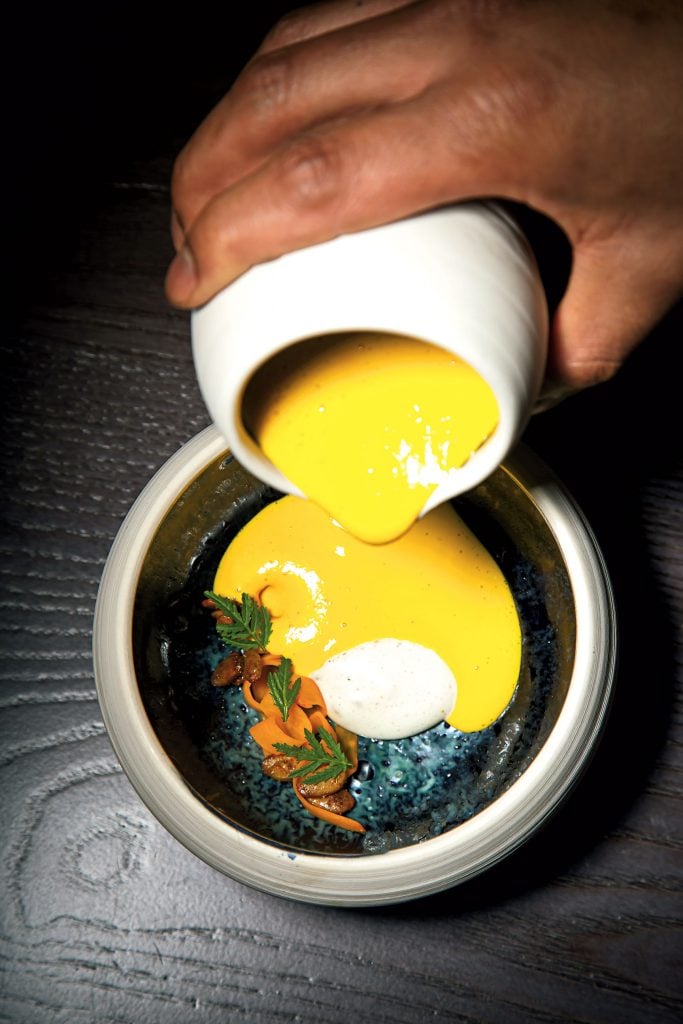 The stories don't add up to a narrative flow through the meal—particularly when the chef isn't even introduced at the start, physically or by name. (His first formal meeting with diners sometimes comes toward the end of the meal.) Instead, you get the uneasy sense that you've wandered into a cult when servers sincerely relate the story of the time Onwuachi discovered a dish of crabs prepared by a wise old Indian cook or practically brush back tears when describing the fisherman's pie Onwuachi's mother made for his birthday when money was tight and she couldn't afford a gift.
The theatrical progression between rooms gives a sense of surprise, and the attentive servers lend a cosseting touch. But the movement and lengthy explanations are best for people who don't have much to say to each other—a good first-date or long-married diversion. "Long story short," one server began another episode of the chef's life: a reminder that none of the tales are short, and the often already-tepid food just gets colder during the enthralled recitation.
As for whether the food merits this constant warmup: Not really. But then pretty much nothing would. Most tasting menus with a dozen-plus courses contain hits and misses and can have a cumulatively exhausting affect. Tics reveal themselves, such as Onwuachi's penchant for garlic purées, heavy butter sauces, and prettification with micro-herbs and edible flowers. By now, carefully placing such garnishes with tweezers is yesterday's trend—as, for that matter, are elongated tasting menus. Only a few courses stand a chance of making it into the next day's memory.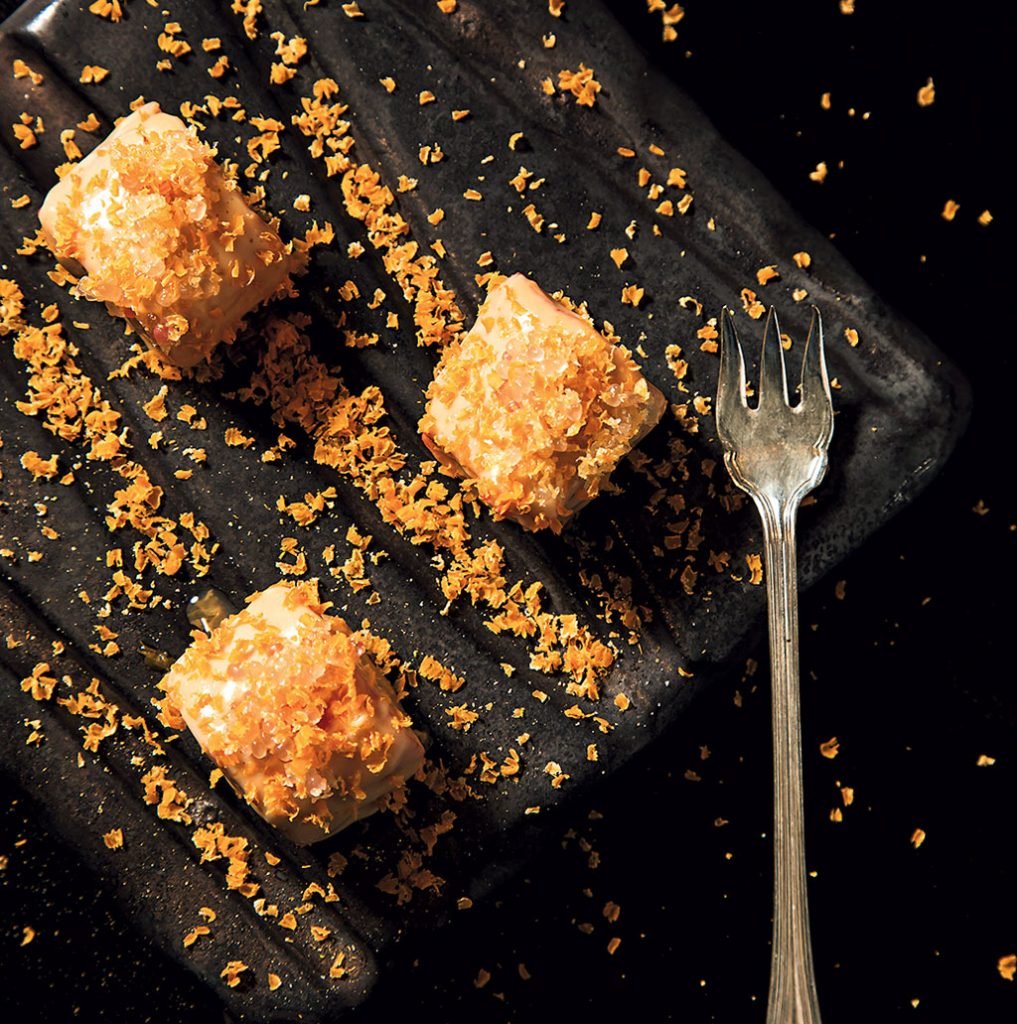 Certain dishes hit the chef's sweet spot of technique-driven classicism overlaid with exotic touches from his travels. Over three meals—one the regular tasting menu, one vegetarian, one pescatarian—the best item was Alaskan king crab. Luxurious nubs of meat are swathed in garlicky butter under a topping of house-cured bottarga made from uni along with finger-lime beads that crunch like Pop Rocks. Another winner is velvety squash velouté with spiced-and-roasted pepitas and pickled-squash ribbons—among the few dishes in which simplicity wins. The tableside soup actually arrives warm, as it seldom does in other restaurants.
Too many dishes, though, are tepid—such as the otherwise terrific rectangle of sliced Wagyu "steak and egg" in béchamel sauce. Temperature aside, it was just as tasty with gently smoked salmon as a pescatarian alternative. The seafood menu—offered as part of the restaurant's "highly customizable experience"—is far more successful than the vegetarian version. While salmon is a plausible stand-in for steak, the meatless menu contains too many ersatz attempts to recreate a nonvegetarian dish. Beet-cured cucumber instead of lush beet-cured hamachi tastes like a cheat. All alternative menus are arranged in a series of phone and e-mail consultations after booking online.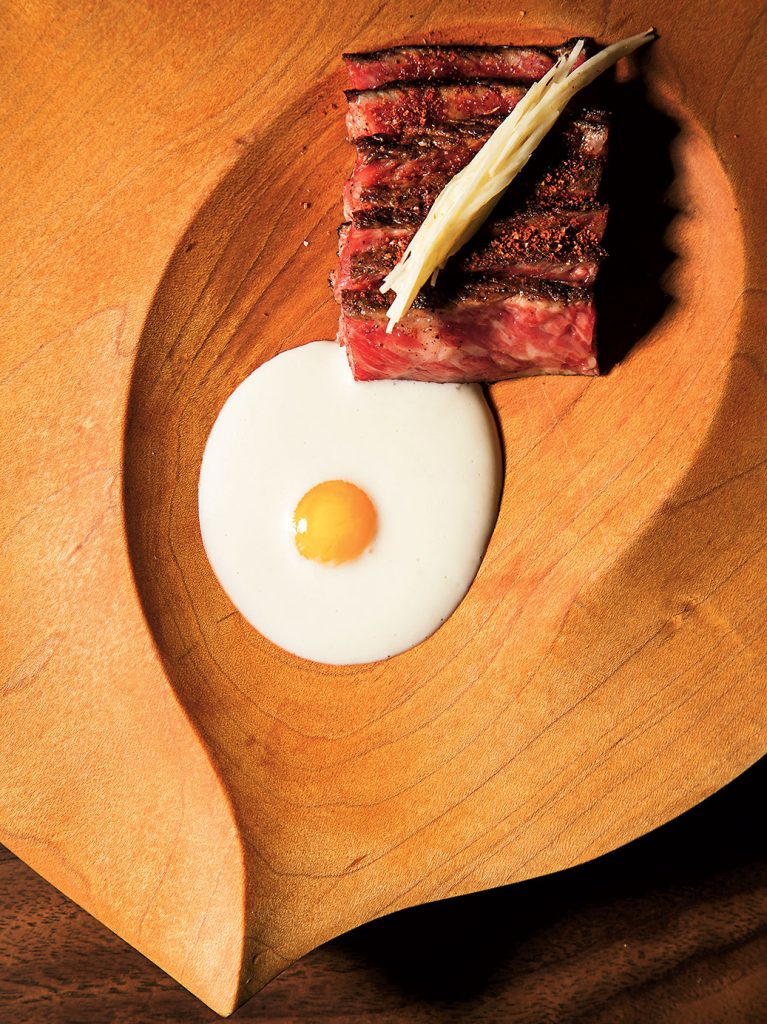 Other dishes misfire entirely. The greatest deflation is the final savory course. You're offered an option of two meats at the beginning: roast squab or lamb jowl. Seven courses later, you're ushered back into the kitchen in the presence of Onwuachi, who presents a gleaming copper pan with the squab or lamb's head nestled amid lustrous halves of charred citrus and onions. You're given a tiny empanada made from meat scraps and a cordial glass of defanged habanero juice—a marvelously potent but refreshing essence. (More cult-leader references: Two servers claimed that Onwuachi discovered how to remove all the spicy capsaicin from the habanero, leaving just the sweet-savory flavor. In fact, the "habanada" is a mild pepper developed at Cornell.) So you return to the dining room and gear up for a feast. Instead, you receive a couple of pallid, unidentifiable slices of brown meat: squab breast or fatty but choice strips of the jowl. The size is in keeping with the rest of the courses, the flavor okay, the slices barely tepid. It's a letdown.
The Shaw Bijou is undeniably a show. Pastry chef Gisell Paula makes a sweet finale presented in three courses, smiling as she bears a deconstructed floating island (meringue in a crème anglaise), or all-too-miniaturized house-made Butterfingers and Twixes. The warm host who sees you out will make it clear, as all her colleagues have, that they were very glad you came.
You might be, too—if you lower your expectations and hope for sparkle, not fireworks.
*Correction: An earlier version of this article stated that Kwame Onwuachi, David Blackburn, and Gisell Paula were all African-American. Gisell Paula identifies as Latina, not African-American.
This article originally appeared in the January 2017 issue of Washingtonian. 
---