When you move to Phoenix, you're a Southwesterner. When you move to Tuscaloosa, welcome to the Deep South. When you move to Washington, you're—well, what exactly? Glance at an Acela schedule and you'd think you're a Northeasterner. On the highway, though, it's quicker to drive to Cleveland than to Boston. And our basketball team plays in a Southeast division against teams from North Carolina and Georgia.
The truth is that Washington is part of a bigger region so amorphous that its name sounds as if it's floating in the middle of an ocean: the Mid-Atlantic.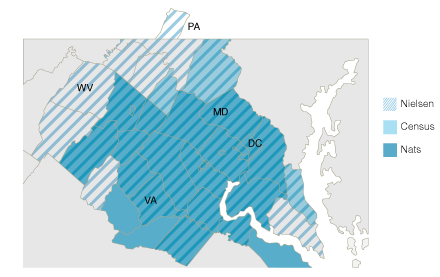 By its broadest definition—the one used by the National Audubon Society—the Mid-Atlantic stretches from the Saint Lawrence River in New York to the Martinsville Speedway in Virginia. The US Geological Survey draws the Mid-Atlantic's southern boundary even lower, near Morehead City, North Carolina. Meteorologically, there's not much help: The National Weather Service's Mid-Atlantic includes Cincinnati, Atlanta, and Dover, Delaware.
Even if we could settle on boundaries, a Mid-Atlantic identity is elusive. Are we Northern or Southern? What's our regional character? New England has flinty fishermen. The West has rootin' tootin' ranchers. We've got . . . insanely overqualified research analysts? A higher-than-average percentage of people who know how to pronounce pho correctly?
In this vagueness we can find a type of freedom unavailable to those from other areas. Just think how much we're saving on cowboy boots, for instance. Our capital city is Washington because we decided to make it so. To live your best life here, you need to disrespect borders as well: You might head to Columbia Heights for a world-class meal, drink beer brewed in Loudoun County, and sleep in Hyattsville. In other words, you get to define it yourself. It's the Mid-Atlantic way.