Tim alleges he has long observed leaky cooking oil drums and overflowing dumpsters attracting rats in the alley behind Corduroy and Baby Wale. As a resident of the Whitman condo building in Shaw, his apartment overlooks the back of the restaurants, and he regularly walks his dog through the area. Sometimes, he says, he sees broken bottles strewn about or food deliveries left outside for hours.
But it wasn't until a few weeks ago that Tim, who didn't want to reveal his last name for fear of reprisal from the restaurants' owner, finally had enough. According to his version of events, the restaurant had some kind of lobster special, then the staff hosed out the kitchen into the alleyway, leaving behind stinking pools of water.
So, on February 17, Tim emailed the health department outlining a long list of grievances. On Feb. 21, health inspectors showed up at both restaurants. It was the second time within about a month they had responded to complaints about the establishments. Both times, they found no major violations.
Shortly after, a banner appeared in the back of Corduroy, facing the condo building, with a message:
"YOU NEED A BOYFRIEND!"
"He needs something to do," says chef and owner Tom Power. "I don't know if he needs a boyfriend or a girlfriend, but I think if he had something to do in his apartment, he probably would spend less time looking in the alley."
Power says that complaints about the alley are way overblown. Yes, sometimes the dumpster can overflow when the restaurant gets busy, but he says he does his best to maintain it. The trash company has missed some pickups—he suspects because of nearby hotel construction—and he's now looking to switch companies. As for those fishy pools of water? Occasionally water does go out the back when they hose, "but I don't remember any lobster juice going in the alley or us killing lobsters in the alley." The building, he notes, is up to code.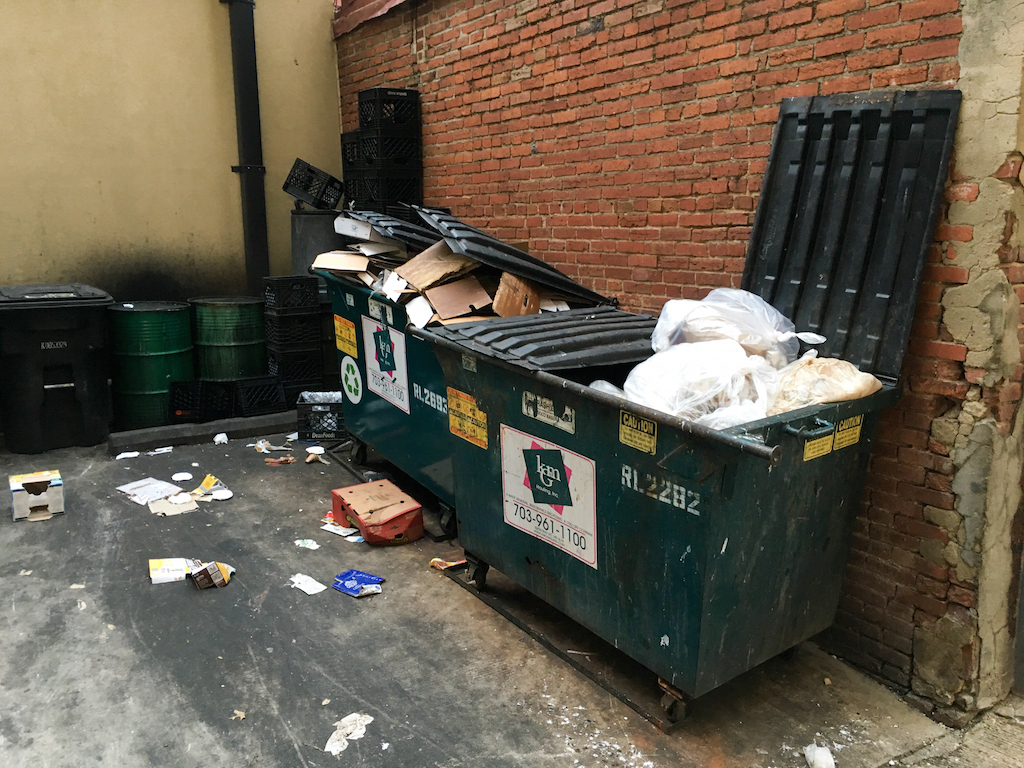 Power says his unsolicited dating advice is directed at a man who's "been harassing us for close to 11 years" and has repeatedly called the health department. That would appear not to be Tim, who's only lived in the building for four years and insists he's contacted the health department just once. Power doesn't know the name of man, but his physical description doesn't match Tim. "I hope they are not all against me now. I thought it was just one guy," he says.
Tim likewise isn't sure who Power is referring to, but he's appalled by the boyfriend sign.
"It's being a bully," Tim says. "I just think that's rude and inappropriate."
Adding further confusion to the situation, a single woman whose second floor apartment overlooks the back of the restaurant thought the sign was intended for her. Allegedly, restaurant workers cat-called her from the alley—something Power says he knows nothing about. But he does confirm that the woman came to the restaurant and told one of the cooks she was offended by the sign.
"I feel bad for her," Power says. But apparently not bad enough to take it down. "We told her that it's not directed at her."
Power believes the man he is targeting in all-caps has not only called the health department, but sent complaints to the Alcoholic Beverage Regulation Administration, too. Power says the guy told the liquor agency that his business was operating as a bar with a restaurant license, forcing a full audit.
In 2014, Power says the man in question "went ballistic screaming at myself and my employees" and called the fire department after a cooking oil drum leaked. "We didn't do it on purpose, we cleaned it," he says.
One time, Power says someone threw feces on the front door of Corduroy and smeared it on the back door of Baby Wale. Another time, someone threw an apple from the condo building and just missed his wife's head. He can't say for sure, but Power suspects his "enemy" was behind both attacks.
"I don't know if he's expecting a rose garden back there or what," Power says. "I'm not going to say it's perfect, but I don't know, if you're overlooking an alley, you're going to see some trash."
You're also going to keep seeing that sign. Despite protests from the Whitman's building manager, it isn't going anywhere. "If the guy's going to keep harassing me, I'm going to harass him back," Power says.
If anything, he hopes to update it.
"If I can get the guy's unit number, I will put his unit number on the sign," Power says. "I'll make it say, '301, you need a boyfriend.'"