Farmers & Distillers was never destined to be the kind of place food connoisseurs liked. Its 310 seats make it enormous. The menu reads like a pastiche of trends present (cacio e pepe) and just past (bone broth), all suffused with farm-to-table rhetoric. It's owned by a restaurant group whose flagship eatery in DC, Founding Farmers, received a zero-star review in the Washington Post last year—a takedown that, to the food-scene elite's further fury, had little discernible impact on its ability to draw a crowd. (The restaurant clocked nearly 950 reservations the next day.)
And of course, the concept of Farmers & Distillers is a little ridiculous. It was developed around one question: "What would George Washington do?" The answer—a $7-million, bucolic-chic venture that serves Szechuan noodles alongside caviar and kettle corn—gives purists reason to be skeptical. Especially if they're sitting in view of a portrait of the first President reimagined as a hot hipster with a man bun.
So when I invited a trio of gastronome friends to accompany me on a review outing, they had every reason to expect they'd witness a skewering. Our arrival wasn't promising. Though we had reservations, we were kept waiting in the clogged foyer for nearly 30 minutes. Likewise, the leather-bound tome of a menu seemed like an omen: a 132-dish ode to both George Washington ("the original Founding Farmer") and the multiethnic Mount Vernon Square/Chinatown neighborhood. The contents represented a mind-boggling mix of cuisines George fancied—French, Southern American—and those historically found near the restaurant: Chinese, German, steakhouse, and even Swiss. Surely no one can get all of this right?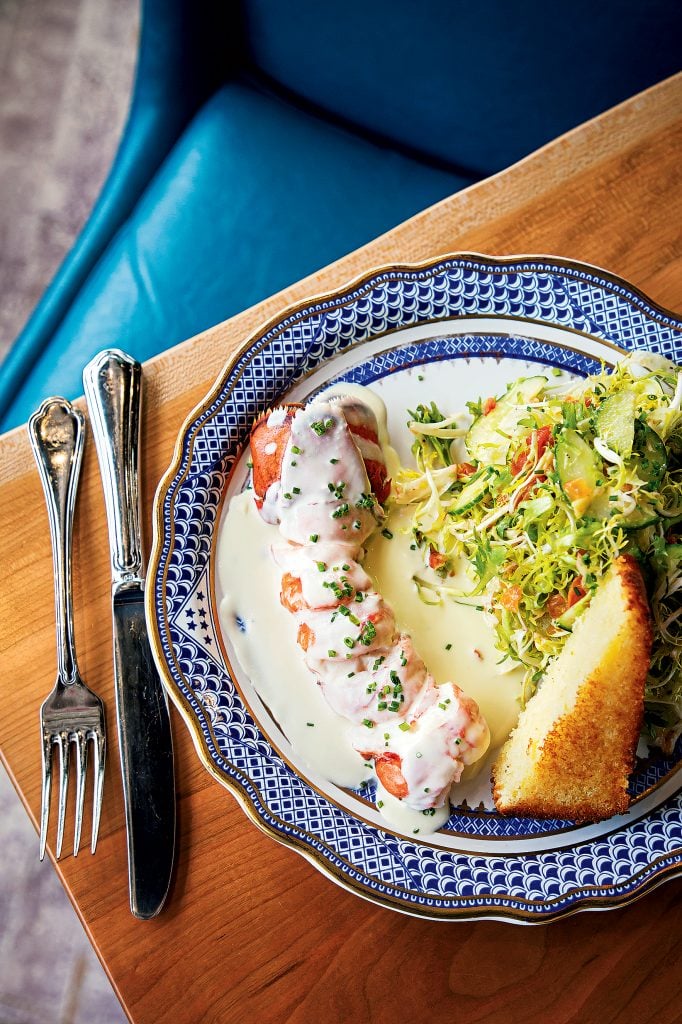 Yet halfway through dinner, one of my dining companions paused. "I was skeptical but . . . I'm enjoying this," she admitted almost guiltily.
Tucked into one of the deep booths in the boisterous dining room, we all agreed. The experience wasn't a fluke. For all the disdain from certain quarters, it's possible to have a great time—and a good meal—here.
Start with cocktails, a strong suit. Beverage director Jon Arroyo began teaming up with master distiller Rick Wasmund of Copper Fox Distillery in 2009 and has produced Farmers-brand spirits such as rye whiskey and gin from the Sperryville, Virginia, operation. Wasmund's influence also informed the restaurant's 405-square-foot on-site distillery, which currently produces an easy-drinking "never bitter" amaro (delicious in a Negroni sour) and a smooth vodka made from North Dakota wheat—part of several collaborations with the North Dakota Farmers Union, which co-owns the Farmers Restaurant Group.
Unlike the food menu, the list of 30-odd libations is focused, centered around classics and Arroyo's fine-tuned creations. Larger groups—a popular demographic here—should try one of the shared cocktails such as Cucumber Delight, a sprightly mix of vodka, ginger liqueur, and cucumber served in a bronze pineapple bowl with a melon ball and perfect crushed ice.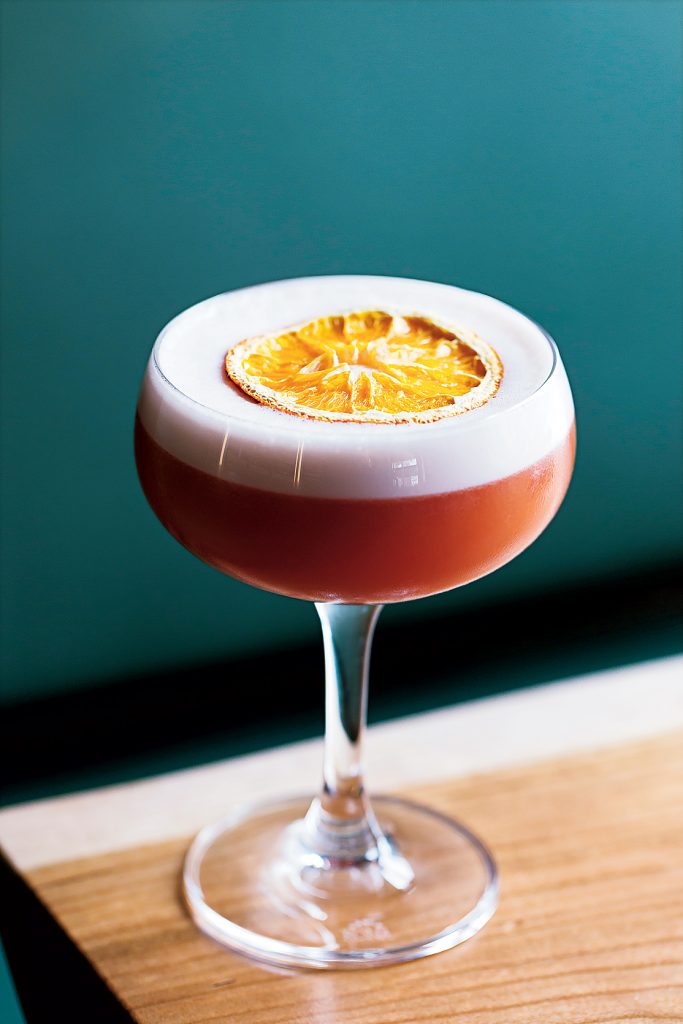 We easily polished off the drink over a slightly erratic array of appetizers. The good is very good: ruby hunks of filet-mignon tartare in a punchy dressing, steamed-lobster salad with citrusy beurre blanc and a tangle of frisée and avocado. Of course, there were also some unremarkable bites (pan-fried dumplings) and at least one "no thanks," as a companion noted after biting into one of the dry spring rolls scantily stuffed with what purports to be seafood and cream cheese.
"We have something for everyone," an enthusiastic server offered before another meal. Satisfying all cravings is the goal—co-owners Dan Simons and Mike Vucurevich met working at the Cheesecake Factory when it was a small chain, and they maintain a similar crowd-pleasing vision for their restaurants.
Inevitably, the egalitarian goal breeds wild inconsistency. But kudos to the well-trained, attentive waitstaff, who can guide when prompted—one server informed us she has tasted everything (it took three weeks).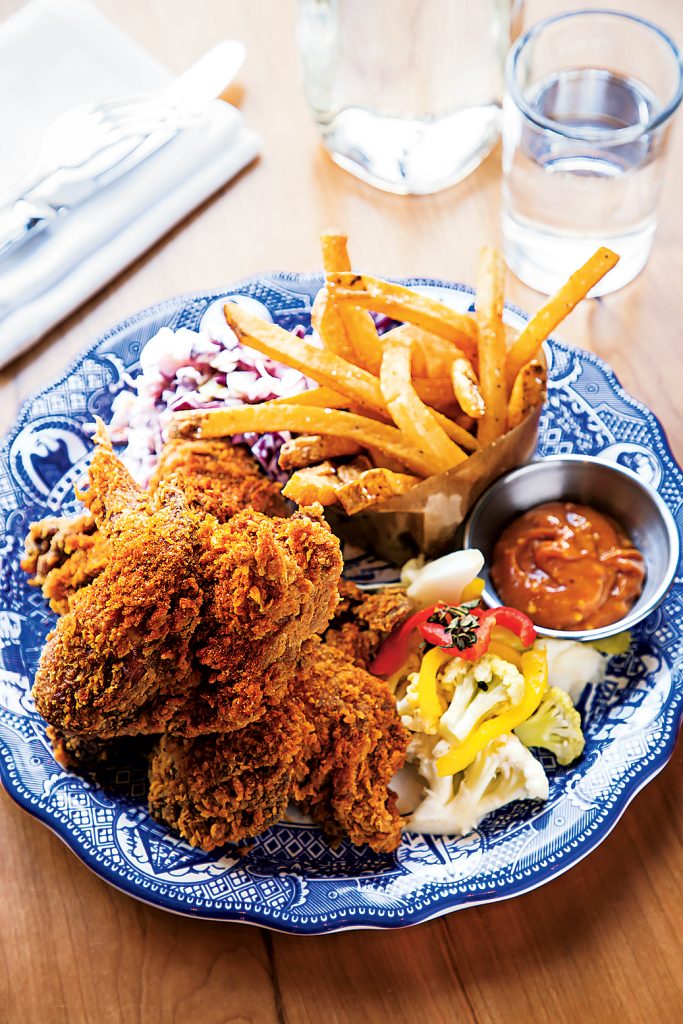 The Szechuan and Cantonese dishes are weakest overall, save for sticky pork "riblets" that are braised until fork-tender in citrus and ginger, then lacquered in a tangy-sweet glaze. Nearby Chinatown may be light on authentic Chinese restaurants, but Farmers manages to represent the next tier down. Mapotofu, one of the "historical neighborhood favorites," lacks its signature tongue-numbing spice, while bland hand-pulled noodles left us craving the fresh strands at Chinatown Express a few blocks away. Cheap takeouts fry better rice. And don't even venture into the shaobing category of Chinese flatbread sandwiches—grease bombs slathered in spicy mayo.
Instead, zero in on what Farmers restaurants do best: Americana served in enormous portions at reasonable prices. Tabasco-brined fried chicken is ultra-juicy and crackling to the bite, while tender pot roast stewed in its own juices—fancily masquerading as "beef short rib pot-au-feu"—does Grandma proud. Farmers & Distillers also offers more upscale spins than its siblings (Dover sole, anyone?), and the Steak House section of the menu is worth indulging in—especially given the non-steakhouse prices. A flavorful, ten-ounce local rib eye goes for $24 with charred-scallion butter and two sides. Round it out with just-baked bread or a homey slice of chocolate chess pie from the in-house bakery.
Weekend brunch is another chance to experience the restaurant's better side. Miscellany lends itself well to buffets. The all-you-can-eat feast ($30 for adults) includes salads, scrambles, those tasty riblets and fried chicken, a bakery-and-pancake bar, a prime-rib carving station, and passed "snacks" such as eggs Benedict—all decent to good. Groups (some casual, others dressed for church) seem to be genuinely enjoying themselves in the sun-splashed dining room. As were we.
So, yes, way too many factors are at play at Farmers & Distillers. It's entirely imperfect. But given that it's loosely modeled on America, the shoe fits.
This article appears in the March 2017 issue of Washingtonian.
---